Compare industrial and large business energy prices
Stop throwing away money on large business energy bills
If you're a large or industrial-sized business, you could be needlessly throwing away thousands of pounds a year on expensive energy bills.
The only way to make sure you're not overpaying for gas and electricity is to compare business energy deals - the tech-enabled experts at Bionic can compare exclusive large and industrial business energy deals in minutes, to save you time and money.
What is considered a large business or an industrial business?
If your business uses more than 55,000 kWh of electricity or 200,000 kWh of gas each year, or it has a half-hourly meter, energy suppliers will fall under the large business classification.
In short, this means your business uses a lot of energy. If you've never switched business energy, you'll be stuck on your supplier's standard rate and needlessly throwing away thousands of pounds a year on expensive energy bills.
The tech-enabled experts at Bionic have access to exclusive large enterprise energy solutions, including a range of energy and gas plans and metering options, which we can compare in minutes to help save you time and money, year after year.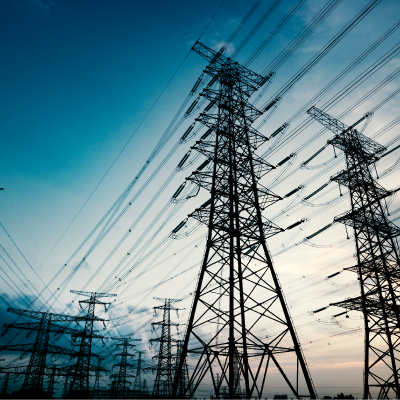 Is large business energy different from SME business energy?
The standard UK definition of a large business is one that has more than 250 employees. But when negotiating a business energy contract, more emphasis is placed on the amount of energy that's used.
Large businesses will often have more than 250 employees and use more energy than small and medium-sized businesses (SMEs), especially those with large business premises or that operate across multiple sites.
But there are instances where businesses with fewer than 250 employees are just as energy-intensive. For instance, those that have a lot of high energy use machinery or industrial equipment.
That's why the amount of energy your business uses will determine its size when negotiating gas and electricity contracts. And although the energy used by SMEs and large businesses usually comes from the same sources (and sometimes the same suppliers), large businesses pay different rates and have different contract types to SMEs.
What are the energy usage levels for a large business?
The energy usage levels for a large business in the UK are:
Electricity - more than 55,000 kWh per year
Gas - more than 200,000 kWh per year
What is the average electricity bill for a UK large business?
The amount your business pays for energy will vary depending upon a range of factors, including where in the UK you're based, the size of your business premises, the number of people you employ and the energy efficiency of your business.
But to give you an idea of how much energy a business the size of yours should be using, and the prices you should be paying, here are the average usage figures and rates for UK businesses.
Average electricity kWh Prices by business size
| | | | | |
| --- | --- | --- | --- | --- |
| Business size | Annual usage | Unit price per kWh | Daily standing charge | Cost per year |
| Micro Business | 5,000 to 15,000 kWh | 34.7p | 27.1p | £3,569 |
| Small Business | 15,000 to 25,000 kWh | 34.3p | 26.9p | £6,958 |
| Medium Business | 25,000 to 55,000 kWh | 33.7p | 31.0p | £12,751 |
| Large Business | More than 55,000 kWh | 33.2p | 30.1p | - |
Note: Prices may vary according to your meter type and business location. Figures shown are the average unit rates and standing charges quoted by Bionic per business size from June 1 to June 17, 2022
Do you need a multi-site energy meter or a half-hourly meter?
The type of energy meter you have at your business premises can affect how your workplace is categorised and the amount it pays for energy.
What is a multi-site energy meter?
If you run an energy-intensive business or run your business across a number of sites, you'll have more than one energy meter, which usually means multiple contracts, multiple suppliers and multiple contract end dates.
If this is the case, it could save time, money, and a whole load of admin to switch everything to a multi-site energy deal, which would mean one supplier, one monthly bill and one contract end date. If this sounds like something that would benefit your business, give our tech-enabled team a call on 0800 077 4064.
What is a half-hourly meter?
A half-hourly meter is a type of electricity meter that sends automatic meter readings to your supplier every half an hour. Also known as HH meters or 00 profile meters, these are essential for high energy demand businesses as they ensure accurate billing - estimated energy use and incorrect billing can cause all sorts of problems for large and industrial businesses.
Does your business need a half-hourly electricity meter?
If your business has a peak demand of 100KVA or more in any 30 minute period then you have to install a half-hourly meter. If it has a peak demand in excess of 70KVA, you can have one fitted if consumption reduction is a priority.
kVA (kilo Volt Amperes) is the amount of electrical power a meter can feed to a building or site. One KVA equals 1,000 Watts of power and kVA charges affect large business electricity rates. This may be shown on your bill as the agreed capacity charge.
If you're moving to new business premises, you should check to see if it already has a half-hourly meter installed. The best way to do this is to look at the 'S number' on a previous bill, and if the number in the top-left box is 00 then you'll know you have a half-hourly meter. If you're moving into a rented property, you might need to ask your landlord for this information.
If you do have a half-hourly meter, you'll also need a Meter Operator - or MOP Agreement - for the maintenance of your meter – as well as a Data Collector (DC) who'll process your half hourly readings.
What is P272?
P272 is an Ofgem regulation that affects the way electricity suppliers settle electricity consumption for businesses within a specified energy use. It means that meters with 05-08 profiles are now settled half-hourly and have been reprofiled as half-hourly meters.
Ofgem made the change from non-half hourly (NHH) settlement to half-hourly (HH) settlement to try and create a better-balanced electricity grid in the UK.
There are a number of charges factored into your energy rates, such as transmission and distribution costs, which suppliers are charged different amounts for, depending on the time of day. With half-hourly meter readings, suppliers can estimate these costs more accurately, which could potentially reduce your energy bills.
And, as your meter is set up to take half-hourly readings, you'll be billed on actual meter readings so your bills will become more accurate, which could also save you money.
If the S number on your Meter Point Administration Number (MPAN) is 05, 06, 07 or 08, then your meter profile will change to 00 and readings taken every half hour, as part of P272.
P272 shouldn't mean you pay any extra fees - although it will appear on your bills as a new charge, it's currently factored into your rates so shouldn't affect the overall price.
What large and industrial business energy contracts are available?
The best type of energy deal for your business will depend upon its size, location and energy usage, but if you're classed as a large or industrial operation, you'll most likely need one of the following contracts:
Fixed contracts – Fixed contracts allow you to fix the unit price of gas and electricity for the duration of the deal, which is usually between one and four years. Although your bills will still fluctuate depending upon your energy usage, fixed contracts aren't affected by fluctuations in the energy market and are an effective way to protect against price rises.
Flexible rate contracts – If you're confident enough to risk playing the markets, it's worth considering a flexible rate contract. Rates on these deals vary according to the cost of wholesale energy, which means the rates you pay could rise or fall, depending on what's happening in the energy market.
Interruptible contracts – This is an innovative type of energy contract that is only offered to large and industrial businesses. If you sign up for an interruptible contract, you'll get a reduction on your unit rate in return for letting the National Grid temporarily cut your supply during periods of high demand.
Pass-through contracts - The main benefit of these deals is that you can fix certain parts of your contract, including the wholesale cost. For other third party costs, such as transmission and distribution charges, you'll only pay the rate your supplier is charged - rather than having this cost preemptively built into your contract fees. On the flip side, your rates will change at least once a year, possibly even every month.
Large site peak day demand contracts – If you're determined to cut the amount of energy your business uses, this type of contract limits the amount of gas and electricity it can receive each day. Commercial power won't be cut off if you go over this limit, but you will be hit with some hefty additional fees.
Before you commit to a large site peak day demand contract, you should consider other ways to cut your energy costs. Simply putting your business on a better deal is a good place to start - switching with Bionic could save you up to £2,144* a year - and you should also look at ways to make it more energy-efficient.
How to make your business more energy efficient
Switching business energy is essential for any business looking to save money, but to make even bigger savings you should look at making your business more energy efficient - it's good for your pocket, good for the planet, and not necessarily as difficult as you might think.
Carry out a business energy audit
A business energy audit will help you work out where energy is being wasted, so you can make the necessary changes.
The best way to carry out a business energy audit is to call in a professional auditor, who will run the rule over everything from how and when you use energy to the condition of your equipment and appliances.
Once they've given everything the once over, they'll put together a report highlighting the changes you need to make, how much the energy efficiency measures will cost you, and how much you stand to save.
To arrange an energy audit, get in touch with your business energy supplier and they'll point you in the right direction.
You can also carry out your own business energy audit by doing the following:
Take regular meter readings, to stay on top of your usage.
Create a checklist, so you can monitor where energy is being used. For example, heating and lighting.
Identify energy-wasting behaviour, such as leaving lights on in empty rooms and leaving computers on standby
Switch to energy-efficient equipment
Although there's an initial outlay involved in switching to energy-efficient equipment, the potential savings mean it'll be worth it in the long run. Here are some energy efficiency tips.
How to make your lighting more energy efficient
Switch all light bulbs to energy-saving alternatives that can save up to 80% on energy usage.
Fit motion sensors on all light fittings to ensure they're not left on when rooms are empty.
Rearrange your furniture to ensure you're making the most of the natural light.
How to make your heating more energy efficient
Install a smart thermostat so the heating can be controlled more effectively.
Help to keep heat in by fitting double-glazed windows and eliminate cold spots by fitting draught excluders to doors and windows.
Fit free-swinging doors to reduce drafts by preventing staff from leaving them open.
Make sure there's nothing placed in the way of your radiators and use radiator boosters to cut the amount of energy needed to heat up a room.
How to make your equipment more energy efficient
You can reduce your energy spend by updating your computer equipment, as older models tend to use more energy. The Energy Star rating will indicate the energy efficiency of the product - the higher the rating, the more you can expect to save. It might even be worth switching to laptop computers, as these use up to 80% less energy.
Make sure staff shut down all equipment before leaving work, and consider installing power strips, which connect clusters of electronics so they can be shut off all at once - when shutting down the office for the day, the last one out can flick the power strip to effectively unplug everything at once.
If your workplace has a water cooler or coffee machine that keeps water hot 24 hours a day, fit a plug-in timer that allows you to program when these office mainstays are on and off.
Encourage employees to help with energy efficiency
Getting your staff involved is a good way to maximise your energy efficiency efforts, and there are a few things you can do to encourage staff to become more eco-friendly, such as:
Offer incentives for going green.
Promote a 'green culture' with posters and email reminders.
Reward positive results by promoting them to the whole workforce.
Appoint staff sponsors to help enforce 'green culture'.
If possible, it's also worth generating your own energy, by setting up solar panels or wind turbines at the workplace. Although the feed-in tariff scheme has ended, and taken its energy efficiency business opportunities with it, using renewables at your business premises can still help to cut costs and show customers you're an environmentally responsible business.
If you're having trouble convincing the decision-makers that new equipment is worth forking out for, you should use the auditor's report as part of your energy efficiency business case.
It's also worth looking into what's available in terms of small business grants for energy efficiency, as some may be available for a business of your size.
Are large businesses affected by the Climate Change Levy (CCL)?
The Climate Change-Levy (CCL) is a government levy aimed at businesses that use more than 33,000 kWh of energy each day - well below the usage threshold of large businesses.
If you want to cut your CCL costs, you can sign up for a government Climate Change Agreement (CCA) which can bring down your payments by up to 90%.
When you sign up for a CCA, you'll have to outline the following:
How your business will cut the amount of energy that your business uses.
How you'll make your business more energy efficient.
Renewable energy sources as these are exempt from the CCL charge, so can also cut your payments by using renewables to power as much of your business as possible.
What is the Energy Intensive Industry exemption (EII)?
EII is a government initiative to help energy-intensive industries - including mining, steel, engineering and heavy manufacturing - cut costs so they can compete with EU counterparts who pay less for commercial power.
Electricity costs can make up a considerable proportion of production costs for businesses that use a lot of energy, particularly in the UK where large business electricity prices are often inflated by the government's renewable energy policies.
EII helps lower these costs by exempting qualifying businesses from Third Party Charges (TPCs), including the Renewable Obligations (RO) scheme, the Contracts for Difference (CfD) scheme and the Feed-in Tariff (FiT) scheme.
The cost of the exemption would be paid for through an increase in costs for non-EII businesses.
There are two steps to assessing whether your business is eligible for an EII certificate:
It must manufacture a product in the UK within an eligible sector (defined by a 4-digit NACE Code) – the "sector level test".
It must pass a 20% electricity intensity test, known as the "business-level test".
For more information, go to the government guide to energy-intensive industries.
What large enterprise energy solutions are offered by Bionic?
Businesses that use large amounts of energy need access to extra services to help make sure they're using energy as efficiently as possible and not overpaying for business gas and electricity.
At Bionic, our team of tech-enabled experts use industry data to find out the exact energy needs of your business and cut the amount of time we need to spend on the phone when comparing business energy deals.
We also offer the following services for large and industrial business energy customers:
Bespoke procurement service
Bespoke procurement is a comparison service we offer to large businesses like yours. As part of this service, we help you get a fair price by tailoring quotes to your business needs.
As your business is a high energy consumption industry, large and industrial energy suppliers will bid for your supply as part of the comparison process. Here's how it works:
You'll be assigned a specialist business energy manager who will get your permission to find out your energy details and arrange an appointment to discuss your quotes.
We'll contact your supplier to confirm your meter details and exact annual usage. As you have a half-hourly meter, this figure will be accurate.
Suppliers will compete to win your supply and offer tailored quotes based on your peak times of usage. This process can take up to five working days.
We'll call you with the most competitive quotes and guide you through the benefits of each.
Once you've chosen the deal you like best, we'll handle the entire switch and keep you updated every step of the way.
Bill validation service
Although it doesn't happen very often, especially as most large businesses have half-hour meters, mistakes can be made through incorrect contract charges or estimated billing.
But we know that understanding business energy bills and keeping track of average business energy consumption can be time-consuming. We work with specialist providers to offer a bill validation service that automatically monitors the accuracy of your bill using a tool that reviews and recalculates your costs, whatever the type of meter you have.
If there's a problem, we'll work to fix it so you can be sure you're always paying the right amount for your energy.
Metering and data collector service
As part of the running of your energy supply, you have a Meter Operator and Data Collector. Your Meter Operator is responsible for the installation and maintenance of your meter, and your Data Collector does all the meter data collection to send back to your supplier.
Large and industrial energy suppliers usually appoint their own Meter Operators and Data Collectors, which aren't always the most cost-effective. But we can provide a range of options to give an insight into your business energy usage data and help you save money.
Services for business with multiple sites
We offer a tailored multisite journey based on your business needs. Whether you want to consolidate your contract into one end date and one single bill or multiple bills, we can do this for you.
For more information on
For more information on our multi-meter and multi-site energy offerings, or to find out more about large and industrial business energy, give our tech-enabled expert team a call on 0800 077 4064.