office business energy
What is business energy for offices? How to become more energy-efficient 
Choosing the right business energy tariff can be the difference between keeping on top of your costs or struggling to pay your bills - when so much is at stake, every penny counts.
But, with so many different energy suppliers and tariffs, knowing exactly what business energy for offices is, and how it makes your company more energy-efficient can be hard to wrap your head around.
From cutting your carbon footprint to reducing your business energy bills, our handy guide can help you understand how your office uses energy and how to find the best energy tariff.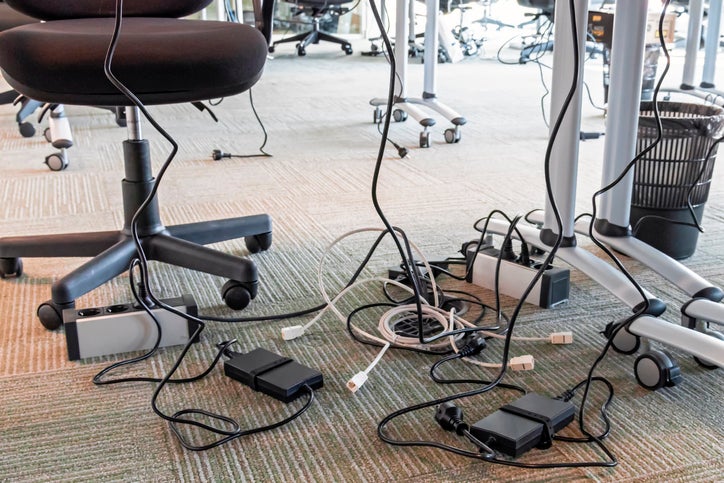 30-second summary
Business energy is the power your office needs for things like machines, lights, and heat. It's different from what you use at home because offices use more and pay differently.
When you run a business, the energy rules are not the same as at home. There are no cool-off periods, contracts can be long, and you pay for gas and electricity separately. You don't need to sign contracts, and brokers may add their fees.
There are different kinds of energy deals for offices. Some have fixed prices, some change with the market, and others are temporary and expensive. You should switch when these contracts end.
Offices use power for computers, lights, heating, and kitchen gadgets. Turning off what you don't need and using energy-saving lights can help save power.
Office energy bills depend on things like your business size, location, and how you pay. There might be extra fees like meter costs and taxes. Switching to a new energy supplier can save money, but you might need to pay a fee to leave your old contract. To save energy and money, use better lights, heat wisely, and turn off machines when you're not using them.
What is business energy?
Energy is essential for every business. From operating factory machinery to powering laptops, and central heating to overhead lighting, no matter what your business, you'll be using gas and electricity.
While the gas and electricity that power your home are the same that power your business, energy suppliers treat business energy differently. Typically, businesses will consume energy in larger amounts than the average household — which is reflected in its higher prices.
Learn more about business energy with Bionic.
What is the difference between commercial and domestic energy use?
Typically, there are some slight differences in the way that you'll pay for and receive your energy depending on whether it's for commercial or domestic use. This is because there are:
No cooling-off clause — Business energy tariffs usually don't have a cooling-off clause in their contracts. This is because suppliers forecast and buy the energy they supply to businesses based on their expected energy consumption.
Business contracts are longer — Because of the forecasted energy supply, suppliers will make business energy contracts anywhere from a year to up to 5 years long, depending on the circumstances of the individual business.
Single-fuel only — Unlike domestic energy, commercial energy is powered by single-fuel only. This means that your supplier will offer you separate quotes for your gas and electricity as the quotes are based on a combination of your company's needs, usage, and circumstances.
You don't need to sign — For an energy contract to be binding, you don't need to sign on the dotted line. Instead, you can agree on a contract over the phone, but it's best to ask for all of the terms to be sent either in writing or via email before you agree on an offer.
Broker costs — If you use a business energy broker to help find you an energy deal, the rate you pay could incorporate their fees. Although, this does depend on the broker's agreement with the supplier.
Learn more about the differences between business and household energy in our guide.
No matter what energy supplier and tariff you choose, it's important to make sure that you pick the right deal for your office.
What are the different types of energy tariffs for offices?
With so many suppliers offering different types of tariffs and deals, it can be hard to know which will be best suited to your office. The main types of business energy tariffs are:
Fixed-rate
Fixed-rate contracts charge a set price per unit kWh for the gas and electricity that you use. Although both gas and electricity will be included in different contracts, these will usually last between 12 to 18 months and are great for businesses that are looking for a hassle-free option.
However, the "fixed-rate" term only refers to the unit rate and standing charges that you'll pay for the duration of your contract. Depending on how much energy your office will use, the actual cost will vary.
Variable-rate
Generally, variable-rate contracts are tied to market activity. This means that if the market price increases, then you may end up paying more per unit of energy that your office uses.
If you're willing to take the risk, you can just as easily reap the benefits should the market decrease in price — but this is usually very unlikely.
Deemed-rate
If your current tariff ends and you haven't arranged a new deal or switched to a new supplier, you'll likely be placed on a deemed-rate tariff by your supplier, which lasts for 28 days. These types of tariffs mean that you'll be paying your supplier's highest rate, which will end up costing you more the longer you leave it.
Rollover
Similarly to a deemed-rate tariff, a rollover contract lasts for a whole year instead of 28 days. This means that you can end up paying a lot more than the actual amount of energy that you're using, so it's best to switch as soon as you can.
Find out more about the different tariffs for your business or how to check when your tariff is ending with our handy guide.
How do offices use energy?
Depending on the location and size of your office, this will reflect in your energy usage. With the rise of technology and automation, office energy consumption has risen exponentially. Typically, offices use energy in a variety of different ways.
IT equipment — Devices like laptops, monitors, printers, and photocopiers will burn energy, even in standby mode. It's always a good idea to turn this off when you're leaving your desk or the office for the day. If need be, you can always use the energy-saving features instead.
Lighting — Lighting is one of the biggest contributors to high energy consumption in the office. When the lights aren't needed, encourage your staff to turn them off or make sure they're switched off at the end of the day. Alternatively, you can use motion detectors, daylight sensors or time switches to help reduce how much lighting your office uses. You can also install energy-efficient lights — such as LED or compact fluorescent bulbs — as they use 80% less electricity than conventional bulbs.
Heating — Although it can be tempting to turn the heating up high during the winter, this can end up making your energy consumption skyrocket. You'll also want to avoid using electric heaters, as these are some of the most expensive heat sources.
Kitchen gadgets — Kitchen equipment such as microwaves, kettles, dishwashers, coffee machines, and toasters can all drain energy if they're left plugged in.
What are the current business energy prices?
Here are the current energy prices for businesses in the UK as of October 2023:
| | | | |
| --- | --- | --- | --- |
| Business size | Average number of employees | Electricity unit price per kWh | Electricity daily standing charge |
| Micro Business | 0 - 9 | 30.0p | 92.3p |
| Small Business | 10 - 49 | 29.3p | 84.0p |
| Medium Business | 50 - 249 | 30.1p | 73.8p |
| Large Business | More than 250 | 27.8p | 68.4p |
Note: Rates and bill size may vary according to your meter type and business location. The prices you're quoted may be different from the averages shown. The figures shown are the average unit rates and standing charges quoted by Bionic per business size from November 1 to November 14, 2023. Rates do not include any Energy Bills Discount Scheme discount.
What are the most expensive appliances to run in an office?
We wanted to find out how much it costs to run some of the most common appliances that you'll find in an office. Our calculations for working out an appliance's running costs per day were:
Appliance's wattage ÷ 1,000 = kW figure
kW figure x supplier's unit cost (average is 28.8p per Medium-sized business under current price cap) = kilowatt hour cost
kWh cost x how many hours the appliance is likely to run in 1 day.
For example: A computer has a wattage of 140 watts and is used in a medium-sized business.
140 ÷ 1,000 = 0.14 kW
0.14 x 28.8 = £0.04 kWh
£0.04 x 8 (hours) = £0.32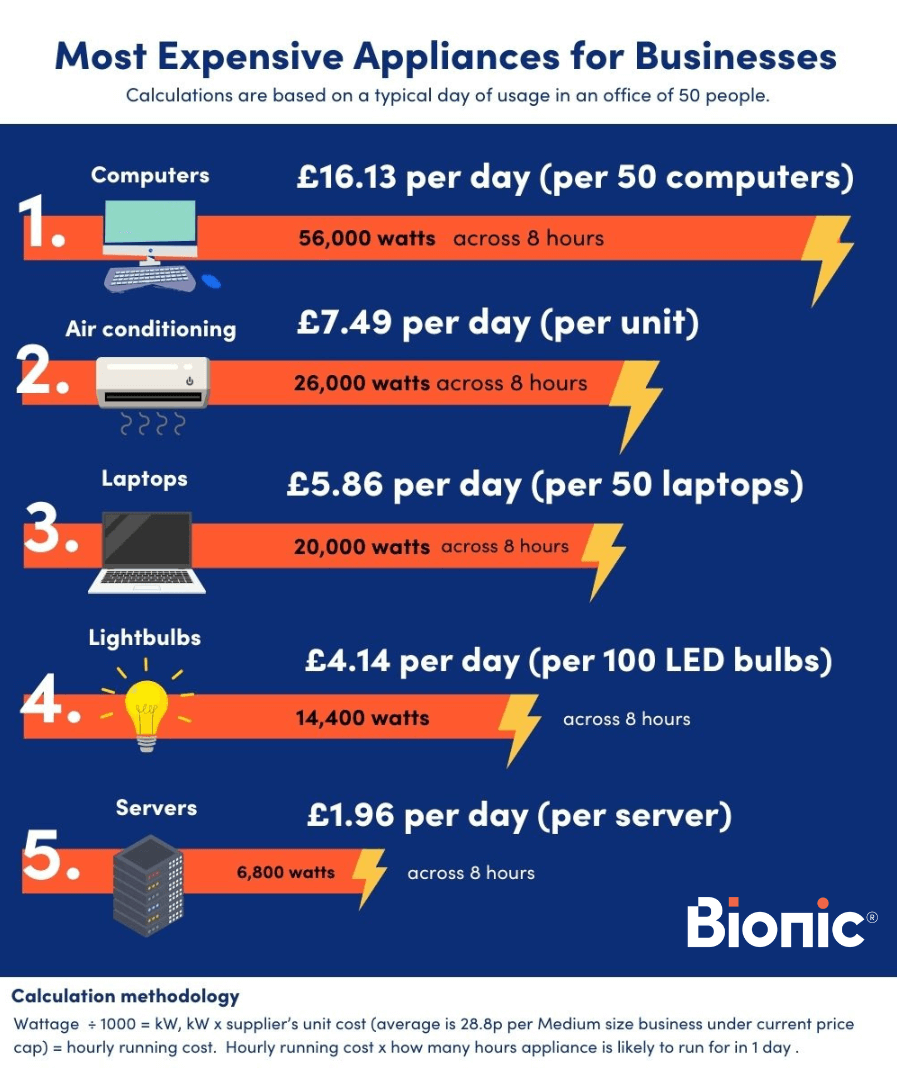 Computers, laptops and servers all appear in the top five of the most expensive appliances to run. In modern offices, lots of tech is used, for example, most people will have more than one screen — this being their laptop and a monitor used as a second screen.
Based on the calculations of a typical day's usage for an office of 50 people, we found that it would cost £16.13 per day to run 50 office computers, which amounts to a whopping 56,000 watts of energy across eight hours.
To keep cool during those warmer days, it costs £7.49 per day to run one air conditioning unit, which is around 26,000 watts of energy across 8 hours. To run 50 laptops a day costs £5.86, while lighting up your office space costs £4.14 per day for 100 LED bulbs — that's a lot of light!
But how much does it cost to run a coffee machine for all those midday pick-me-ups? Or what about a projector for those big meetings? We've got you covered:
| | | |
| --- | --- | --- |
| Appliance | Wattage per hour | Running cost per day |
| Air conditioning (one unit) | 3,250 (3.25kW) | £7.49 (8 hours) |
| Server | 850 (0.825kW) | £1.96 (8 hours) |
| Projector | 300 (0.3kW) | £0.17 (2 hours) |
| Coffee machine (using pods) | 800 watts (0.8kW) | £0.69 (per 50 cups) |
| Hairdryer | 2,000 watts (2kW) | 11p per 10 mins |
| Oven | 2,100 watts (2.1kW) | £0.71 (per hour) |
| Lightbulbs | 18 watts (0.018kW) | £0.60 |
| Fridge | 150 watts (0.017kW) | £0.34 |
| Microwave | 1000 watts (1kW) | £0.27 (one hour) |
| Kettle | 1,000 watts (1kW) | £0.86 (10 litres boiled) |
| Computer (one) | 140 watts (0.14kW) | £0.32 |
| Laptop (one) | 50 watts (0.05kW) | £0.11 |
| Paper shredder | 200 watts (0.2kW) | £0.06 |
| Inkjet printer designed for commercial use | 400 watts (0.4kW) | £0.12 |
| Commercial laser printer | 1000 watts (1kW) | £0.29 |
| Desk fan (one) | 40 watts (0.04kW) | £0.02 (per hour) |
| Smaller home printer | 40 watts on average (0.04KW) | £0.02 |
For those working in hairdressers or barber shops, it costs 11p per 10 minutes of use to run a hairdryer — and these costs can quickly add up with the number of clients you have in a day!
Your daily trips to the kitchen for a coffee and a catch-up use 1,000 watts of energy and cost £0.86 per 10 litres of boiled water.
How are office energy bills calculated?
The total amount due on your energy bill isn't based on energy consumption alone. Instead, it includes factors like:
Your company's credit rating — If you have bad credit, it might cause your tariff prices to be higher. Find out more at our guide - Does your business credit score affect your energy deal?
The size of your business — Depending on whether you're a single or multi-portfolio company — as well as how many people you employ — will be a factor in the calculations.
Your business type — Whether you operate as a sole trader, limited trader, or anything in between, will affect how much you'll pay.
Where your business is located — The postcode that your business operates in will be an important factor. This is because the cost of transporting gas will vary according to distance and different network charges apply in different parts of the country.
What additional fees might business energy users pay?
Sometimes, energy bills just really aren't simple. Along with all of the factors listed above, some of the additional fees you may see on your gas and electricity bills include:
Meter costs — This is the cost of buying and maintaining your gas and electric meters. If you're looking to reduce your bill, you can ask your supplier to install a smart meter on the business premises.
Climate change tax — Recently, many suppliers have started charging a climate change tax to help promote energy efficiency. If you switch to a renewable energy source, you may be able to see a reduction in this amount.
Value-added tax (VAT) — While VAT on business energy bills is typically charged at 20%, you may be entitled to pay a lower amount depending on the amount of energy your business consumes in a day. Be sure to check this information with your energy supplier.
Transmission Network Use of System (TNUoS) charge — This charge will cover the cost of transporting and distributing your energy.
It's important that you're aware of and take into consideration all of the additional fees that you see on your bill. If something doesn't look right — or you think you're being overcharged — it's best to get in contact with your supplier.
How to understand your office energy use
Becoming more energy efficient at your office can go a long way. The first step is to understand how much you use and how much you might be wasting.
Generally, you can find a monthly or yearly breakdown of your total energy usage on either your energy bill or your statement. To get a more detailed understanding, it might be a good idea to start regularly recording your meter readings — whether this is weekly or monthly — as it'll help you keep track of how much energy your office is using.
How to make your office more energy efficient
Nowadays, it's even easier to make simple changes to your office to make it more energy-efficient. Making economical changes needn't cost a small fortune — now, there are so many easy and simple ways you can adapt your workspace.
Lighting
Daylight sensors — To automatically dim lights in bright spaces, install daylight sensors.
Small circuits — If your lights are yet to be fitted into the office, consider splitting them into smaller circuits with more switches. This gives you more flexibility when zoning your space, and gives you more control over which lights can be switched on and off and when.
Switch bulbs — Switch all bulbs to LED or equivalent as they're up to 80% more efficient than a standard bulb.
Heating
Follow the recommended temperature — According to the Health and Safety Executive (HSE), the recommended reasonable working temperature in workrooms should be at least 16°C or 13°C for strenuous work.
Seal up draughts — Where needed, seal up cracks that could be letting cold air in such as around windows or doors.
Check your thermostats — Always make sure that your thermostats are positioned correctly — away from windows and radiators — and check that the timer switches off the circulating pump as well as the boiler.
Install insulation — Where needed, install insulation to ensure that no heat escapes.
Electronics
Use laptops — If you don't need to use monitors for your business, choose laptops instead. They use less energy and are better for the environment in comparison.
Dial it down — To save energy, turn the brightness of your screen down or activate sleep mode when you're away from your desk.
Switch off — When not in use or at the end of the day, switch off all communal equipment. This can include anything from copiers, printers, laptops, and appliances in the kitchen. Any piece of equipment that's left on standby is still using energy that your company could use somewhere else and is an unnecessary cost.
Get a smart meter — Smart meters display your gas and electricity usage in real-time, so you can see exactly how much you're spending on your energy. Most energy suppliers will also offer these free of charge, and because of their accurate estimates, it means you shouldn't get overcharged.
Hybrid working
Reduced office space expenses — One of the most significant impacts of hybrid working is the potential for reduced office space requirements. Companies can downsize their physical office spaces, leading to cost savings in rent or mortgage payments, utilities, and maintenance.
Lower overhead costs — Smaller office spaces require less money to maintain and furnish. This includes expenses related to heating, cooling, electricity, office supplies, and cleaning services. If you know you only want your staff in the office one or two days a week, you can even consider sharing an office space with another business.
Flexibility in design — With fewer employees in the office at any given time, organisations may have more flexibility in designing their workspace. This can lead to more efficient use of space and cost savings in office layout and furniture.
Can you save money by switching energy suppliers?
As a business, you're likely to always be looking at ways that you can save money. Generally, you're likely to save money by switching your energy suppliers, so it's always a good idea to regularly compare and switch your business energy for your office.
However, if you're still under contract — or have found that it isn't working for you — and want to leave, you'll be responsible for paying an exit fee. The amount is decided on by your supplier but it usually runs between £30 - £50. However, this could be a sacrifice that's worth it in the long run.
How to switch business energy for offices with Bionic
There are so many ways to make your office more energy efficient. Whether this is by turning down the lights once you leave, getting a smart meter, or simply switching energy suppliers, your office is sure to reap the benefits.
To help you find the best tariff for your office, get in touch with the Bionic team today to discuss your business energy needs and compare over 20 trusted UK energy suppliers. Or, find out more about business energy with our business energy guides.
Methodology