business interruption insurance
How does business interruption insurance work?
If your business has to close suddenly, your insurance policy may cover you for loss of earnings or profit, depending on the type of cover you have and whether business interruption insurance is included - but there are conditions attached which mean getting cover might not be quite as straightforward as it sounds.
What is business interruption insurance?
Business interruption insurance, also known as BI insurance, is a specific type of cover designed to protect you and your business if a disaster or event means you're not able to operate normally.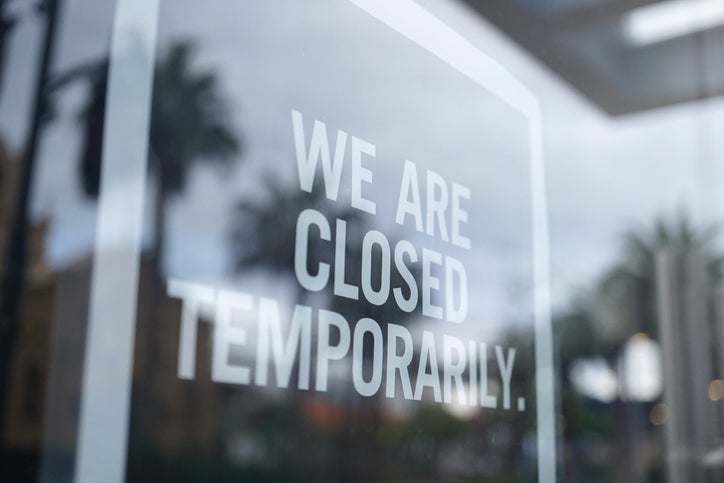 What is covered by business interruption insurance?
Business interruption insurance protects the profits and cash flow of your business, to help make sure it's in the same position after an incident as it would have been had the incident never taken place. It's essentially a loss of income insurance.
It has to be set to cover a specific period of time, known as a maximum indemnity period. This is the amount of time you calculate it will take your business to recover after an incident has occurred. This is usually 12, 24 or 36 months, depending on the type of policy you have.
Most policies, where you have taken out business interruption insurance, will cover you against your business closing as a result of a valid damage claim, which could be as a result of fire, flood, or storm damage. Some policies provide extensions which can cover restricted access to your property or disease, and you'll need to refer to your specific policy wording to determine the cover you have available.
But, even then, some policies only cover a specific list of diseases or what are known as 'notifiable' diseases (more on those in a minute), which means that if your business has to close because of a disease that's not on the list or one that hasn't been deemed as 'notifiable', you still might not be compensated by your insurer.
This is why the unprecedented nature of the coronavirus outbreak - which has caused a new disease, COVID-19, that is unlikely to be covered in any policy wording - is causing so much worry and confusion for small businesses who thought they were covered.
Are there different types of business interruption insurance?
Yes. There are generally three types of business interruption cover, they are:
Loss of gross profit- This is the most common type used in the UK and covers the loss of profit following a reduction in turnover. It will also cover standing charges and any increased cost of working.
Loss of gross revenue- This means claiming for loss of gross revenue. It is often used by businesses in the service industry, for example, hotels.
Increased cost of working- Increased cost of working is usually only appropriate for businesses who can easily minimise the cost of working and only need a little additional cash to make a plan moving forward.
What is a notifiable disease?
A notifiable disease is any disease that must be reported, by law, to government authorities, so it can be monitored to provide warnings of outbreaks and threats to the public.
COVID-19, the disease caused by coronavirus, has been labelled as a notifiable disease by the government, which means that if your business interruption insurance covers against notifiable diseases (without a specified list), you should be covered.
What types of businesses need business interruption insurance?
In theory, any business that would suffer financially if it had to shut suddenly and unexpectedly would benefit from business interruption insurance. But it's not included as part of all business insurance packages, so you'll need to check with your insurer or broker when arranging cover.
Business interruption insurance is usually included in policies taken out by shops, salons, pubs, restaurants, offices and surgeries, but you'll need to check your schedule to see if this is included in your cover, and then refer on to your policy wording to find out if it's included in your cover, and to what level.
Is business interruption insurance a legal requirement?
No, business interruption insurance isn't required by law, but you should consider arranging cover if a sudden closure of premises or a break in your supply chain would cause your business to stop trading temporarily.
And even if you could get by financially for a few weeks, you might need to factor in a loss of trade if your customers have to go elsewhere and don't come back. In this instance, your business interruption insurance might give you a little more breathing space while you get back on your feet after a closure.
What triggers a business interruption claim?
In short, anything that interrupts the daily running of your business can trigger a business interruption claim. Fires and floods are the most common reasons for a business owner to claim though.
When might you need to claim on business interruption insurance?
There are any number of events for which you need business interruption insurance, such as:
A gas explosion in your road - If a gas explosion causes a road closure or even damages your building, you might have to relocate or close until the damage is repaired. In either case, it will cost your business money, which could be reimbursed through business interruption cover.
Flooding at a supplier's premises - If a supplier's warehouse is flooded and essential stock is ruined, it can have a knock-on effect to your business if it's not able to operate without these supplies. Business interruption insurance could cover you against these losses.
A fire in your block - If a unit in the same block as your business suffers a fire that renders your workplace unusable, business interruption insurance could cover you against losses suffered as a result of closure or relocation.
How much business interruption cover do you need?
As with any type of insurance, it can be difficult to know exactly how much cover you need, but it's vital you're not under-insured as you could still find your business is in trouble, even after the insurance company has paid your claim.
Under-insurance is when your policy doesn't include enough cover to fully protect your business - say you recorded the value of your property incorrectly, for instance - but it can be easy to underestimate how much cover you may need.
Business interruption insurance is in place to cover the profit you have lost during a period of closure (subject to a valid claim being submitted). So, when thinking about how much cover you would realistically need, it is worth thinking about your turnover and profit to work out how you can best calculate this effectively.
Some package policies will give you a standard set amount, while the larger policies would need review and for you tell us where they believe they may need some extra cover.
This is where talking to the business insurance team at Bionic can help. We can use the information you give us, along with our know-how and experience, to help you find the policy you need.
It's also vital you set yourself a sufficient indemnity period as part of your business interruption insurance, bearing in mind that although many businesses settle on a 12-month indemnity, unforeseen delays can often arise and a period of anything less than 24 months might not be adequate.
As business interruption insurance works on the basis that if things are not where you'd expect them to be within the set period, which means that if it took two years to get back on your feet but your indemnity period was only 12 months, the insurer would no longer be responsible for covering the costs after one year.
What is the average cost of business interruption insurance?
The cost of any business insurance policy depends upon the individual circumstances of each business and the level of cover required. The cost of your business interruption cover will depend upon these factors and the following:
The size of the business.
The number of deductibles.
The extent of the coverage.
The exposure to risk.
To find out how much it will cost to cover your business, give our insurance team a call on 0800 084 3224.
How to arrange business interruption insurance with Bionic
Working out accurate values for your assets, setting a realistic indemnity period and carefully considering what disasters you may need to be covered for, will all go a long way to giving you the peace of mind that your business is prepared.
A call to the business insurance team at Bionic can help you work out how much insurance you need and arrange quality cover.
Here are a few steps you can take to prevent your business from being both under-insured and underprepared for disasters.
Put together a disaster recovery plan to help your business recover after a loss.
Consider using a professional valuation service – it can help you decide on the sums to insure.
Set a realistic indemnity period – insurers have long been reminding customers that it can take much longer to recover than people expect, particularly If key customers are lost in an interruption. Insurers have been suggesting that 12 months is too short, so this is worth considering when deciding on your needs.
Check your documents – insurers will try to highlight the important conditions of your policy, particularly your schedule, statement of fact and policy wording. Even so, it's good practice to be thorough when checking your documents so you are aware of any amendments communicated.
Be aware of new risks – risks are ever-evolving. Keep up to date with what could become a threat to your business and mitigate for this with your insurance policy.
To arrange BI cover as part of your business insurance package, give Bionic's tech-enabled team a call on 0800 084 3224.
Business interruption insurance and coronavirus COVID-19
If you're wondering whether your business interruption insurance covers you for closures caused by the coronavirus crisis and COVID-19 outbreak, the government has said that if your business insurance includes both notifiable diseases (without a specified list of diseases) and government-ordered closure then you may be able to claim.
When the government ordered pubs, theatres and other venues to close, this may have triggered business interruption cover, although there may have been further conditions to the cover.
It's important you check the terms and conditions of your cover, as insurance policies differ significantly and standard business interruption insurance policies are dependent on damage to property and often exclude pandemics.
For more on coronavirus and business insurance, including how to determine if your business insurance covers you for coronavirus, check out our blog - What every small business owner needs to know about coronavirus.
Check out the Bionic blog for more on the Supreme Court's decision to uphold a test case from the Financial Conduct Authority (FCA).