how to fund your small business
How to effectively fund your small business without breaking the bank
Running your small business can be a juggling act, especially when working out how to fund things like stock, assets and office space. These are vital things you need to run your business effectively, but what happens if you don't have access to the money right away?
With this useful Bionic guide, we'll show you what options are available to fund your business. Read on for more.
What does it mean to fund your small business?
Funding your business means using money to boost sales, buy products or carry out daily activities relating to your business.
Funding your company could mean putting your own money into your business or borrowing money to boost funds. Funding can also include support, grants from outside investors, or government loans designed for small businesses.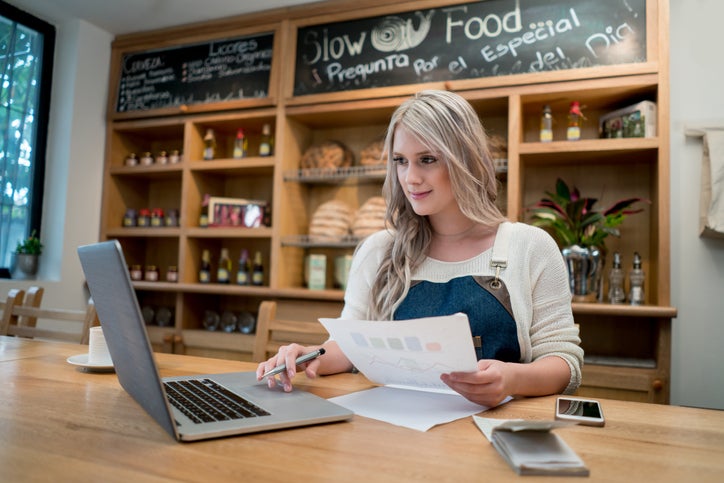 Why is funding your small business important?
Businesses of all sizes need funding for various reasons, but there are some common situations why a company might apply for outside funding.
If you don't have thousands of pounds of your own money to spend on set-up, you might choose to take out a loan. If you need access to more finances to buy bigger premises, hire more staff or expand, funding can help.
How do you know how much funding you'll need?
It really depends on your business, how much money you have available to spend and how well you're selling stock. It helps to create a business plan to see which areas of your business could benefit from extra funding. Find out more about how to easily write a business plan with our guide.
Having a realistic idea of your start-up costs and how much it is going to cost to keep your business running will really help you work out how much funding you need. A good tip is to take notice of your cash flow, so you don't run out of money. This will help you to avoid borrowing more than necessary and getting into some sticky situations.
What are some funding options available?
There are a variety of different funding options available. Some avenues might suit small businesses and others might appeal to larger ones. It just depends on how much you need to borrow and what you are hoping to use the money for. Here are some solutions for you to consider:
Asset finance
Asset finance is a way of leasing machinery and vital equipment or other assets you need to run your business. If you don't have the cash to buy the assets outright, you can pay for them in instalments over a set amount of time with asset finance. You usually have the option to purchase the assets at the end of your payment plan too.
Working capital
A working capital loan is supposed to improve your cash flow and cover everyday expenses. If you're having issues paying staff wages or buying essential stock, a working capital loan will pay for those things until the cash comes into your business.
Property funding
Property funding means investing in commercial property. These could include offices, factories, warehouses and shop space. Customers can pay a lump sum to invest, this money is then collected together and used to purchase more business assets.
Invoice financing
Another option is invoice finance. This is when the lender uses an unpaid invoice as security for your borrowing. This can give you access to a percentage of that sum's value, often within 24 hours. It's a quick way to free up cash and is popular with a lot of business owners.
Growth finance
Growth finance gives the lender the right to add on equity interest if the loan you take out is not paid back on time. Growth capital loans are private equity investments. This finance mainly applies to companies looking to pay for a change in the business without changing ownership.
Trade finance
Another solution to explore is trade finance. This is when an exporter asks an importer to pay for goods before they are shipped. The exporter's bank may offer a loan to the exporter once a contract has been written up.
Pension finance
Pension finance offers social insurance. A pension fund can provide money to insured workers following their retirement. A lot of the time pension finance also provides disability benefits.
How can I manage my small business debt?
There are a few ways you can limit or manage your small business debt. Some of these include:
Cut unnecessary spending
The first way to limit your spending is to cut down on unnecessary spending. Having a budget to stick to will help create monthly and yearly benchmarks for business spending. A budget will also help you save money and highlight areas you can easily cut down on spending.
Increase revenue
Increasing revenue is another way you can manage business debt. It's not always easy but there are a few things you can try to attract more customers:
Increase your prices
find new customers
sell more products to existing customers
offer sale promotions
develop a new product
access new markets
Create a 'rainy day' fund
Saving is the key to limiting small business debt. If you create a budget, the saving will likely be easier for you. Having a rainy-day fund will ensure you have access to money should something go wrong in day-to-day business, for example, if a computer breaks or a leak springs up on your premises.
You don't even have to put lots of money away in your savings, start off small but put something in each month and you will see it grow.
Negotiate with suppliers
If you have long-term suppliers, why not negotiate with them for lower prices on stock? The worst thing they can say is no and you might find that they would be happy to offer you a reduced price for products in return for a longer contract with them.
Consider refinancing
Corporate refinancing means to reorganise financial debt and consolidate it by restructuring existing debts. Some businesses do this to reduce monthly interest payments, get better loan terms, reduce risk, and access more money.
Will applying for finance affect my credit score?
No. A business loan won't impact your credit if you keep your business and personal finances separate. Business loans don't usually affect personal credit, this is because incorporated companies have their own identities.
Does the UK government give grants to start a business?
There are some Government grants available for UK businesses. If you're starting a UK business, it helps to have a look on the gov.uk website to see if you are eligible for help or support.