business premises guide
Business relocation guide - how to switch business energy
If you're relocating your business or moving into new premises, sorting an energy contract is probably the last on your to-do list. But if you move into a new property without arranging a business gas and business electricity deal, you could end up overpaying for your energy.
To help you keep costs down, here's everything you need to know about business energy and relocation.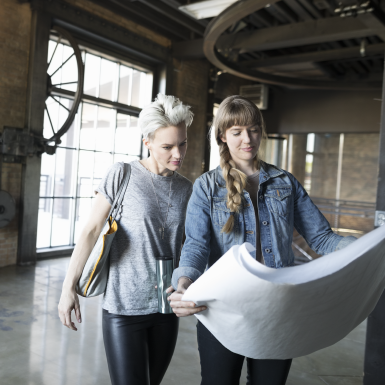 Why do businesses relocate?
Company growth is the most common reason for business relocation, followed by a change in circumstances or an expiring lease.
Whatever the reason for your business relocation, it's important to know where you're at with your commercial gas and electricity contracts to make sure you only pay for the energy you use and you don't overpay for power at your new premises.
What happens to your energy contracts when moving business premises?
There are two things that can happen to your energy contract when moving business premises:
It will be transferred to your new premises
It will be cancelled and you will have to set up a new contract at your new premises
Relocating your business offers a rare chance to end your current business energy contract early and switch to a better deal, but you need to weigh up the options before making the decision to switch.
If you transfer your existing energy deal to your new premises, your supplier should have a designated team on hand to make sure the move goes without a hitch and is in place on the day you move in.
What to do when moving out of your current business premises
Whether you decide to transfer your existing energy deal or switch to a new one, you need to give your current supplier a meter reading on the day you move out of your old premises, to make sure you only pay for the energy you've used.
You should also let your energy supplier know you're relocating about a month in advance of the moving date. Giving your supplier plenty of notice will help things go as smoothly as possible and give them a chance to either prepare your final bill or arrange the transfer of your contract.
You should be able to notify your supplier online, but it's worth giving them a call to make sure they have all the relevant information below:
Your account number(s)
Your final meter readings, and the date on which they were taken (for your final bill)
The date your lease or ownership of your old location finishes – so your supplier knows when to stop billing you for energy used at that address
The address and postcode of your new premises. If you'd rather your supplier send your bill to your home address, let them know.
In some cases, you'll also need to give the name of the new owner or business at your old location to help suppliers set up the new occupant's energy supply. If you do not have this information, your supplier may ask you to provide contact details for the landlord or managing agent responsible for your old location.
You might also be asked for your business gas and electricity meter numbers - Meter Point Administration Number (MPAN) for business electricity and a Meter Point Reference Number (MPRN) for business gas at your old premises. You can find these numbers on a recent copy of your energy bill.
If you switch suppliers with Bionic, we'll take care of everything on your behalf to make sure your old supplier is notified and your new supplier has everything ready for your moving in date.
What to do when moving into your new business premises
If you're sticking with your old supplier when you relocate, you should let them know the address of the new place along with the date your lease or ownership starts. Your supplier can use your details to find out if they already manage the energy supply at your new location.
If your supplier does manage the energy supply at the new premises, here's what happens next:
Your supplier will ask you whether you would like them to supply both gas and electricity
Your supplier can also tell you whether your current pricing arrangements can be carried over to your new location – this depends on the location and the type of meter installed there.
You will be asked to provide an open meter reading - the first reading taken when you start an energy contract to ensure you are given an accurate quotation (not possible when working with an estimate)
You may also be asked to provide a forwarding address for the previous owner or business at your new location if you have this information.
If your supplier doesn't already manage the energy supply at your new place, they'll need to prepare a quote for a new contract, which means you'll need to do the following:
First, you'll need to contact the current energy suppliers at your new location to let them know you are switching suppliers. You can find out who the current gas and electricity suppliers are by calling the National Grid.
Next, send your supplier the meter readings on the date the supply is switched – your supplier will let you know when this date is.
It can take up to six weeks to complete the switch.
If you haven't yet moved into your new premises by the time the supply is switched, you may be given time after you have moved in to provide this reading.
Your supplier will then create an energy quote.
But instead of jumping through hoops for your new supplier, why not give the tech-enabled energy experts at Bionic a call? We'll do all the hard work for you and arrange an energy deal that suits the unique needs of your business.
How long does it take to switch business energy suppliers?
When you switch business energy suppliers, your new contract doesn't start until your current one ends. This means that if you switch six months before the end date of your current contract, you won't be switched to your new contract for six months.
But that doesn't mean you should put off switching until closer to your contract's end date - business owners who renew six months before their contract end date save up to 20% compared to those that leave it late.
If you're switching from your suppliers' out of contract rates, the switch will take around three to six weeks. When you switch with Bionic, we'll take care of everything for you. Our digital renewal service means we can also keep track of your contract end date and compare deals on your behalf. This saves you even more time and means you'll never risk rolling onto those more expensive out of contract rates.
Who is the cheapest business energy supplier in the UK?
Energy suppliers set their rates based on market conditions. That's why we've seen prices rise as the cost of wholesale energy has rocketed recently. So it's almost impossible to say who the UK's cheapest energy supplier is.
But remember, switching suppliers isn't all about price, it's also about the quality and reliability of service. That's why we only work with a panel of business energy suppliers that we know will offer great service alongside competitive rates.
And if your energy supplier was to go bust, being signed up to our Digital Renewal service means we can look for a better-priced replacement to save you being put onto out of contract rates with an Ofgem-appointed supplier.
Business gas and electricity for tenants - FAQs
If you've just moved into a commercial rental property, you'll be responsible for managing and paying the energy bills at the premises, unless it's included in your rent. In either case, as a new tenant, your energy supplier at the new property will put you on its more expensive deemed rates, unless you can take your existing energy deal with you.
You can find out more detailed information in our commercial energy guide for landlords and tenants. In the meantimes, here are some of the most commonly asked questions about managing business energy in rental property:
Can I switch gas or electricity suppliers if I'm a tenant?
Don't assume your landlord is responsible for your energy bills. Your tenancy agreement will include information about who is responsible for the property's energy bills, so check your contract or ask your landlord to find out what your situation is.
You'll likely be in one of the following two situations:
Energy bills are paid directly to your landlord
You are responsible for paying the energy bills to the supplier
What if I pay my energy bills directly to my landlord?
In this instance, your landlord will usually deal directly with your energy supplier, which includes choosing the supplier, deciding on energy rates and paying them.
Energy use is usually recorded through a gas or electricity meter and your energy bill should consist of a charge per unit, and your share of any standing charge. And it's worth noting that, as a tenant, you're not obliged to pay any charges related to communal lighting, if applicable.
The cost of your energy bill will be included within your rent or within general service charges, or in some instances, it will be reclaimed from you. If your landlord is in charge of your energy bills, you won't be able to switch suppliers, but you can ask them to switch on your behalf - they don't have to, but it's worth asking the question to see if you could save money.
What if I am responsible for my business energy bills?
If you pay your energy supplier directly, you're responsible for the energy bills and are free to switch suppliers in line with the terms and conditions of the contract - remember, you can't sign up to a new deal until your current one enters its switching window.
What do I need to look out for when relocating my business?
Most suppliers have measures in place to ensure that relocation goes smoothly but from time to time, issues can crop up. Some of the obstacles you may encounter include:
Reconnection fees - If the previous tenant had their supply disconnected – because they did not pay their last energy bill, for instance – then your supplier might not supply the property until you pay a connection fee and a security deposit. If this is the case, speak to the energy experts at Bionic, to see if we can help.
Connection fees - If the premises you are moving into has never had a business energy supply before – if it is a brand-new building, for instance – you may have to pay a connection fee to set up the gas and electricity supplies.
Early termination fee - If you move into a new property before the contract at your current one has ended, you'll effectively be cancelling your contract early, which means your supplier may charge you an early termination fee. Details of any early termination fees will be outlined in the terms of your contract, so be sure to check before you arrange to move premises.
In some cases, suppliers will waive early termination fees if you continue to purchase energy from them at your new premises.
Energy efficiency - If you want to make your business premises more energy-efficient, it's worth carrying out an independent energy audit to use alongside the building's Energy Performance Certificate (EPC), to work out which improvements should be made.
Feed-in tariff - If you had solar panels installed at your old premises to benefit from feed-in tariff payments, you may be able to take them with you when you relocate. Before you do though, check the terms of your feed-in tariff and make sure your landlord will allow you to fit the panels to the building.
Deemed energy rates - Deemed rates are the default rates your supplier will place you on when you move into new premises and are often more than double the cost of those you'd pay on a fixed energy deal. That's why it's so important to arrange a new deal with a supplier as soon as possible and avoid paying over the odds for your gas and electricity. Remember, you'll need to give the existing supplier 30 days' notice of your planned switch.
Will I need to relocate my energy meters?
When you move business premises, there's no need to take your existing meters with you, meaning electric meter relocation isn't an issue and you won't need to relocate your gas meter.
But if the property you're moving into doesn't have the right type of supply or meters for your business - if, for instance, there's no gas supply or you need a half-hourly meter for electricity - then you'll need to have these fitted. Speak to your supplier for more information.
When can I switch energy suppliers without penalty?
Unlike domestic energy deals, whereby you can switch without penalty as soon as your deal enters its last 49 days, you're tied into a commercial energy contract for the entire duration of the deal. This means you can't change business electricity or business gas suppliers until your current contract expires.
But you should compare business gas and electricity deals and arrange a new contract, either with your existing supplier or a new one, as soon as your current deal enters its switching window, which is usually between one and six months before its end date.
When your switching window opens, your supplier will get in touch with the terms of a renewal deal, but the rates offered are unlikely to be the most competitive, so it pays to shop around and switch.
How do I switch business energy suppliers?
Switching business energy suppliers with Bionic couldn't be simpler - give us your postcode and our tech-enabled experts will use smart data to find an energy deal that suits the unique needs of your business.
You just then need to give us the nod and we'll take care of the rest - letting your old and new suppliers about the switch to make sure the whole thing runs smoothly, on time and with no disruption.
We'll even keep an eye on your contract's end dates to make sure you're never rolled on to your supplier's more expensive standard rates. To become a Bionic business, just go to Bionic.co.uk and give us your business name and postcode or give us a call on 0800 970 0077.