business gas electricity meters installation
A guide to business energy meter installations
If your business is growing, your energy usage will grow with it. If you need to expand your energy capacity, or you've moved into premises with no energy meters, you'll need to get new meters installed - here's all you need to know about business gas and electricity meter installations.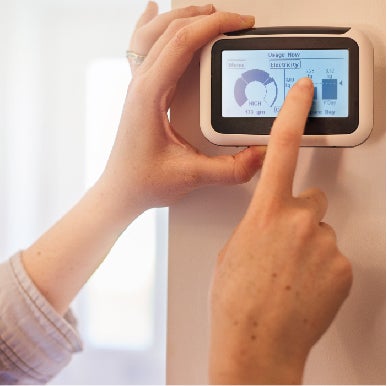 How to arrange a business energy meter installation
These are the steps you'll need to go through to get a new business energy meter installed at your business premises:
Find out your business electricity and gas supply numbers - These are unique numbers that identify the supply to your property. You can find the Meter Point Administration Number (MPAN) on your latest electricity bill and your Meter Point Reference Number (MPRN) on your latest gas bill.
Work out which type of meter you need - Not all energy meters are created equal, so it's important to speak with your supplier or the Bionic business energy experts to work out which type of meter you need. To give you a head start, keep reading to find out the types of business electricity and gas meters that are available.
Negotiate a price for your new meter - While smart meter installations tend to be free, you may be charged a fee for having any other type of meter installed at your business premises, especially if you use large amounts of energy. The good news is, installation costs are usually negotiable, so don't accept your supplier's first quote - haggle over the new electric meter installation cost and bargain over a price for commercial gas meter fitting.
Book your installation appointment - Once you've agreed on the type of meter and installation costs, your business energy supplier will assess the work that needs to be done and arrange a day to install the new meter. Once installed, billing will begin on the terms you agreed with your supplier.
If you're not sure who supplies energy to your property, give us a call on 0800 970 0077. We can help to find your supplier, arrange a meter installation and check if there are any cheaper gas and electricity deals you could switch to.
Who is responsible for installing a business gas meter?
If you need to have a gas meter fitted at your workplace, organising the installation will either be up to you as the business owner. If you rent your business premises, it might be up to your landlord to sort the fitting. In either case, you'll need to organise the installation with your gas distributor and make sure it's fitted by a qualified Gas Safe engineer.
Where should a gas meter be installed?
Gas meters should be fitted on an external wall that's no more than two metres from the corner of the building on either side of a door or sealed window. There are some instances when a gas meter needs to be fitted inside a building, including:
If your premises is part of a large industrial estate
Communal areas in blocks of flats
In the plant room of an office building
If your property has a boundary wall directly in front of a footpath
There may be certain other conditions at your building that determine where the meter should be fitted. For the best advice, speak to a qualified and registered engineer.
What are MPAN, MPRN and why do I need them?
Your MPAN (Meter Point Administration Number) and MPRN ( Meter Point Reference Number) are unique numbers that allow suppliers to identify the premises where you're using your energy. Your MPAN number can be found on your latest electricity bill, and your MPRN on your latest gas bill.
If you've never been billed, you'll be able to get the number from your current supplier. If you're arranging a new business electricity supply connection, you'll need to contact your local network distributor, who can create one for you.
If you've moved into a brand new building, you'll need to arrange a new connection, here's how:
Set up your connection - Your local Distribution Network Operator (DNO) is responsible for setting up your connection, so you'll need to get in touch with them to arrange a quote for the work. The new electric meter installation cost will depend on where you're located and the amount of electricity you'll need.
Choose an energy supplier - You'll then need to choose an energy supplier to power your workplace. Give the tech-enabled energy experts at Bionic a call on 0800 970 0077 and we'll find an energy supplier and tariff to fit the unique needs of your business. prices and choose an energy contract that suits your business.
You'll then need to agree on the type of meter to be installed, before agreeing a price and installation date, as above. To give you a better idea of the type of meter you might need, here are the different types of gas and electricity meters available to businesses.
What are the different types of business energy meters?
There are several types of energy meter you can choose from, each of which are designed to meet the unique energy demands of all businesses, from industrial-scale operations to SMEs.
Single rate meters
Single rate meters monitor your energy usage at a single, flat rate, making them the most popular type of business energy meter, particularly for those that mostly operate during the peak consumption hours between 8am and 10pm.
Standard meter - The most common type of meter, standard meters use one unit rate when measuring your energy consumption, so the cost is the same for every unit, and require you to manually send meter readings to your supplier. If not, you'll be placed on estimated billing and could find yourself overpaying or underpaying for business energy.
Business smart meter - Next-generation meters that use wireless tech to automatically send readings to your supplier, smart energy meters provide accurate billing and allow you to stay in control of your energy usage and cut your business energy bills.
Half-hourly meter - Designed for businesses with high energy demand, these meters take half-hourly meter readings and submit them directly to your supplier. This saves you the trouble of providing manual meter readings and ensures accurate billing. For more information on large scale electricity meter installation, give the Bionic energy experts a call on 0800 970 0077 or get in touch with your supplier. You can also find out more about large business energy by checking out our guide to large business and industrial energy prices.
Two-rate meters
Two-rate meters charge two separate rates, depending upon the time of day, with the cheaper unit rates usually charged during off-peak hours, and a more expensive rate for peak hours.
Time of use meters - Also known as Economy 7 and Economy 10 meters, these are two-rate electricity meters that provide separate readings and rates for daytime and nighttime usage. The daily usage rate is higher during peak hours and the night-time rate is lower for every unit used within an established seven or ten-hour period.
Similarly, evening and weekend meters have two rates, the lower of which is on weekends, making these meters suitable for businesses that use most electricity on weekends.
Three-rate meters
A three-rate meter allows businesses to pay a peak rate, an off-peak rate and a separate rate for weekends.
Evening, weekend and night meters - Another type of time of use meter, these meters offer three different rates:
A more expensive rate for your daytime electricity consumption
Lower rate for evening and weekend usage
An even cheaper rate for night-time usage
The rates on time of use meters vary between regions and energy suppliers, so it's best to check when choosing your business electricity tariff. For more information, call us on 0800 970 0077.
What's the difference between single and three phase supply?
This refers to the voltage of the commercial electric supply you receive. A three-phase supply offers a higher voltage than a single-phase supply.
Businesses who use large specialised machinery (like manufacturers), may be offered a three-phase supply, while smaller businesses, such as retailers and offices, will generally be on a single-phase supply by default.
If you're still unsure which meter is the best fit for you, we recommend you assess your business operations to determine when you're using the most gas and electricity.
How much does it cost to install a new meter at a business property?
The amount you pay for a meter installation depends upon the type of meter that's being fitted and the amount of work needed to fit it. Installation costs aren't fixed, so it's worth negotiating the cost with whoever's fitting your meter.
How long does it take to install a new business gas or electricity meter?
It usually takes between five days and two weeks to have a new business energy meter installed.
But if you're having an additional meter fitted, installation can take as long as 12 weeks as further work might be needed at your property. This is why we recommend you start the process of arranging the installation of a new business gas or electricity meter as early as possible. And, for safety reasons, remember to always use fully accredited commercial gas installers.
If you operate across multiple sites or have more than one meter at your premises, check out our guide to multi-site meters and multi-site energy management.
To find out which type of business energy meter you need, or to switch to a better deal, get in touch with the tech-enabled experts at Bionic by calling 0800 970 0077.