how to move business to new location
How to successfully move your business to a new location
Relocating your business can be a headache, you might know what path you want your company to take but not know how to research new locations. Luckily, Bionic has put together this guide all about moving your small business to new premises and the process you will have to go through.
What does it mean to move a business?
Moving your business can mean different things to different businesses. It could mean anything from moving to another town or city to even relocating to another country.
However far you move, relocating can be a huge step and often feel daunting and it's something you should put serious thought into. But there are many benefits to moving your business to a new location.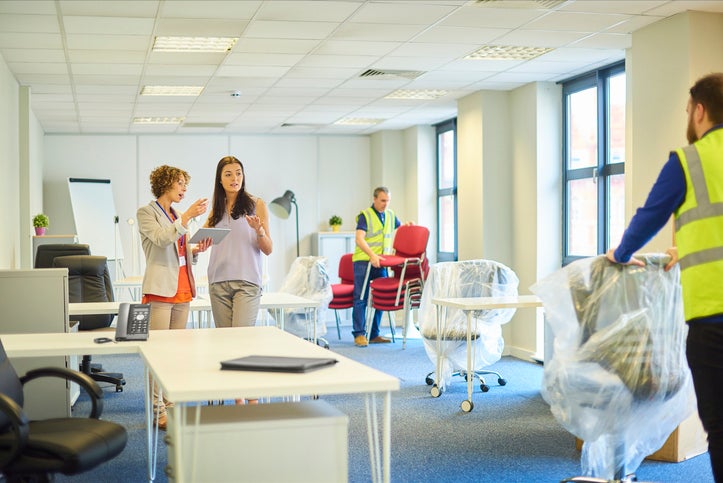 Why do businesses move locations?
Although there are many reasons to move your business location, the main ones are:
To lower costs
One of the main reasons companies choose to relocate is to lower their costs and overheads.
Office rent is usually one of the biggest costs for a business to pay out each month, so moving to a different town just outside a main city can often lower these bills. Generally, having office space in a major city is more expensive than in suburban areas. If your business chooses to save money on rent, you could splurge on other things, like renovations, new suppliers and products.
To improve hiring opportunities
Employing the right staff is so important when you're trying to get your business to thrive. But sometimes the best talent isn't local to you or maybe there's a certain city or town that is known for a particular niche that matches your business. For example, if you owned an organic produce shop, you'd probably find better-suited applicants in rural areas.
To improve employee experience
The happiness of your staff is important and will affect their morale. When an area offers a good quality of life and notable perks, it can help your business succeed. It can also go a long way to attracting the best talent.
Some good quality of life factors to consider when relocating can include a lower cost of living, local education systems, a nicer environment with a low crime rate, nearby entertainment and good health services.
To access new markets
If your business is hoping to dip into new market areas, you might need to relocate to be nearer to your suppliers, a larger pool of customers and better suited candidates for job roles.
A move might be just what you need to flourish and you might find that your business is more successful in a different environment.
How to relocate your business
If you've decided that you do want to relocate and have put enough thought into it, then you might ask how you go about moving.
Find a new location
First, you'll need to find your new office location. It will be up to you and your team to do your research and weigh up the positives and negatives of each location and see if each premises meets your business needs. It's a good idea to create a pros and cons list, so you can clearly see the reasons for and against this location.
Plan the move
Then, when you've found your perfect spot, you'll have to plan the move. Relocating your business can be very stressful but a lot of the time, the pros outweigh the cons. Planning is important because you can be clear on what you want out of the move and minimise any disruption to staff and customers.
Outline the timetable
Next, you need to create a timetable and set out the timeframes you want each moving stage completed by. For example; When do you ideally want to be moved by and how long do you estimate it will take to move your employees and equipment over to the new building?
Agree on a budget
It's really important to agree on your budget before you decide to proceed with the move. Make sure you take into account added extras like moving expenses, employing a moving company, moving supplies and storage holding needs.
Involve your employees in the move
Before your business moves, you need to make sure all your employees are kept in the loop and are aware of what is expected, or not expected of them.
It's vital to have proper conversations with them all about how the move will affect them. For example, will they need to relocate themselves or will they be happy commuting? Be sure to scout out the new office too, is the new premises easily accessible? Is there parking available and nearby transport links for your employees?
Ensure all employees are prepped well in advance
Again, every choice you make should be run past your staff as the change will affect them as much as it will affect you. Let them know ahead of time that you are looking for a new office to give the news a chance to sink in and offer them a chance to consider their own futures with your business.
Ensure all information is up to date
When you've found your premises and everything is in place, you will then need to notify any databases or directories of your relocation. HMRC and Companies House will need to know of your address change and so will your bank. Your suppliers, customers and anyone your business interacts with regularly will need to be informed too.
Arrange for all utilities to be cut off to the old premise
Before the actual moving day, it's a good idea to notify your phone and internet supplier as all your utilities will need to be transferred over to your new location. It's always best to let your supplier know way ahead of time, then you are minimising any stress that comes with switching.
Make sure the new property is insured
It's vital to provide your new premises with insurance. You don't want to move and then find that your new office isn't insured for damages, fire or water damage. Make sure to look into business insurance from a reliable provider, try checking your current provider and if they aren't offering a good deal then compare with others online.
Hire a removal team
When moving day rolls around and you have everything in place and ready to go, it helps to have a reliable removal service on hand. The last thing you want is to be stood up on moving morning with no way to get all your equipment to the new premises.
Get detailed quotes from removal services and compare each ahead of time. Book them in advance and make sure they know what time and what date to turn up. Make sure to check reviews and ratings before you make your choice too.
Arrange visits from the old premise to the new
Visiting the new premises multiple times is so important, you want to make sure it's totally right for your business. But you also want to check out where the removals van can park and unload. Make sure to check any parking restrictions and that there is enough space for the vans.
How much does it cost to move your business?
How much it costs to move office premises really depends on a few things. The location of your new office and market conditions will play a huge part. It's best to make a list of things to factor into your overall budget, like rent, utilities, moving costs etc to ensure you don't overspend.
How can Bionic help your business?
Moving your business to a new location can be stressful and you might be concerned that you don't have enough time to deal with the usual business admin on top of your relocation.
Luckily, the tech-enabled team at Bionic can help you save time, hassle, and unnecessary admin when it comes to sorting your business essentials. We compare business gas and business electricity, as well as business phone and broadband to help make sure you're on the best deals.
We can also help with business insurance and business finance. Get in touch to find out more.