is business energy different to household energy
Is business energy different to household energy?
Although it comes from the same sources – and possibly the same supplier – there are some key differences between business energy and household energy. These are largely to do with how energy is bought and sold, and the way contracts are drawn up.
This means that comparing and switching business energy isn't quite as simple as switching household energy. And this is why it often makes sense to let a business energy broker do the heavy lifting. Here's all you need to know.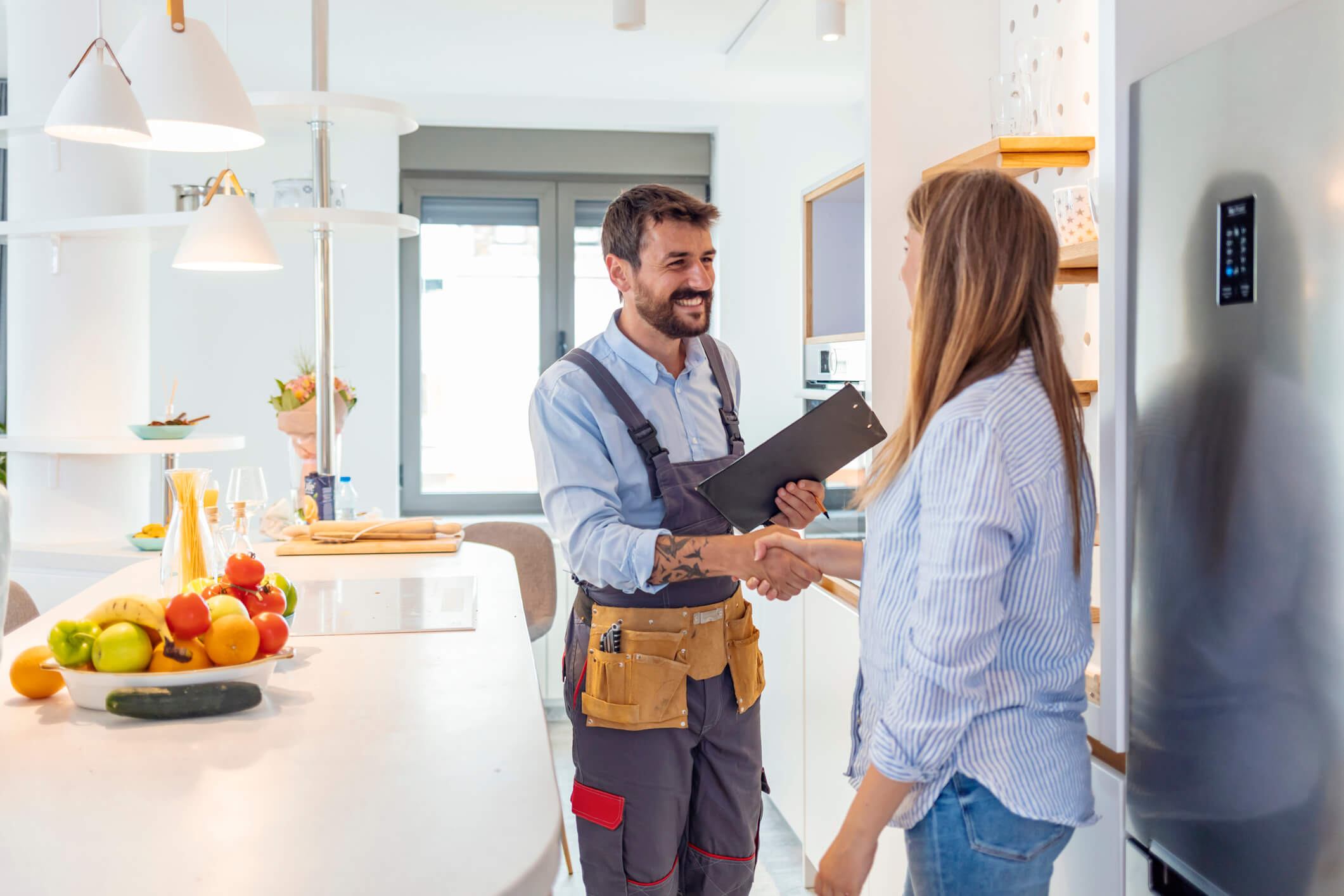 How do business energy contracts differ from domestic energy contracts?
The way business energy is bought and sold means that contracts are more complex and there are different rules when it comes to switching. Here are the main differences between business and domestic energy contracts:
Rates and charges – Most businesses use more energy than households and often use that energy at different times of the day. Suppliers set different rates to reflect these volumes and usage patterns. Businesses also have different charges on their energy bills, such as the Renewable Obligation (RO), Smart Export Guarantee (formerly the Feed-in Tariff), and the Climate Change Levy (CCL). The standard rate of VAT on business energy is 20% compared to 5% on domestic energy, but a 5% rate is available for certain businesses.
Contract length – While most household energy contracts last for 12 months, businesses can lock in rates for up to three or four years.
Cooling-off period – Household energy contracts come with a 14-day cooling-off period. This means you can cancel your contract at any time within 14 days of signing it, with no penalty charge from your supplier. But business energy contracts don't offer a cooling-off period – once you sign, you're locked in. This is why it's important to get guidance from a broker to make sure you're on the right type of contract for the needs of your business.
Price cap – To help households manage the cost of soaring energy bills, domestic energy rates have been capped since 2019. But commercial energy contracts don't come with the same protection. Instead, the government supplies a discount on eligible commercial energy contracts via the Energy Bills Discount Scheme.
Dual fuel – Households can often get a discount by getting their gas and electricity from the same supplier as part of a dual fuel deal. But businesses need to take out separate contracts for gas and electricity, even if both are provided by the same supplier.
Objections – Domestic energy customers will only usually be refused an energy contract if they owe more than £500 for gas or electricity to their current supplier. But suppliers can refuse a commercial switch if a business is in debt to a supplier, has a fixed-term contract already in place, or the contract states any other reasonable requirement.
Why are business and domestic energy contracts different?
Business energy contracts are more complex than domestic ones because of the different ways that businesses use energy.
When it comes to households, suppliers can be sure that they all use energy in pretty much the same way – gas for heating and cooking, and electricity for appliances and lighting. The only difference will be that some households use more than others. This means they can offer an off-the-shelf tariff where everyone pays the same rates.
But businesses are different. On the face of it, a restaurant and a salon might not seem all that different – both are run from commercial premises, employ the same number of staff, and have a similar turnover and balance sheet. Both use gas and electricity, but in very different ways and probably at different times of the day. All these factors, along with location, will help determine the rates they pay.
And then you need to factor in the risk to suppliers. Businesses tend to use significantly more energy than households, and all of the energy needed for a commercial energy contract is bought in advance. If a business goes bust 12 months into a three-year contract, then the supplier of that contract could effectively lose two years' worth of payments. This increases the risk profile and costs for suppliers and can affect the rates they quote. It's also a reason why your business credit score is considered when quoting your energy rates.
These added complexities mean that suppliers can't offer off-the-shelf commercial energy tariffs. Instead, all contracts are designed for each individual business. So, even if you're used to switching energy at home, you might still need some expert help when sorting your business energy contracts.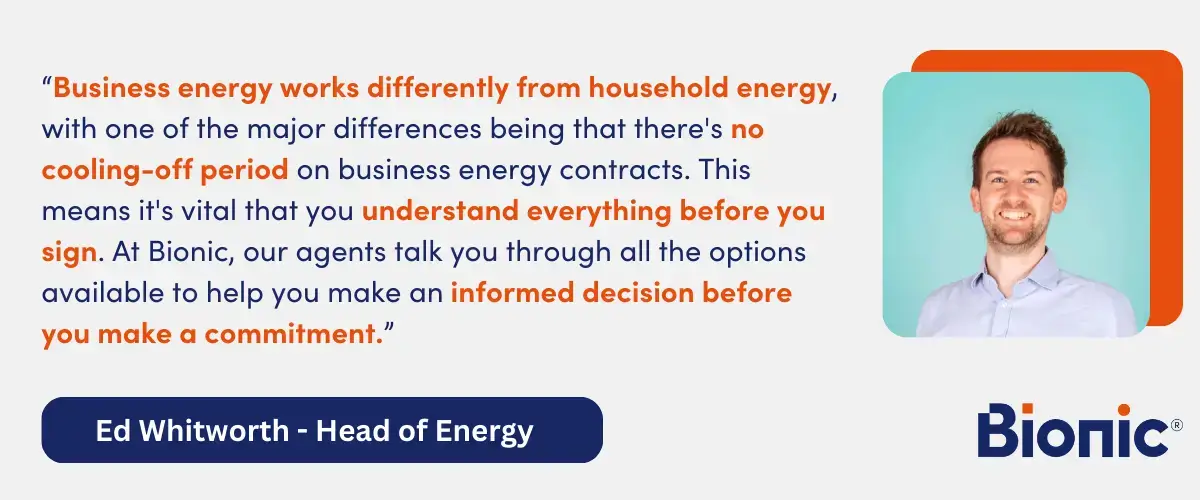 Is it more difficult to compare business energy quotes?
Unlike domestic energy, comparing business energy isn't as simple as putting your details into a price comparison website and picking from several options. This is because contracts are tailored to the needs of each business and things like energy usage, business location, and the number of staff it employs are used to work out rates.
If you want to make sure you're on the best possible rates, you'll need to ring around each supplier and get a quote from each. If you use both gas and electricity at your business you'll need to repeat the process for each fuel.
But using a service like the one we offer at Bionic means you can compare from a range of suppliers in one go. We use the details you give us to compare quotes from our panel of suppliers. We then talk you through the options to help make sure you choose the contract and supplier that's best for your business.
Why can't you switch business energy completely online?
Business energy is more complex than household energy. That's why we talk you through your quotes to make sure you're on the right type of contract and the right rates for your business. But there's no hard sell. After we've tailored your quote, you're free to think about it or walk away.
We know that not everyone has the time or inclination to speak with an energy broker, especially if your earlier experience has been waiting on hold for hours, only to speak to someone who can't help, and then getting cut off. Or answering a call from an unknown number, and then getting the hard sell. What business owner has time for a 45-minute call?

We do things differently at Bionic. We use smart data to cut the amount of form filling. And to make the call as short as possible, we do as much as we can online. We get you connected to your agent in seconds. We show your quotes on your screen and talk you through them. Remember, it's important to make sure you get the right contract as there's no cooling-off period.
If you're worried about unexpected fees, you can rest easy – the rates you're quoted are the rates you'll pay. We're paid a commission by the supplier – not by you – and we'll let you know exactly how much money we'll be making from your switch.
How is switching business energy different?
You can switch from a domestic energy deal at any time. Some suppliers will charge an early exit fee if you switch before your contract enters its final 49 days, but you can still switch if you want to. Once you've agreed to switch, you should be with your new supplier within 21 days, regardless of how long was left on the contract with your old supplier.
Switching business energy suppliers isn't quite as straightforward. Once you sign a business energy contract, you're locked in until the end date of that contract. You can sign a new contract once your current one enters its switching window, which can be up to nine months before your contract's end date, but the switch won't happen until your current contract expires.
Is business energy cheaper than household energy?
This is tough to answer because commercial and domestic energy contracts are very different. The energy price cap has also limited the rates that suppliers can charge on domestic deals, while business energy prices have been at the mercy of a very volatile market.
To give you an idea of how much households and businesses can expect to pay for gas and electricity, here are the latest unit rates (that's the amount you pay for each kilowatt hour (kWh) unit of energy you use) and standing charges (a daily amount used to cover the cost of getting the energy to your premises). You can also find out more in our guide to average business gas usage.
Household gas rates and business gas rates comparison
| | | |
| --- | --- | --- |
| | Unit rate | Standing charge |
| Household gas | 6.9p | 29.6p |
| Micro business gas | 10.1p | 46.9p |
| Small business gas | 9.6p | 59.0p |
| Medium business gas | 10.4p | 95.7p |
| Large business gas | 11.2p | 57.2p |
Household electricity rates and business electricity rates comparison
| | | |
| --- | --- | --- |
| | Unit rate | Standing charge |
| Household electricity | 27.4p | 53.4p |
| Micro business electricity | 29.5p | 51.9p |
| Small business electricity | 29.3p | 73.4p |
| Medium business electricity | 27.0p | 223.7p |
| Large business electricity | 29.0p | 79.1p |
Note: Household rates are based upon the price cap rate based on a typical customer paying by direct debit from October 1, 2023. See the Ofgem website for more details. Business energy rates are the average unit rates and standing charges quoted by Bionic per business size from August 14 to August 18, 2023. Rates do not include any Energy Bills Discount Scheme discount. Rates and bill size may vary according to your meter type and business location and any prices you're quoted may differ from the averages shown.
Business energy FAQs
If you still have some questions about business energy, we might have the answers below. If not, feel free to get in touch via any of our social media channels.
Are business energy contracts legally binding?
Yes. Energy contracts are legally binding, and you don't need to physically sign one - you can agree to a contract over the phone. That's why it's best to talk through your contract details or see everything in writing before you agree to sign.
Can an energy contract be renegotiated at any time?
No. Once you've agreed to a contract with a supplier, you're locked in until that contract ends. If you arrange a new contract, this won't start until your current one ends. In some cases, you may be able to negotiate a blend and extend deal midway through the term of your contract. For more details, check out our guide to blend and extend energy contracts.
Is there a cooling-off period on business energy contracts?
No. Unlike with domestic energy, there's no 14-day cooling-off period on business energy contracts.
Can I switch if I rent my business premises?
If your business tenancy agreement states that you have to pay energy costs directly to your landlord, then it's likely they will handle the energy contracts. But this doesn't mean you can't switch. If you think you can get a better deal elsewhere, let your landlord know you'd like to switch.
If you pay the business energy bills yourself, you can go ahead and compare deals before switching. As a courtesy, you should always let your landlord know before you do though.
Will my energy supply be disrupted if I switch?
No. When you switch suppliers, your gas and electricity are supplied through the existing pipes and cables, it's just the supplier that changes. This means there'll be no disruption to your energy supply and no need for any extra digging or drilling at your premises.
Will I save money if I switch business energy suppliers?
The rates quoted on fixed-term energy contracts are almost always lower than the rates charged by suppliers on their variable rate tariffs. Arranging a new fixed-rate contract should save you money compared to what you'd be paying if you let your current deal end and roll onto your supplier's standard variable rate.
But it's unlikely that the rates you're quoted for your next contract will be cheaper than the rates you're currently paying. This is down to normal price inflation.
Will I be charged extra or hidden fees when I use a broker to switch energy?
No. When you switch business energy with Bionic, the rates you're quoted are the rates you pay. There are no hidden extras and we always let you know exactly how much commission we'll make on your contract. This is paid by the supplier, not by you, and it covers the cost of our service, including comparison, switch management, customer service and renewals.
Do I need a business energy contract if I work from home?
If run your business from home and you use 50% or more of your energy for work purposes, then you may be eligible for a business energy contract. But before you switch, you need to work out whether it would be the most practical and cost-effective option. You can find out more in our guide to micro business energy.