Why are energy prices rising?
Updated April 27, 2022
It's been a few months since we first found out that energy prices were set to go through the roof. While domestic rates have been kept in check (to a degree) by the energy price cap, there have been some wild variations in the rates we've been able to quote for business energy - since August 2021, suppliers have increased their out of contract rates by an average of 100%.
The reason energy suppliers are currently quoting such high rates (that's if they're able to quote any rates at all) is that wholesale energy prices are currently at record high levels. Here's why these wholesale rates affect the price we all pay for gas and electricity:
Suppliers buy energy from the wholesale market and then sell it to domestic and business energy customers
When wholesale prices go up, energy suppliers increase their rates to cover the extra costs and we're all hit with higher energy bills
Switching to a fixed-rate deal will protect you against any mid-contract price rises, but you'll probably find your rates will rise at the next renewal.
An increase in wholesale energy prices is nothing new – market prices are always going up and down – but prices are currently so high and so volatile that it's difficult to predict how much they will be from one day to the next, never mind in 12 months' time.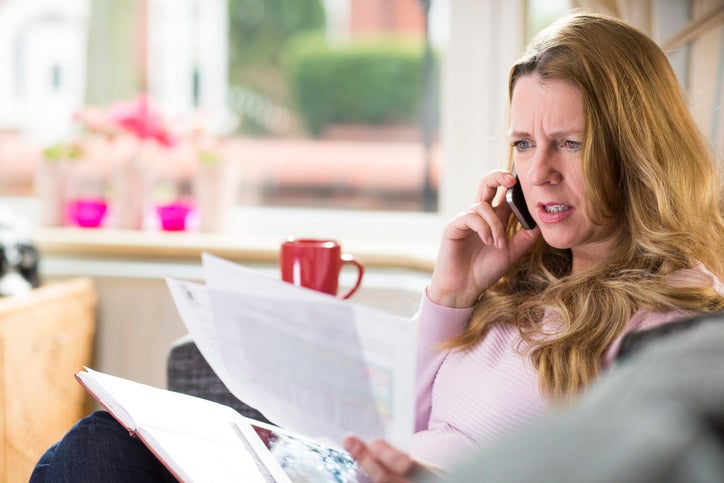 How much are wholesale energy prices right now?
Energy prices have been steadily rising over the last 12 months or so, but prices have been particularly volatile for about six months now. These are the latest wholesale gas and electricity figures available from Ofgem and ICIS have
Wholesale gas costs more than £209 per therm* (around 29 kWh)
Wholesale electricity costs more than £172 per MWh* (1,000 kWh)
How energy prices are rising in 2022
Wholesale energy costs have fluctuated over the last few months - after a steep increase in December 2021, prices have been particularly volatile in 2022. Although they have fallen and risen quite sharply, the overall trend is upwards. There's nothing to suggest this will change any time soon, as Chris O'Shea, chief executive of British Gas owner Centrica, said: "The market suggests the high gas prices will be here for the next 18 months to two years"
The graphs below from Ofgem's wholesale market indicators show how both gas and electricity prices have risen throughout 2021 and into 2022.
How have gas prices increased in 2022?
As you can see from the graph below, prices were at their highest levels in mid-December 2021, when gas prices hit a high of £270.12 per kWh. Prices have been consistently rising during this time, but they did dip towards the end of the month.
How have electricity prices increased in 2022?
As you can see from the graph below, prices were at their highest levels in mid-December 2021, when gas prices hit a high of £240.58 per kWh. Prices have been consistently rising during this time, but they did dip towards the end of the month.
Source - Ofgem and ICIS
But why are wholesale prices so high? It's down to a series of events that have conspired to hit at once, some globally and some just for us here in the UK.
Why are wholesale energy prices so high?
Although we're all feeling the effects of rising energy prices at home and at work, it's a global issue that's been caused by some far-reaching and unexpected reasons. The conflict in Ukraine is currently having a huge impact on what was already a big problem with energy prices (more on that below), but the following issues have also combined to inflate energy rates:
Gas shortages across Europe, caused by a prolonged cold winter between 2020 and 2021, drained natural gas storage.
High demand for liquefied natural gas (LNG) from Asia has led to lower LNG shipments to Europe.
Delays and complications to the Nord Stream 2 pipeline, which is an $11 billion link across the Baltic Sea with the capacity to send 55 billion cubic metres of gas a year directly from Russia to Europe, bypassing Ukraine (hence the complications).
An increase in demand as lockdown restrictions eased across the globe. There's more on that below, in the section titled: How has the pandemic affected energy prices?
Why are UK energy prices so high?
As you can see, we're in the midst of a global energy crisis, but to make matters worse, the UK is also suffering from the following problems:
Low winds mean lower renewable energy generation. This, coupled with outages at some nuclear power stations, means that a higher percentage of our electricity generation is using gas during its production.
Fire at a National Grid site in Kent knocked out a power cable that runs between England and France and is used to import electricity from the continent. This isn't expected to be fully back up and running until 2023.
The UK has some of the lowest gas reserves in Europe, which means there's almost no way of stockpiling gas to use it when needed. Capacity is equivalent to roughly 2% of the UK's annual demand, compared with 25% for other European countries and as much as 37% in Europe's four largest storage holders.
Will conflict in Ukraine push up energy prices?
As outlined above, there are many reasons why energy prices are currently so high. The conflict in Ukraine has pushed rates up even higher.
This is because energy prices are affected by things that are happening across the globe – anything from a conflict to a natural disaster in a country that produces oil or gas can affect how much we pay to heat our homes and power business here in the UK.
One of the main reasons why this conflict is having such an impact on our energy bills is because of how reliant Europe has become on Russian gas. In 2021, Europe sourced more than 40% of gas imports from Russia and conflict with Ukraine could seriously disrupt this supply and push up prices. Although the UK isn't as heavily reliant on Russian gas, it does import almost half of its from Europe. This means any price hikes for European supply will have a knock-on effect for the UK.
The situation is causing panic in the energy market. Wholesale gas prices have risen by as much as 33% and some suppliers have temporarily pulled out of the market. Securing your rates today is the only way to protect your business from any future price changes.
And then there's the geopolitical situation to consider. For a concise breakdown of the current state of affairs, check out this piece in The Guardian.
Does the energy price cap apply to businesses?
Millions of UK households have been hit with higher energy bills after the energy price cap on standard variable rate tariffs (SVTs) increased by 54% as of April 1. This means the average cost of an SVT has risen by £693 to £1,971 a year. Households on prepayment meters have seen average annual bills rise by £708 to £2,017 a year.
Under normal circumstances, the level of the price cap affects around 11 million UK households. But it's expected to impact around twice that number this time around as more people have rolled onto their supplier's SVT to take advantage of the price protection offered by the cap amid high prices brought on by the energy crisis (as outlined above).
This is the price cap's highest level - by some distance - since it was introduced in January 2019.
It's worth noting that the cap sets the prices that suppliers can charge for each unit of energy and the standing charge (which has doubled in some areas), but that doesn't mean there's a limit to how much people can pay. The figure of £1,971 is the average a household can expect to pay if they're on their supplier's standard variable rate tariff.
In short, the more gas and electricity you use, the higher your bills will be.
But what does this mean for SMEs?
No price cap on business energy means that suppliers can increase their out of contract rates by as much as they see necessary to cover their increased costs. This has seen out of contract rates (also known as deemed rates) rise by an average of 100% since August 2021.
This means any business that lets a fixed rate deal expire without arranging a new one could see huge price hikes even though they're using no more energy than before.
The only way to protect against these rate rises is to switch to a new business energy deal. This is because the government is showing no appetite for helping the millions of small businesses across the UK.
Although the Spring Statement outlined some assistance in the form of changes to business rates and National Insurance Contributions, it's up for debate whether these measures go far enough. And there was no mention of any support at all for business owners struggling with their energy bills.
This is an issue that will affect all businesses, from industrial and large businesses to the small corner shops, mechanics, and salons. Every business needs energy to keep running, and business owners can only set aside a certain amount of money to cover these costs, regardless of how much they're using each month.
A 100% increase on the cost of energy could be catastrophic for any business owner.
What if you run your business from home?
If you run your small business completely from home, you might not even have switched to a business energy deal, in which case you'll be directly affected by the cap in one of two ways:
Your rates will increase in line with the price cap if you're on a standard variable rate tariff
Your supplier will increase the price of its fixed-rate deals, meaning you might feel the pinch next time you switch energy suppliers
If you run a business from home, it naturally follows that you'll use more energy than if you were spending your working hours at commercial premises, particularly during the winter months.
And the more gas and electricity you use at home, the bigger your household energy bills will be. Check out our Bionic guides to find out more about business energy deals and working from home, along with some energy saving tips to save to help cut your bills.
If you don't work from home and run your business from dedicated premises - say you run a salon or restaurant - then you'll not have the protection of a price cap. Although you'll have a bespoke business gas and business electricity deal at your workplace, you could still find that your commercial supplier has increased rates to cover increased costs at your next renewal.
That's why it's important to compare deals when your switching window opens.
If you're in the restaurant or takeaway business, check out our guide page to find ways to save money on your energy bills and get a quote for restaurant energy to see how much you could save.
How has the pandemic affected energy prices?
Let's quickly go back to the first lockdown of early 2020, when a drop in demand saw energy prices drop to their lowest ever levels. Although wholesale prices had been dropping since hitting a high of £67.69 per Megawatt-hour (MWh) in September 2018, things bottomed out at just over £24 per MWh in April and May last year - at the height of the first lockdown.
Prices have been steadily increasing since then. By September 2020, wholesale electricity costs were £45.30 per MWh and prices are now well past pre-pandemic levels:
Gas is now more than £111 per therm* (around 29 kWh)
Electricity is now more than £119 per MWh* (1,000 kWh)
An increase in demand is a big driver behind the price hikes.
A greater need for energy since the crash of March and April last year has seen gas prices increase more than five-fold and return to pre-pandemic levels.
For the wholesale electricity market, there has been a reduction in available power supplies compared to last year which, combined with higher gas prices, has led to an increase in the wholesale price of electricity.
An increase in network and policy costs is also pushing prices up.
Higher electricity distribution and transmission costs have driven a rise in network costs, as has an increase in policy costs, such as the Renewable Obligation (RO). For reference, the RO is a levy placed on all licensed electricity suppliers to encourage them to source a proportion of the electricity they supply from renewable energy sources.
The pandemic has also seen more energy suppliers hit by 'bad debt'. This means many have lost money because customers simply haven't been able to afford to pay their energy bills.
For more information on the types of things that can affect energy prices, check out our guide on how to compare business energy tariffs.
Will the energy price rises ever end?
Although it's difficult to predict exactly what will happen in such a turbulent energy market, the chief executive of Centrica, the parent company of British Gas, has suggested there was "no reason" to expect gas prices would come down "any time soon". He even suggested that "high gas prices will be here for the next 18 months to two years".
The government is coming under pressure to step in and help consumers by way of a VAT cut or a lowering of other charges not directly linked to the wholesale price of energy.
Unfortunately, there's so far been no sign that these options are being considered, even though there seems to be an appetite for these measures elsewhere, as the results of our Twitter polls show.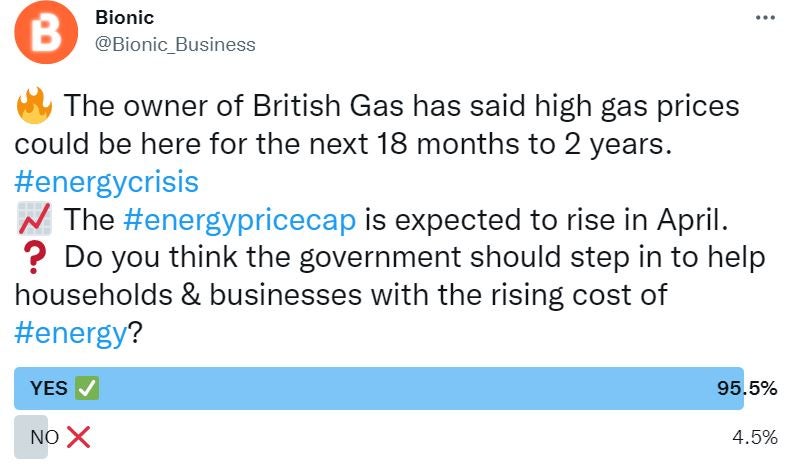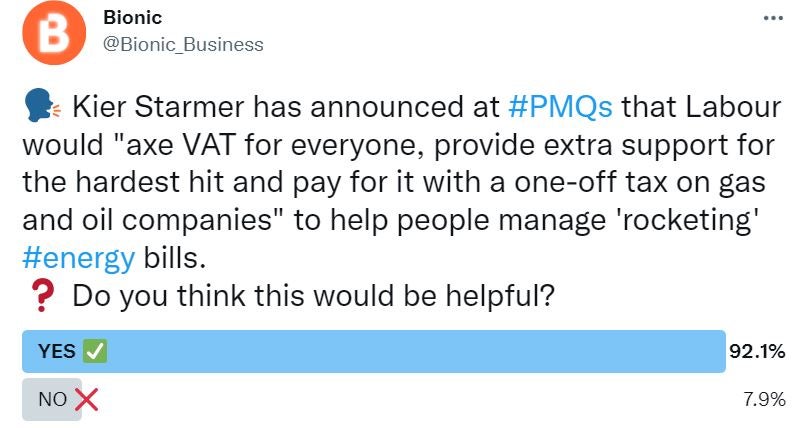 What can you do to keep your business energy bills low?
The only way business owners can currently shield themselves from out of contract rates and any potential future price rises is to lock in existing rates as soon as possible.
To get a quote tailored to meet the needs of your business, give our tech-enabled experts a call on 0800 860 6833 or pop your postcode in the box on our business energy page and we'll give you a call back.
If you want to help cut your business energy bills, it also helps to think about how and when you're using gas and electricity. So, consider the following:
Assess when you're heating your premises
Switch appliances off
Pay attention to the weather
Install a smart meter to save
Be mindful of water costs
Turn off lights when not in use or fit light sensors
Encourage all staff to be energy-aware
Draught-proof your building
Go paperless as much as you can
Request an energy audit
For more detailed information, check out our blog on how to save business energy (and money).
But you also need to be realistic. Even if you put in place all of the energy-saving measures possible and cut your usage right down, there's still a minimum amount of energy you need to use to keep your business running, so you might still feel it on your balance sheet if your energy rates rise.
Why were energy prices falling?
There were a number of reasons why energy prices fell so dramatically, including:
The spread of coronavirus has seen gas and energy prices plummet due to reduced demand.
As British winters go, we've had a pretty mild one, which has meant less demand for gas.
The raging winds we've seen this winter have helped supply more renewable power at lower prices, while an oversupply of liquefied natural gas (LNG) has led to cheaper gas generation.
But energy prices have been back on the rise since hitting a low towards the end of July 2020 and the current situation means costs have gone beyond pre-pandemic levels.
Things to think about when choosing an energy deal
Not all business energy tariffs are the same - if you choose the wrong one, your business will pay too much for gas and electricity.
And because signing up to a business energy deal means you're locked in for the duration of the contract, you could be paying too much for anything up to five years.
This might leave you wondering whether it's worth bothering at all - here's why it definitely is worth comparing business gas and business electricity deals.
If you've never switched business energy suppliers, your current provider will have you placed on an expensive 'out of contract rates' deal, which can cost up to twice as much as contracted rates (even more in the current market).
When switching, you'll need to bear in mind that the rates you're offered will depend on things like the amount of energy you use, the location of your business premise, and whether or not your business is in good financial shape - a poor credit score could see you paying higher rates, as your business is seen as a higher risk.
It's also worth knowing that business energy suppliers don't offer dual fuel deals, so even if you agree to a gas and electricity deal with the same supplier, these will still be two separate energy contracts.
How to switch business energy suppliers
The quickest and simplest way to find the best business energy deals is to speak to the tech-enabled human experts at Bionic.
Just give us your business names and postcode and we'll use smart data and our own expertise to find the best business gas and business electricity tariffs for your business in a matter of minutes.
To get started, pop your business postcode in the box at Bionic.co.uk, or give us a call on 0800 086 1326.
Our business energy experts will then search for the best deals from our panel of trusted and quality UK energy suppliers, then help you choose the right energy tariff over a short call.
You just then need to decide which deals you like best, and we'll take care of the rest. And there's no need to worry about renewals either, as we can find you the best deals year after year.
What if you're moving to new business premises?
If you're relocating your business, one of the following two things will happen to your energy contract:
It will be transferred to your new premises.
It will be cancelled, and you will have to set up a new contract at your new premises.
When you sign up for a business energy deal, you're rarely allowed the leeway to leave it early. This is because your supplier will buy the right amount of energy to see you through the duration of the contract, so it stands to lose out if you end it before the agreed end date.
Relocating your business offers a rare chance to end your current business energy contract early and switch to a better deal, but you need to weigh up the options before making the decision to switch.
If you transfer your existing energy deal to your new premises, your supplier will take care of this for you, so there are no issues and your only billed from the first day you move into the new place.
If you switch to a new deal with another supplier, you'll need to arrange the payment of your final business energy bill or sort out any refund you might be due if your account was in credit.
If this seems like too much hassle, bear in mind that switching could save your business hundreds of pounds a year and switching with Bionic means our tech-enabled experts will take care of all the hard work for you to ensure a seamless switch.