Why have business energy prices been rising?
If you've been keeping a close eye on the energy market, maybe because your current contract is up for renewal soon, you may have noticed that prices have been back on the increase over the last few months.
Why are energy prices rising?
If there were any positives to take from the first lockdown back in early 2020, it was that the drop in demand for fuel saw energy prices drop to their lowest ever levels. Although wholesale prices had been decreasing since hitting a high of £67.69 per Megawatt-hour (MWh) in September 2018, it appears things bottomed out at just over £24 per MWh in April and May last year - at the height of the first lockdown.
Prices have been steadily increasing since then. By September 2020, wholesale electricity costs were £45.30 per MWh, and the forecast for March 2021 is that prices will be back up to pre-pandemic levels of around £60 per MWh.
An increase in demand appears to be the main driver behind the price hikes. An increase in demand since the crash of March and April last year has seen gas prices increase five-fold and return to pre-pandemic levels. For the wholesale electricity market, there has been a reduction in available power supplies compared to last year which, combined with higher gas prices, has led to an increase in the wholesale price of electricity.
Prices are also being pushed up by an increase in network and policy costs. Higher electricity distribution and transmission costs have driven a rise in network costs, as has an increase in policy costs, such as the Renewable Obligation (RO). For reference, the RO is a levy placed on all licensed electricity suppliers to encourage them to source a proportion of the electricity they supply from renewable energy sources.
The pandemic has also seen more energy suppliers hit by 'bad debt', which is when suppliers lose money because customers simply can't afford to pay their energy bills. Ofgem, the UK energy regulator, has recently increased the domestic energy price cap to help suppliers recover money lost in this way over the last 12 months, so there's no reason why business energy suppliers won't do the same.
How energy prices are rising in 2021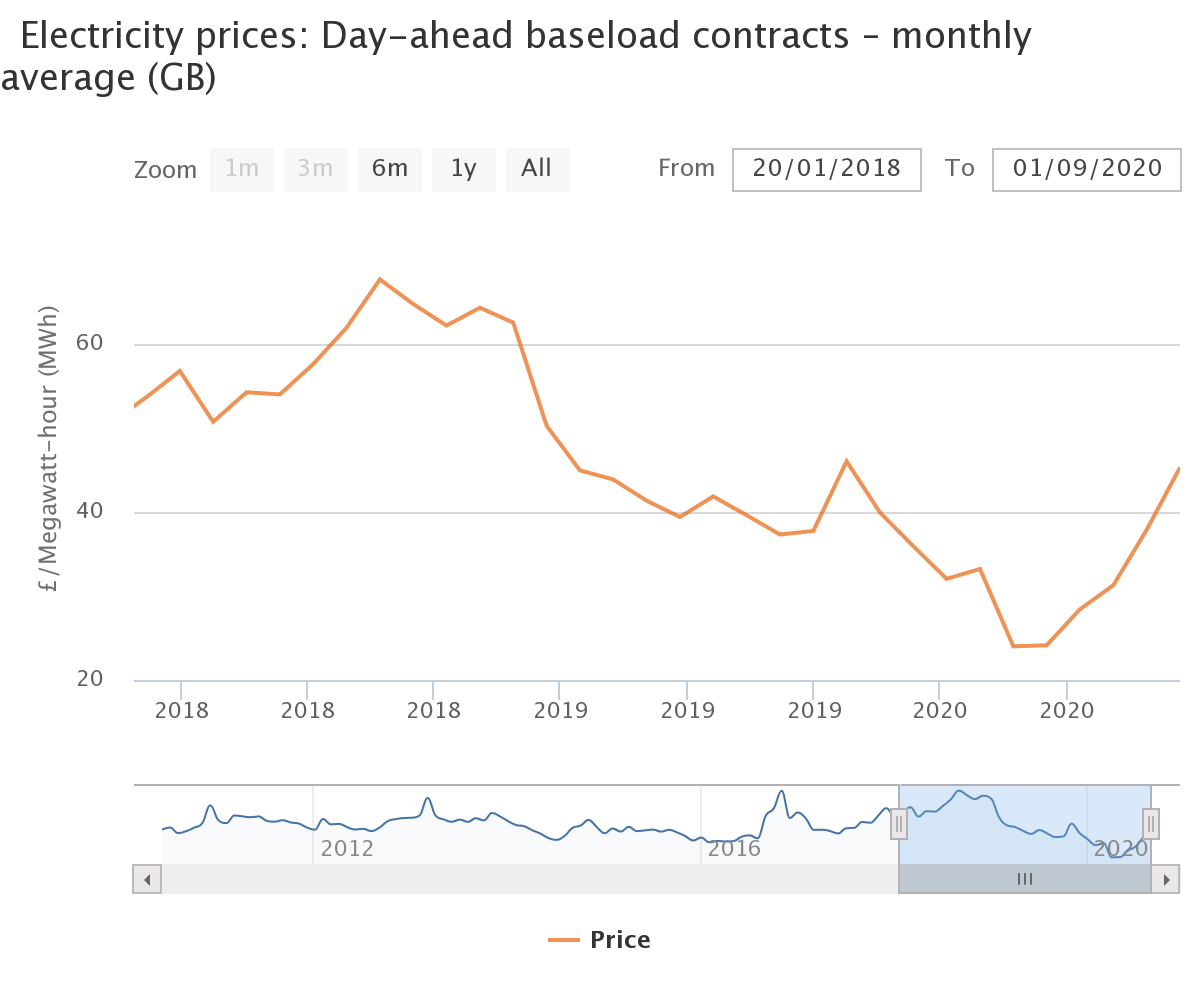 Source - Ofgem and ICIS
Why were energy prices falling?
There were a number of reasons why energy prices fell so dramatically, including:
The spread of coronavirus has seen gas and energy prices plummet due to reduced demand.
As British winters go, we've had a pretty mild one, which has meant less demand for gas.
The raging winds we've seen this winter have helped supply more renewable power at lower prices, while an oversupply of liquefied natural gas (LNG) has led to cheaper gas generation.
But energy prices have been back on the rise since hitting a low towards the end of July - reason enough to arrange a new deal and lock in your rates now, before prices rise any further.
Things to think about when choosing an energy deal
Not all business energy tariffs are the same - if you choose the wrong one, your business will pay too much for gas and electricity.
And because signing up to a business energy deal means you're locked in for the duration of the contract, you could be paying too much for anything up to five years.
Which might leave you wondering whether it's worth bothering at all - here's why it definitely is worth comparing business gas and business electricity deals.
If you've never switched business energy supplier, your current provider will have you placed on an expensive 'out of contract rates' deal, which can cost up to twice as much as contracted rates.
So it's definitely worth switching to a better priced deal.
When switching, you'll need to bear in mind that the rates you're offered will depend on things like the amount of energy you use, the location of your business premise, and whether or not your business is in good financial shape - a poor credit score could see you paying higher rates, as your business is seen as a higher risk.
It's also worth knowing that business energy suppliers don't offer dual fuel deals, so even if you agree a gas and electricity deal with the same supplier, these will still be two separate energy contracts.
How to switch business energy suppliers
The quickest and simplest way to find the best business energy deals is to speak to the tech-enabled human experts at Bionic.
Just give us your business names and postcode and we'll use smart data and our own expertise to find the best business gas and business electricity tariffs for your business in a matter of minutes.
To get started, pop your business postcode in the box at Bionic.co.uk, or give us a call on 0800 086 1326.
Our business energy experts will then search for the best deals from our panel of trusted and quality UK energy suppliers, then help you choose the right energy tariff over a short call.
You just then need to decide which deals you like best, and we'll take care of the rest. And there's no need to worry about renewals either, as we can find you the best deals year after year.
What if you're moving to a new business premises?
If you're relocating your business, one of the following two things will happen to your energy contract:
It will be transferred to your new premises.
It will be cancelled and you will have to set up a new contract at your new premises.
When you sign up to a business energy deal, you're rarely allowed the leeway to leave it early. This is because your supplier will buy the right amount of energy to see you through the duration of the contract, so it stands to lose out if you terminate it before the agreed end date.
Relocating your business offers a rare chance to end your current business energy contract early and switch to a better deal, but you need to need to weigh up the options before making the decision to switch.
If you transfer your existing energy deal to your new premises, your supplier will take care of this for you, so there are no issues and your only billed from the first day you move into the new place.
If you switch to a new deal with another supplier, you'll need to arrange the payment of your final bill or sort out any refund you might be due if your account was in credit.
If this seems like too much hassle, bear in mind that switching could save your business hundreds of pounds a year, and switching with Bionic means our tech-enabled experts will take care of all the hard work for you to ensure a seamless switch.