selling energy back to the grid
How to sell energy back to the grid. Ways for your business to make money
Looking for ways to make extra cash? Taking a look inside your business and away from your customers could open up a new untapped revenue source.
How? Upgrading to renewable energy systems and selling your energy could see your supplier paying you by the kWh.
Sound complicated? It's more popular than you might think.
In fact, Ofgem reported 34,020 new installations for energy exports in 2021-2022 across both businesses and homes, meaning more people are benefiting from it than ever before.
And you could be one of them. Learn all about the process below.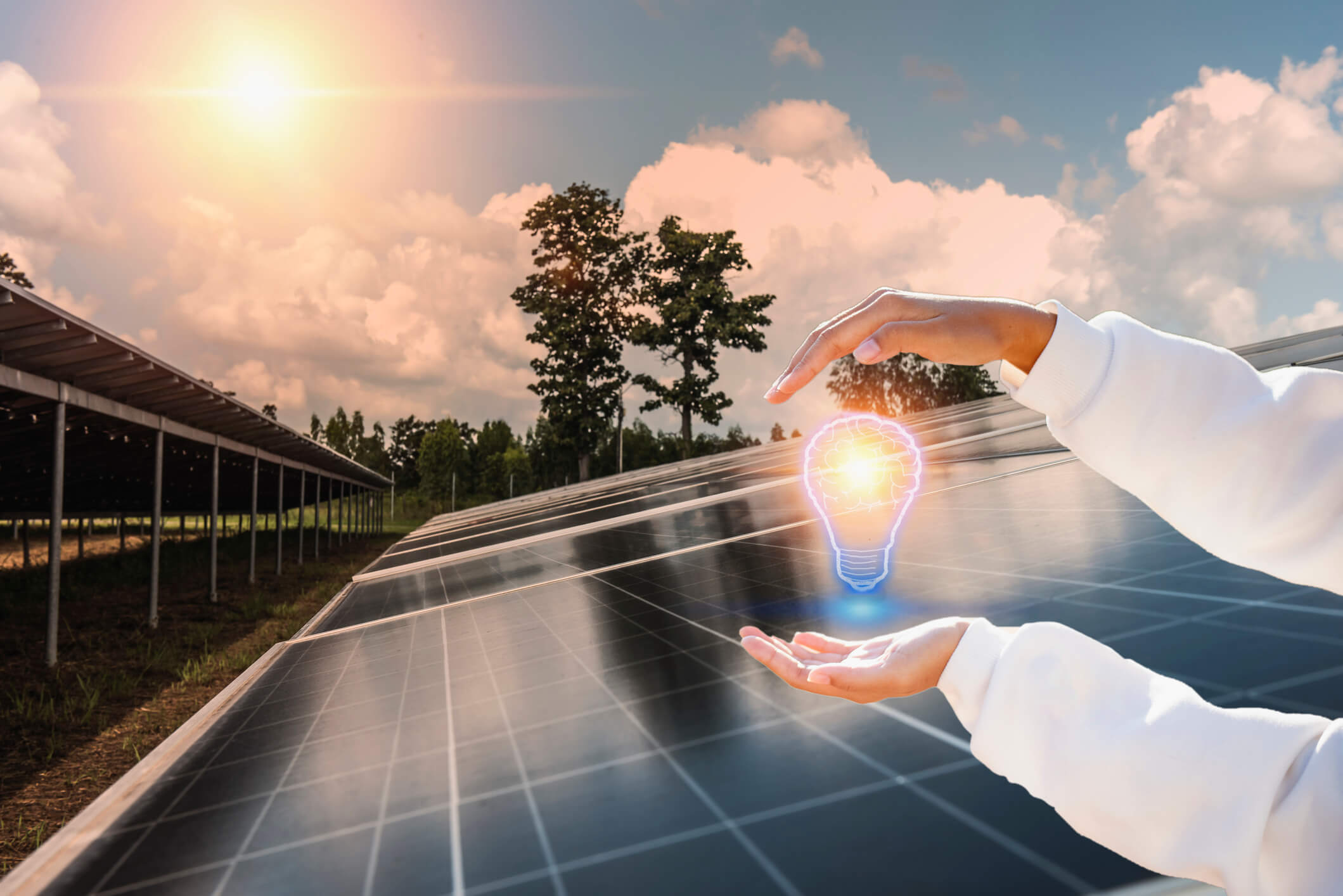 30-second Summary
Eligible businesses can sell any unused renewable energy they generate back to the National Grid through energy suppliers. This could create a new, small but constant source of income.
This process is done through The Smart Export Guarantee (SEG) scheme. Businesses can sign up to this scheme as long as they meet certain criteria.
Renewable energy systems are different and there are separate criteria for those hooked up to generators and anaerobic digestion. The SEG accepts the following renewable energy systems (if they meet the criteria) - solar, wind, hydro, Anaerobic Digestion (AD) and Micro-Combined Heat (micro-CHP).
Selling energy back to the grid has many business benefits including lowering your energy bills, potential tax relief and a better brand reputation. But, there are some limitations including high initial costs for installations, low export rates and extra paperwork to sort.
What does it mean to sell energy back to the grid?
This refers to the process of selling the spare energy you generate back to the National Grid through energy suppliers. Doing so means you can earn some extra cash you can pump back into your business.
Anyone who generates their own renewable energy could sell energy back to their supplier. The process of selling used to be complex, but it's become easier as more businesses and homes adopt renewable energy systems like solar panels, microturbines and other green installations.
Currently, the way you sell excess energy is through a government-run scheme called the Smart Export Guarantee.
Read all about it below.
What is the Smart Export Guarantee (SEG)?
The Smart Export Guarantee (SEG) is a scheme you can sign up for, to sell any excess renewable energy you generate. It was introduced by the UK Government on January 1, 2020.
SEG replaced the Feed-in Tariff (FIT) that closed on April 1, 2019, for new applicants.
This is partly due to it being an outdated scheme, as new solar panels and other renewable technology are now cheaper to install than they used to be.
How does the process of selling energy work?
Businesses in Great Britain with renewable energy systems linked to small-scale generators can apply for this scheme as long as they meet certain criteria.
Businesses that generate energy using anaerobic digestion can also apply for the SEG scheme. These are businesses that create electricity by breaking down organic matter like animal manure, wastewater and food waste with bacteria.
Read the full guidelines for anaerobic digestion here. For more detailed information on how the wider energy market works, check out our guide to how energy is bought and sold and how it affects UK prices.
For those who use small generators, in order to benefit from this scheme, you need to go through the process of applying and pass the requirements below.
First, check if you're eligible
Businesses located in England, Scotland, or Wales can apply for the SEG tariff. It's not currently available to businesses in Northern Ireland.
You can apply for SEG if your business generates renewable energy in any of the following ways:
Solar Photovoltaics (PV) - Systems using energy from the sun like solar panels.
Wind Power - For example, wind turbines or micro wind turbines that generate electricity.
Hydropower — Generated from flowing water. Either from natural or man-made rivers or streams.
Anaerobic Digestion (AD) - Energy generated from using bacteria to break down organic matter and turn it into energy.
Micro-Combined Heat and Power (micro-CHP) - Refers to any system that generates heat and electricity at the same time, from the same source. For example, internal combustion engines.
You also must be able to prove that your systems and/or generators are professionally installed and certified, and you might have to provide an MSC certificate (Microgeneration Certification Scheme). The scheme also recognises other types of certificates, speak to your supplier when applying to make sure. Depending on your system's capacity, you'll need the following certificates to be eligible.
| | | | |
| --- | --- | --- | --- |
| Technology | Capacity | Installation certificate needed? | Installer certificate needed? |
| Solar, Wind, Micro-CHP | 50kW or above | Yes | Yes |
| Solar, Wind, Micro-CHP | Between 50kW-5MW | Yes | No |
| Hydro & Anaerobic Digestion | 5MW or above | Yes | No |
You'll also need an export meter with an MPAN number that's capable of taking hourly measurements. This is a 13-digit reference number unique to your electricity connection point and is separate from your existing import number. If you don't have an export meter, you can request one from your supplier when signing up for a SEG tariff.
In some cases, you might be able to use your existing business energy meter and link it up with the SEG for exported electricity. Speak to your supplier to check if this is possible for you.
Read the full guidelines for generators here.
Sign up for an SEG tariff
To benefit from a SEG tariff, you need to sign up for one. This is separate from your business energy tariff and deals with exporting the spare energy you generate.
Suppliers with more than 150,000 customers are required to offer an SEG tariff, which means if your business energy contract is with a well-known supplier, they'll most likely offer an SEG tariff, but you don't need to go with the same supplier if you don't want to.
Like any deal, different suppliers offer different types of contracts with varying rates, lengths and conditions. So it's best to shop around to find the right one for your business.
Here is a list of the suppliers that currently offer the SEG scheme as of April 1, 2023, to March 31, 2024:
E (Gas & Electricity)
E.ON
Octopus Energy
OVO Energy
Shell Energy
So Energy
The Utility Warehouse
Utilita
Pozitive Energy
Rebel Energy
You're not eligible for an SEG tariff if you are still receiving export payments under the Feed in Tariff scheme.
Sell your excess energy
When you register for a SEG tariff, you'll get paid for every unit of electricity you feed back to the National Grid.
Like a standard business energy tariff, these can be fixed or variable and vary per supplier. A fixed tariff will pay you a rate for exported electricity based on KwH over the length of the contract. A variable rate will change based on market demand. However, government guidelines state that prices will never fall below zero.
How much you earn depends on many factors, including how many solar panels, microturbines or hydro systems you have in place and the amount of energy it generates. Other factors like location and your supplier's rate will also affect how much you'll earn.
Receive cash payments
Once your supplier receives readings from your export meter, you'll begin to receive payments. Your supplier will determine how often these are. Usually, SEG payments are sent via a bank transfer monthly or quarterly, but each supplier is different, so check your contract for the exact terms.
Can I sell my energy back to the grid if I'm not using renewable energy sources?
In short, no. The SEG scheme is designed for selling renewable electricity generated from the renewable energy sources outlined above, these include solar, wind, hydro and anaerobic digestion and micro-CHP.
Although you can sell back any renewable energy that's stored in batteries, electric vehicles as long as it's been generated by renewables. Your supplier should be able to advise you on how you can benefit from this.
Are there specific size requirements for selling energy back to the grid?
Yes, the Smart Export Guarantee only supports installations with a total installed capacity (TIC) of up to 5MW (megawatts) for most systems. For business owners with micro-CHP systems installed, a maximum TIC of 50KW is allowed. Any system with a higher capacity is not eligible for the SEG scheme.
What are Feed-in Tariffs and how do they affect the selling of energy?
The Feed-in Tariff is a similar government scheme that was introduced prior to the SEG scheme. It was created to encourage low-scale renewable energy generation, supporting businesses and homeowners to install low-carbon 'green' infrastructure like solar panels.
The idea behind this scheme was that domestic and non-domestic customers using this tariff would not only save on their own energy payments but also get paid for selling unused energy back to suppliers.
The Feed-in Tariff (FIT) closed as of March 31, 2019, and is not accepting new applicants.
This means if you installed a system after this date, you can't apply for the scheme. But, you still may be eligible for the SEG scheme that replaced the Feed-in Tariff. See the eligibility guidelines above to check if you can apply.
Read more about renewable energy for businesses to explore the costs of installing green infrastructure.
What are the benefits of selling energy back to the grid?
When you sell electricity through the SEG scheme, cash in your pocket is not the only benefit. Your business is also set up to save in the long term.
Reduced energy costs
If you install systems like solar panels on your business premises and generate some of your own power, this means you're less reliant on energy from the grid. This, in turn, means you're likely to save on your business energy bills because you're paying for less energy because you don't need as much.
Different types of businesses use varying amounts of energy, so it's difficult to say how much you could save. But for example, if you own a cafe and want to install solar panels on the roof, the initial installation might cost you around £6,000, but you'll be saving on the amount you're paying for your energy. After six to ten years, when you've paid off the installation costs - you'll be using less energy from the grid, and your costs will likely be lower than they would be without the installation.
Promotion of renewable energy
More and more consumers are looking to support environmentally friendly businesses. And if you're one of them, you can promote this with online marketing material and even on your premises.
For example, if you own an eco-friendly restaurant that has solar panels installed and you use sustainable waste management, then this is something you can promote, and it may even help you drum up new business.
If you decide to go down this route, make sure your sustainability message is consistent across your business, as you could be criticised. Find out more with our guide to greenwashing.
Government incentives
This is often in the form of relief on green taxes that every business has to pay.
For example, if your business is eco-friendly, you can get relief from The Climate Change Levy. This is an environmental tax that encourages businesses to have more sustainable practices. It's charged on energy usage - including lights, heating and anything that powers a business. So installing energy-efficient alternatives could mean you are exempt.
You can check the full government list of grants and reliefs for green business practices here.
Sustainable development
As a nation, we're aiming to hit net zero as more carbon-negative technologies are built. And having green practices in place means your small business will be ahead of the game, especially against competitors.
In the future, we could see new energy innovations including wave technology or even solar from space. This new tech is all in a bid to help us reach our net zero target by 2050.
Read more about net zero and how we can achieve it with our guide.
What are the limitations of selling energy back to the grid?
Since we've outlined the benefits of selling your spare energy, as with any new initiative, there are some potential drawbacks.
Initial investment costs
Green infrastructure is not cheap. Upgrading to solar technology could set you back £6,000 - £10,000 (for a small system) and take up to a decade to pay back. So even if you're saving on your business energy bills and selling electricity back to your supplier - you are unlikely to see a return on your investment immediately. But, investing in green practices in the short-term is likely to pay off in the long run, saving you costs down the line.
Lower payouts than the Feed-in Tariff
Although tariff rates vary per supplier, those who are familiar with or have previously signed up for the Feed-in Tariff will notice that you are paid much less on the SEG scheme - most likely between 6p-9p per kWh. This is down to the popularity of green infrastructure increasing and the new SEG scheme offering different rates for energy exports.
Hassle to upgrade your meter
As mentioned above, to qualify for the SEG tariff - you must have an export meter. This means you'll likely need to get one installed or upgrade your current meter. This can be timely as it involves filling in forms and contacting network operators. Your application for the tariff may also take some time to be approved, as a regulator will also need to check your certificates.
DIY installations are not approved
No matter what type of renewable energy systems you install, they must hold a certificate like the Microgeneration Certification Scheme. This means even if you are able to, you cannot install your own systems or upgrade them in any way yourself. If you have installed even part of the system yourself - you will not be eligible for the SEG scheme.
You can easily find a registered contractor to install your systems here.
How Bionic can help
Adding another meter might seem like extra work for your business, so it's understandable if you need some time to think this over. If you need more help understanding how SEG tariff work or how business energy works in general - get in touch today with the Bionic team today. We are also on hand to help with your business energy needs, including business electricity and business gas.
Want to read up on business energy yourself? Head over to our energy guides section to see content from our energy experts.