how to check when your business energy tariff is ending
Energy tariffs explained: How to check when your tariff is ending 
Comparing business energy can be daunting. With so many different suppliers offering different deals and different rates, deciding which one is best for your small business can be a challenge. But first things first, how do you know when your current business energy tariff is ending and how do you find the next best deal?
We've put together this guide to give you all the info you need to find out when your energy deal is ending and help make sure you're not hit with sky-high out of contract rates.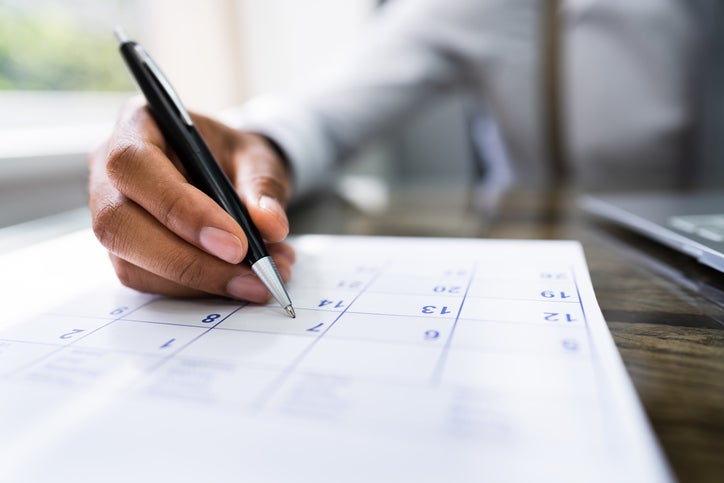 What is an energy tariff?
An energy tariff is what your energy provider uses to charge you for gas and electricity, both at home and in your business. The type of tariff you're on determines the rates you pay, along with any other fees, such as standing charges and VAT.
Whether you're a small company just starting out or a large business with an established name, it's good to shop around and compare energy providers when your existing tariff is up for renewal.
By comparing energy deals, you're ensuring you are on the correct tariff for your home and business needs. Plus, you know you aren't paying more than you should be because you've shopped around and seen what's on offer.
What are the different types of energy tariffs?
With so many suppliers offering different tariffs and prices, it can be hard to know which will best suit your business.
If you've ever run an energy comparison at home, you'll know there are two main types of tariffs - fixed-rate and variable rate. But business energy is different, and there are other options you'll need to consider based on the size of your business along with how and when it uses energy.
Below is a quick breakdown of the types of business energy deals on offer, along with some of the main pros and cons to help you decide on your next best deal.
What is a fixed-rate tariff?
Fixed-rate tariffs charge a set price per unit kWh for the gas and electricity you use. The "fixed" term only refers to the unit rate and standing charge you'll pay during your contract. This means your business energy bills will vary depending on your energy usage.
At Bionic, we work with a panel of trusted business energy suppliers that offer fixed-rate energy deals of between one and five years, depending upon your circumstances.
Fixed-rate tariffs are great for businesses looking for an affordable and hassle-free option but don't be fooled by the name, the cost of your tariff still might change.
Pros: Fixed-rate tariffs are typically the cheapest option and can make budgeting for your business easier. They're also the only way to protect against future energy price rises.
Cons: If energy prices fall, you could be paying more than the current market rate for your energy until your contract expires. Automatic rollover at the end of your contract means you'll pay more expensive out of contract rates, but you can solve this issue by signing up for a new deal before your current one ends.
What is a variable-rate tariff?
Variable-rate contracts are tied to market activity, so if market prices increase then you may end up paying more per unit of energy that your company uses. On the flip side, if prices drop then you should pay less. If you're willing to take the risk, you can just as easily reap the benefits if market prices fall.
Pros: You could pay less for your energy if market prices drop. You can switch plans whenever you want.
Cons: Prices generally tend to rise over time so your bills might increase even if you're using the same amount of energy. You'll also have to constantly follow market prices to predict how much you'll pay.
What is a deemed-rate tariff?
If you let your current tariff end without arranging a new deal or switching to a new supplier, you'll be placed on a deemed-rate tariff. Also known as out of contract rates, these are generally among a supplier's highest prices. If you find yourself rolled onto this type of plan, you can switch whenever you want.
Pros: You'll still be covered on a plan if you forget to arrange a new deal or switch. You can switch to a different deal at any time.
Cons: The prices will be expensive so it's advisable that you switch as soon as possible.
What is an Online energy tariff?
Online energy tariffs are those which need you to access and manage your account via the internet. You'll be asked to send the meter readings to your supplier, and you'll receive bills online via your account or email. You might also get a discount on your gas and electricity bill when you sign up to an online tariff.
This means you won't get any paper bills through the post and will need to resolve any issues online (although a telephone number for energy supplier complaints should also be available).
Pros: If you prefer to manage all of your bills and documents via the internet, this could be a good plan for your business. The discounted rates might also come in handy.
Cons: As all correspondence is managed online, you could overlook important information if your inbox is cluttered. Though you should be able to regularly check your account details on your supplier's website. If you prefer to have paper bills, then an online tariff may not be for you.
What is a time of use tariff?
Time of use tariffs — or "off-peak" tariffs as they're sometimes known — charge less for energy usage through the night as people aren't using as much electricity.
Economy 7 and Economy 10 are the two main types of time of use tariff. These tariffs come with a smart meter that monitors how much energy you use during the day and night and gives you a price based on your consumption.
Economy 7
Economy 7 tariffs provide you with off-peak rates for seven hours of the night. You get charged more for any energy you use in the remaining 17 hours of the day.
Economy 10
Economy 10 tariffs give you off-peak electricity for 10 hours. The extra three hours will usually fall during quieter periods of the day. Depending on the supplier, Economy 10 runs in three separate intervals — an off-peak low rate in the afternoon, four hours in the evening, and three hours in the early morning.
At Bionic, we compare energy deals designed to meet the needs of your business, and can also offer blend and extend, flex approach, and pass through tariffs. For more information, check out our guide on how to compare business energy tariffs.
Compare energy deals today with Bionic to find the best tariff for your business.
How to check when your business energy tariff is ending
You'll need to know the end date of your tariff so you can start shopping around in advance for alternative options to save money on your energy bills. Starting to compare early ensures you're not paying over the odds if your tariff rolls over.
If you're on a domestic energy deal, which you might be if you work or run your business from home, your supplier has a legal obligation to get in touch when your energy deal has between 49 and 42 days left to run. You can then switch at any time during this period without incurring an early exit fee (a one-off payment some suppliers make you pay if you want to end your deal early).
The rules are a bit different when it comes to business energy though. If you're on a commercial energy contract, you need to wait for your switching window to open before you can start comparing different deals. This is usually between one and six months before your current contract's end date.
Your supplier will get in touch to let you know that your switching window is open and will usually offer you a new deal. If you find a contract with better rates during this window, you can sign up straight away (it sometimes pays to lock your rates in early to avoid future price rises) but the switch won't happen until your current deal ends.
If you don't sign up for a new deal and your current one expires, you'll be put onto your supplier's more expensive out of contract rates.
If you don't want to wait for your supplier to contact you, there are several easy ways to check when your tariff is ending yourself:
Check your latest bill — Along with your account name and number, the end date of your tariff should be displayed with all other important information.
Look at your switching letter — When it's time for your tariff to end, you should receive a switching letter from your energy supplier. This will usually be delivered via post or electronically up to seven weeks before the end date of your contract.
Contact your energy supplier — If you're struggling to find the date of when your tariff will end, then you can get in touch with your energy supplier directly. Make sure you have your account name and number to hand if you choose to phone them, as they'll need this information to access your account.
Use Bionic's Digital Renewal service - When you switch energy with Bionic, you can sign up to our Digital Renewal service so you never again need to worry about energy contract renewals. We'll proactively compare rates when your switching window opens and send you our best deals. You can then renew online to save time, money, and hassle.
What happens at the end of a fixed-rate energy tariff?
This depends on whether or not you've arranged a new energy deal.
If you've signed a new energy contract - You'll be switched to your new energy deal
If you've not signed a new energy contract - You'll be placed on your supplier's more expensive out of contract rates. In this instance, you should compare business energy and switch to a better deal.
How to understand and choose the best energy tariff for your business
When comparing energy tariffs, there are two main costs you should look for on your latest bill:
Standing charge — This is the daily fixed cost included in your bill and it'll usually cover the maintenance of your meter.
Unit rate — This is the price that you pay per kilowatt-hour (kWh) for any energy that your business uses. You'll want this figure to be as low as possible when you're searching for deals.
Although there are a number of other costs included in the amount you're billed for, these are the two that will change depending upon your supplier and the type of energy contract you're on.
Even if you agree to a gas and electricity deal with the same supplier you originally had, you'll still get two separate contracts. This is because business energy suppliers don't offer dual-fuel deals for businesses.
The easiest way to find the best business energy deals is to speak to the tech-enabled experts at Bionic.
We can quickly find the best business gas and business electricity tariffs for your business in a matter of minutes - to get started, let us know your business name and postcode at Bionic.co.uk, or give us a call on 0800 086 1326.
How long will it take for a business energy switch to be completed?
You can expect to wait anywhere between three and six weeks for a business energy switch to be completed, but you need to remember that your switch won't happen until your current contract has ended.
This means the length of time it takes to switch depends upon the length of your switching window and when you signed your new contract.
If, for instance, your switching window opens six months before your contract end date and you sign a deal on the first day of that window, then your switch will take six months. If you sign a new contract three months into your switching window, then your switch will take three months.
Business energy deals don't have a cooling-off period, so make sure you're happy with the following before signing up for any deal:
The length of the contract
The notice period if you want to switch or end a contract
The unit rates and standing charges
The rules are slightly different if you run a microbusiness, as you only need to give your supplier 30 days' notice before switching.
If you have a domestic energy deal, your switch should take no more than 21 days.
Can you switch before the tariff's end date?
Once you sign up for a business energy deal, you can't switch to a new deal until this one has expired. Even so, you can compare deals as soon as your switching window is open.
For more information, check out our guide to the best time to switch business energy suppliers.
What happens if you can't find a cheaper energy deal?
If your previous tariff was already a good deal, you might struggle to find something cheaper than the deal you're already on, especially if you signed up for a three-year or five-year fixed-rate deal. This is because energy prices are likely to have increased quite significantly during this time.
But that doesn't mean you shouldn't switch. Signing up for a fixed-rate deal to run from when your current one ends means you won't be rolled onto expensive out of contract rates. You should also be able to negotiate better rates with your new or existing supplier.
Get in touch with the team at Bionic today to find a deal that can suit your business.
How to switch energy tariffs with Bionic
Comparing and switching energy tariffs may seem overwhelming but the tech-enabled team at Bionic do the hard work for you.
No matter which tariff you choose, you'll need to make sure it can withstand all your business needs. Knowing when your tariff ends and how to switch contracts can be a great way to save your business time, money, and keep it moving forward.
Keeping up with the latest and best deals needn't be a challenge. At Bionic, we'll compare over 20 trusted UK business energy suppliers, then talk you through the quotes that you see on screen to make sure that you're always getting the best price. Get in touch with the team today and switch your energy tariff.
We can also sort other business essentials, including insurance, phone and broadband, and business loans.