The candle business that will melt your heart
Bionic got the scoop on all things sustainable and spoke to Richard from The Recycled Candle Company. We discovered how he turned a hobby into a thriving business, how he copes with difficult customers and why he thinks going green is the way to go.
The Recycled Candle Company is a unique business. In fact it's actually the only candle company in the UK that uses old wax to create new products. Real-life partners turned business associates Richard Hills-Ingyon and Sargon Latchin have a great time running the SME and are proud of how far they've come. But how did they start and what was the inspiration behind pairing quirky candles with recycling?
"I got really into candle making as a kid" Richard tells us "My mum got me a kit when I was about 8 years old, I grew up in a hotel my mum and dad owned, so my childhood was very business oriented."
He went on: "My mum was also a florist, so looking back that in itself really created a unique secret catalogue in my brain of floral scents and what might work with what."
And what about the reuse, recycle mentality? Was that present during Richard's childhood too? He said he's always been passionate about getting the ultimate use out of an item.
"As for the recycling side of things, all through childhood I was reusing jugs my dad was going to throw away from the kitchens. I've always had an addiction to getting the full use out of things and honouring the purpose of items." He tells us.
But it wasn't until Richard grew up and moved away to university that he started developing the skeleton of what would be his future business.
"I went away to uni in London and studied acting, I still made candles in my spare time." Richard recalls "I remember my flatmate saying for me to do something that reminded me of home to make it easier living in the city. So, I brought my candle making kit. But I can't do anything by halves apparently! So we had cupboards full of candles I'd made in our shared house!" He laughs.
"Then I started doing some local Sunday markets in Richmond, and people really loved the candles, people would bring me their own to recycle and it started going really well, I started taking Saturdays off work to make the candles to sell on Sundays."
He adds: "My partner Sargon was studying his final year in architecture at the time, so we ended up working together, he made this crafty hobby business of mine look very design-led and beautiful. That would have been about 2013. So, we've been going for about ten years now, and have been a limited company for six."
Although all the above is pretty impressive in itself, what has Richard's biggest achievement been so far? What keeps him motivated whilst running his business? He credits his partner Sargon and says that his biggest achievement is actually the journey they're embarked on together.
"Sometimes I don't really give enough credit for just how much we have achieved already and all we've done so far. But then at the same time every little thing seems like a huge achievement" He smiles before going on:
"I'd say my biggest achievement is getting to do this whole journey with Sargon, we work really well together as a team. It's amazing that we've been able to keep our personalities shining through too. But being on the journey together is something I'm really proud of."
Speaking of shining through, what's the one candle Richard loves selling? Which scent could he not be without? He says he loves all their creations and nothing would be put forward as a final scent unless him and Sargon absolutely loved it.
"We mainly do pillar candles; we do a lot of them scented" says Richard, thinking "With fragrance we have about five or six always on the go and then twenty in the vault that we can come back to at different times. My favourite at the moment would probably be our bitter orange and ylang-ylang, we won an award for it."
He explains: "Each candle has a unique colour base to match the fragrance, and the bitter orange is black in colour, so it looks really stylish. It's actually inspired by luxury, florals and The Great Gatsby. But then again if you ask me in a few weeks, I'll probably have a different favourite. Every time we've come up with a scent, it's because we really love it."
"Ginger and lime is my favourite in the spring and Nordic spruce and holly is my favourite in the winter as it has a hint of warmth behind it." He tells us.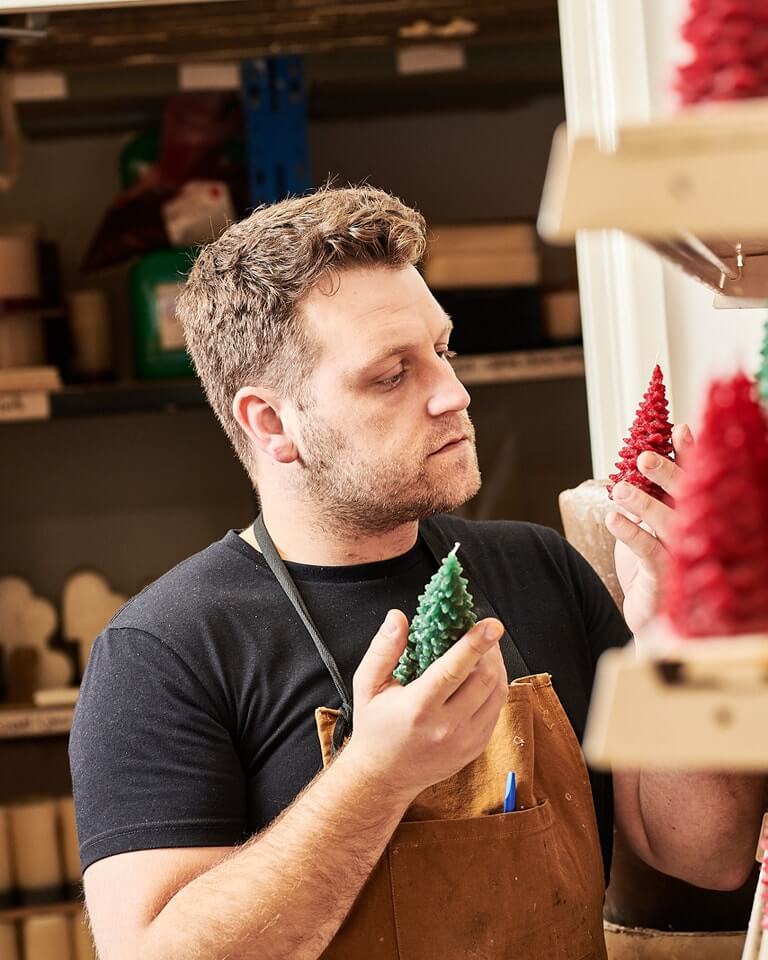 Finding luxury in literature
But how does Richard come up with new scents, he mentioned The Great Gatsby earlier, so are some candles inspired by literature and not just other scents?
"We'll just think about any gaps in our market, we have ideas of what would sit well together and we work with an amazing fragrance house. But yes, we get inspired by a whole lot of things" Richard says enthusiastically.
"Sargon worked for a long time on a fragrance inspired by a book he'd read when he was younger, he built a whole scent around this piece of literature and sent it off to the fragrance house, unfortunately they came back and said the flower he was describing was actually fictitious, so they couldn't replicate it!" Richard laughs.
"But the main concept behind our scents is that I have to be transported somewhere with a smell, I can smell lemon and think 'oh that's nice' but it's not taking me anywhere, however if you add a bit of limoncello, I might think back to a friend's wedding in Italy and how we were served limoncello and I'll be back at that day." Richard explains.
And what about struggles, has Richard encountered many and how does he ensure his business keeps powering through tough times?
"I've always been the kind of person who wants to do well and be good. But I've also always been told that business is about making money." He sighs "So, I struggled for a long time thinking about how I could turn what I love into a business and still feel like I was doing something good."
"We charge a lot for a candle and it hurts sometimes when people say 'that's a ridiculous amount, it's just a candle' as I don't want to stand there and justify the rent, the electricity, the cost of making a candle and the overheads. It's about finding a balance between being good and being a successful business. Sometimes that can be hard." He says.
And how does Richard deal with difficult customers if he has them? Does he have any tips for budding SME owners?
"I'm very blessed that we haven't had any particularly bad customers!" He grins "but I think the way we've always dealt with any issues is to have conversations with the customers." He explains, before adding:
"One time a customer ordered a candle as a gift and when it arrived she was very unhappy and disappointed, she said it didn't look like the description. We reached out to her and discovered it had been broken in transit, so we assured her that it had not been sent in that condition and that we could send a replacement right away. Then she was much happier because she was made aware that we hadn't sent it like that."
"Because it's me that makes the candles, packages them and calls DPD, I know what condition I send things in." Richard tells us.
"A lot of the time customers gets irritated because they don't know the full story. We always try to sort out problems, we're small enough as a business that we can reach out and let them know the whole picture." He says.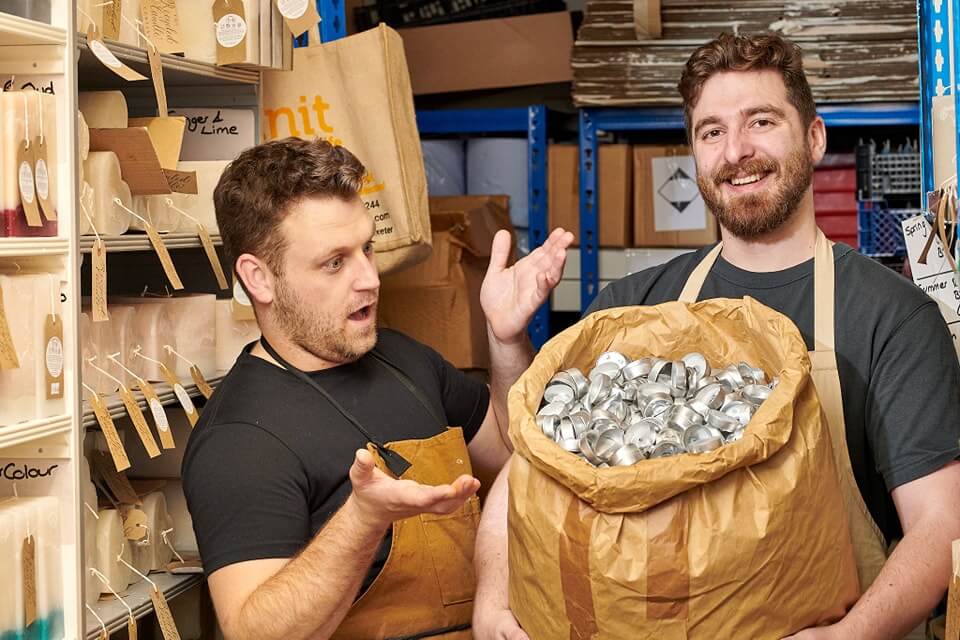 Being savvy yet sustainable
Obviously being sustainable is really important to Richard, but why does he think it's so vital now more than ever to go green? And why should SMEs care about their carbon footprint?
"It's tricky because being sustainable is just the way I've always been." He says "If I've got a pair of jeans that I haven't worn for ten years, I still can't throw them away without doing something else with them!" He chuckles.
"But since I was small, I wanted to recycle stuff and stop things going into landfill, it fell into place with this business because I wanted to stop as much going to landfill as much as possible and we're in a position to do that now."
What is Richard most excited about in the future? Does The Recycled Candle Company have plans to expand?
"Yes, we do. We recently moved into an industrial unit, we were quite sad to see our retail shop go, but we can expand more with a unit." Richard tells us.
"We've got recycling points across the UK now, more people can get used candles to us, possibly even from abroad. We're growing to fit the need that we have and we're expanding because we need the space to recycle. We're growing the team and getting organised and official. It's the most exciting thing on horizon."
And what about marketing? Does The Recycled Candle Company use social media to spread the word about their business or do they rely on word of mouth? Richard says it's a bit of everything but trade shows get them a lot of interest and they're now getting ready to be stocked in Selfridges this year as a result.
"Most of our exposure comes from wholesaling to other shops, but we go to two or three big trade shows each year and meet people." He says.
"We also stock a lot of the national trust properties in the UK, we started off in Devon and now that's a national thing. But, it's a trickle-down effect, people see our candles in shops and think it's a cool idea, so they look us up to see what we're about."
Richard says that they do use social media though, as it's valuable to connect with customers and showcase their unique products.
"We also use lots of social media and blogs and Google ads, Sargon is very good at that side of things and we're working with someone in digital marketing to make sure we're doing it correctly."
He continues: "I think during lockdown, with everyone shopping primarily online, we got a lot of organic traffic that way. Now a lot of customers who come to us are actually looking for tips on how to recycle themselves. But the whole business has really grown, we're stocking in places like Selfridges this year."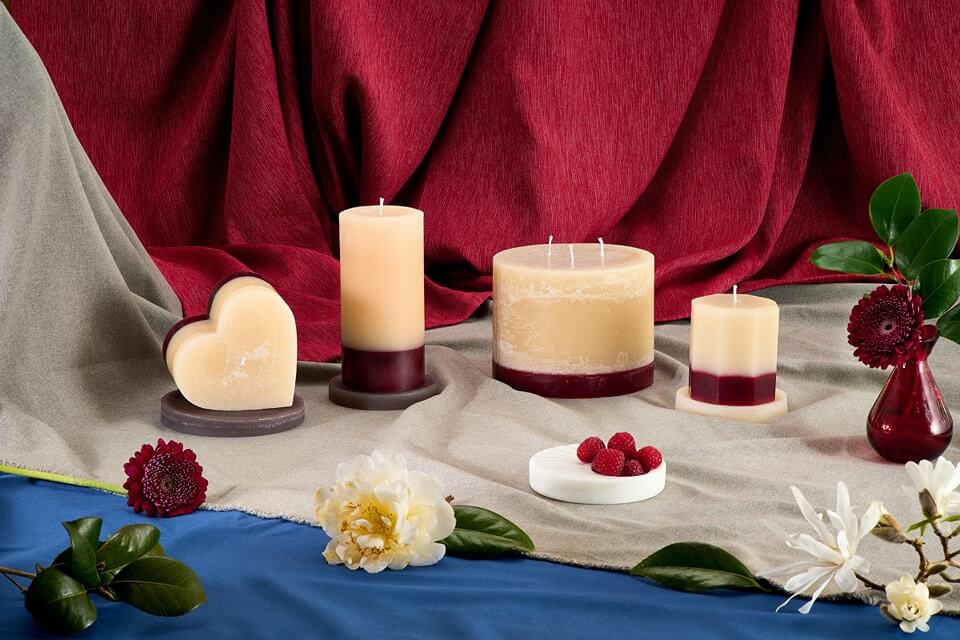 Flickers of advice
What advice would Richard give to someone wanting to start their own business?
"It would depend on the business" He ponders "I would say put your customers first, make sure everything you're doing is for your audience, but make sure that what you're doing is something they want and respect."
He then adds: "I think do good, be good, be ethical, be green. Start right from the beginning and have that vision and be respectful in that process. "
Richard whole-heartedly believes that shopping small is a more rewarding experience for the customer as well as the business owner. He thinks the local high street is coming back and should be supported in every way.
"The important part is when you buy something from a small business, you're supporting your high street, but also the locality of it. Any money you spend there is more likely to go back into the community." He explains.
"If you buy something from a local shop, you're giving money to that business, who then pays local staff who support the local council who in turn organise things like Christmas lights and hanging baskets in the town centre."
"It's like a knock-on effect of positivity, and it really matters to people. When I started doing Christmas markets, you'd see a business owner chatting to a customer about an item they'd made with their own hands and they'd do a little happy jig when the customer made a purchase." He smiles.
It sounds as though other SMEs really inspire Richard, but Bionic was eager to know whether any other specific businesses act as his muse. He says any zero waste shops spur him on massively and he loves to see them succeed.
"I love a zero waste shop, if I'm ever in a new town and I see one, I have to go in." He chuckles "Being zero waste is just such a big statement, it's not an easy thing to do. At The Recycled Candle Company, we're as close to zero waste as possible but as soon as we get pallets delivered they come with a load of plastic, so it's really hard to do. The respect I have for people who run zero waste shops is unbelievable."
And finally, is Richard concerned about the cost of living crisis? Is there anything he's had to change about the way he runs his business as a result? He says luckily, they've avoided price hikes so far, but there's lots to consider when taking next steps.
"We have avoided raising prices" Richard says "but the crisis is keeping us on our toes and is still a concern. We don't want to pass on a price increase to our customers, because everything is going up. We're still figuring out where we are and what we can do."
He adds: "Customers aren't spending as much and they're being more savvy, which obviously we encourage. But we try to listen to customers and make sure they still get that nice feeling when buying a luxury candle whilst making sure they're still getting value for money."
To discover The Recycled Candle Company's latest offerings, visit their website, or browse their impressive array of handcrafted candles on Facebook or Instagram.