Why you should shop local this festive season
It's been a tough few years for us all, especially small business owners. Having come through the uncertainty of the Covid-19 lockdowns, they're now being hit with higher running costs for their businesses. The energy price rises are not only hitting households in the pocket, and business owners need to find the extra cash to heat both their homes and their commercial properties.
That's why it's as important as ever to help small business owners by using their shops, goods, and services ahead of the big chains.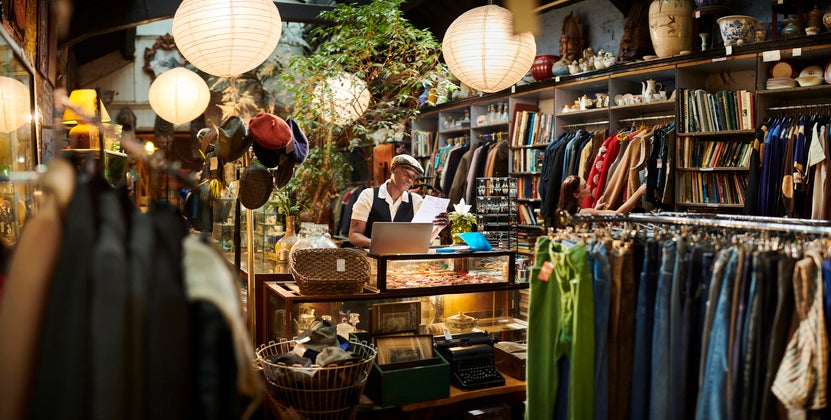 What's the problem?
2021 was tough, and 2022 looks like it could be even tougher.but small business owners have been hit particularly hard. A recent study from Simply Business has found:
An estimated 6 million small businesses in the UK - supporting 16.6 million jobs - consider themselves to be in a financially precarious position as a result of the pandemic
On average SMEs have lost £15,673 as a result of the pandemic
Food and drink businesses were reportedly hit hardest, losing more than double the money of the average business during the various lockdowns
Almost 1 in 10 business owners expect the pandemic to cost them £50,000 in total
If you think this won't affect you, then think again - there are 5.7 million SMEs across the UK, which makes up 99% of all businesses. Of these, 5.4 million are micro-businesses - companies with nine employees or less - which accounts for 96% of all businesses in the UK.
This means SMEs are the backbone of the economy - driving growth, providing employment opportunities and opening up new markets. A recent study from Santander found that SMEs contributed more than half of all turnover generated by the private sector in 2018.
In short, if SMEs suffer, we all suffer.
How are you helping by shopping locally?
If you're still having doubts about buying from smaller shops, using your local barbershops, or making the trip to any local farm shops, here are six ways that shopping locally can help you, your neighbours and your surrounding community.
1. Help the high street and boost the local economy
Let's start with the economy, which has taken a real battering over the last couple of years because of the pandemic.
The scuffed football of UK politics - it's been kicked around parliament that much over the years - now sees its leather casing hanging on by a thread as the UK has been hit hard by the pandemic, according to figures from the Organisation for Economic Co-operation and Development (OECD).
But we can all do our bit to help - shopping at local businesses pumps money into the local economy, and by spending in your local shops, restaurants, cafés or pubs, you can do your bit to help your local area and aid the national recovery across. It might not seem like much, but it all adds up.
If you're unsure about what your local shops have to offer, a quick Google search for 'local shops near me' will help, or you can use the 'Google comma' - enter into the search box the service you're looking for, then add a comma and type in your town.
You'll then be given a list of relevant shops in your local area. It will also let you know if they have an online shop and offer delivery, as well as directions and opening times.
2. Help the environment
The pandemic has brought environmental issues into sharp focus, and we can all cut our carbon footprint by shopping local. When shopping locally, we're more likely to walk or cycle to get there, which can cut air pollution, reduce traffic and improve the quality of the nation's high streets.
Then there's the carbon footprint of the food itself. Local shops will often source their food locally, which helps to reduce their carbon footprint as there's less of a distance between the producer and the plate.
It also helps to just buy fresh produce that's in season - locally produced food tastes better, but if you can't wait until spring and summer for your breakfast berries, stock up on autumn blackberries and blueberries now and stick them in the freezer.
As Micky Povall, manager of Gravity Health and Fitness Club in Wirral says: "Fresh produce is the way to go!"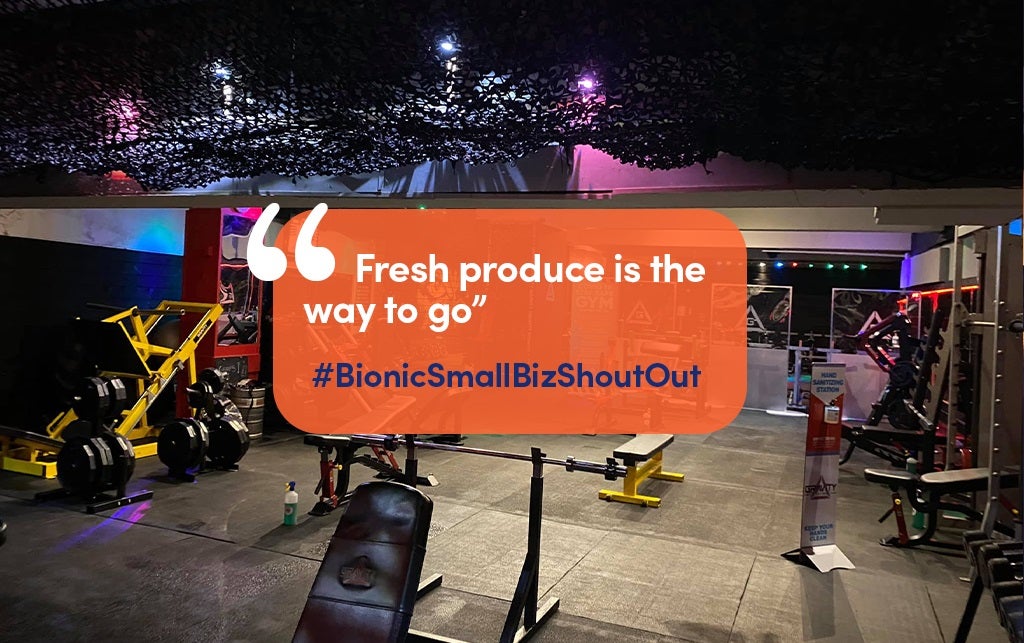 3. Help to stop the spread of the virus
Most local business owners have worked hard to make their shops as Covid-safe as possible when restrictions changed from December 10.
By limiting the number of customers allowed in, providing sanitisation stations and enforcing mask-wearing rules, SMEs have taken it in their stride and made sure their shops are safe enough to stay open.
And because they operate in a smaller space than the bigger stores and supermarkets, it's easier to keep a cap on numbers and ensure shoppers are wearing face coverings where necessary..
4. Help to save jobs and create more
When you buy from a local shop, you're not helping line the pockets of a wealthy CEO of an online mega brand, you're helping the family next door who run the local greengrocer, butcher's shop or even the local independent gym. In turn, they'll then spend locally and the whole area benefits.
Martin Coles-Evans, manager of Hargreaves of Buxton in Derbyshire, puts it perfectly:
"Supporting your local shops also helps to create jobs in local communities, often giving young people their first foot on the employment ladder."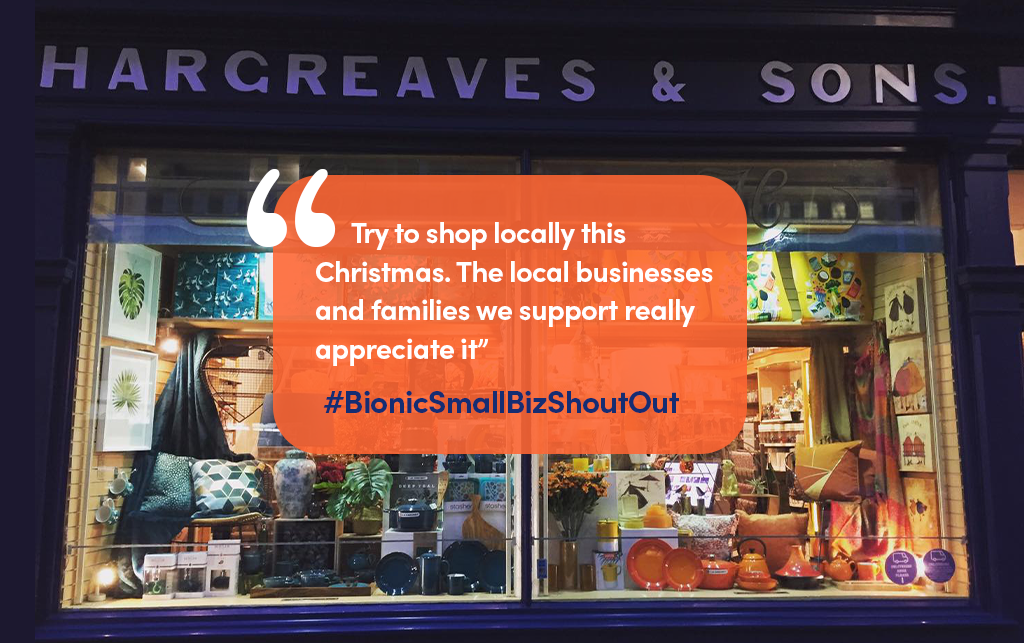 Supporting your local shops also helps to create jobs in local communities, often giving young people their first foot on the employment ladder.
5. Help to strengthen your community
If your local shops can offer more jobs in the local area, this has the knock-on effect of creating a healthy local economy, a stronger community and, ultimately, a better place to live.
Local businesses also generate revenue to support council services such as libraries, parks and roads that benefit communities across the UK - the benefits of shopping local spread far and wide.
6. Help to say 'thank you'
Local business owners will have struggled more than most during the pandemic, especially in the first lockdown when many had real concerns about whether their business would even see the summer months.
Some business owners had no choice but to close, while others were fortunate enough to be able to pivot their business to provide takeaway services. Many business owners and staff worked long hours to keep things ticking over, and some local delivery services will have offered a lifeline to elderly and vulnerable residents.
Using their shops now is a great way to thank them for their efforts and help ensure they can carry on trading long into 2022 and beyond. And, as Phil Walker of Heseltine's Butchers in Wirral assured us, "You'll get service with a smile."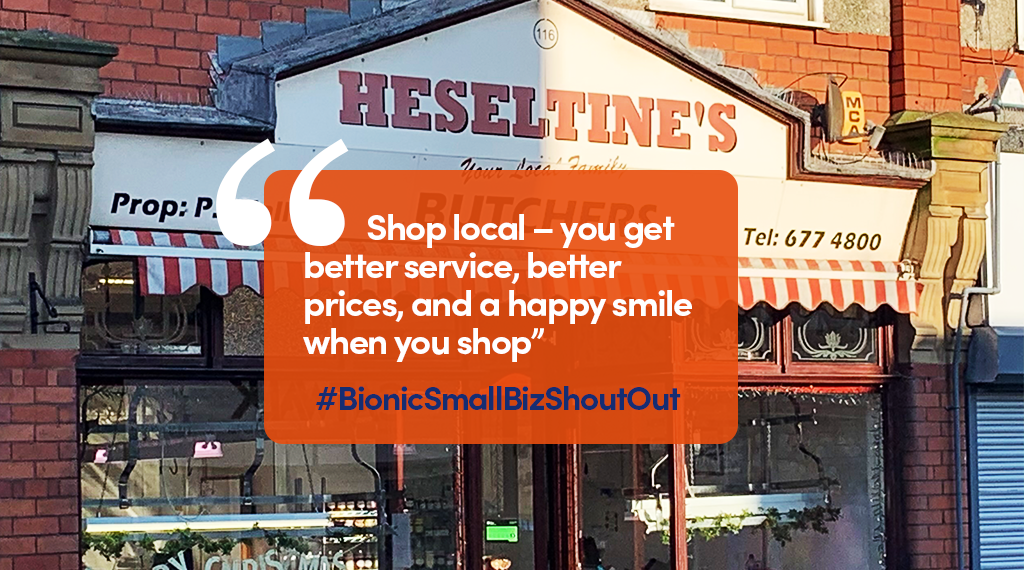 Give your favourite local business a social media shout out
Word of mouth is the best advertising there is, so why not give your favourite businesses a shout-out on social media.
Why not spread the word about your favourite small business? Simply tag them in a post on Facebook, Twitter, or Instagram, with the hashtag #BeABionicBusiness 🦾