Where are the best places to start a small business in the UK?
Starting a small business can come with a huge number of different hurdles to jump over. It's best to arm yourself with as much information as possible to help with putting that initial spring in your step.
That's why the team at Bionic have put together the ultimate guide to starting a small business in the UK. Here, we will discuss some of the most commonly googled questions on how to start a small business and look at which UK cities and industries have the highest survival rate, and where in the UK has the greatest industry gaps.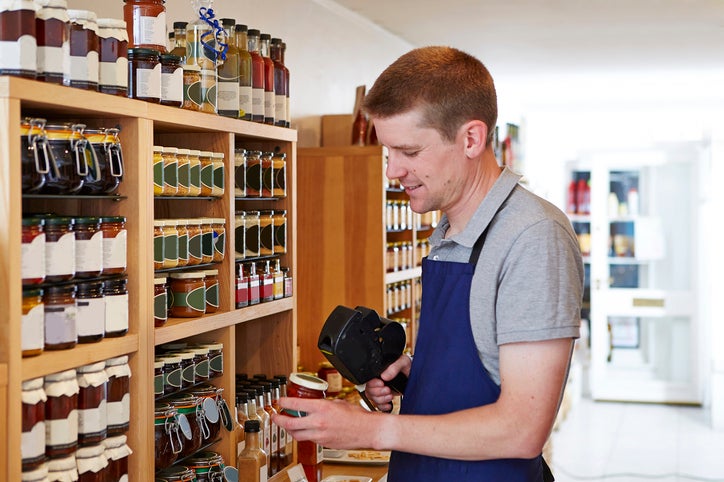 What are the best cities for starting a small business in the UK?
We've discovered where in the UK has the biggest market gaps that small businesses can take advantage of - helping to uncover opportunities for success.
We looked at the below five metrics, for the UK's 50 most populated cities, to identify which local markets have the potential to be lucrative for different SME business niches.
The average monthly GDHI after tax and deductions, according to ONS
The ONS Unemployment Claimant count rate %
The 'Spend' and 'Footfall' recovery scores for each city (CentreForCities)*
The reported number of businesses in each city within five business niches, according to ONS
Each data point was then combined to create an index ranking for each city, out of a total possible 100 points, across different business niches.
Bournemouth is the number one place to start a business
Bournemouth is revealed as the best place to start a small business due to the large market gap in the area.. This is followed by Leeds, York and Doncaster, all of which are in Yorkshire and the Humber region.
Newcastle upon Tyne and Bradford round off the top 5 best locations to start a small business.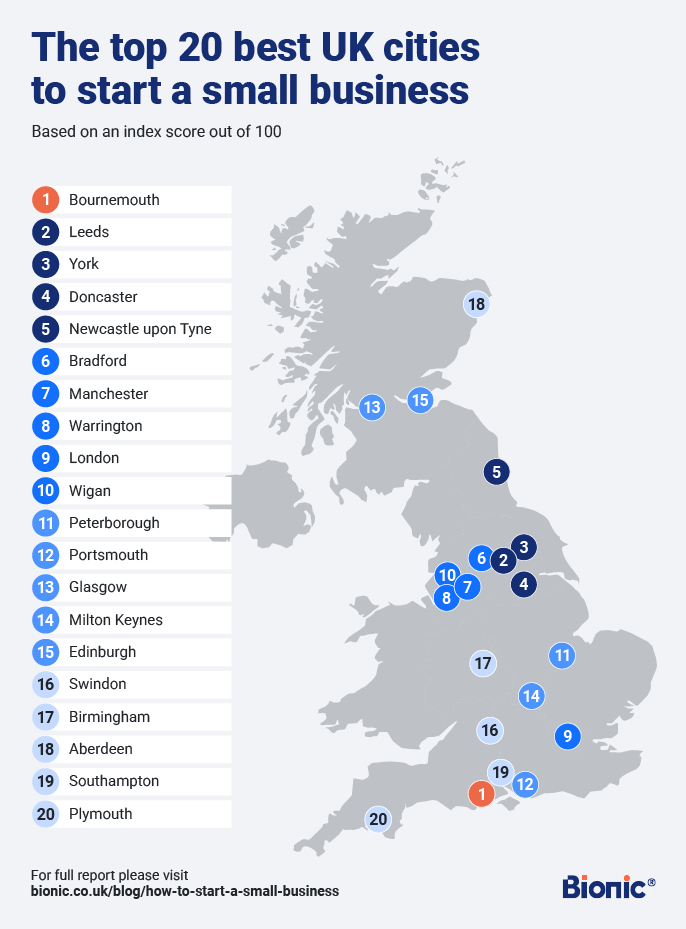 Bristol businesses have the highest survival rate
Businesses registered in Bristol are the highest survival rate, at an astounding 44.36% - meaning 1,140 out of the 2,570 startups registered survived five years.
Brighton and Hove follow closely with a survival rate of 44.13%. Leeds comes in third, with 42.88% of small businesses surviving after five years. Sheffield and Cardiff round off the top 5 with a 42.66% and 42.34% 5-year survival rate respectively.
Edinburgh, Scotland's capital, has a 42.12% chance of survival, compared to Glasgow city at 37.46%.
Out of the 83,600 businesses set up in London in one year, only 39.35% survived the five-year milestone.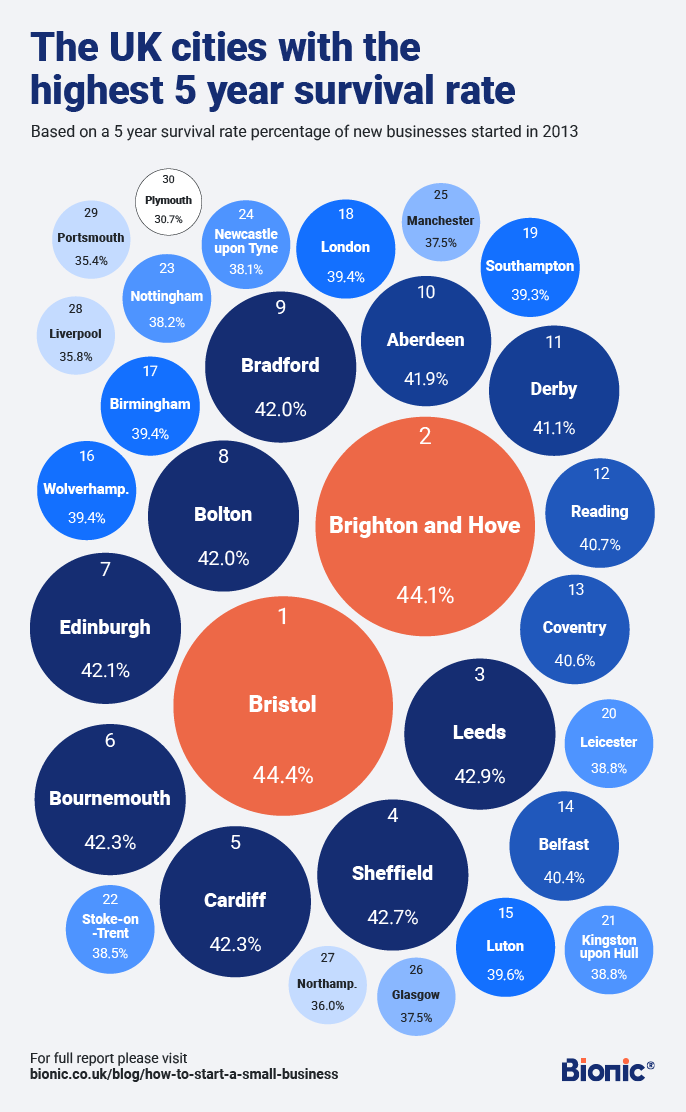 Membership organisations are the best new business ventures to invest in
Businesses classed as "activities of membership organisations" have the highest five-year survival rate amongst industries common in SMEs. Companies that can be classed within this industry include fundraising organisations, environmental movements, and even young persons' clubs.
The beverage manufacturing industry also proves successful with a 53.23% chance of survival after five years. This means those looking to start microbreweries or small-batch speciality gin brands can be optimistic in their first five years.
What businesses have the greatest five-year survival rate?
| | | | |
| --- | --- | --- | --- |
| Industry | New startups in 2013 | 5-year survival | 5-year survival rate % |
| Activities of membership organisations | 1,230 | 735 | 59.76% |
| Manufacture of beverages | 310 | 165 | 53.23% |
| Residential care activities | 555 | 290 | 52.25% |
| Creative, arts and entertainment activities | 2,845 | 1,485 | 52.20% |
| Legal and accounting activities | 8,580 | 4,330 | 50.47% |
| Libraries, archives, museums and other cultural activities | 130 | 65 | 50.00% |
| Computer programming, consultancy and related activities | 24,605 | 12,035 | 48.91% |
| Architectural and engineering activities; technical testing and analysis | 14,780 | 7,180 | 48.58% |
| Manufacture of fabricated metal products, except machinery and equipment | 1,895 | 905 | 47.76% |
| Social work activities without accommodation | 3,620 | 1,720 | 47.51% |
Starting a business FAQs
If you're looking to start a business, there are a million and one things you need to consider. To help answer some of the most frequently asked questions about small businesses, we looked at the most popular Google searches.
1. What is a business plan, why is it important and how do you write one?
A business plan is a document you should put together when you are first starting your company. Your business plan is going to describe what your company does and what your goals are.
It's important to have a business plan no matter how big or small your business is as it can help with outlining your strategy. Business plans can help define your goals and how to get there, including who your target market is and how to appeal to them.
Your business plan should include:
An executive summary
A description of your company
In-depth market analysis
Details about management and organisation
The products and/or services you offer
Who your target market is
How you appeal to the said market
A plan surrounding logistics and operations
2. Which business bank account is best?
Always separate personal accounts and business bank accounts. This will make understanding income and outgoings easier. It will also help with working out taxes. Some of the best business bank accounts include:
Virgin Money M Account for Business - These accounts are designed for businesses with an annual turnover of less than £1 million. Businesses need to be based and operate in the UK. The monthly cost is completely free for day-to-day online business banking.
Tide Business Bank Account - These apply to businesses that are registered within the UK on Companies House. Each account comes with a contactless MasterCard that has unlimited free purchases in any currency. The are no monthly fees, but bank transfers cost 20p.
HSBC Kinetic Business Current Account - Bank transfers and card purchases when you use an HSBC business account are completely free. The monthly cost of an HSBC business account is £6.50.
3. How do I register a business?
The number of new business applications in the UK reached a record-breaking 5.4 million in 2021. Statistics from 2022 show a similar trajectory for this year, with over 1.26 million applications received in the first 3 months.
In order to set up and register your business you need to head over to the government website. Here, there will be an application to fill out that discusses what your business does and who works for you, followed by a necessary payment of £12.
4. How does a business loan work, and how do you get one?
A business loan is where your business will borrow money in order to function and get things off the ground. With such a loan you can:
Borrow anywhere between £1000 and £15 million
Repay the loan over one month or 25 years
You will need to put together a pitch in order to state why you need the loan and what your business will do with it. Your business should borrow as much as you think it will need to function. The amount that different businesses borrow varies depending on what industry they work in.
5. How do I build a website for my business?
Websites are crucial to building and expanding your business, in 2020 alone there were roughly 24 million new domain name registrations.
The website makers you can use to build your website include:
| | | | |
| --- | --- | --- | --- |
| Website Builder | Wix | Squarespace | GoDaddy |
| Overall rating | 4.8 stars | 4.7 stars | 4.4 stars |
| Price | Start at £16 | Start at £16 | Start at £6.99 |
| Free options | Free plans available | 14-day free trial | 1-month free trial |
| Templates | 800+ templates | 100+ templates available | 100+ templates |
6. What Business Insurance Do I Need?
The business insurance that you need will vary depending on what products or services your business offers and whether or not people work for you. Each policy will be better or worse suited for businesses. Popular choices include:
Public Liability Insurance - This covers you for any clients who manage to injure themselves at your place of business. It also applies if you damage something whilst you're working. The policy will cover the price of legal fees and claim costs.
Employers' Liability Insurance - Businesses that have employees are legally required to have this insurance as it covers the cost of any claims made from an employee who has been injured or falls ill whilst working under you.
Product Liability Insurance - This is necessary if you supply products as it can help if anyone suffers an injury or damage as a result of one of your products.
7. What are profit margins, how do I calculate gross and net profit, and what is a good margin?
A profit margin represents how much your company makes compared to what you are spending. Two of the main types of profit margin include your gross profit and your net profit.
Your gross profit margin means the total amount of revenue your business generates minus the cost of any of the goods. As such, when you calculate your gross profit, you should take the total amount your business has made and minus the cost of the goods sold.
Your net profit is your total revenue minus all of the different expenses you've incurred to get it. This means the likes of marketing, interest and taxes. It gives you a good indication as to the kind of profit you'll be taking home.
A good profit margin varies depending on the industry you work in. Generally, a 10% net profit margin is the average, 20% is high and 5% is low.
8. What do you need to start a business?
Everything you need to get your business off the ground will vary depending on what your business does. As a general rule you need:
Good market research to work out if there is an opportunity for your business
An in-depth business plan
Funding for your business
A business location (can be online)
A structure for your business
A name
To register your business
9. How much does it cost to start a business?
The price to start your business will vary on what industry you work within. On average, a business will cost around £2000 - £5000 to start. However, they can be done on less than that and vice versa.
Some of the most expensive industries to start a business in are:
The management of other companies and enterprises
Utilities
Food and accommodation
Arts, entertainment and recreation
Manufacturing
10. Why do businesses fail?
According to The Telegraph, 60% of all new businesses tend to fail in the first 3 years. There are a number of reasons why this could happen (most of which are avoidable). They include:
42% fail because there isn't a need for the products or services they're offering
29% fail because they run out of money
19% were beaten by competitors
18% failed because they priced their products or services poorly
14% failed because they were unable to market themselves effectively
Do You Need Help Setting Up Your Business?
If you need help with getting your business started, there are organisations out there that can help. The government website has some useful guides, while the British Business Bank has info on small business grants and startup loans.
The Prince's Trust also has some useful information aimed at young people looking to start a business.
Bionic can help with getting all of the essentials sorted before you begin trading, this includes the likes of insurance, gas, electricity, VoIP, phone and broadband - those business essentials that might not be at the forefront of your mind but definitely needs addressing. We use smart technology in order to help find the best deals for you and cut through all the business jargon.
If you have any questions or would like any more information on how else Bionic can benefit your business, then do not hesitate to get in touch.
Methodology
Data that discovered the gaps within industries within cities in the UK. This was based on average monthly GDHI after tax and deductions released by parliament. The Unemployment Claimant count rated %, Number of Licenced restaurants, takeaways and lots of industries business numbers in each city from ONS government report. The Footfall recovery score and Spend recovery score from CentreForCities. Each data point was assigned a ranking which contributed to the overall index score.