How do micro businesses have a positive effect on local communities?
Micro businesses make up 95% of all UK businesses. They are the backbone of our local economies and an integral part of our local communities. The independent salons, coffee shops, specialist mechanics and takeaways all offer something bigger chains can't - a personalised service and unique products perfect for any occasion.
But their role goes beyond providing us with the products and services we need for our everyday lives. These businesses are much-loved staples of our high streets and they help our local areas flourish.
Bionic has put together a blog to celebrate the importance of micro businesses in local economies.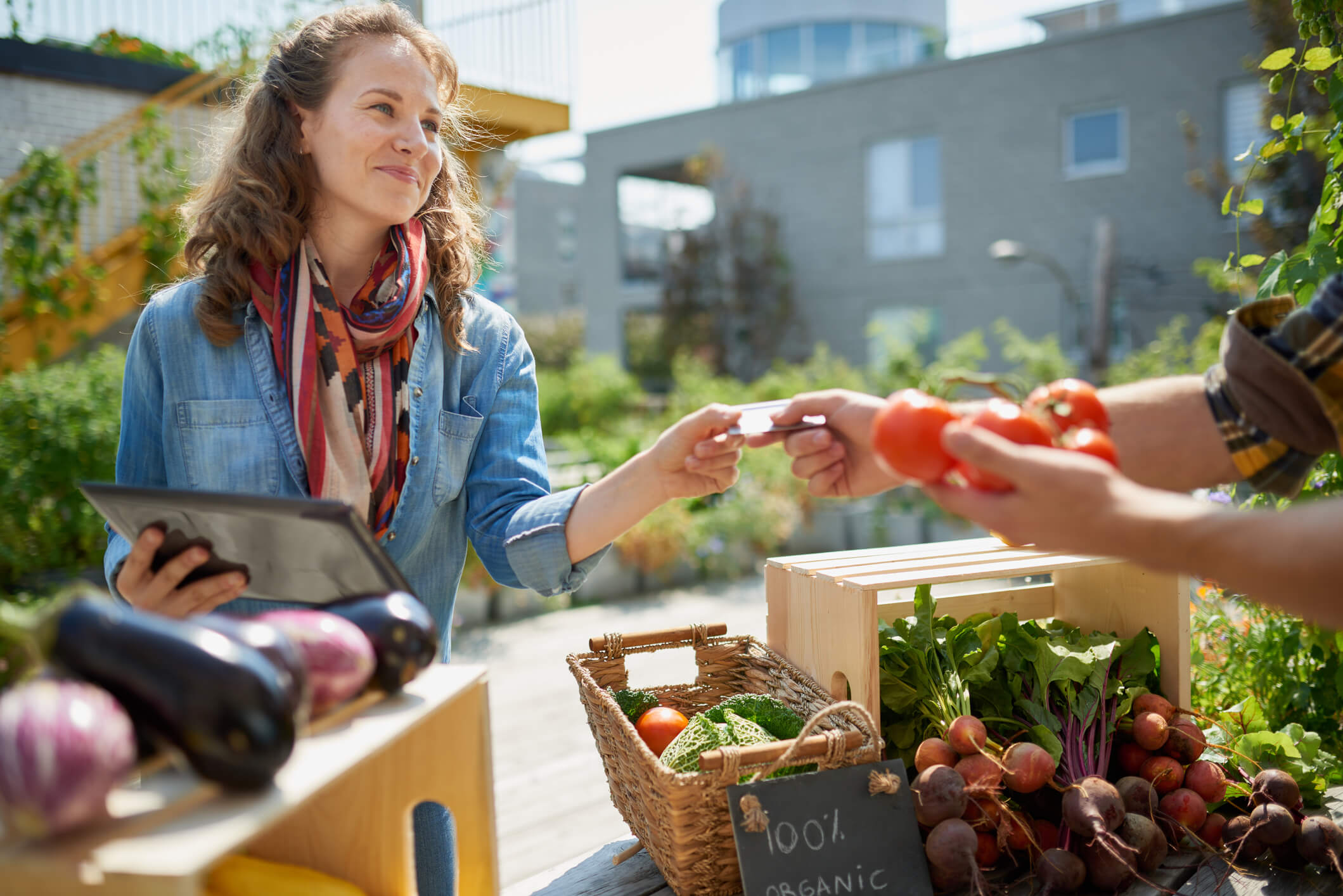 They build community character
There's nothing better than strolling down your local high street, enjoying the unique personalities of the small businesses around and seeing what each has to offer. Not only do smaller businesses often offer quirky, handmade products you probably wouldn't find in larger chains, but the owners are usually more personable and friendly.
Because they're usually family-run, staff genuinely care about great customer service and getting shoppers to return again and again. In larger chains, service can sometimes feel faceless and samey, they likely wouldn't notice if they lost a few customers due to bad service, but a small business owner probably would.
Let's use an example of a local Italian restaurant, the owner may work really hard sculpting their service, making sure they stand out from Zizzi's and Pizza Express on the high street. They might spend money on the interior and focus on making eating there an experience rather than just a place to have dinner.
A lot of the time smaller restaurants tend to offer a complimentary shot or something similar after your meal to show appreciation for choosing them over bigger chains. As a result, the allure is in the great service and unique dining experience.
But it's so much more than this, small businesses can boost the aesthetic of an area. A settling of quirky businesses is visually more appealing to shoppers and creates a feeling of community spirit. Plus, independent shops, family-run cafes and restaurants give the whole area a chance to be a 'destination' to non-local visitors too. Let's be honest, if you're out on a day trip, you'll probably want to shop or dine somewhere you don't already have in your own town centre.
SMEs can really add character. When a community is known for its unique charm and products you can't buy anywhere else, people are more likely to visit and spend more money, bettering the whole community.
They create local jobs
Small businesses make up the majority of all businesses in the UK and create more jobs than they realise. Plus, a lot of SMEs are passionate about being present in their community. For example, they might actively take part in apprenticeship schemes, be ambassadors for local training or aid the professional progression of their staff.
Apprenticeships can be a great avenue to explore and be positive for both parties. They ensure more young people get into the world of work and learn a skill they're genuinely interested in. But the SME owner can also reap benefits, they get to train up a young person who will likely stay loyal and know the job inside out, increasing productivity. Plus, you might be eligible for a grant or loan if you join the scheme.
According to the apprenticeship section of the gov website, over 78% of employers reported a boost in productivity after joining an apprenticeship programme and 90% of apprentices stay at their company after completing their course. So, it helps with company loyalty too.
Creating jobs in rural areas is so important. Every job a business creates in the community means a local potentially gets to work nearer their home. This helps the area develop and thrive.
According to studysmarter, one of the main reasons people move out of rural areas is due to lack of job opportunities. So, the more businesses that open in these areas, the more chance locals have of staying where they want to live and not sacrificing work to do so.
Locals working locally can have a knock-on effect too. If people are working within their own communities, they may be inclined to use other local businesses during their shifts. For example, if you were working on the tills of an independent clothes shop, you might use the family-run café next door for lunch or the pub down the road for team drinks afterwards.
They get involved in a hands-on way
Small businesses are often a lot more hands-on in the way they support their own communities. A lot of SMEs opt to help with community fairs or charity events. It's a way for them to get local exposure but also do it for a good cause.
Compared to large retailers, SMEs are more likely to be involved in volunteering, support local charities and have partnerships with local schools, maybe taking on work experience kids or offering jobs to those interested in the niche.
In a piece written by Work for Good, it was reported that in 2020 during the pandemic when a lot of SMEs were on the brink of collapse, small businesses donated more than £895,432 to UK registered charities via the Work for Good fundraising platform. But it's not just about giving money, small business owners often become representatives of their own communities and are proud of contributing towards important pushes, like recycling.
According to statistics on startups.co.uk, 65% of small businesses made a conscious effort to recycle last year and invested an average of £61,250 on sustainability initiatives. This shows SME owners are willing to get stuck in to support things they care about.
They invest back into the community
Small businesses tend to favour other small businesses. A lot of owners are really passionate about championing each other.
As a micro business owner, you'll know how important it is to support other businesses in your community because you live that life every day. You know the struggles of building a brand and reeling customers in, so you're more likely to spend money on a cup of coffee from the bakery next door rather than a high street chain.
A lot of SMEs look to outsource to like-minded local companies too. For example, if you run a small café in a village and need some redecorating, you'd probably ask around to see if family, friends or customers could recommend a nearby handyman to do it rather than give business to a large company (who may charge a lot more for a more impersonal job).
Small business owners know the difficulties they face championing over their bigger counterparts, so they tend to shop locally too. This helps them set an example and encourage their customers to do the same. Lucy Bradbury, who runs Buxton-based clothes shop Divine Trash says:
"It's so important to shop small for the sake of the local economy. You have to put your money back into local shops, restaurants & other businesses in order for the whole community to thrive and make it a nicer place to be."
She adds: "It's refreshing to see more local shops popping up. In Buxton, there are not a lot of places that sell the clothes we sell. We're unique and I like how we've become a staple of our high street, people know our shop even if they don't buy from us."
A lot of taxes paid to and by small businesses also end up paying for local improvements or go towards bettering parks, schools, public transport, and local health care. On the other hand, taxes paid to big companies are more difficult to track and may not stay in the local bubble.
But a lot of small business owners give back with their time which is just as valuable. For example, giving talks at schools, colleges, or community centres, aiding with litter picks or using their products to make a positive difference (like a café or restaurant collecting all the food they have leftover and giving it to the foodbank rather than throwing it all away).
This mindset creates a cycle of money and time continually being invested back into the community and helps boost the local economy.
They're often more sustainable
Being sustainable has become increasingly important over the last few years. But did you know that small businesses are often better for the environment and generally have a lower carbon footprint?
This is because SMEs tend to occupy less space and therefore use less energy to heat or run appliances. Because of their smaller premises, they take up less green space too.
Of course, not all small businesses source their products locally, but a lot do. This, in turn, helps the environment, if you're a local farm shop and stock local beers and local cheeses, then the way you run your business is a lot more sustainable than importing goods.
But also think about the location of many small businesses, they are often at the centres of towns and villages so shoppers can walk or cycle instead of driving. This in turn can help reduce emissions from cars and lower carbon footprint.
Another thing to add is local businesses usually take over pre-existing buildings whereas bigger companies often get premises custom built for them. This leads to less green space within the community and more harmful toxins from building works affecting the environment.
They can promote diversity and unique thinking
Buying from a small business will mean you'll likely get a unique service or a quirky product. But SMEs are also great at bringing diversity and different ways of thinking to communities that may need a shakeup.
Small businesses have to work really hard to move out of the shadow bigger competitors cast over them. Often SMEs must get creative with how they boost sales. Their products must be cutting-edge and unique to entice shoppers and their service has to stick in the minds of their customers. Because micro business owners are usually working with a small team rather than operating as a faceless corporation, they are more tuned into the needs of their individual workers and customers.
Small businesses often have a unique opportunity to tap into their customer trends compared to bigger companies, sure large shops may have email surveys or complaints procedures, but they rarely have time to have in-depth discussions with customers about their specific wants and needs.
If a customer comes into a small business, the owner can start an organic chat with them and uncover a lot about their shopping habits. It's this kind of unique thinking that will boost business for the better.
How can Bionic help me free up time to focus on my business?
Small businesses are such an important part of our economy and it's vital to support them in any way we can.
At Bionic, we know how stressful being an SME owner can be, that's why we're around to handle the mundane switching side of things. Our team can compare and help you switch business energy, phone and broadband deals, which means you have more time and energy to spend running your business.
We can also help with business insurance and business loans. Contact us today to find out more. All you need to do is input your postcode in the box on the right or call 0800 156 0899.