social media marketing
What is social media marketing? How to implement a successful strategy 
Social media is a big part of modern life. Whether you have a personal Instagram account, use Facebook to catch up with friends or scroll through TikTok for the latest lifehacks, social media is everywhere.
But have you ever thought of boosting your SME with it? Bionic has written a handy guide to help you start using social media for business.
What is social media marketing?
Social media marketing simply means using social media to market your company's products or services.
It can be a great way to reach a larger audience with minimal effort and it's extremely cost-effective. It can also help you interact with your customers better through messages, likes and comments.
Social media marketing can also be good for building your business brand. You can decide what content, tone and message you want to spread to your followers and how you want to represent your company.
Although it may seem like social media marketing just consists of posting a picture on Instagram or typing out a tweet, you'll need a solid social media strategy to succeed with this type of marketing.
To get the most out of this type of marketing, you should make sure you're regularly posting quality content that represents your brand. You should also try to respond to comments and messages from followers to boost your reputation. Connecting with your customers in this way can create a community feel surrounding your brand.
Although social media marketing can include posting organic content (which is the free posting of pictures, videos and text), it can also mean using paid ads. This is where you pay to boost certain posts to catch the eye of your target audience (link to Search Engine Marketing guide).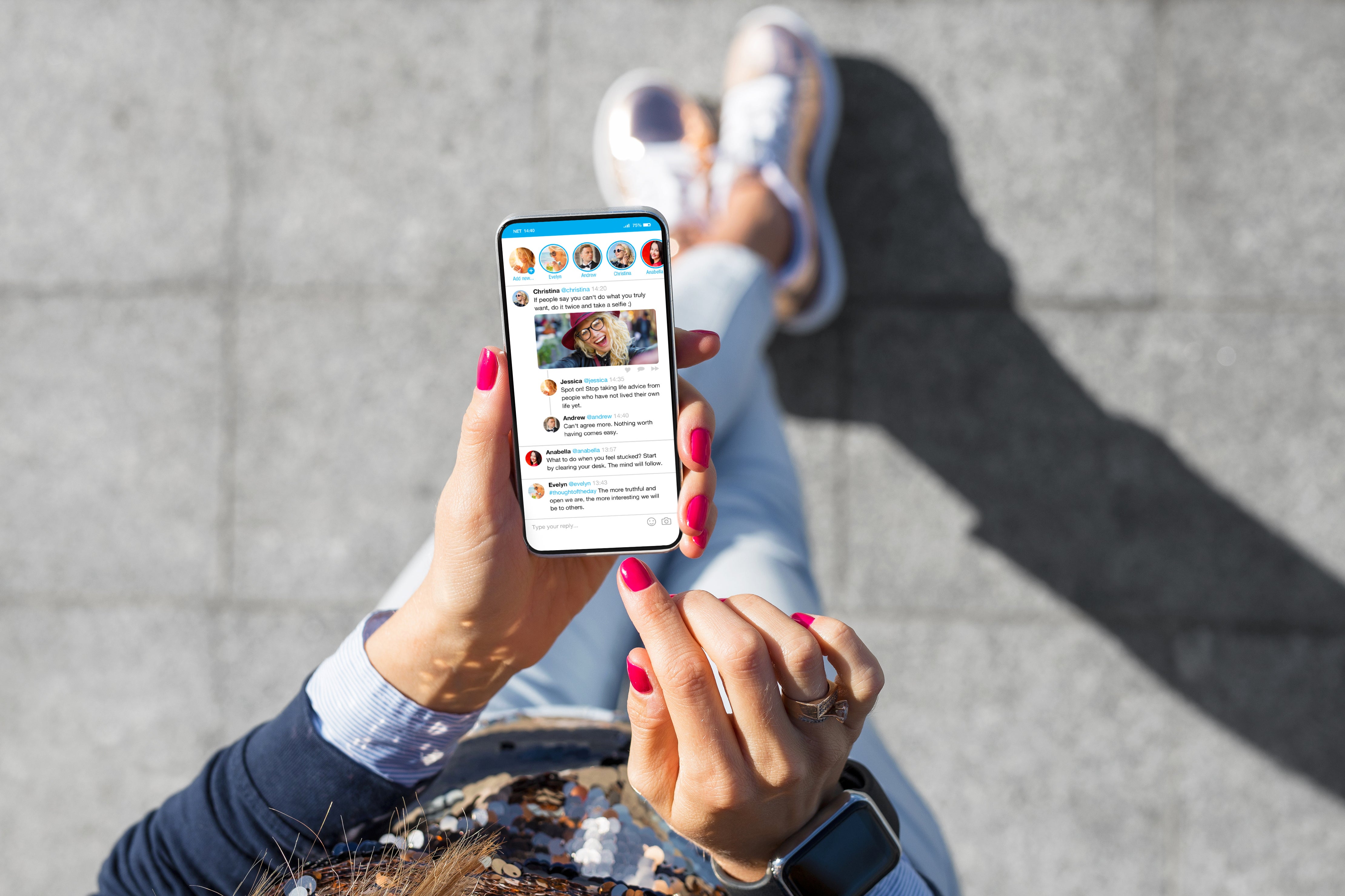 What are the benefits of social media marketing?
There are lots of benefits of social media marketing. For starters, social media accounts are free to use. Businesses can make the most out of showing off their products or services for little to no expense depending on whether you want to boost your posts. Around 4.62 billion people use at least one form of social media and are online for an average of 2 hours and 27 minutes per day, so, it's a good way to reach your audience and connect with them.
Some more benefits of social media marketing are:
It can drive traffic to your business — If you include links to your site in your profile and posts, it's easier for followers to quickly click through to your business and see what you offer, rather than search for you on Google. Instagram even has a designated website link that you can include in your bio.
It can generate leads and turn them into customers —- Social media marketing can be great for generating leads. Features like direct messaging and appointment booking options on accounts are useful for businesses to convert these leads into customers.
It can increase your brand awareness — Social media is good for building your tone and developing your brand personality. The content you post reflects you as a business, so get creative and make sure your customers instantly know you by your posts, profile picture, graphics and social media colour scheme.
It can build customer relationships — Social media was created to help humans connect. Brands can use it to build relationships with their valued customers and network with other like-minded businesses. Using social media you can speak to your customers quickly, get honest reviews and see what people think about your SME.
What are the 6 types of social media marketing?
If you're sold on this type of marketing but want to know more, it's worth getting to know what the six types of social media marketing are.
Creating a successful social media marketing plan doesn't just mean posting on your social channels every day, although keeping a regular schedule is a big part of it.
Some examples of social media marketing include:
Using social networks — The most obvious example of social media marketing is posting on your business's social media pages regularly. These accounts can include Instagram, Facebook, Twitter and LinkedIn or more quirky apps like TikTok and Snapchat. Social media is great in allowing people with similar interests to connect so choose social media apps that your customers are likely to use.
Social news — Social news sites are another way you can use social media marketing. These websites are a way people can externally post news or links. Other users then upvote or downvote (like reacting to a Facebook or Instagram post). Examples of popular social news sites are Reddit and Quora. Users can upload anything from word content and links to photos and video content.
Microblogging — Microblogging sites are another example of social media marketing. They are sites where you can upload short posts which can link to your products or services. Twitter is an example of a microblogging site.
Bookmarking sites — Bookmarking sites are used to save and organize links online. An example of a popular bookmarking site is Pinterest, which many people use as inspiration for anything from organisation and business ideas to nail art and cake decorations. Users can tag posts they're interested in and share with their own followers.
Media sharing — Media sharing platforms allow people to share all different types of media online and collect subscribers. This content can be anything, although it's mostly video-centric. YouTube is the best-known example of this with some 'YouTubers' gaining fame and recognition from their regular content.
Community blogs — Community blogs are usually websites where lots of different authors can post content to the same site. Other users can respond by commenting on their thoughts and posting to the community blog.
What are the different social media marketing platforms?
There are a lot of different social media marketing platforms you can choose to use. It's important to do your research and know your audience before you start a marketing plan. This will help you decide which platforms to use.
Different platforms are best at accessing different age groups and audiences. These are the most popular ones:
What is a social media strategy?
Social media marketing is a great way to reach more customers and connect with them. But you do need a solid social media strategy to get the most out of this type of marketing.
A strategy just means a plan you put in place to keep track of your progress. If you have a plan, it will hopefully stop you from straying from your main goals. These are the most important things to remember when creating your business social media strategy:
Know your audience
The first step you need to take when creating a social media strategy is to do your research. Research your target audience, how old they are, their interests, their likes and dislikes and how they react to different types of content (e.g., do they seem to prefer video content or photos?)
You need to determine who your ideal customers are so you can zone in and target them closely.
Choose marketing goals that align with your business objectives
The next step you need to take in your social media strategy is to choose your marketing goals. Think carefully about what you want to achieve from your social plan. Do you want to access a new audience, understand your current one better, or make people more aware of your brand generally?
It's a great tip to follow the SMART acronym when thinking about your marketing objectives. All your goals should be:
Specific — Make sure you narrow down the specifics of your goals and avoid generalisations.
Measurable — Make sure you can see your success or failures and learn from them.
Attainable — You want to make sure your goals are achievable.
Relevant — It's a good idea to keep your plan relevant to your specific business. Something that is a high priority for one SME might not be for yours.
Time-bound —Make sure you set a time limit on your goals and stick to it as much as possible.
Know your brand identity
Once you've understood your audience and set out some achievable goals, the next step is to research your own brand.
It's important to know everything about your own business to keep your marketing progress steadily moving forward.
Decide on your brand personality and make sure your content on social media (whether past, present or future) reflects this. It's a great idea to have a spring clean of your social media accounts to ensure that your brand message is consistent. Try to use the same profile pictures for each business social account to keep it consistent and make sure your brand colours and themes are clear to your followers.
Have a clear content strategy in place
It's a good idea to have a strategy and focus on what you want to be posting and when. Once you've researched your target audience and know who you are as a brand, this step should be easier. This is because you'll know when your audience is likely to be online, what age group they are and what kind of content they respond well to.
You want to make sure you have a clear strategy that you stick to. You can adapt it going forward and try posting at different times to find what's best for your business. You can also use the business features on Instagram to see when your followers are most active and responsive to the times that you post.
For example, you could post a photo on a Monday, a customer review on a Thursday and a link to a specific product page on a Friday. Experiment at the start to see what days and times are best for engaging customers. Once you find your groove, you can build up a steady content plan.
Create a social media calendar
Once you've assessed what kind of content is best for attracting customers and worked on your strategy, creating a social media calendar is a great way to stay organised.
You can put together a simple calendar on Microsoft Excel, but there are lots of specialist social media management sites to help keep track of what you're posting and make the process easier. Hootsuite, SEMrush, HubSpot and Sprout Social are all examples. They can help you stay on top of your social plan.
These sites allow you to prepare pictures, videos and content and schedule them ahead of time. They automatically share your content at the time and date you've selected. Plus. you're able to see which of your posts got the most interactions and engagements.
This will help you adapt your social schedule in the future as you'll be able to see your most popular posts and learn how to attract your customers with tailored content.
Grow with regular activity
The next step is to consistently post and interact with your followers. Although posting at regular intervals helps boost your brand, replying to comments and messages within a certain timeframe, networking with similar brands and making an effort with your audience can also work wonders.
Try to respond to customers in a timely manner and iron out any problems they are posting about quickly via direct message. This will make them feel valued and can boost your brand reputation.
But just make sure that you're not just posting for the sake of it. You want to be uploading quality content that represents you as a brand and reflects your unique personality. Posting regularly is great, but make sure it's relevant to your business.
Create compelling content
This leads to the next step of creating a successful social media schedule, creating compelling content.
Followers scroll through hundreds of posts each day, they don't even register most of them. If they follow your brand, they've probably seen content from your competitors so make sure your posts are fresh, creative and reflect your brand personality. Catch your audience's eye and don't be afraid to try new things. You could set up a TikTok account, post more video content, GIFs and memes to stand out from the crowd.
You want to make sure you're creating content that really grabs attention and shows the best parts of your SME to the world.
Track performance
Another useful tip for creating your social media strategy is to track your performance and grow from there.
Keep an eye on how well each post is doing, how many likes and comments it has and whether different types of content work better than others.
A lot of this data can be found on Facebook Insights and Instagram Analytics within each app. But you can also use sites like Hootsuite and SEMrush to get this information too.
These social reporting features can provide a look into how well your posts are doing, how much reach they have, and you can also keep track of your paid ads. This information is helpful in deciding whether to carry on with your current posting schedule or step it up.
When you're tracking your social performance, make sure you look at your:
Engagement — This means how many clicks, comments and likes each post got.
Reach — This is the number of followers who have seen content related to your page or social accounts.
Video views — You'll be able to see how many views each post gets on Facebook, Snapchat, Instagram, or any other video-based social platform.
Reposts and shares — This is when a follower posts your content on their own account and shares it with their own audience.
Followers — See if your follower count has increased or decreased after a particular post. You can see your follower count on your own page, usually near the top (depending on which platform it is.)
Profile visits — This is the number of people who have clicked and visited your social media page.
Mentions — This is the number of times your social account has been mentioned in a follower's post, story, message or comment.
Impressions — This means the number of times a post of yours has been seen, and if anyone has clicked on it to learn more.
Tags — This is when your page has been tagged in a post, comment or hashtag by another user.
How to perfect your social media strategy with Bionic
Social media marketing can be a great way to interact with your customers and build your brand.
Creating a new marketing plan can be hard work, especially when you already have lots on your to-do list. Why not let Bionic help with the other annoying bits of SME admin?
Whether you need help with comparing business insurance, business finance, or any of your business essentials, speak to the tech-enabled team at Bionic today. If you need some tips to help make running your business that little bit easier, check out our blogs and guides.