when is the right time to sell your business
When is the right time to sell my business? All the important steps you need to take 
There can be any number of reasons why you might decide to sell your business - you want a bigger challenge, things aren't going well financially, or you've taken it as far as you possibly can. Or, it might simply be time to move on to something different.
No matter the reason, this handy Bionic guide will help you decide when to sell and how to go about it.
What does it mean to sell a business?
Selling a business means cutting any involvement you have in the company and handing it over to someone else to run.
Selling a business is a long process and may involve hiring accountants and business brokers or you could choose to go it alone. Whatever you decide, there are a few things you need to be considered before starting the selling process. Although circumstances might dictate you need to make a quick sale, you should ideally start planning at least a year before you want to sell.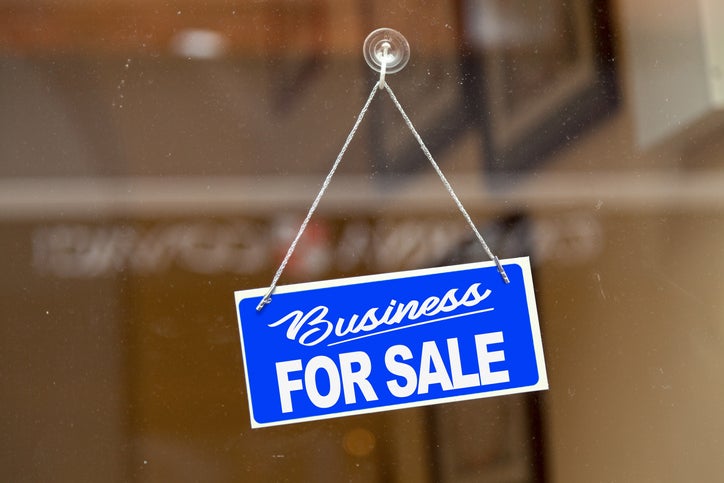 When is the right time for me to sell my business?
Every business is different, which means there's no one ideal time to sell a business. It's important to weigh up the pros and cons of selling before you come to a decision on the best time to do it. Here are some of the most common reasons for selling up:
1. You've outgrown the company
Outgrowing your business doesn't mean you've failed as a business owner. It doesn't even mean you dislike running it — it could simply just mean you feel that it's time to move on.
A venture you started ten years ago might not excite you anymore. If you're running a coffee shop that has good prospects and great staff, you might feel you're not pushing yourself because your business no longer requires your input on a daily basis. The company may need a fresh pair of eyes to fulfil its full potential.
2. The market is moving against you
It can be tough to get ahead in business, know what to invest in and what to spend your time and money on. If you've had a few bad years with declining custom or supplier problems, it can be tough to know if you should cut your losses.
Before you make any rash decisions, see whether there's still a demand for your business in the current climate, or if there will be in the future.
It's not always a good idea to throw in the towel, but if your heart's not in it and it looks like you'll be losing money over the next few years, consider if it's worth it.
Maybe another buyer will look at things with a fresh perspective and take the business in a whole new direction.
3. The business is failing
If your business isn't making money and you're frequently paying out more than you're getting back in custom, maybe consider selling.
If your business isn't making a profit or is losing customers, selling is often the best option to avoid being hit by even more losses.
The coronavirus pandemic has affected millions of small independent businesses in the UK. Many had to permanently close their doors, so it hasn't been an easy ride for SME owners.
But if there's a chance you can save your business by selling it to a new buyer, it could be the best bet for both you and your staff.
4. You've been presented with a better opportunity
Sometimes in life, we get offered an exciting opportunity and we need to pick which option will make us happier in the long run.
If you've been offered a chance to take over another business, or if there's a different venture you'd love to start, then have a real think about which option will be best for you in the long run.
You need to weigh up the pros and cons of running your current business against the new opportunity and assess which one will make you happier.
5. A change in ownership
Even if you love your company, there often comes a time you need to consider what you're bringing to the table.
Many SME owners build businesses from scratch but find their skills are no longer needed when the company becomes more established. A brand-new owner might be better equipped to deal with the next stages of business growth.
For example, you might have great planning skills and have built up a quirky gift shop in your local town. You might have seen the company flourish and become a hit in the high street.
Although your idea was a success and you enjoyed the set-up process, you might feel dealing with finance, staff recruitment and HR isn't your strong suit.
In this case, consider handing the baton over to someone with the skills to take the company onwards and upwards. Be proud you created the foundations.
6. Retirement
Retirement is another reason for selling a business. If you own a company and are considering stepping back to enjoy the fruits of your labour, lots of owners like to pass their business on to their children.
But if you don't have kids, or they aren't interested in running the business themselves, it's a good idea to look into who else could take on the responsibility.
Do your research, take your time in finding a buyer, and sell it to someone passionate about running your company.
How should I prepare my business for sale?
If you've thought about the above points and decided it's time to bid goodbye to your business, then you'll want to know how to do it.
1. Plan ahead
Planning is crucial when selling a business. Ask yourself why you want to sell and make a list of the things your company can offer a potential buyer.
Think about the timing of a sale, what kind of buyer you're looking for and if you have a set deadline to meet. Considering these objectives will make streamline the process and make it a lot easier.
On average, selling a business (not including the planning time) takes about six to nine months. Being prepared is essential in reaching your business goals.
2. Get advice
Another important part of selling a business is making it as attractive as possible to buyers.
This is when you might choose to enlist help to make sure your SME is showing off its best side. Good advice is like gold dust, so make sure you collect as much as you can.
When someone sells a business, they might choose to employ an accountant, a financial advisor, a business broker, or a business planner. But before you start looking for outside assistance, you can easily start compiling advice yourself.
Gather your staff and discuss ideas together. Brainstorm or speak to other SME owners who have sold their businesses and see what processes they had to go through.
When you're planning, make sure you think about:
Building a strong team - This is appealing to buyers as they have a reliable staff body already in place when they take over.
Preparing accounts – Ensure all your accounts are up to date and in order.
Fixing or replacing equipment - Make sure your building is spotless when buyers come to have a look.
Settling any disputes - Settle any outstanding issues with suppliers, employees, and clients.
Speaking to advisers - Get advice from tax experts, legal and accounting advisors if needed.
Gradually passing responsibilities - It's best to give your staff time to learn new responsibilities rather than piling everything on them at once.
Minimising expenses - Try to limit how many extra expenses you have.
Getting contracts in order - Make sure you collect any contracts and leases and store them in a safe place together.
3. Know your business
SMEs come in all shapes and sizes, but you know your small business best. So, when you're thinking about selling, it's important to be clear about your company's strengths and weaknesses. Make sure you note your business's unique selling points too.
It might help to create a brochure for potential buyers, so information is in one place.
Start with a page summary and photos of your business to grab attention. Then, inside, focus on the work you do, your customer base, business location and what makes you unique compared to your competitors.
Make sure you also include the reasons for the sale, annual turnover, and the potential for future growth.
From here you can gather detailed information about your premises, such as leases, equipment, and valuable assets you own. Any information you provide will help your next buyer. Plus, if you present it in a neat brochure, your business looks put together and prepared.
4. Get the accounts in order
If you're selling your business, it's important to make sure your finances are in order before you secure interest.
Look into your taxes and make note of any tax relief you might be eligible for. Potential buyers are more likely to look seriously at a business that already has accounts in order.
Have a look into these potential tax relief options for your business:
Business asset disposal relief – If you've owned the business for more than two years as a sole trader or business partner, you might be able to pay a lower rate in capital gains. Business asset disposal relief was originally set up to reward owners for setting up a company and creating job opportunities.
Gift hold-over relief – If you're selling a business asset, you might be able to transfer the responsibility of paying the capital gains tax to your next buyer.
Business asset rollover relief – You might be able to delay paying capital gains tax back if you sell your assets — providing you're using the money to buy new assets within three years).
Incorporation relief – You could also delay paying capital gains tax when you transfer your business to a company in return for shares.
Another crucial point is to check the VAT your business pays. If you're registered for VAT, you can usually transfer the registration number to the new buyer.
If you're self-employed, you must inform Her Majesty's Revenue and Customs (HMRC) when you stop trading. You can do this online and you'll then need to complete a self-assessment tax return.
5. Build a mid to long-term strategy for the business
You might already have an ideal date you want your business sold by, but be careful when thinking about timing.
When owners sell businesses, they usually try to do it when profits are high to attract new buyers. You should look into when economic markets are expanding as your SME is more likely to gain interest then.
It's always best to plan a proper strategy before you start the selling process. As mentioned earlier, you should aim to start preparing your business for sale at least a year in advance to give you time to build a skilled staff body, get your accounts in order and expand your customer base.
Planning a strategy is essential and invaluable. Making sure your business is up to scratch will ensure you're attracting the best buyers.
What shouldn't I do when selling a business?
Don't sell your business if you still love what you're doing - If you still feel fulfilled every day, then think twice about selling. Usually, SME owners sell because they want to make a lifestyle or professional change, or if they just don't enjoy running the company anymore.
Don't sell to the wrong buyer - Don't rush into a sale and sell to the wrong person. If you care about the long-term success of your business going forward, you should do your research and carry out due diligence for any potential deals.
Don't try to sell when the market is bad - The value of your business is affected by the economic market. You should try to sell when business is good, not bad.
Should I have my business valued?
Valuating a business means calculating how much your business is worth. How much your SME is worth is based on things like assets, profits, reputation and your industry.
There are lots of methods you can use to value your business, but it's best to go into a sale knowing what your SME is worth.
You don't want to undersell or not attract any buyers because you're asking too much. You can find out how to valuate by reading Bionics' useful guide. (link)
What is the due diligence process when selling a business?
A buyer interested in your SME will usually carry out due diligence to get the best deal.
Due diligence means the buyer looks seriously into contracts, customer base, liabilities, finances, and any issues.
Be prepared and keep in mind that any business problems need to be ironed out before you attract a buyer. Often, it's a good idea to get legal or accounting help for this step.
Buyers will usually look into the following when carrying out due diligence:
Liabilities – Make sure you pay any liabilities or are upfront about issues before securing a sale.
Contracts – Make sure you review employee, supplier, and client contracts before the sale.
Statutory registers – Make sure your business details are up to date on Companies House.
Insurance – Make sure you have business insurance in place ready for the buyer.
Properties and assets – Be clear on what is included in the sale and prepare relevant lease documents.
Financial documents – Make sure you gather detailed documents and tax returns dating back at least three years.
Shareholders – Write up information about any shareholders.
Intellectual property – Make sure trademarks, copyright and your company name are protected.
Give complete disclosure
Disclosure means to be upfront about any problems your business has or may face after the new buyer takes over. The new owner needs to know of any issues they might run into, so make sure you're honest.
Being upfront is the best policy. You wouldn't want to purchase a business you thought was squeaky clean to find out it had financial issues, disgruntled staff and bad relationships with suppliers a few months down the line.
If there are any issues you can't sort out, tell the buyer about them. This gives them complete disclosure so they can make an informed choice about whether they want to continue the sale.
Protect yourself
It's vital to protect yourself when negotiating a business sale, so make sure you:
Get expert help - We've already mentioned this, but consider enlisting help from a business broker, business planner, or accountant.
Vet parties - Research buyers to make sure they have a good reputation, buying history and are serious about buying your business.
Know your value - Consider valuing your SME so you know how much it's worth.
Only sell what the buyer asks for - Don't include more than necessary in your sale. If the buyer is interested, don't add on extras to be helpful. It is a transaction after all.
Make sure the buyer can pay - You need to make sure the buyer has the means to pay you. Don't give away your business without checking.
Ask for money up front - Ask the buyer for a deposit to keep yourself safe.
Put yourself in the buyer's shoes
Think about what you'd like to know if you were buying a business. What kinds of things would you want to be prepared for? Make a list so you can mention them if your buyer doesn't.
Putting yourself in your buyer's shoes is important as it makes the process easier for both parties. If the buyer gets all the relevant information straight away, they (hopefully) won't be contacting you in a panic a few months down the line.
It's easier to put yourself in their position if you're actually buying a new business yourself. You can compare what information you are receiving from your new deal and adapt from there.
Should I sell the business on my own or use a broker?
Some business owners employ a broker to help them sell their business. The main reason is to save time and take the hassle out of marketing your business.
Another benefit of using a broker is complete confidentiality. As an employer, you ideally want to avoid worrying staff. If they hear you're planning to sell, they may assume their jobs are at risk. Using a broker helps keep things confidential until the sale is final. This avoids causing unnecessary stress to staff or suppliers if word gets around.
Business brokers will usually approach your rival businesses directly as these are the most likely buyers. They will then talk to them about your (anonymous) business or build up a database of potential buyers. Brokers also use social media for more effective marketing, something that many business owners have limited time to do.
If you decide to go down the broker avenue, make sure you ask them the following questions:
How much is my business worth? — Ask your broker how much they think your business is worth. You can then compare this against your valuation.
Have they worked with businesses in your industry before?— If this broker has never worked with a business in your sector before, they might not be the experienced help you're looking for.
What do they offer as a package?— Ask how much you'll be paying and what you're getting for your money. Eg: will you need to pay separately for marketing?
Will there be a separate listing fee?— Ensure you know what the general fees are and if there are any hidden or extra costs.
What's unique about them?— Ideally, you want a broker who has proven success in your industry, but you also want them to be unique and able to sell your business. So, find out a little about them first.
Who are they going to target as potential buyers?— You want to know exactly where they're going to look for buyers, (e.g: in the UK or abroad, are they your competitors or are they branching out?)
How are they going to market your business?— You'll want to go through a detailed marketing plan with them so they can explain the best way to boost your business to buyers.
Always ask for a written contract — A paper contract is important as it protects both you and the broker. Each party understands what is expected of them.
1. Check the broker's success history
When dealing with brokers, it's important to select a reputable one and check their success stories beforehand.
Research brokers online and look through their reviews on Google or Trustpilot. You could also ask friends who run their own small businesses which brokers they have personally used before.
Often reading other people's experiences of a broker (or any company for that matter) is more reliable than just looking on their own website. You can be confident they're real-life examples of success.
2. Listen to their marketing strategy
Once you've chosen your broker and are happy to start the process, it's important to have your say about your business sale goals. But make sure you listen to the broker's advice and marketing strategy too. A fresh pair of eyes might be just what you're needing to secure a sale.
When you're selling a business, the main thing is to make sure your company looks its best on paper and in real life. The way your company is perceived by potential buyers is important.
Brokers often know exactly where to advertise to maximize interest. They also have insight into how to market your business so that it gets noticed by serious investors. Each business is different, so take the broker's ideas on board and think about their marketing advice carefully.
3. They can ease communication
Selling a business can be tricky, especially if you're worried about competitors, employees, or customers finding out before you're ready.
A broker will help keep all details of a sale confidential and minimise staff worries.
When you choose to use a broker, all potential buyers will need to sign a legal confidentiality agreement to be qualified as a serious buyer. It's only then the broker will give the potential buyer details of your business.
How Bionic can help when selling your business
Deciding to sell your business is a big step. Whether you decide to go alone or enlist the help of an accountant or financial advisor, be sure to plan and give yourself enough time to attract the best buyer.
Then there's the other admin to sort out - do you know what happens with your business energy when you sell up? What about your phone and broadband contract? Do you need to cancel your business insurance policy? If you're moving on to another venture, you might need additional business finance. The team at Bionic can help with all of the above, so if you have any questions, give us a call on 0800 158 5263 between 9 am and 5.30 pm from Monday to Thursday, or between 9 am and 5 pm if you call on a Friday.