how to advertise a job
How to advertise a job to find the best candidates for your business
Whether you've just started your business or you're rapidly expanding, having skilled employees is essential if you want your company to succeed.
But to get the right candidates into your business, you need to know how to properly advertise a job. And with so much to wrap your head around, knowing all of the key information that you need to include when writing your job advertisement can seem a little overwhelming.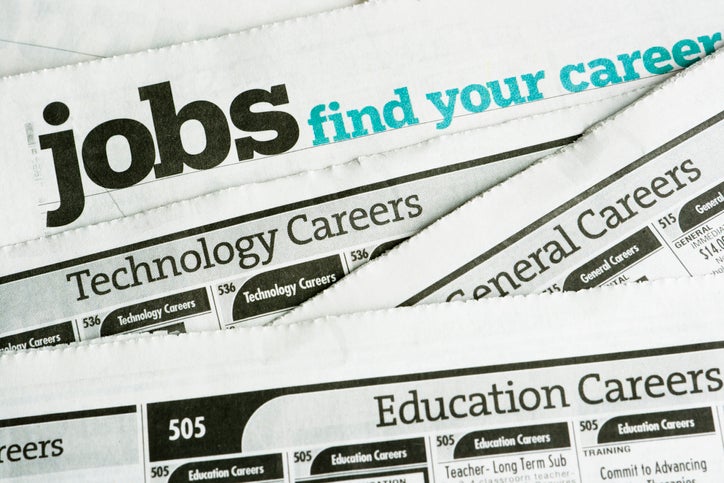 To help you avoid some common mistakes and fully understand what a job listing should include, our handy guide can walk you through everything you need to know.
What is a job advertisement?
When you're recruiting, a job advertisement is your first chance to showcase your available vacancies to attract potential candidates.
Essentially, the main goal of a job advert is to inform and it'll typically go into detail about things like:
The job role — Make it attractive without obscuring the actual position
Expected daily tasks — A rundown of what the day-to-day tasks are of the position, like daily meetings or expected to complete X amount of tasks daily
The company and its benefits — Sell the position. Include information about the company, how many people you employ, work hours and its included perks and benefits
Job requirements — Including degree level, qualifications or equivalent and skills that are suitable for the role
Salary and location — Potential candidates will filter by location and salary when looking for a new job
When you're writing your job advert, you want it to be engaging. The best way to do this is to structure your advertisement in a clear and informative way that will convenience potential applicants to apply.
Why is it important to write a job advert properly?
To help your business thrive and succeed, you'll need to hire skilled people. And this is where a well-written job advert can be invaluable.
Although the main goal of a job advert is to attract potential candidates, it can do so much more than that. A good advert can not only aid in your daily recruitment process, but it can also enhance your employer brand value and help to build and market your company.
What's the difference between a job posting and a job description?
Although the phrases are typically used interchangeably, there is — surprisingly — a difference between a job posting and a job description.
Job posting
A job posting is the first point of call that your potential candidate will see — so it's important that you make a good impression. Usually, you'll find a job posting on sites like Indeed.
It's especially important to make sure that your job posting includes keywords that people will be searching for and not be an exhaustive list of job duties and role functions — this belongs to your job description.
Job description
A job description is a summary of everything that the role requires. Usually, the job description is a much more detailed separate document and can be easily referred back to once the candidate starts at the company. You're more likely to find a full job description on the company website. The purpose of a job description is to inform future employees of exactly what their job entails, even down to the fine details that they might not think about.
The best job descriptions include text that is:
Readable
Easy to understand
Gender-neutral
Positive
Includes simple sentences
What should a job listing include?
When it's time to write your job advert, there are several key features that you need to make sure that you include.
1. Job title
The job title is arguably the most crucial part of your job advert, so it's vital that you get it right.
While creative and unique titles can be tempting, this can actually damage your chances of finding the right person for the job. Since it's the first thing that candidates are going to see and interact with, you need to be specific and to the point.
Remember, when candidates are searching for jobs, they're going to be searching for key terms and phrases. If you're looking for a 'Marketing Manager' or a 'Warehouse Operative' then make sure that's exactly what you're advertising for.
2. Introduction to the company
Next, you'll have to include an introduction to the company. It can be brief, only giving a rundown or quick overview of how the company was founded or outlining your key business goals.
The role of the introduction to the company is to convince potential candidates they want to work at your business, so, you need to give them a reason. Take this opportunity to communicate what is inspirational about your company and what makes it a great option to work there. These days, candidates want to know about:
Your sustainability and corporate responsibility
Development opportunities
Equal rights
Diversity and inclusion
Team social events

3. Goals and objectives
After you've introduced the company, it's always good to mention the goals and objectives that will be set out for the candidate. Essentially, this is a great opportunity to help them understand the role they'll play in the business and the contribution they'll make overall.
In this you'll want to include:
What department they'll be based in
Other departments they'll be working closely with
What they'll be doing e.g 'operating heavy machinery daily'
Opportunities for growth
4. Salary and location
While it isn't mandatory to include the starting salary bracket and location in your job advert, it can be extremely beneficial. Over the last few years, there's been a cultural shift towards salary transparency, which is something that every company should consider when posting a job advertisement.
Not only can it save a lot of time with needless back and forth with potential candidates, but it can also give them peace of mind knowing that they're applying for a job that meets their salary and location expectations.
5. Daily responsibilities
The daily responsibilities of the role are extremely important for the candidate. As always, you need to be honest and upfront about what they would be expected to do daily, weekly and monthly.
It's a good idea to break these up into either small paragraphs or bullet points. This way, it makes it easy for candidates to digest what would be required of them. It also saves your candidate from having to ask questions in the interview you could have already answered for them.
6. Requirements
The requirements of the position will depend on the level of the role. However, essentially this is a chance to state to candidates whether they need things like:
Education & qualifications — GCSE, A-Level, BA, BSc or higher.
Training — Do you want someone who has specific training? If you're looking for someone who has a forklift driving license, for example, then make sure this is known in the requirements.
Experience — Are you looking for someone who already has experience in a similar role? Or can graduates apply? It's important to make sure that you state the experience you want people to have when they apply.
Personality and soft skills — Do you want someone on your team who's enthusiastic and has a keen eye for detail? State the kind of personality traits and soft skills of someone you want on your team.
Make sure that you clarify whether these qualifications, training, experience and soft skills are a requirement or whether they're simply advantageous for the role.
7. Benefits
In today's job market, employees want to feel valued. If your company offers benefits like; flexible working hours, social events, having their birthday off and anything else in between, they're going to be more likely to join the business knowing they can receive these perks. Lots of companies offer generic benefits now, so you'll need to dig deep to shout out benefits that are truly unique to your business.
What to avoid in a job advertisement
When crafting your job advertisement, there are a few things you'll need to watch out for that you'll make sure you don't want to include.
1. Unnecessary information
It's important to make sure that you're including all of the basic and necessary information in your listing. Make sure that you're not forgetting the job title, location, daily responsibilities and requirements.
2. Jargon
While it may sound more knowledgeable, using jargon, acronyms and buzzwords in your advertisements can actually discourage applicants from applying. Referring to your team as a 'group of Ninjas' isn't going to entice your potential candidate.
Instead, it's best to just use clear and concise language that gets straight to the point you're trying to get across.
3. Spelling and grammar mistakes
Basic spelling and grammar mistakes in your job advert can make you appear sloppy and unprofessional.
Once you're happy with your job listing, be sure to proofread it several times and even get a colleague to look over it, just to be sure. You can also download apps and extensions like Grammarly — which is a writing assistant that can help spot common spelling mistakes and rework sentence structure — if you're not a confident writer.
4. Dress code
While you may not think anything of it, adding clothing requirements in your job listing can sometimes be seen as unprofessional. For example, wearing a hairnet in a kitchen could discriminate against someone who, for religious reasons, chooses to cover their head in other ways.
5. Discriminatory terms
When posting your job advertisement, by law, you can't refer to 'protected characteristics'. Terms like 'barmaid' and 'handyman' can actually be seen as discriminatory against someone's gender.
6. Nationality requirements
If you're looking for someone who can speak another language, it's best to refer to them as a '[language]-speaking sales rep'. For example, posting a listing with a 'French Sales Representative' can be classed as discriminatory, so it would be best to say 'French-speaking Sales Rep' instead.
Where can you post a job advertisement?
In today's competitive market, there is a wide range of places where you can publish your job advertisement to find the right candidate for your business.
Essentially, you're going to want to make sure that you've published on at least two channels. These can be anything from:
Networking platforms — Sites like Linkedin are great to post your job listing to as it helps connect you with like-minded people who are in — or trying to be in — your industry.
Social media — Posting your job on social media platforms like Facebook and Instagram is an effective way to reach qualified candidates. Make sure that you update your company's profile regularly and remain active.
Job boards — Sites like Indeed and Glassdoor are by far one of the most effective ways to get your job advertisement out there. Indeed allows you to create a company profile and will tell candidates when/if you've been actively reviewing CVs.
Your company website — What better way to get the word out about current job listings than your own website? If candidates are actively looking for a position at your company, then this is a great way to attract them.
Starting the selection process
Once you've received all of the applicant CVs, your next step is to review and start the selection process. To do this you'll need to:
Review applicants — To review your applicants, you'll first have to filter out any of the CVs that don't match the criteria you've set. Once you've done this, you should be left with a few candidates who stand out for the right reasons and have the experience and skillset you're looking for.
Screening applicants — If you want to, you can screen candidates by sending them a few questions or setting up a brief phone interview to go over the basics and get to know them a little better.
Setting up an interview — Once you're happy with who you want to take through to the interview stage, it's time to set one up. If you're not sure how to properly conduct an interview, our handy guide can give you the rundown on everything you need to know from interview questions to tips and tricks.
Advertising your job
While it sometimes can feel overwhelming when it comes to advertising a job, these can be the initial next steps to help your business grow and succeed. Whether it's knowing what to avoid in a job advertisement or just knowing what one is important, a well-written job advert can give your business the boost it needs.
There are always risks when you decide to launch a business, but you can mitigate many of them with a robust business insurance policy. Get in touch with the Bionic team to discuss your needs or get more information on employers' liability insurance today.