small business deliveries
How to tackle delivery issues as a small business owner
If mail order makes up part of your business, then you may well use Royal Mail to deliver packages to customers across the country or even the world – in 2021, it handled more than a quarter (27%) of parcels shipped in the UK.
But there are lots of other couriers available, some of which may offer a more suitable service for the needs of your business. Let's take a look at what couriers are available, along with steps you can take to help make sure your package arrives on time and intact.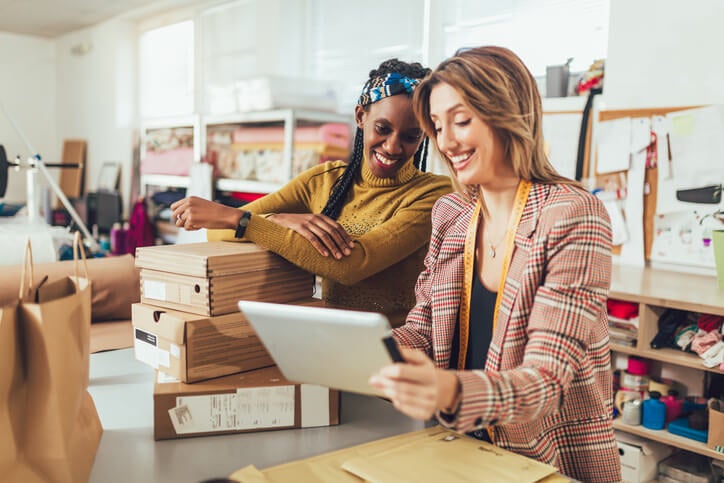 Who is the biggest parcel company in the UK?
Royal Mail is the main delivery provider in the UK. According to figures from Ofcom, the communications industry regulator, Royal Mail Group has a market share of 38% by revenue and 52% by volume, including large letters used for the fulfilment of orders.
But the growing popularity of online shopping has seen a huge rise in the need for courier services. In the last decade alone, the number of parcels being processed has risen from around 1.7 billion a year in 2013 to 4.2 billion in 2021.
What are the alternatives to Royal Mail for business deliveries?
As with services like business energy, it could pay to shop around when looking for a commercial courier. As the need for delivery services has been increasing, more couriers have been working to get a foothold in the UK.
Hermes (now Evri) and Yodel, for instance, have created parcel shop networks across the country to make parcel deliveries and returns more convenient for customers and businesses.
If you're looking for an alternative to Royal Mail, here are some of the main couriers you can choose from to deliver your items:
DPD - DPD are one of Europe's leading parcel groups and is owned by French company La Poste (the second largest postal group in Europe).
Evri - Evri (which you may remember as Hermes) usually delivers parcels ordered from popular retailers like ASOS, Marks & Spencer and John Lewis. The Evri rebrand was a move to 'enhance customer services'.
DHL - DHL is a well-known courier and delivery service which works internationally too. It is part of the German logistics firm 'Deutsche Post'.
UPS - UPS is a world-renowned USA-based delivery company that operates and couriers parcels internationally.
Parcelforce - Parcelforce was formerly knowns as Royal Mail Parcels. It was rebranded in 1990 and again in 1998 to 'Parcelforce Worldwide'.
Yodel - Amazon acquired a 4.2% share of delivery company Yodel in 2014. Amazon also contracted various trucking companies to deliver parcels to customers, so Yodel is often used if you order something via Amazon.
How to help ensure a parcel is delivered safely
There's always a risk that something could go wrong when using any delivery firm. This could mean your package arrives late, damaged, or doesn't arrive at all.
Delivery mishaps are relatively uncommon, but doorstep parcel theft is on the rise. A recent study from Penn Parcel Box, a mail storage solution company, found that UK customers experienced a 5% increase in lost or stolen parcels between May 2021 and April 2022, compared to the previous year.
The same study also revealed that a billion parcels are lost or stolen within a single year. That's why you should always reiterate to your customers the importance of nominating a 'safe space' to leave parcels rather than just on the doorstep.
It's also important to make sure you do everything you can to make sure your package is delivered, or at least ensure you're covered if anything does go wrong.
Here are some of the steps you can take to protect your business and its customers should any parcels not arrive.
Use a reputable courier
The courier examples given above are the main ones used in the UK, but you should always do your research and pick the courier which best suits your needs. For example, if you need to ship overseas, UPS or DHL might be a better option as these are well-established and trusted global couriers.
Always get proof of postage
If you are posting via Royal Mail, you can get free 'proof of postage' when you hand the item over at the Post Office. You can also get digital proof of posting on the Royal Mail App.
Proof of postage will confirm the item has been shipped, which can help if there are any disputes over the item not being delivered, but it doesn't mean the item will be tracked and doesn't offer any insurance against damage or non-delivery.
If you use other couriers, such as DHL and Evri, they should also offer proof of postage and be able to give your and your customers an estimate of how long the delivery should take.
Customers will usually be able to track their parcel with each courier using their order number. Certain couriers will text the customer to give a rough estimation of the delivery timeframe.
But, as with Royal Mail, proof of postage does not provide insurance or tracking, and this may need to be bought separately.
Keep the customer informed
If you've offered tracking as part of the delivery service, then customers will be able to see exactly when their parcel was posted and how close it is to being delivered. The courier might pass the tracking and delivery info, but it might be worth you doing the same when you post the goods.
If the parcel isn't being tracked, you should let the customer know when their item has been posted and give them a rough idea of the arrival date (you should be able to find this out when you post the package).
You should also keep up to date with any strike action or other incidents that could cause the delivery to be delayed. This can be done via a banner on your website or a warning message at the checkout. The more information you give them before they commit to an order, the less likely they are to be annoyed if their item is late.
Get parcels signed for
Another good way to safeguard yourself is to send parcels using a 'signed for' service. This means you'll have a note of exactly what was sent and when, as well as a signature to prove the item reached the customer.
These services don't always offer tracking, so if you need to keep tabs on the progress of a package, check with your courier before you send it. Adding parcel tracking might come with additional costs.
Royal Mail has an up-to-date web page laying out their parcel delivery prices but it will vary with each courier service.
Can you protect against lost parcels?
There's no way to guarantee a parcel won't be lost, but carrying out the above steps can help protect your business should an unhappy customer get in touch because their parcel hasn't arrived. You can also insure items against damage or loss, but this will incur extra costs that will need to be passed onto the customer.
What should you do if the customer doesn't receive the parcel?
It can be frustrating if a customer contacts you saying they have not received an item you sent weeks ago. But there are a few things you can do to keep customers happy and still ensure great service.
The first thing you should do when you get a message from a customer with a missing order is to try and reply as soon as possible. Keep things professional and send a message back apologising for their order delay. If you're not sure what to say, there are lots of templates online that you can copy and send to your customer to limit any bad feelings.
Check details with them
After you have responded to the customer, you should then check the basic details with them. Find out whether the delivery address they've given is correct. If they have a different payment address, the two may have been mixed up and the delivery has gone there instead. You should also ask if the courier could have left the parcel behind a bush or in a safe place. Are there any other residents who may have taken the parcel in and forgotten to tell the customer?
Make sure they haven't received a 'could not deliver' slip as well. As that just means their parcel will be at their local Royal Mail or courier office ready for collection.
Check the order on your system
If the customer has answered all the questions above and no solution has been reached, then double-check the order on your system, let the customer know the date you posted the package and which courier should have delivered it.
Advise them to wait a few more days
If there are strikes, advise the customer to wait a few more days if plausible. If there are no current strikes, then it's time to take the next step.
Contact your courier
The next thing to do is contact your courier or Royal Mail, whichever took the parcel and check with them. You can often input a delivery code and order number and track the parcel to see where it is.
Consider offering a refund or a replacement item
If a customer doesn't get a package that you sent, you need to decide whether to send a replacement, give them a refund, or do nothing. Simply doing nothing won't be good for the reputation of your business, but there may be no way of knowing whether the customer is fraudulently trying to claim for lost items.
That's why it's always a good idea to use tracking, signed-for, and insurance services for your deliveries. That way, you'll know whether or not your customer has received the item. If not, then you should be able to make a claim against the courier.
For instance, you can then make a direct claim for compensation against Royal Mail for a lost parcel via their website. Couriers like DHL also say they take direct liability for lost items. But make sure you check as each courier may have slightly different policies and may only compensate you under certain circumstances.
If a customer has paid for an item on their credit card, then they might be able to claim against their provider for non-delivery through Section 75 of the Consumer Credit Act. This applies if some or all of the cost was paid using a credit card and the price of the goods is more than £100 but no more than £30,000. If you've had a complaint, it could be worth pointing the customer in this direction. There's more information on Section 75 at the Financial Ombudsman Service website.
How can Bionic help with my other business admin?
Although Bionic can't directly help you with delivery issues, we can take the stress of sorting your other business essentials. We compare business gas and business electricity, as well as business phone and broadband to help make sure you're on the best deals.
We can also help with business insurance and business finance. Get in touch to find out more.