How to boost your business with TikTok 
Social media has become a successful tool for many small businesses looking to get their name out there and attract new customers. Instagram and Facebook are two of the most popular, largely because both are well established, easy to use and free - perfect for any small business looking to spread the word and reach more customers.
But what about TikTok? Can this social media newbie really help you promote your business?
For anyone who isn't familiar with TikTok, it's a popular video-sharing app that allows users to share snippets of their lives with others.
For anyone who remembers Vine, it's a little bit like that, but videos aren't restricted to a few seconds.
It's a platform that's being used in ever more impressive and creative ways. And its most popular influencers can earn thousands of pounds per post.
Take The Pool Guy as an example, who shot to fame posting videos of himself cleaning various pools around the UK. His TikTok posts are so popular that he has gained almost 8 million followers and can rake in as much as £11,187 per post.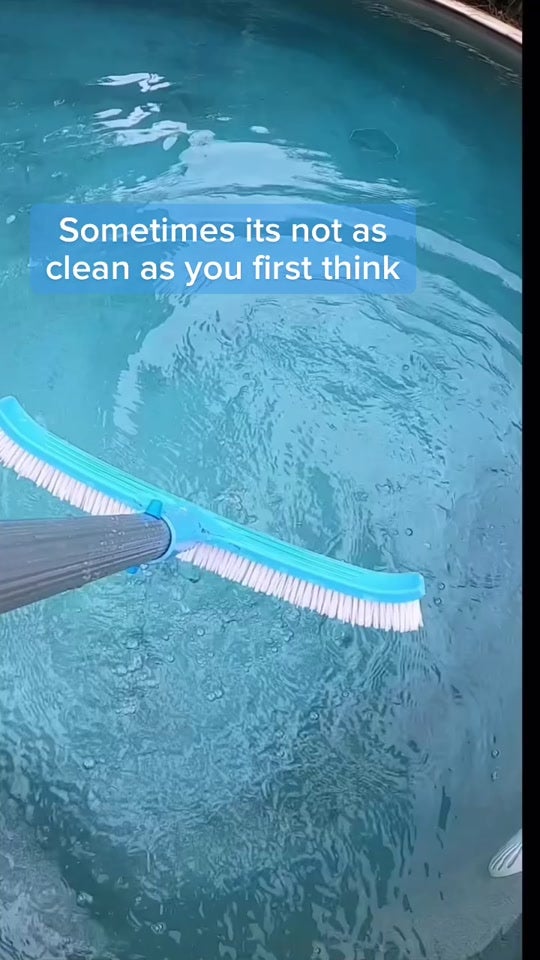 Brownie God, a baking influencer can make up to £229 per post, while Paint Warrior can clean up nicely with as much as £702 a post.
So, what's their secret? They simply know how to create content that interests and grows their audience.
How do I get started on TikTok?
It's simple and free to get started on TikTok, all you need to do is:
Download the free app from your app store.
Sign up using your email, Facebook, or Twitter to log in.
TikTok will then assign you a random unique username, but you can change this if you'd like. When thinking about your name for business, make sure it is as near to your business name as possible so it's easy for others to find your account.
You can customise and edit your profile using the 'me' button at the bottom of your screen., here you can change your profile picture, create a catchy bio and tell your followers about your business.
Then you're ready to start exploring content, TikTok automatically collects videos personalised for you, but you can also search for different people and follow them.
To create your first TikTok, press the '+' button at the bottom of your screen and start recording!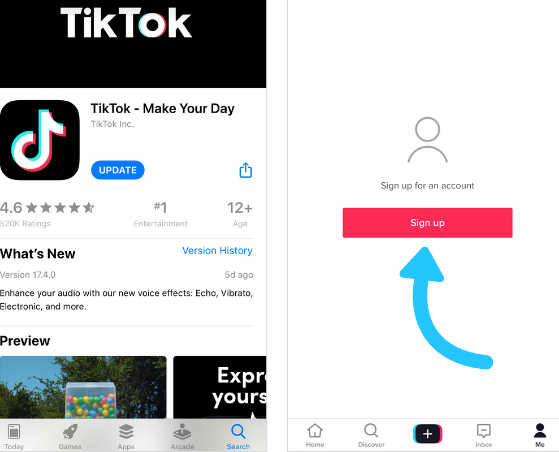 Once you've set up your TikTok account and had a look at how it works, it will become clearer how you can record your content and build your brand on the platform. But to help you get started, this handy is designed to help small businesses like you understand how to use TikTok to market your business.
10 top tips to help kickstart TikTok for your small business
1. Do your research
Any new tech can seem daunting at first and you might find yourself wondering where to begin with TikTok. The good news is that you don't have to be an expert video producer to create some eye-catching content.
Just spending some time looking into TikTok and taking note of what other businesses are posting will help you gain an insight into their own creative processes. Seeing what others are doing can be a real inspiration and help you come up with ideas that are relevant to you and your own customers.
You can download TikTok easily from the app store and it's free to set up an account. From there you can search for other users and watch videos recommended for you. You can start creating your own content by tapping the '+' button at the bottom centre of your screen and can then also choose from an array of editing effects and filters.
Some helpful advice is to research businesses that are like yours first - there's no point in looking up a clothes shop account and marvelling at how their TikTok videos perfectly showcase their new summer clobber if you run a café.
Take some time to browse around the app, see if you can find other like-minded shop owners and witness how they are using TikTok to gain recognition.
2. Use TikTok to tweak your tone
TikTok is one of the newer social media apps out there, and the average age of its users tends to be younger than the audience who use the more well-established players like Facebook and Twitter. A study showed that the average age TikTok user is aged between 18 and 24 and they spend around 89 minutes a day watching content on the app.
But just because the TikTok demographic tends to be young, this doesn't mean that you can't reach a wider audience or embrace a fresher style in your marketing.
TikTok offers a unique opportunity to experiment with your tone and see if a lighthearted approach works better. It's designed to be fun, which means it requires a different approach to how you might market your business on LinkedIn, Facebook, or even Instagram.
Why not try out some new things and come up with fresh ideas that incorporate video. If you own a shop, you could take customers around a virtual tour around and point out your bestselling products whilst giving a little backstory about why those products are special.
You could give viewers a glimpse into some behind the scenes action, offer advice on how to arrange a shop window, detail how you created a friendly store atmosphere, or teach them how to gift wrap like a pro. Have some fun with your videos and you'll likely attract more customers.
3. Keep on trend
A great tip to keep in mind when using TikTok for business is to really take notice of what is currently trending and see if you can apply those same topics to your own marketing strategy.
If 'British Summertime' is trending on the app due to the recent heatwave, then see if you can come up with some content that links your business to the theme of summer. That way you are staying relevant and up to date with what people are talking about online.
If you're a florist, this could mean creating an informative video about the best flowers for summer, or what ones you should be planting now for autumn and winter. If you are a local butcher, why not give your TikTok audience a glimpse into how to prepare some top-notch BBQ food ready for more hot weather.
Just being mindful about what's trending and staying up to date is key.
4. Interact with influencers
Influencers (users with a lot of followers) can play a big part in social media marketing, and brands often use them to promote their products. If you partner with the right influencers, they can really boost your business and show off your business to thousands of their followers.
The key is finding influencers who are relevant to your brand and really fit with your values. For example, if you're a construction business owner, you'll want to find influencers like Paint Warrior who can demonstrate painting on different builds.
They won't work for free (remember, the Paint Warrior can pull in £700 a post), but if they talk to their followers about your product or service, link to your brand, or even just name-check your channel, the partnership could pay for itself.
5. Create your own authentic content
TikTok is a place for everyone to share snippets of their life which means videos are usually filmed on smartphones - there's no need for fancy equipment, perfect lighting, or a planned-out script.
The key to making good TikToks is to be authentic and keep it lighthearted. TikTok users want to be entertained, so experiment with what you share and give your audience fun behind-the-scenes clips to showcase your brand's own personality.
It's a good idea to get used to taking vertical videos so they're the right format for the app but you can also have some fun and add music or trending TikTok songs to your videos.
6. Consider paid posts
Although social media platforms are free to use, most businesses will need to pay to boost certain posts if they want to increase their reach and engagement. TikTok is no different to Instagram and Facebook in this regard, as you can pay to boost posts or adverts. This is often beneficial to businesses as it allows them to reach a larger audience and get their posts seen by more potential customers.
It's simple to do, and some businesses pay for adverts alongside their regular posting schedule. For more information on how to set up paid amplification go to TikTok for Business.
7. Post regular content
With any social media marketing, the key is to post regularly and stay present, so your customers and potential audience know you are there. Set up a schedule and stick to it, consistency is key when you're navigating the online business world.
It's important to work out a schedule and really take note of the times and days you are posting. It's a good idea to set up a spreadsheet that keeps a record of what you posted and when as well as how many likes or shares it got. Then you can sit down and work out when is the best time to push your content out there and when is most likely your audience will see it.
8. Use the platforms unique features
If you've started using the platform, you've probably seen TikTok duets and reaction videos.
A TikTok duet is when you record yourself and post it as a split-screen style with another TikTok video (either your video or someone else's if they allow duets).
To create a TikTok Duet, follow the steps below:
Find and watch a video
Tap the Share button on the right of the video (this is only visible if the creator allows sharing)
Tap Duet
Record a clip by tapping the red Record button
Edit it by adding effects
Repeat steps 4 through 5 a few more times
Tap the Next button
Adjust your preferences, like whether it is private or public
Tap Post to publish your Duet
TikTok reaction videos are similar, in that you can record yourself reacting to a TikTok if the creator allows it. Their video shows up picture-in-picture style.
To create a TikTok React, follow the steps below:
Find and watch a video
Tap the Share button on the right of the video. (this is only visible if the creator allows sharing)
Tap React
Record a clip by tapping the red Record button
Edit it by adding effects, etc
Repeat steps 4 through 5 a few more times
Tap the Next button
Adjust your preferences, like whether it is private or public
Tap Post to publish your Reaction
9. Find your friends
As with any social network, more TikTok followers means greater reach and (hopefully) more likes and shares. If you're already set up on Facebook, you can connect with Facebook Friends by following the steps below:
Go to Me from the menu bar
Tap the add person symbol in the corner
Tap Find Facebook Friends
Scroll through the friends available and hit Follow to follow them
It's also worth seeing if anyone from your phone's contact list is on TikTok, which you can by following the steps below:
Go to Me from the menu bar
Tap the add person symbol in the corner
Tap Find Contacts
Scroll through the contacts available and hit Follow to follow them
10. Create TikTok gifs
Gifs are everywhere. Each social platform has its own native gif option, which means gifs can extend your reach far beyond one single platform. You can easily make your own gifs from TikTok videos, and they'll even be watermarked with your TikTok name. To create a gif using TikTok, follow the steps below:
Find and watch a video
Tap the Share button on the right. It's only visible if the creator allows sharing
Tap Share as a Gif
Choose where to share, or just save it to your device
Using TikTok can be a really great tool to have in your marketing box of tricks and when used well, can be extremely effective in boosting your business.