How to spring clean your small business and its premises
Spring is the perfect time to get your business in tip-top shape. Whether you run a café, own a takeaway, or fix cars in your workshop, having a good declutter will ensure your business runs as smoothly as possible.
Last year we gave you six tips to spring clean your business that involved things like looking at your social media presence, trying new offers, and making new connections with your customers. We were in the middle of lockdown back then but as we enter spring 2022, things are starting to look a little more like those pre-pandemic days.
That's why we've taken another look at spring cleaning your small business, but this time it's all about literally tidying things up and preparing for the year ahead.
1. Go paperless
A great starting point when cleaning your business is to think about going paperless. Unnecessary paper cluttering your premises creates a mess. This looks untidy and can make it difficult to find important documents like leases, deeds, and employee records. Even if everything is kept neatly in folders, these can soon stack up and you could find yourself struggling to find storage space.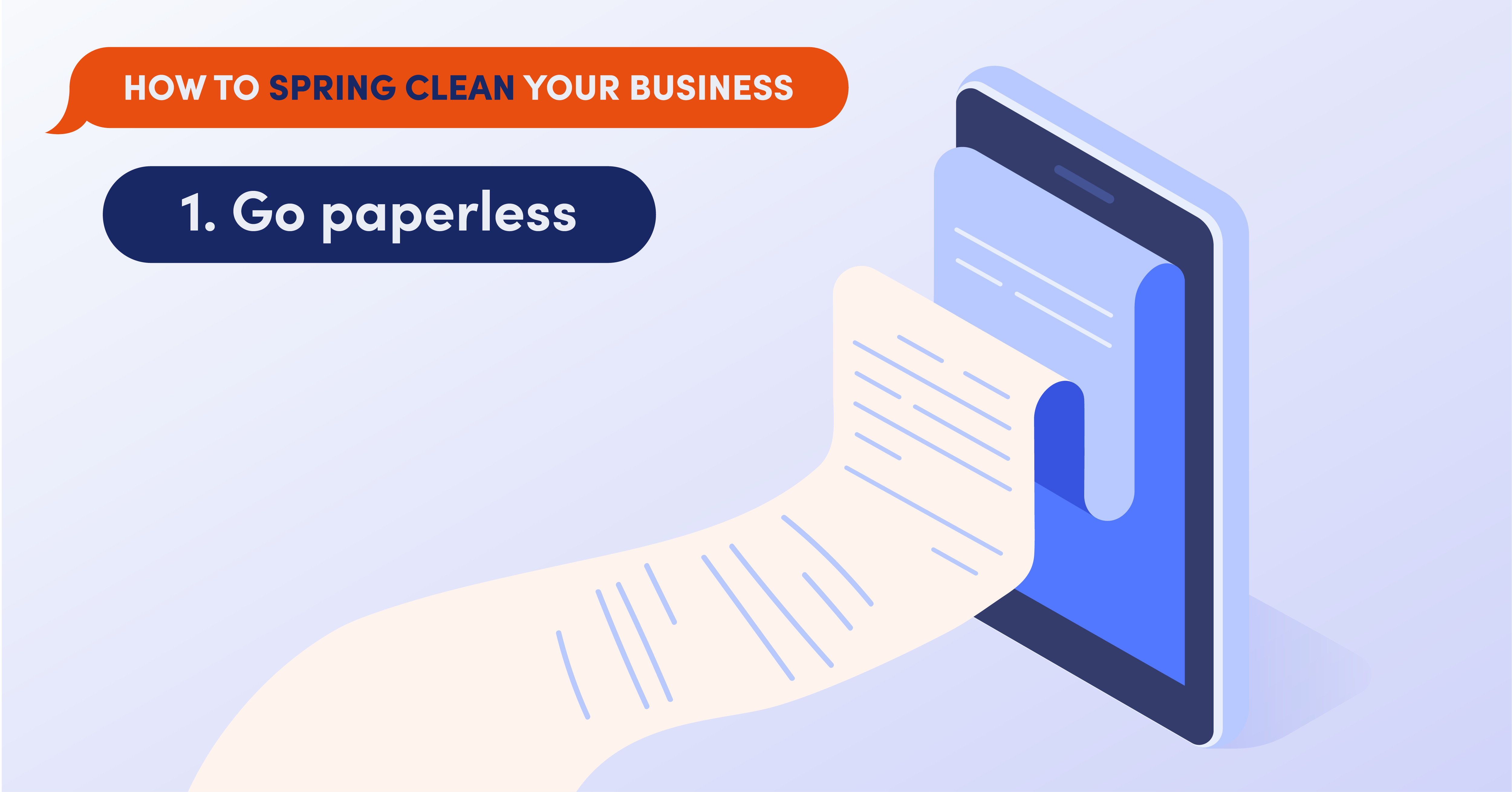 Lots of shops and businesses have chosen to head down the paperless route in recent years. They now offer email receipts instead of printed ones in a bid to do their bit for the planet and become more sustainable.
Going paperless could be a great way forward for your business too. Why not try offering email receipts yourself, or you could go further by keeping staff payslips and documents online instead. Some helpful sites like Sage, Xero and Gusto are great for businesses whatever their size. They automatically send out email links to employees each month when their wage packet is ready to view.
Signing up with one of these sites will save you printing payslips every month and makes it easier to keep the HR side of your SME organised and in top condition.
2. Get your head in the cloud
Sifting through papers and getting rid of folders you don't need is one thing, but what do you do with the documents you need to keep?
Even if you spent ages going through your files and folders, you might find there are still agreements or records you need to keep hold of. This is where virtual cloud storage sites like Dropbox and GoogleDrive are useful. Sites like these are a great way to keep organised as you can consolidate all your paperwork, save it virtually and access it wherever and whenever you want.
It saves space, time, and stress as you no longer need to go hunting in the back room through multiples folders for an important document you need asap. Most providers offer a limited amount of free storage, with this option to pay for extra if you need it. Also, if you allow access then other staff members can view and save things in your virtual storage too, so it can be accessible for all the relevant people.
3. Stick a label on it
If you prefer to stick to paper filing, set aside some time to do it properly. Separate all your paperwork into labelled folders in date order. Maybe you could buy some storage boxes to put spare tools or equipment in. You could put up shelves and dedicate a certain amount of space for items that can be grouped together.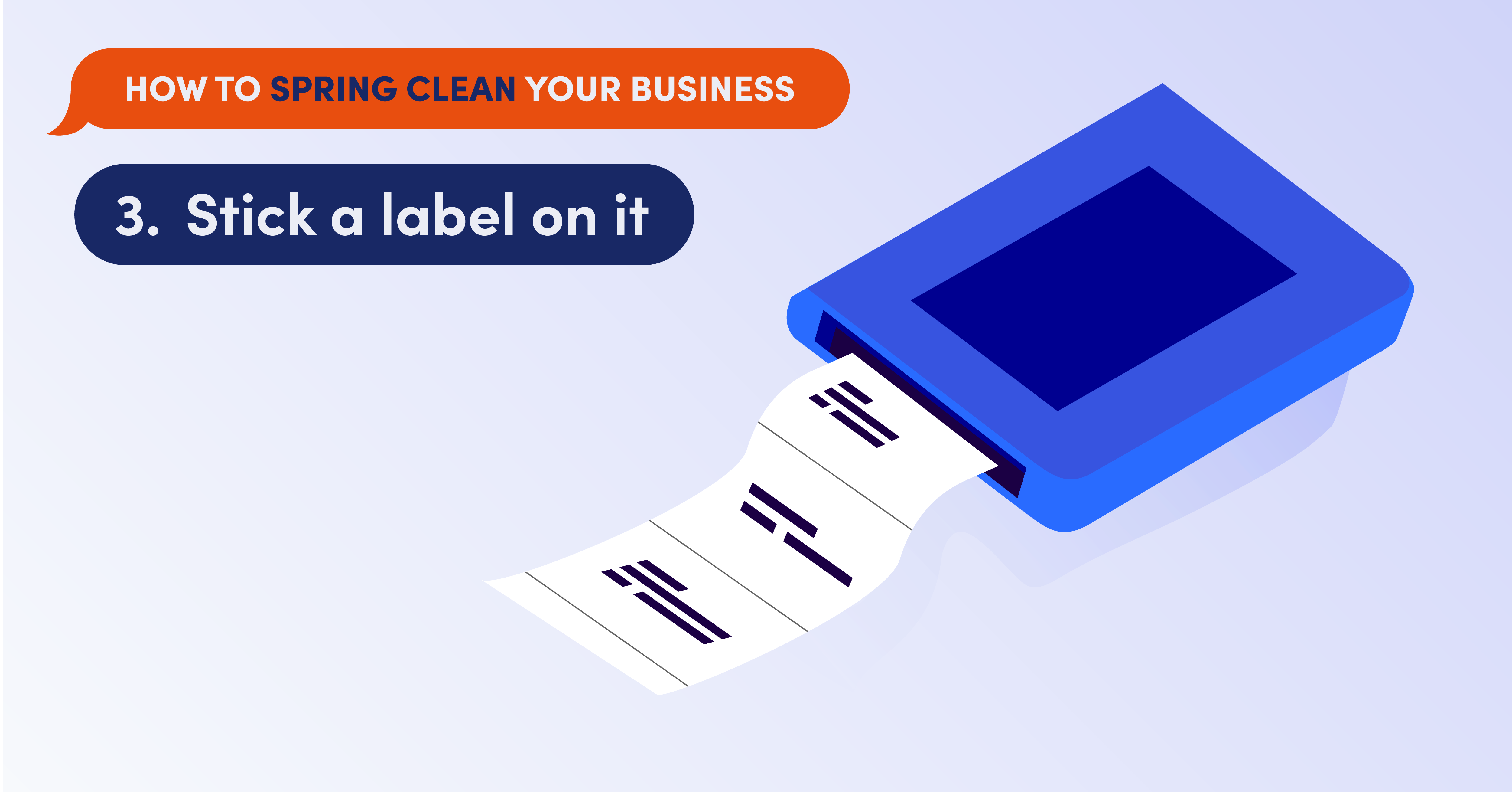 Putting thought into how you organise and use your space to your advantage will ensure you can easily put your hands on whatever item you need with little stress in the future. Be brutal when spring cleaning. Get rid of anything you don't need and organise things you're keeping to in specific places.
4. Give the place a deep clean
Spring is the perfect time to make sure your business interior is squeaky clean and is giving your customers a sparkling first impression. Why not set some time aside to carry out a deep clean of your whole premises to start the new season off right?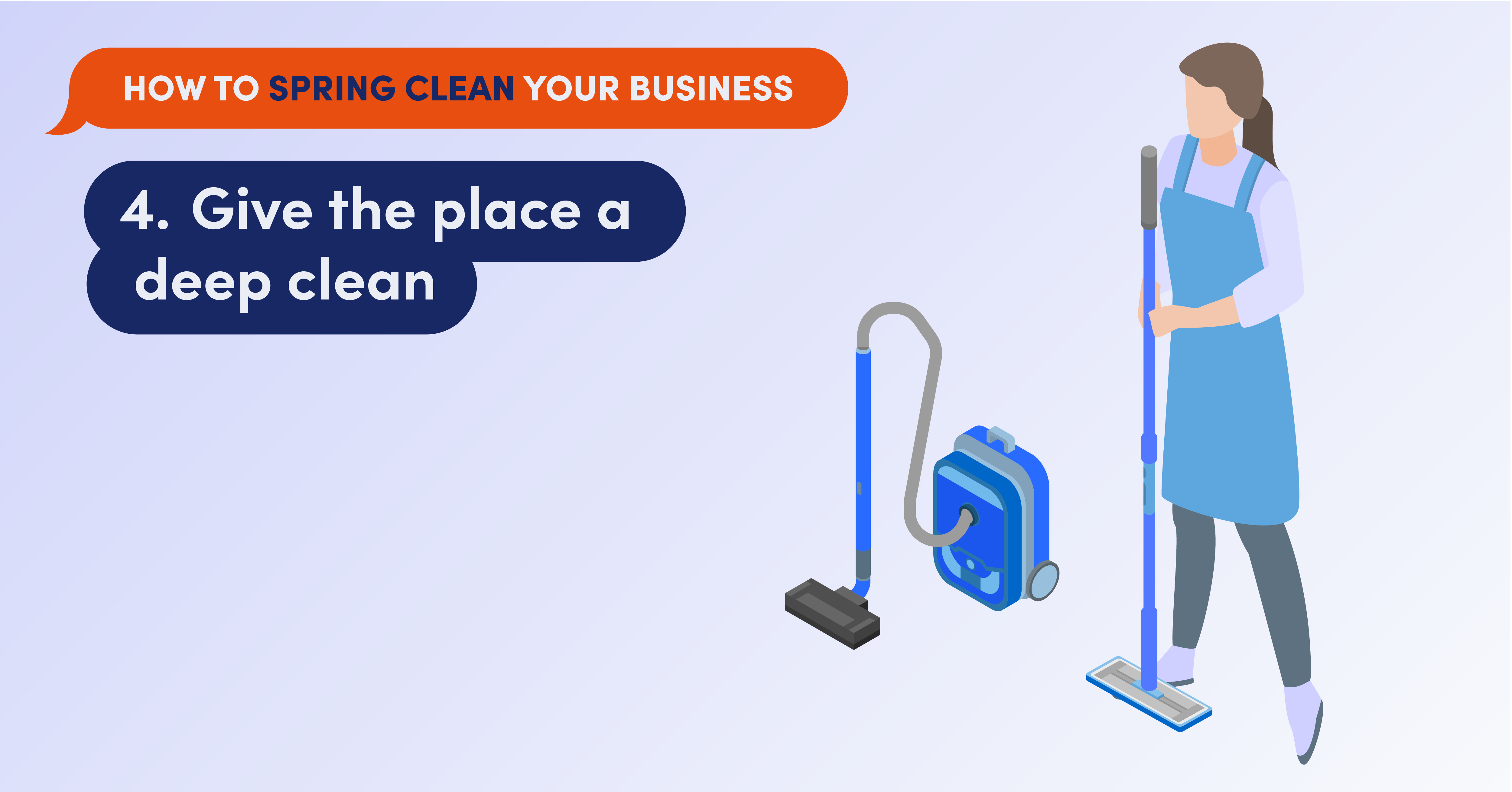 A deep clean involves all windows and work surfaces being washed thoroughly, all carpets being shampooed, or steam cleaned and all surfaces being polished and disinfected. It's so important to make sure your premises gives the right impression of your business. So, ensure any customer-facing areas are top of your list for a deep clean, especially the outside of your premises. You don't want dingy walls or a rotting front door putting customers off entering.
5. Attack that to-do list
To-do lists are a great way to prioritise all those jobs that need doing from day to day. The trouble is, they just keep growing. Why don't you use spring as an excuse to banish any tasks looming over you and take the stress out of your to-do list?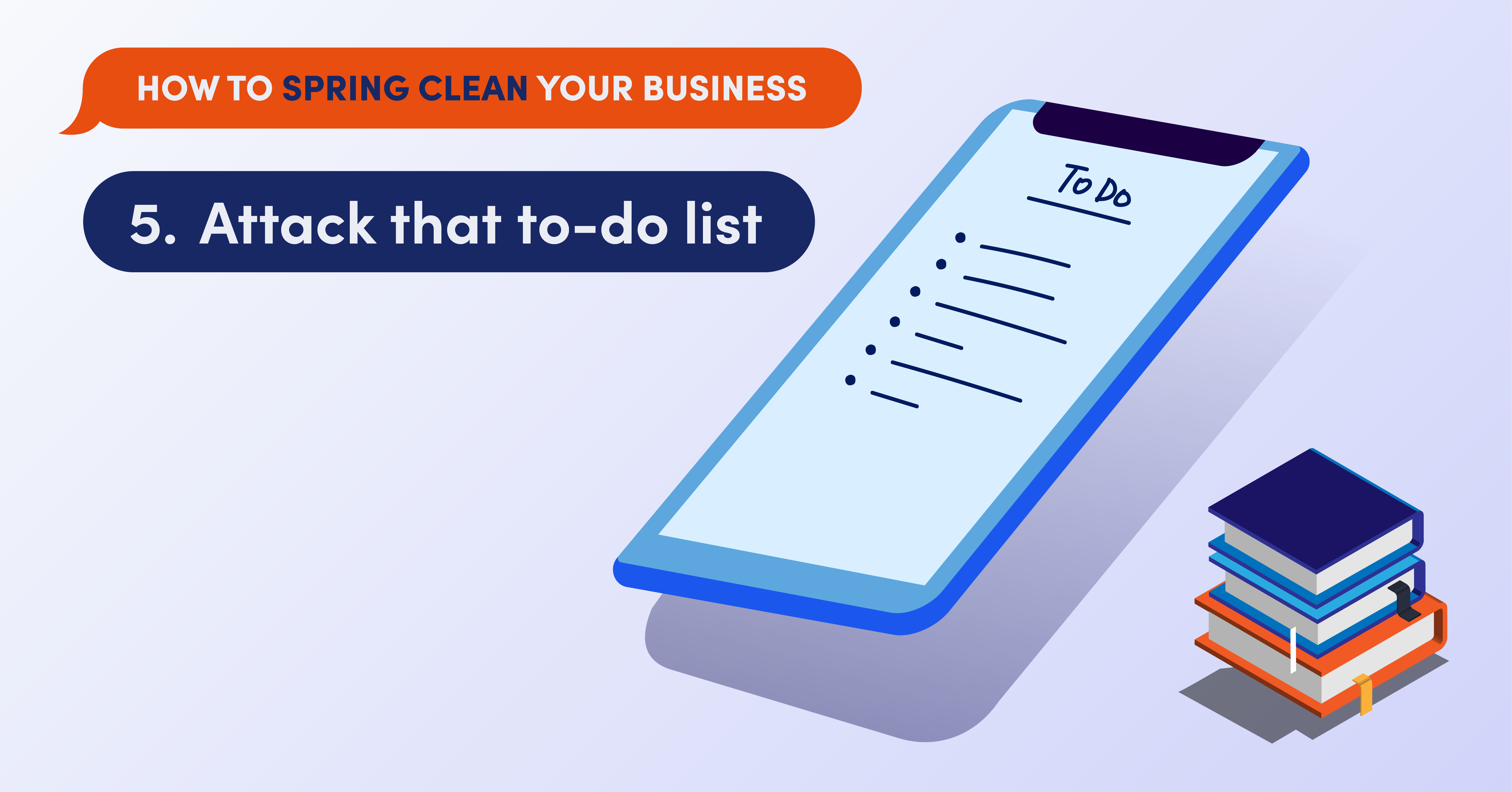 Have a think about the things you've been putting off and schedule some time to get them done. Maybe there are some general repairs to be made around your premises. Maybe you wanted to work on a new marketing strategy for your SME or implement some new ways of working within your team.
Whatever has been building up on your list, set some time aside to go through it and cross off each task as you complete it. Entering spring with a clean slate will help declutter your mind and you'll be able to focus better on the months ahead.
6. Make sure pests are kept at bay
Pests can be a nightmare when you're trying to attract customers to your business. So, use spring to get on top of any pest issues you might have or work on a prevention strategy. It's important to note that while it's not a legal requirement to keep pests from your business, it is a legal requirement to manage pest control if you find yourself with a problem.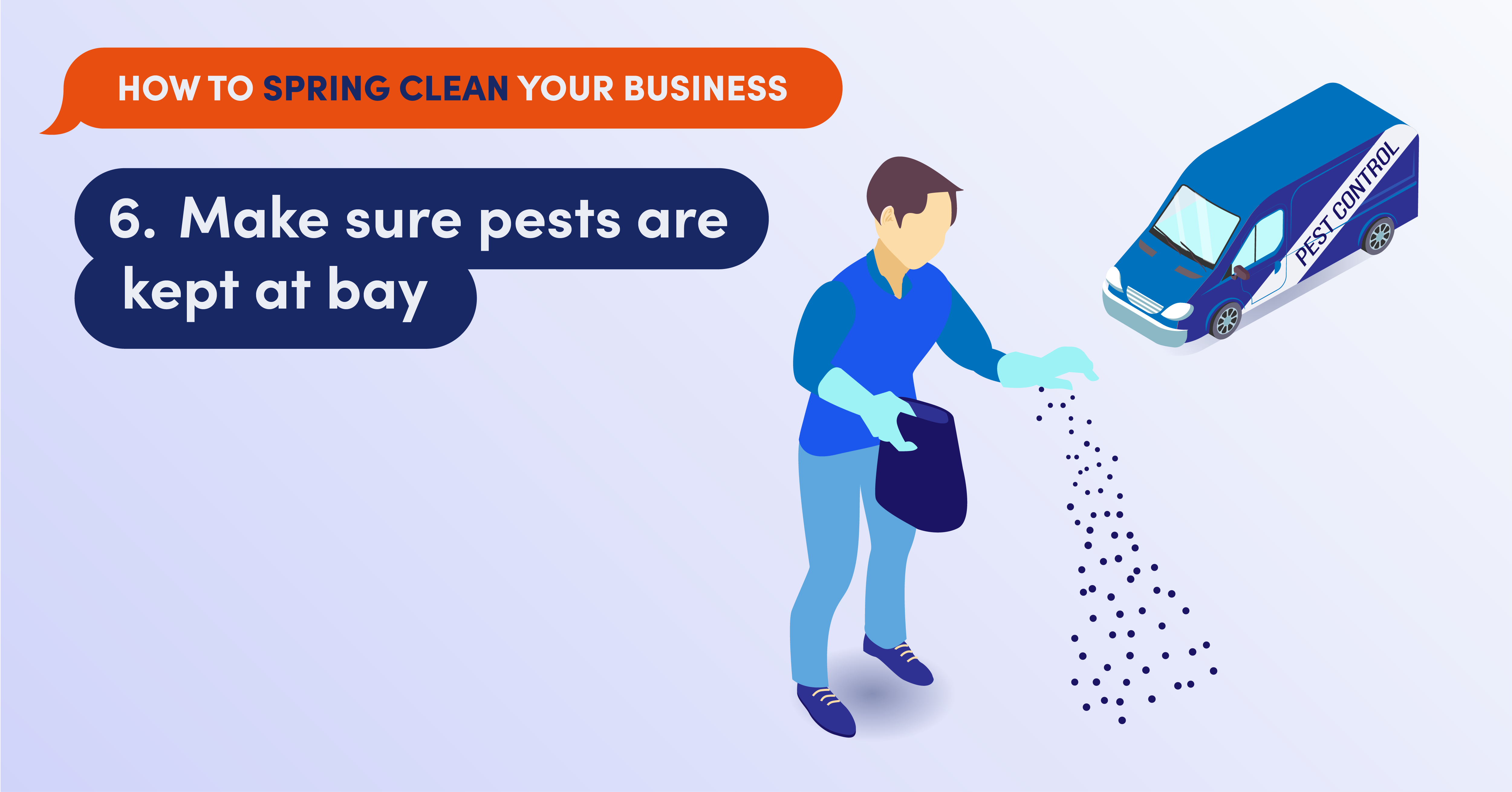 Pests generally fall into three categories:
Rodents (like rats and mice)
Insects (like cockroaches)
Birds (like pigeons)
Ideally, your business wants to avoid all of them. Take some time to research and assign a pest control contractor if you discover evidence of a pest infestation. It will be their role to keep pests away from your business.
There are some basic steps you can take to avoid pests yourself though:
Block any holes that might lead outside
Make sure all food is put away into sealed containers
Never leave uncovered food on the side
Deal with pests as soon as you identify a problem
It's also important to dispose of any food items that may have been contaminated by pests and thoroughly disinfect surfaces regularly.
7. Carry out regular maintenance
You may not realise, but your business probably uses a lot of expensive equipment every day. Any problems with your tech or machinery can affect how you operate and see you lose customers and money.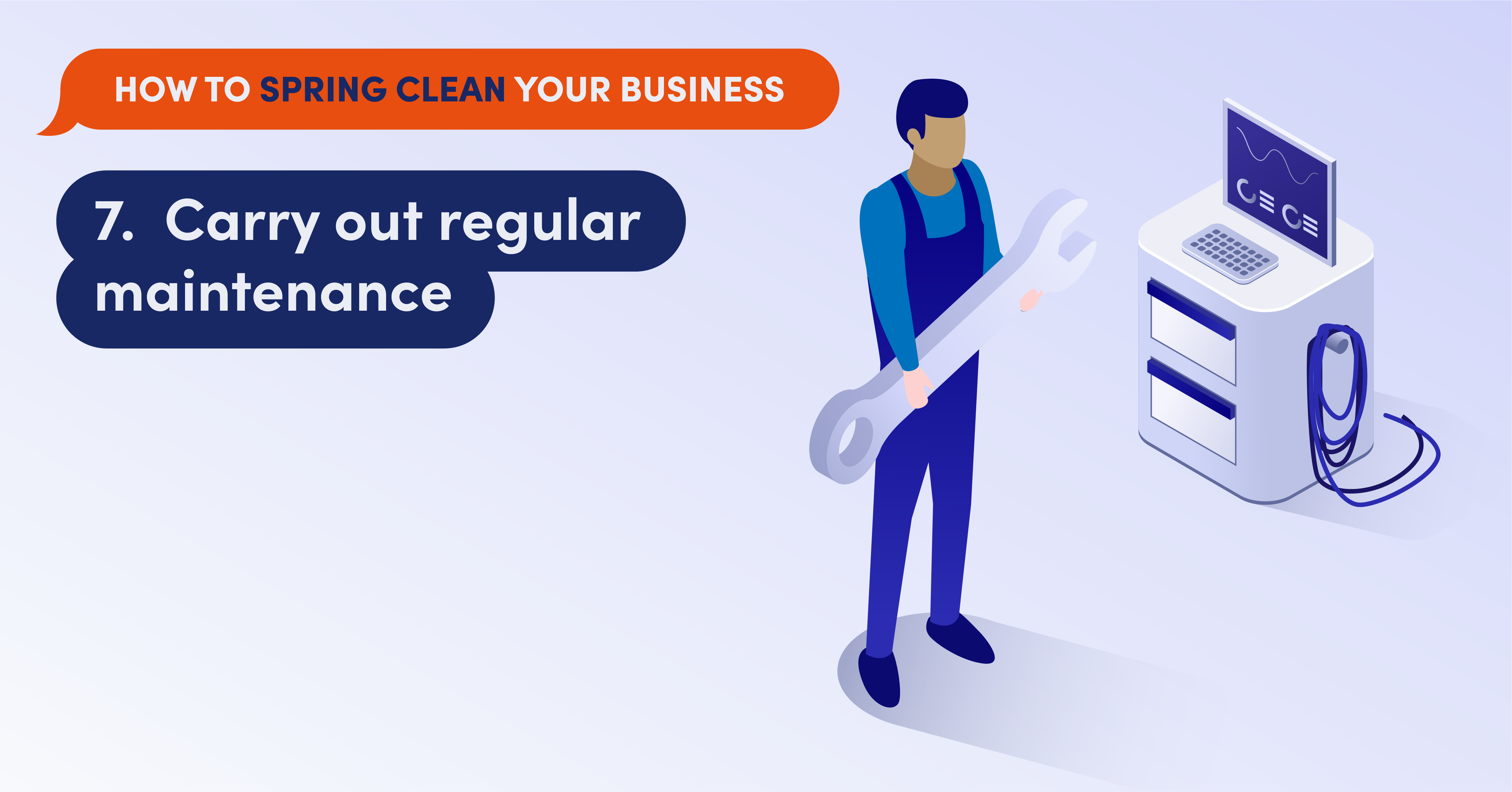 Regular maintenance will allow help to prevent any problems and lengthen the life span of your equipment. If you do have any issues, fixing the problem as soon as it arises can protect you from more costly repairs, replacements and lost trade further down the line.
No matter what sector your SME operates in, things like computers, monitors, tills, air conditioners and heaters will all need regular care to ensure they're running right. It's a good idea to have a preventative maintenance routine in place to avoid anything going wrong.
This plan could include regular checks on equipment and vowing to make repairs straight away to prevent bigger issues or replacement costs. Taking steps to avoid problems in the future will hopefully keep your business running in a well-oiled manner.
8. Review your safety procedures
Spring is a great time to make sure your business is not only sparkling but that it is also as safe as it can be. It's as good a time as any to review your health and safety procedures to see if your routine needs updating.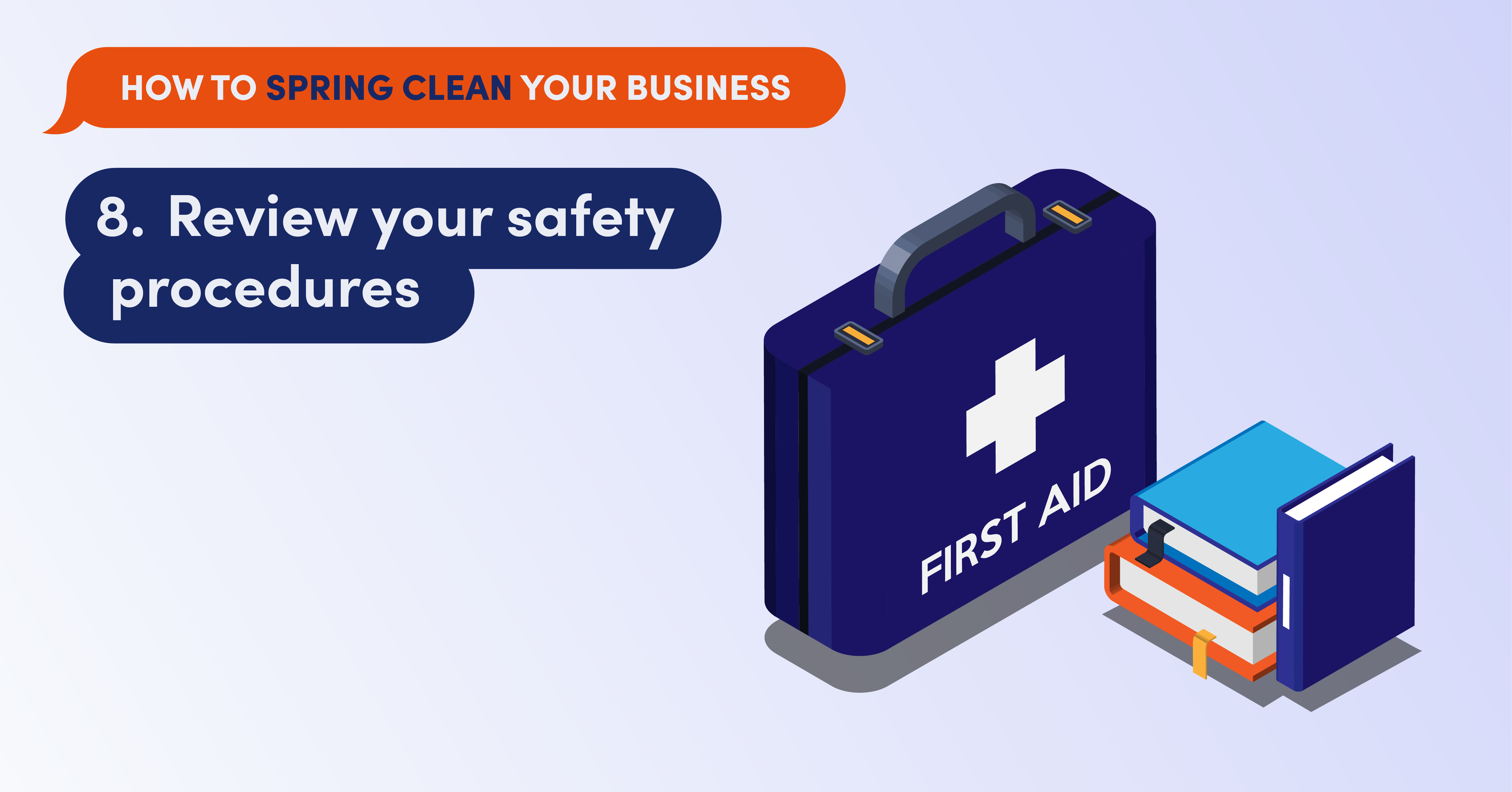 Make sure your fire safety equipment is in good condition. Test all fire alarms, extinguishers and replace the batteries in your smoke detectors too. You should take time to speak to your team and allocate a fire warden who oversees fire safety. Plus, it's wise to do some regular fire drills to make sure everyone knows where the evacuation point is and is clear on the fire procedure.
If you have any gas appliances, keep your business gas safe by getting them checked over and serviced by a registered engineer. Find out more at our blog on how to keep your business gas safe.
If you've recruited more staff over the past few months, make sure any plans you have in place are still appropriate, and check that everyone has extensive training, including in first aid. Another good tip is to get your portable electrical appliances tested by an electrician to ensure they're not a fire hazard.
9. Spruce up your SME
A lick of paint can do wonders when sprucing up your business this spring. A fresh new colour or some eye-catching window designs can create a whole new vibe and aesthetic for your SME.
Branding is such an important part of running a business. What your premises look like is a massive part of your company personality. Spring is a season of new beginnings, so have a think about what you want your business to be known for and how you can achieve this. For starters, think carefully about your colour scheme. Is there a shade prevalent in your logo or branding on social media that you could incorporate in your premises too?
If you're a hairdressing salon and have sets of matching tools (like hairdryers, curlers and combs) in vibrant turquoise, gleaming gold or hot pink, why not match your wall colouring, chair upholstery or even mugs for customer drinks?
Then you can tie everything together. Good branding and clear connections to your business make your company instantly recognisable to customers. Plus, keeping your colour scheme the same as any colouring you regularly use will ensure your SME comes across as polished and primed. Perfectly poised for spring.
10. Try new tools
Another simple way to spruce up your SME is to make sure the tools of your trade are sparkling, and you are presenting the best side of your company to customers.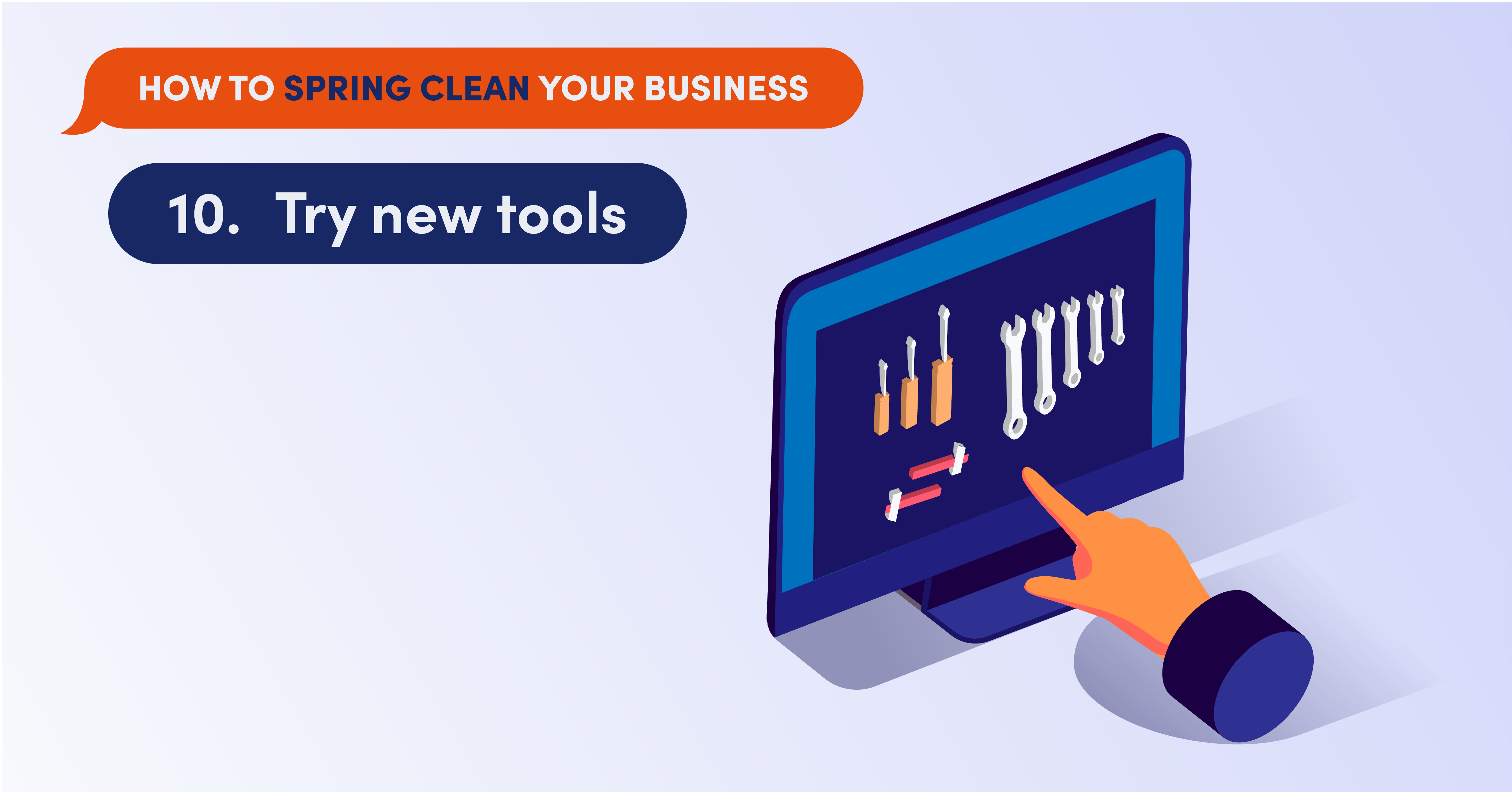 Ultimately, customers want to know when they come to your takeaway for dinner, get their car fixed at your garage or get their hair trimmed at your salon, that you are professionals and are offering a professional service to match. You want to give them something they can't do themselves at home. To sell them a stellar service, you don't want to be using old tools or unclean equipment.
Why don't you take some time, go through your equipment, and see what can be replaced or polished up to be as good as new? You want to be representing the best side of your business to your customers every second of every day, so take pride in how you appear.
If you need funding for new equipment, speak to the team about Bionic about the range of small business loans we can offer, including asset finance and secured commercial loans.
11. Sparkle with new services
Another nifty way to spring clean your business is to think proactively about moving forward with your services. Have a mental spruce up with your business plans and see how your SME could expand either now or in the future.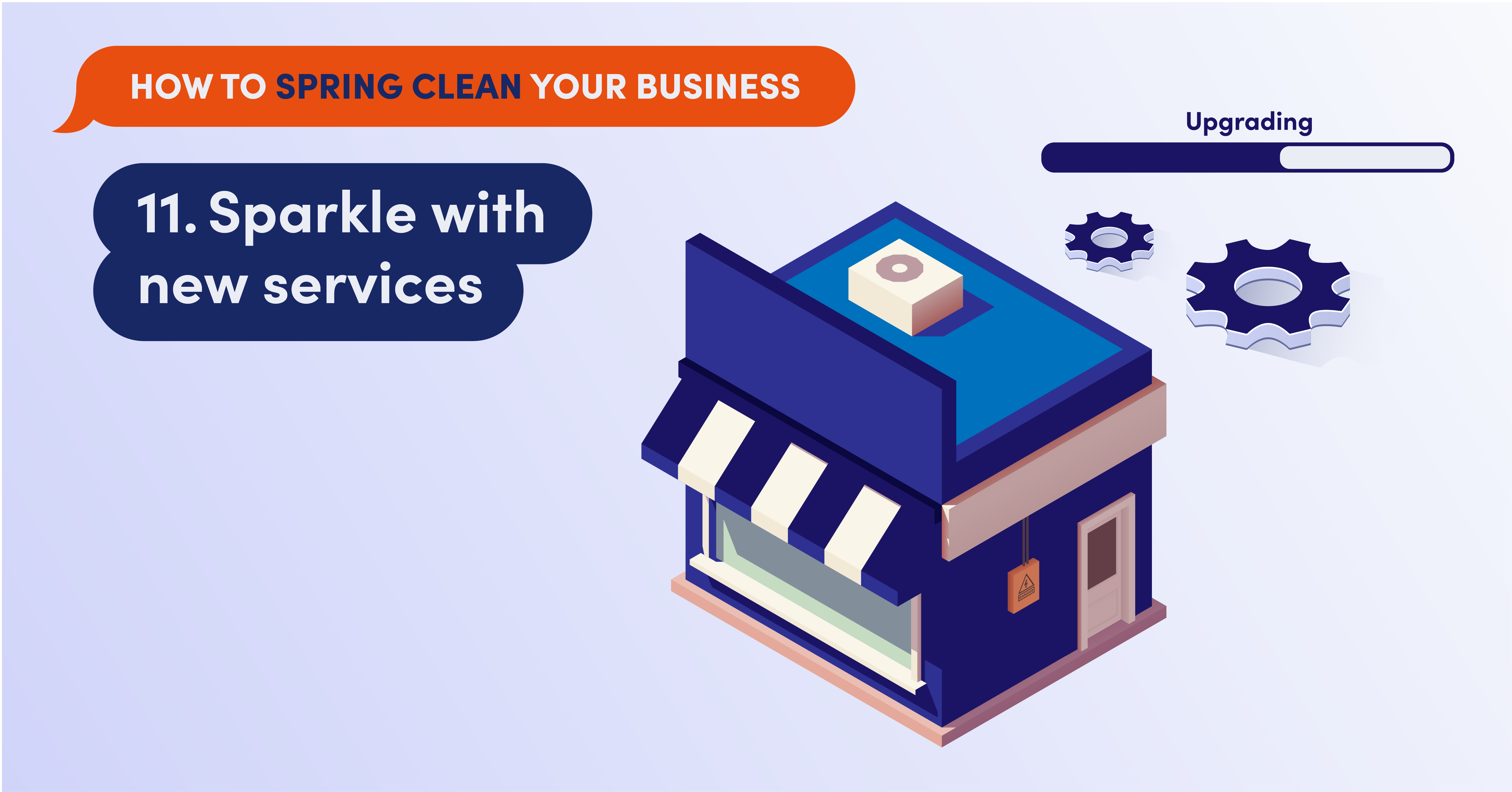 You could create a mind map or visual journey with your staff and ponder what other services your SME could offer. For example, if you own a garage, you could research how to go about offering personalised number plate installations. If you have your own hair salon, see if you could outsource some space to a freelance nail technician or an eyebrow specialist. Sometimes customers revel in getting different services in one place as it's convenient and easy to fit into their schedule.
The main thing to do is carry out research and see what customers might be interested in. A great way to do this is to have a feedback box at the till. When customers come in, they can write down on a slip of paper what kinds of extra services they'd be keen to see.
12. Carry out an energy audit
Another thing to look at when spring cleaning your business is how much you're paying for business energy. The energy market has been tricky to navigate over the past few months due to the ongoing crisis that is pushing prices up and has caused some business energy suppliers to go bust. But looking into how you can save money on your energy is vital.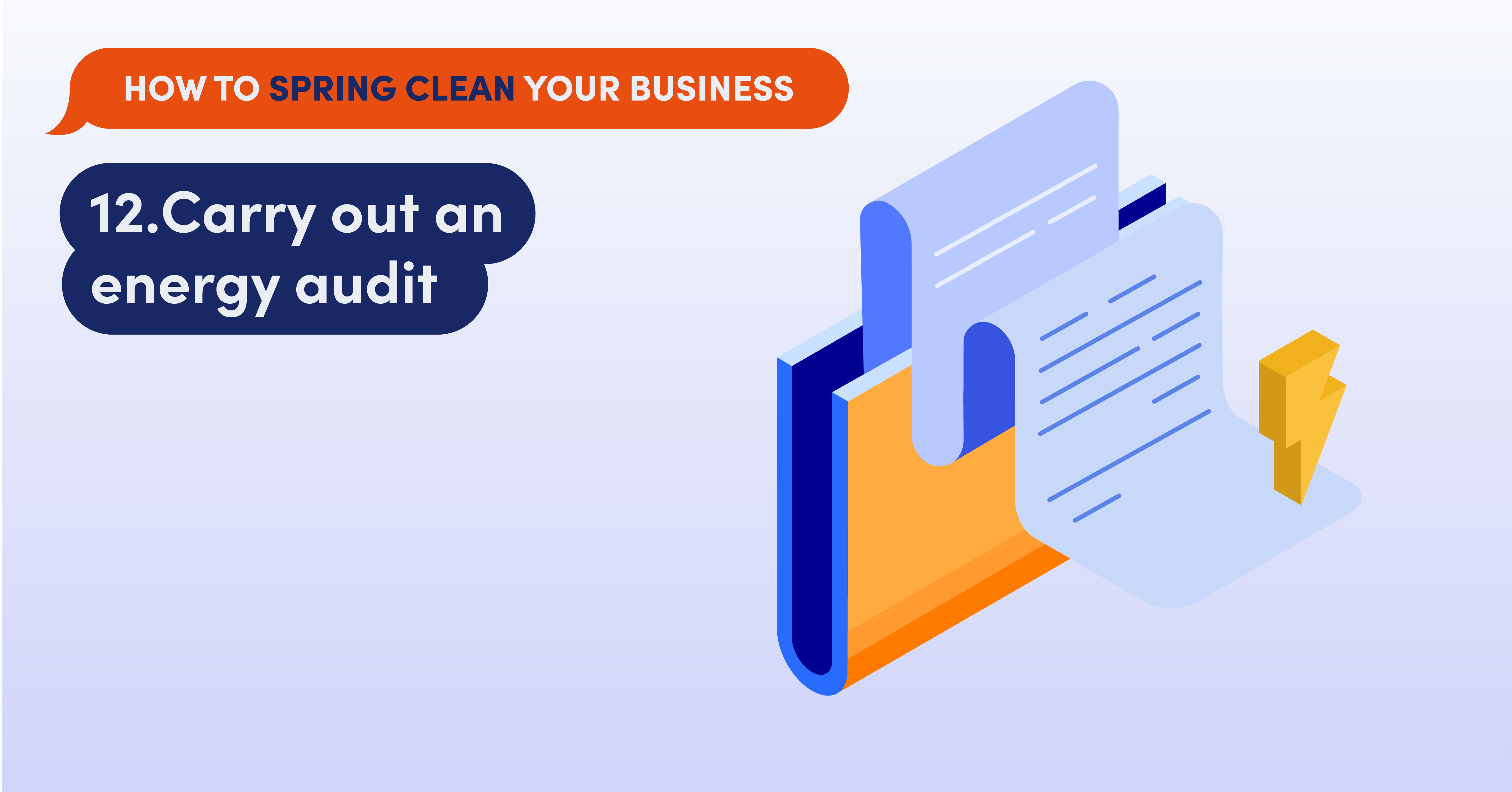 Speaking to Bionic about your energy options could potentially save you money but taking steps to decrease the energy you're using could be a game-changer. Carry out an energy audit to see where you're spending the most throughout your business. Think carefully if there's anything you can do to limit your energy consumption. For example, do you leave monitors running overnight? Maybe you could fit energy-saving bulbs or lighting that automatically turns off when no one is in the room. Little things like this can make a big difference.
13. Carry out a financial audit
Continuing from the point above, audits can be great for businesses wanting to understand how to take control of their energy consumption, but they can also help you improve your finances too.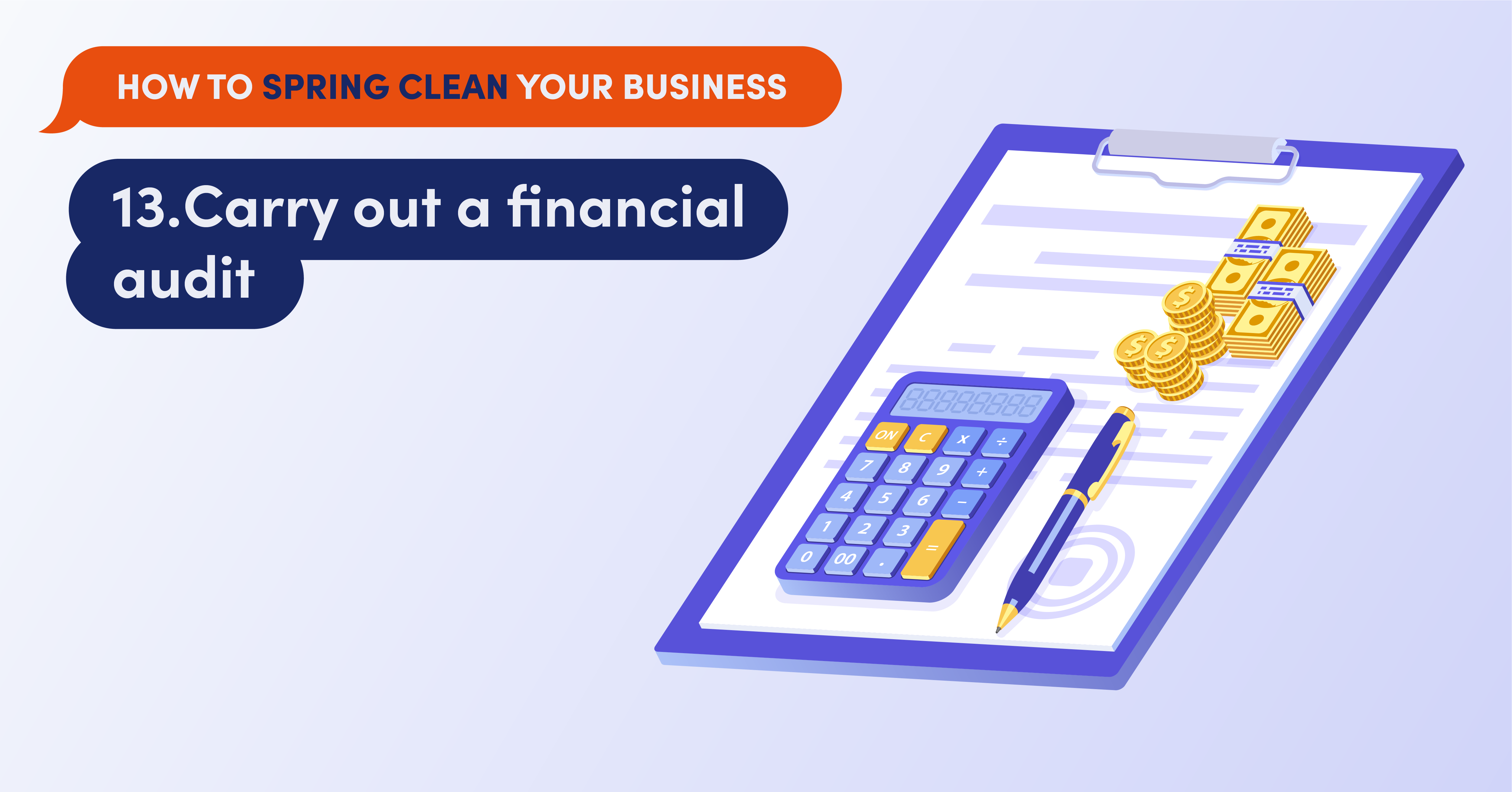 Make a list of everything you could save money on in your business and work out how much you could be saving each month. Many SMEs discover that by changing little things, they can save a lot and get back to what really matters, running their business to the best of their ability. A business audit may feel like it's just another time-consuming task for you to deal with as a business owner. But it doesn't have to be stressful, Bionic has lots of handy guides, blogs and general advice to help you manage.
And although we can't carry out the audit for you, our tech-enabled team can help you cut down on other annoying bits of business admin and sort your business essentials.
One call to us is all it takes to sort your business electricity and gas, as well as business insurance, phone and broadband. And if you're looking for a business loan, we can help with that too.
The above ideas are by no means an extensive list of ways to declutter your business for spring, but they're a good start. Organising your business will help you feel fresh and ready to start planning for the future. Happy spring from Bionic!