electric vehicles for small businesses
The Electric Revolution: An Easy Guide for UK SMEs on Embracing Electric Vehicles 
Going green is at the forefront of many business owner's minds at the moment. Considering your carbon footprint not only ensures you're doing your part for the environment, but it can also have an impact on your brand reputation and save your business money in the long run.
The UK government's proposed ban on the sale of new petrol and diesel cars has been pushed back to 2035. Even so, this means electric cars will become more common on the roads over the next decade as drivers switch from petrol or diesel cars to electric models with lower carbon emissions.
If you're not already aware of how electric vehicles (also known as EVs) work, you may wonder if the upfront costs are really worth it. You might also want to know what the benefits are for small business owners.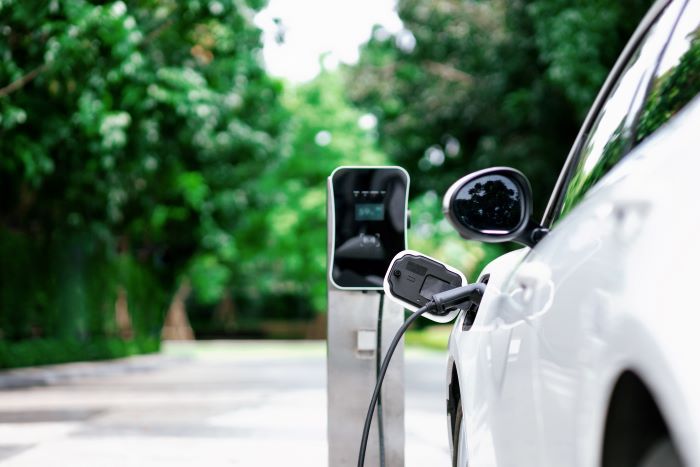 In this guide, we'll dig out all the information you need to work out whether switching to electric vehicles is the best thing for your business.
What is an electric vehicle?
An electric vehicle (EV) uses electricity to move, rather than an engine filled with petrol or diesel.
Electric vehicles use an electric motor powered by electricity. This electricity comes from either a battery or a fuel cell within the car. One of the main advantages of EVs is that they're much better for the environment as they produce little to no exhaust emissions compared to cars that use petrol or diesel.
How do electric vehicles work?
EVs work by using an electric motor instead of an engine, and a battery is used to power the motor. This means to work effectively, an electric car has to be plugged into a charging station to 'fill up', instead of using the more traditional method of petrol or diesel. Think of the process like how you'd charge your phone.
Most EVs require lithium-ion batteries as these types have a longer life span and run on higher power compared to other batteries. They also tend to have higher energy density.
What are the different types of electric vehicles?
There are three main types of EVs; hybrid EVs, plug-in hybrid EVs and battery EVs.
Hybrid EVs and plug-in hybrid EVs are powered by both petrol and electricity, hence the name 'hybrid' as they're a combination of the two.
Hybrid EVs generate energy through the car's braking system to recharge the battery, whilst plug-in hybrids recharge by being plugged into external sources like a home or public charging point.
Meanwhile, battery EVs are fully electric with a capacity battery and an electric motor. There's no petrol or diesel engine, and all power comes from the battery itself, which needs to be recharged at home or at public charge points. Battery EVs emit no emissions from the exhaust and do not contain standard car parts like fuel pumps or fuel tanks.
How far can electric vehicles go?
According to research conducted by myenergy, the average range an EV can travel is around 211 miles which is about the distance from Manchester to London. But the car will only be able to make a journey of this length if its been fully charged.
Keep in mind this range is determined by a few different factors like the size of the vehicle battery, the design of the vehicle and even things like weather, driving conditions and outside temperature.
What are the benefits of electric vehicles for businesses?
There are a few key benefits of driving an EV instead of a petrol or diesel vehicle, and business owners specifically can take advantage of them to grow their fleet, save money on vehicle running costs and avoid taxes like the London ULEZ or Congestion Charge.
But one of the main pros is the fact that businesses can often claim a 100% first-year capital allowance against the cost of an EV vehicle. This means that most companies can claim the entire cost of an electric car or van against taxable profits. Although the decision to purchase an electric car is down to your unique financial situation, it's always a good idea to weigh up whether making a big initial spend will be worth it.
While the initial payment can be off-putting, many business owners enjoy lower vehicle running costs and vehicle maintenance in the long run. So they feel the spending is justified. Read more common benefits of EVs below:
Lower operating costs
Compared to petrol and diesel cars and vans, there are fewer mechanical components in an electric vehicle. This often means it costs less to maintain and service them.
Reduced fuel costs
A full charge in a fully electric vehicle allows you to drive about 211 miles. If you charge your car at home, it will cost about £23. This is a significantly cheaper alternative to petrol or diesel, as driving 211 miles in the latter will cost around £41 in fuel.
Charging your car at home can also help save money, as depending on your energy tariff, you might have access to an off-peak overnight electricity tariff, meaning lower prices.
Lower Vehicle Excise Duty
EV owners can enjoy lower vehicle excise duty (VED). At the moment, VED is not charged on electric vehicles, however, this is set to change in 2025, although there will still be a large discount in the first year the vehicle is registered.
The first-year rate for electric cars will be £10 compared to £120-£945 for petrol or diesel vehicles. Keep in mind, though, that after this first year, all vehicles will be charged the same annual fee of £165.
Lower Emissions
On average, electric cars emit three times less CO2 than petrol or diesel cars, so they're much better for the environment. Because they have no tailpipe, fully electric cars don't produce any carbon dioxide, and this helps limit air pollution in busy areas like towns and cities.
Compliance with regulations
London's ultra-low emission zone (ULEZ) was brought into force at the end of the summer in a bid to help clean up the air in the capital. Electric vehicles are exempt from ULEZ charges and also the London Congestion Charge. This is because electric cars are compliant with the government's clean air goals, so they don't need to be limited or discouraged from driving in busy areas.
Incentives and subsidies
Other than being exempt from ULEZ and the Congestion Charge, there are often other incentives for electric car drivers, including free parking in some towns and cities. Make sure to check your local area to see if this is the case.
Brand image and responsibility
Opting for an electric car rather than petrol or diesel can be a good way to promote your business as being green and align your brand image with your goals.
You'll be showing your company is doing its bit to help the environment, and your customers will see you setting a good example and appreciate your values if they share them.
Efficiency and performance-
An EV is able to directly convert electricity in order to move. This means EVs are much more efficient than petrol or diesel cars because the latter has to burn fuel and then convert heat into motion in order to move.
Are electric vehicles a viable option for a business's fleet?
For businesses that need a lot of cars, a fleet of electric vehicles can be a good option as they end up being cheaper to run than petrol or diesel vehicles.
This is because you'll be spending less on fuel and maintenance and less on restrictions like ULEZ and the congestion charge if you regularly have to visit areas in central London.
Can electric vehicles reduce a company's carbon footprint?
Yes. But it's important to note that although driving an electric car is deemed better for the environment (because no greenhouse gas emissions come from fully electric vehicles) they still run on electricity often produced from fossil fuels.
Energy is still needed to manufacture the actual batteries, so although opting for an EV can reduce your business's carbon footprint, it won't be zero.
Are there any government incentives or schemes available?
Yes, there are a few schemes that are available to small businesses that want to be greener by switching to an EV. They include:
Government grants towards EVs
If you want to buy an electric vehicle for work purposes, you could be entitled to the government's low-emission vehicles plug-in grant to help cover initial costs.
This grant covers electric cars, vans, motorcycles, trucks and taxis. The maximum grant for cars is £2,500. See if you qualify by visiting the government plug-in grant page.
Travel incentives
As we mentioned earlier, in London, electric vehicle drivers are exempt from the Congestion Charge and ULEZ charges. There are plans to expand ULEZ to other major cities in the future, so investing in an electric car may be a smart move for some who live near busy city centres.
Not having to pay the Congestion Charge saves electric car drivers around £15 a day or about £300 per month. By not paying the ULEZ charges, drivers are saving a further £12.50 a day. So, it all adds up, especially in the cost of living crisis.
Workplace charging scheme
There are two other schemes which aim to encourage drivers to make the switch to electric.
The first is the Electric Vehicle Home Charge Scheme, which helps cover 75% of the cost of installing an EV charging point in your home. The second is the Workplace Charging Scheme. This provides vouchers towards the cost of installing charge points at your business premises. Find out more by visiting the government website.
Are there any tax benefits to having an electric vehicle?
Yes, there are. If you buy an electric vehicle to be used as a company car, you can take advantage of a lower Benefit in Kind (BIK) tax. Benefit in Kind tax is lower on electric cars than on hybrids or petrol and diesel cars. Until 2025, the BIK tax on electric cars will be 2%. After this, it will increase by 1% per year, reaching 5% by 2028.
EV owners are also exempt from road tax, vehicle excise duty, van benefit charge, fuel benefit charge and fuel duty.
How can Bionic help my business?
Making the decision to switch to an EV is down to your individual business and its unique needs. But hopefully, it's now clearer on the different types of electric vehicles as well as the pros and cons of making the trade.
Although Bionic can't make the decision to go electric for you, we can offer you help with other mundane business owner tasks- like comparing energy or insurance deals- to free up your time.
Bionic can help you save time, hassle, and unnecessary admin when sorting business essentials. We compare business gas and business electricity, as well as business phone and broadband to help make sure you're on the best deals for your business. 
We can also help with business insurance and business finance. Get in touch to find out more.