what is an energy consultant for businesses
What is the role of an energy consultant for UK small businesses?
As a small business owner, you might be wondering why you would ever need to hire an energy consultant, especially if you have a small premises with relatively simple energy needs. But what if you have plans to expand your business? Or want to become carbon-neutral? An energy consultant can help in both of these scenarios, offering advice and recommendations to help drive the direction of your plans.
And even if those scenarios don't apply to your business, an energy consultant may be able to help you save money on your energy bills.
How? Keep reading on to find out.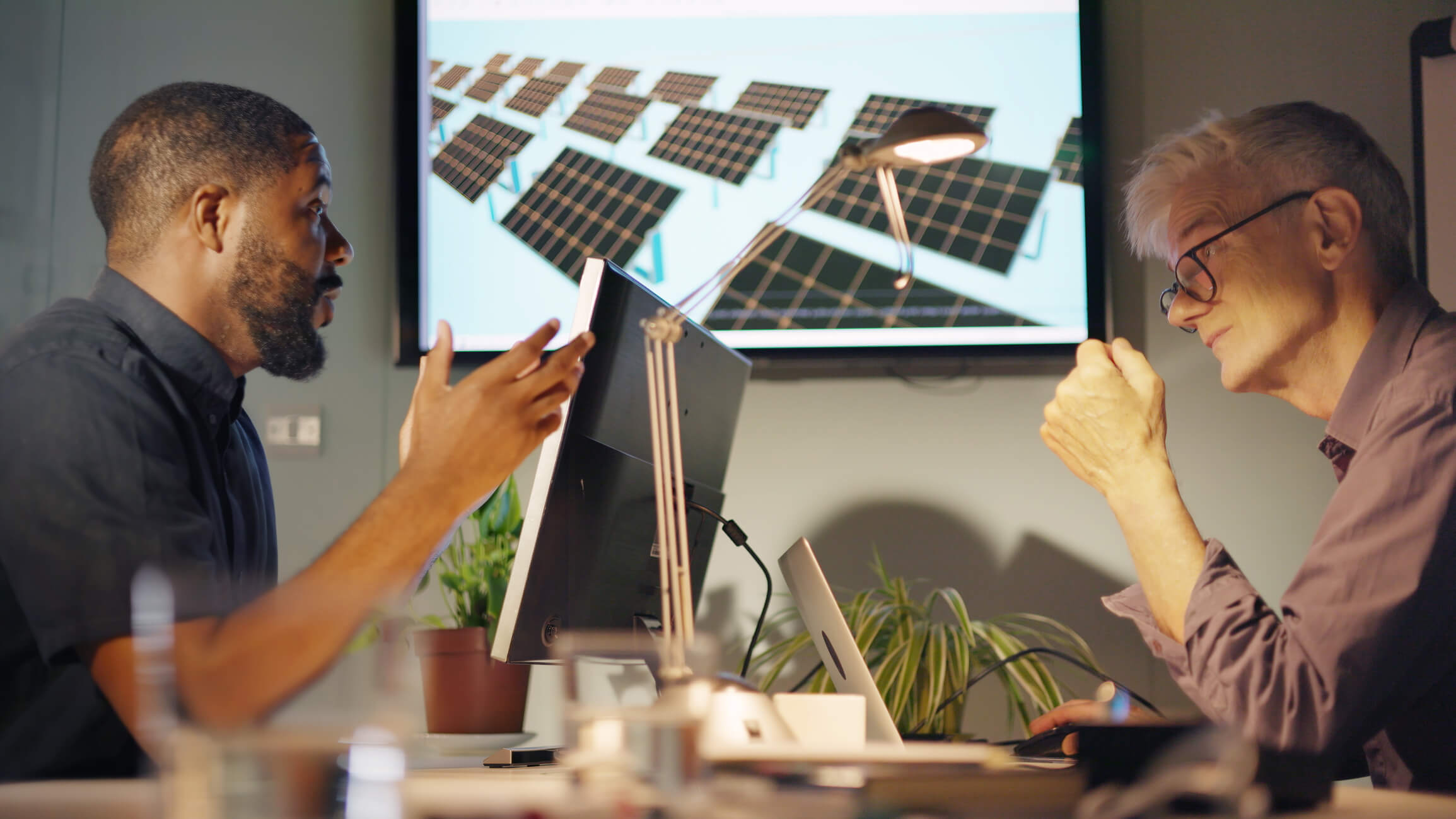 30 Second Summary
Energy consultants can help small businesses save money on energy bills by identifying inefficiencies and providing custom recommendations for improvements.
A professional energy consultant will have energy management qualifications, solid experience and research and analysis skills to conduct energy audits, analyse data, and identify opportunities to improve energy efficiency, cut costs, and improve sustainability.
They also provide implementation support, ensure regulatory compliance, and offer long-term planning for future-proofing solutions.
Small businesses can benefit from hiring an energy consultant to save costs, upgrade equipment, and improve energy efficiency.
All types businesses can benefit from hiring an energy consultant, especially those in energy-intensive industries like manufacturing, hospitality, retail, and transportation.
What is an energy consultant?
Put simply, an energy consultant is an expert who uses their knowledge and skills to find ways to optimise a business' energy usage. They carry out thorough research, and analysis, looking into energy consumption patterns to identify inefficiencies to suggest improvements. In many cases, energy consultants will look at ways to cut energy costs and improve operational efficiency and sustainability.
What qualifications does someone need to become an energy consultant?
There is no 'one-size-fits-all' qualification for becoming an energy consultant, and many consultants train in specific niches, whether that's renewables, certain industries or other specialised areas. But, there are certain skills needed to become a successful energy consultant. These are:
A Relevant Degree - A bachelor's degree and/or a master's in engineering, energy management, environmental science or another related background is preferred.
Specialised Training - Having a Certified Energy Manager (CEM) qualification is one of the highest forms of education for this role. Having an Energy Auditing Qualification also adds to credibility as a consultant.
Experience & Portfolio - Experience is key to being a successful energy consultant. Businesses want to work with someone who has a solid reputation and experience under their belt with a portfolio to showcase it.
Strong Network - Being in the know with the right people is key for making connections in this field. Attending conferences and connecting with influential people in a certain area opens doors as an energy consultant.
Technical Skills - Professional consultants must have good research skills and be able to conduct analysis. Being comfortable with energy management software is an advantage.
What expertise can an energy consultant offer my business?
Depending on your business sector, an energy consultant can offer a variety of expertise to suit your business needs, including:
Helping your business become more energy efficient by using various technologies, including AI for energy management.
Cutting costs by optimising operational efficiency.
Improving sustainability to reach net zero targets by adopting renewable technology.
What does an energy consultant do?
Energy audits
Carrying out a thorough energy audit is key to understanding how your business uses energy on a daily basis. When an energy consultant conducts an audit, they can identify inefficiencies and, more specifically, the areas that are costing you the most. Without a proper audit, it may be difficult to pinpoint exactly where your inefficiencies sit within your business operations.
Data analysis
Energy consultants use detailed analysis to find usage patterns and gain insights into energy performance so they can recommend improvements. They may look at historical energy bills or use energy management software to gain new findings about your consumption.
Identifying opportunities
Once consultants have gained all there is to know about your energy usage. They will look at identifying opportunities to improve your operations. This could be looking at installing new renewable energy systems, upgrading to newer technologies, ways to reduce operational costs, or strategies to reduce your carbon footprint.
Recommending energy-efficient solutions
Energy consultants will look at different ways to make your business more energy efficient, this can range from small, simple adjustments to complex changes in operational infrastructure. Even changes like upgrading to energy-efficient lighting, closing windows, and switching off equipment can add up to energy savings. But you might find consultants suggest upgrading any equipment that drinks fuel, including any old boiler systems, damaged piping or putting in solar panels for self-generated renewable energy.
Implementation support
Once an energy consultant has advised on all the ways your business can improve for better energy efficiency, they can also support you with making these changes. Energy consultants can bring in the right people to get the job done, ensuring that your operations comply with energy-related regulations and standards.
Regulatory compliance
All business processes need to adhere to regulations, laws and guidelines. As a business owner, you might not know exactly what these are when it comes to your infrastructure. An energy consultant will make sure any improvements made to your operations comply with these standards.
Long-term planning
When looking at ways to improve efficiencies, energy consultants will look ahead and only consider solutions that are future-proofed. This means transitioning to new technologies that will likely stand the test of time, like renewable energy systems or sustainable procurement, like finding a new green energy supplier.
Is there a difference between an energy consultant and a renewable energy consultant?
The main difference between an energy consultant and a renewable energy consultant is the area they specialise in. Specifically, a renewable energy consultant will be better conversed and knowledgeable about renewable energy efficiencies than an all-rounded energy consultant. The type of consultant that is best for your business depends on your individual business goals.
How can an energy consultant help a small business?
An energy consultant can help businesses with multiple sites, but small businesses can also benefit from their expertise.
Imagine you own a fish and chip shop, and your energy bills are a lot higher than they were because you locked in a higher rate when you renewed your contract. You may be paying a lot more per month because of higher standard charges but also a higher unit rate. Luckily, your business is doing well, but that means you're using a lot of power to keep serving up the food that brings customers back. To help find new ways to bring down energy costs, you may bring in the help of an energy consultant to improve efficiency and, ultimately, help lower your bills.
An energy consultant may carry out an energy audit to see what type of equipment is using the most energy. They could find hidden system damage, which means your equipment is working overtime and wasting energy. These could be fryers, heating systems and other electronic or gas-powered appliances. A consultant might suggest ways to fix problems or how to upgrade your equipment to systems that have better energy ratings.
What are the benefits of hiring an energy consultant?
Could save you money
Energy consultants could save your business money by finding ways to cut costs. They are experts in identifying inefficiencies and wastage in your energy consumption. If you take their advice onboard and make some changes, you could reduce your energy bills, leading to big cost savings over time.
Provide customised solutions
When you work with an energy consultant, you equip them with all the inside knowledge about your business operations so they can assess your specific energy needs, goals, and requirements. And because they know all of this information, they can pull together tailored solutions unique to your business, whether this is a large-scale plan to be put in place over a six-month period or a list of small changes that, altogether, have a big impact on energy efficiency.
Gives you a competitive edge
If you decide to work with an energy consultant, you are showing your commitment to reducing your environmental impact - even if your main goal is to reduce costs. By improving efficiency and lowering usage, you're not only keeping costs low but also reducing your environmental impact as a business. This can give you a competitive edge and help you attract customers who care about the environment. You can also promote any changes you've made to reduce your carbon footprint through social media marketing.
How much does an energy consultant cost?
According to Payscale, the average hourly base rate for energy consulting is £22.50 per hour (correct as of September 2023). But day rates vary depending on industry, experience and reputation. It's advisable to always work with an energy consultant who is upfront about their rates, as some may charge a flat fee and others may work on commission, so always ask before you sign on the dotted line.
What's the difference between an energy consultant and an energy broker?
Although energy consultants and energy brokers are both professionals who work in the energy industry, they don't offer exactly the same services, below is a breakdown of their differences.
| | |
| --- | --- |
| Energy Consultant | Energy Broker |
| Commission-based | Fee-based |
| Works with partnered suppliers | Reviews all suppliers |
| Mostly focused on customer price savings | Considers price, efficiency & carbon footprint |
| Deals with switching suppliers and contract renewals. Handles all the admin and paperwork between the supplier and customer | Studies your business's energy activities and trends. Identifies inefficiencies, making suggestions on suppliers, budgets and more. |
What about price comparison sites?
Price comparison websites are mainly used by domestic customers to switch car insurance, compare loans and credit cards, or even get a new energy deal. In most cases, both the comparison and the switch are completed online with no need to speak to an expert. Most price comparison websites will also offer business services. The comparison is usually free, then suppliers will pay a commission to the price comparison website upon a switch being completed.
At Bionic, we sit somewhere in between a business energy broker and a price comparison site. We use smart data to get most of the information we need online, like a price comparison website, but we also use expert agents to ensure non-domestic customers understand everything before they sign. This is because business energy works differently from household energy, with one of the major differences being that there's no cooling-off period on business energy contracts.
Are there any specific industries that can benefit more from hiring an energy consultant?
Yes, energy-intensive industries with complex energy needs and high consumption may benefit from using an energy consultant. These could range from manufacturing, hospitality, retail, food and beverage, transportation, to name a few.
For example, in hospitality - heating, cooling, lighting, and kitchen equipment could optimised for better energy efficiency. Also, in retail, where multiple locations and stores are involved, energy consultants can help to standardise energy management practices.
How Bionic can support you with business energy
If you don't feel the need to hire an energy consultant, you could talk to a broker instead. At Bionic, our experts can advise on great deals to meet your specific energy needs. Start your comparison journey online by entering your postcode into the box on the right-hand side.
We work with the best business gas and business electricity suppliers and service thousands of businesses every year. Get in touch to compare business energy and become a Bionic business today.