business energy for restaurants
What is business energy for restaurants? How to save money on your energy bills
Whether you run an Italian pizzeria, a traditional Chinese restaurant, or a good, old-fashioned greasy spoon, the amount of energy you use for lighting, heating, and cooking will mean your gas and electricity bills make up a large chunk of your monthly outgoings.
That's why it's important to make sure you're not needlessly overpaying for your power. Here's how to cut your business energy bills by saving money with Bionic and saving energy with our useful tips.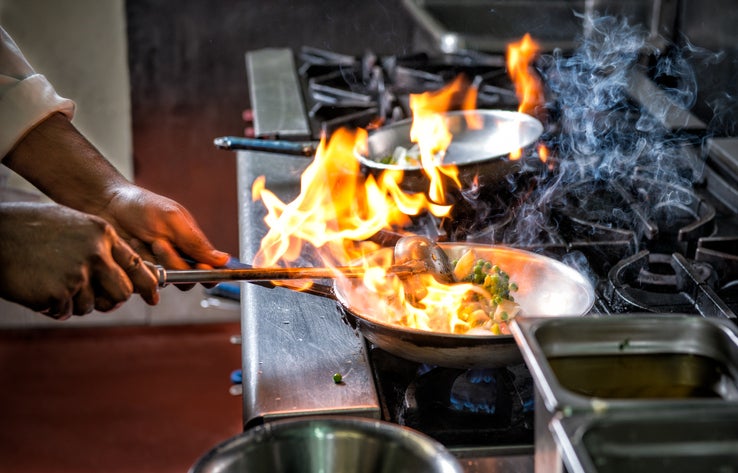 What is business energy?
Business energy is simply gas and electricity for non-household use. Although it comes from the same sources – and sometimes the same energy suppliers - business energy deals are structured differently from domestic energy deals.
For instance, although you can buy business gas and electricity from the same supplier, there's no dual fuel option like with household energy. Commercial energy deals are all tailored to meet the needs of your business and come with longer-term contract options of up to five years.
Although business electricity and gas deals offer less flexibility when it comes to switching (there's rarely an early-termination option), locking your rates in for longer is a great way to protect against energy price hikes.
For more information on business energy, check out our guide to business energy tariffs.
How much energy does a restaurant use?
The amount of gas and electricity needed for refrigeration, cooking, washing, heating, and lighting means that the energy consumption at a restaurant is always going to be high.
Although the amount of energy you use will depend upon the size of your restaurant and the type of menu on offer, here's a breakdown of how much energy an SME in any industry can expect to use each year:
| | | |
| --- | --- | --- |
| Business size | Annual electricity usage (kWh) | Annual gas usage (kWh) |
| Small business | 15,000 to 25,000 | 25,000 |
| Medium-sized business | 30,000 to 50,000 | 45,000 |
How do restaurants use energy?
Although most of the gas and electricity used by restaurants will be for cooking and refrigeration, there's also lighting and heating to consider. Not only do you need to provide good food, but you'll need to have the right ambience, which means keeping the restaurant at a comfortable temperature for diners and getting the lighting right.
The amount of energy you use and the way in which you use it will largely depend upon the type of eaterie you run. For instance, while the high turnover of meals means a takeaway might use more energy to cook food than a restaurant does, the smaller size of the premises and the fact that there's no room to eat in means less will be spent on heating and lighting.
If you run a takeaway, for instance, you might find your business is more reliant on gas than electricity. This could be because the high turnover of meals means you're using more energy to cook food than to provide heating and lighting on the premises. This will almost certainly be the case if there's no eat-in option at your takeaway.
But a restaurant owner could find that they use as much energy to light and heat their premises as they do to cook food. This is why it's important to get the right type of energy deal to suit your needs. Speak to our tech-enabled experts now to get a quote for restaurant energy.
What uses the most energy in a restaurant?
The size of the restaurant and the types of appliances it uses will determine its energy consumption. But to give you an idea of what you can expect to have the biggest impact on your business energy bills, here's a breakdown of how an average restaurant uses electricity and gas.
What uses the most electricity in a restaurant?
There are loads of ways electricity is used in a restaurant, including cooking, lighting, and ventilation. Although every business is different here's a breakdown of how an average restaurant uses electricity:
| | |
| --- | --- |
| Reason for use | % of total usage |
| Refrigeration | 43% |
| Cooking | 14% |
| Miscellaneous | 14% |
| Ventilation | 12% |
| Cooling | 11% |
| Lighting | 6% |
What uses the most gas in a restaurant?
Restaurants mainly use gas for cooking and heating. Although every business is different here's a breakdown of how an average restaurant uses gas:
| | |
| --- | --- |
| Reason for use | % of total usage |
| Cooking | 67% |
| Water heating | 18% |
| Heating | 15% |
How much energy does a restaurant use?
According to figures from the Carbon Trust, Britain's catering industry uses around 21.6 million kWh of energy every year. The amount each restaurant uses will depend upon its size and the food it serves - a small cafe with a single oven will use much less energy than a large restaurant with several ovens, cooking ranges, and food warmers.
The Carbon Trust estimates that energy usage accounts for up to 6% of a restaurant's operating costs. Amazingly, less than half (40%) of this energy is used to store and prepare food, with the rest being lost as heat escaping into the cooking area.
That shows the importance of both getting a good deal on business energy and making sure your restaurant and appliances are as energy-efficient as possible. We'll take a closer look at some ways to save energy later on.
How are restaurant energy rates calculated?
As there are no off-the-shelf options when it comes to business energy, and because your contract will be tailored to meet the demands of your restaurant, this means rates can vary from one business to the next.
When calculating your rates, business energy suppliers usually consider your business type – whether you're a sole trader, partnership, or limited company – along with the industry you work in. They'll also look at the following:
The size of your business – Bigger restaurants will generally use more energy and may be able to get cheaper rates because of this. Suppliers will also base rates on the amount of energy you use alongside the size of your operation.
The location of your business - The location of your business premises can affect how much it costs suppliers to physically send energy to your restaurant.
Your business credit rating – If you have a good business credit rating, you might be eligible for cheaper rates. This is because suppliers buy business energy in advance and a poor credit rating suggests your business is a bigger risk – if you were to cease trading before the end of your energy contract, your supplier could be left out of pocket. Energy suppliers charge higher rates for higher-risk customers in much the same way as banks and lenders will charge higher rates on business loans.
How much is the average restaurant energy bill?
Although your restaurants might use a lot of energy, that doesn't mean you need to feel the heat of high energy bills. Because business energy deals are tailored to meet the needs of each individual business, it's difficult to say what the average restaurant energy bill is – and who wants to have an average restaurant anyway?
The important thing is to understand how much you're paying and why you're paying that much, as this means you can work out whether you can save money by switching energy suppliers and changing the ways that you use gas and electricity.
Understanding your restaurant's energy bill can help you see exactly how much energy you're using and how much you're paying for it. If you have a smart meter, this will show when and where you use energy to help you work out if there are any ways you can cut your consumption.
Your energy bill will have information about your contract, the rates you're paying, and information on the other things that make up the total you pay each month, including:
Standing charge - A set fee you pay every day regardless of your power usage. Standing charges can be anything from 25p to 61p per day for gas and 25p to 34p per day for electricity. It pays to check for lower standing charges when comparing business energy deals.
Unit rate – This is the cost you pay for each unit of energy you use, measured in kilowatt-hours (kWh). Lower unit rates tend to be close to 4p per kWh for gas and 16p per kWh for electricity.
Climate Change Levy (CCL) charge - The CCL was introduced by the government as a way of encouraging commercial businesses to reduce their carbon emissions and increase energy efficiency. This charge is included in the cost of your energy bill. Your business will be exempt from this charge if it uses less than 33 kWh of electricity per day or less than 145 kWh of gas per day.
VAT - VAT is usually charged at 20%, but if you use less than 33kWh of electricity or 145kWh of gas per day you might be eligible for a reduced rate of 5%. For more information, check out our guide to VAT on business energy.
Operating costs – This charge covers the costs of running your account.
Contract end date - This is when your current deal expires. If you've arranged a new contract, it will take effect from this date. If you haven't, this is the point at which you're likely to be placed on your supplier's more expensive standard tariff, so it's important to make sure that you have a new deal in place.
Notice period end date – Also known as the end of your switching window, this is the date by which you must notify your supplier that you will be switching to a different deal at the end of your contract. You will need to arrange a switch before this date to avoid your current supplier's more expensive standard tariff.
The amount you pay for each unit of energy you use is based upon the wholesale costs your supplier paid when buying the energy for your contract. Wholesale prices fluctuate according to market conditions but signing a fixed-rate contract means you'll pay the same unit rate for the duration of your deal. That's why it sometimes makes sense to lock in rates as soon as your switching window opens (which could be up to six months before your current deal ends) especially if energy prices are rising.
For more detailed information, take a look at our guide to business energy bills.
How to be more energy efficient and cut your business energy bills
Restaurants not only consume a lot of energy, but they're also notorious for wasting it.
Figures from the Carbon Trust show that as little as 40% of the energy consumed in some kitchens is used for food storage and preparation. Much of the wasted energy is dispersed into the kitchen as heat, which can leave your staff hot under the collar and see you sweating when your next energy bill comes in.
That's why it's important to make sure your kitchen and dining area are as energy-efficient as possible. Here's how...
Lighting
Turn the lights off when not in use – Switch off lights in store cupboards, toilets, and any other rooms when they're not being used.
Use motion detectors – Fitting light or occupancy sensors in areas of your restaurant that are not in constant use (such as a storeroom or cellar). This will make sure lights aren't switched on when no-one is in the room.
Switch to LED bulbs – Replacing standard bulbs with LED one can cut the electricity you use for lighting by up to 80%. They also last longer and need replacing less often.
Read more on our guide to energy-efficient lighting.
Heating, ventilation and air conditioning
Service systems regularly – Make sure all heating and cooling systems are kept clean and well maintained to optimise performance.
Switch off extraction hoods when not in use – Leaving extraction hoods on when not in use is a needless waste of energy and wear and tear on your equipment.
Use timers – Set timers on your thermostats so they only heat rooms when in use. It's also worth turning off the heating an hour before your restaurant closes as the residual heat should keep it warm enough until everyone has left.
Think about the temperature – If possible, knock down your heating thermostat by a degree to save energy and money and bear in mind you don't need to use the air conditioning if the temperature is 24°C or below.
Keep draughts out - Double glazed windows, draught-proofing and properly insulating walls and roofs are all ways you can reduce heat loss.
Water management
Insulate hot water pipes – This helps to make sure heat isn't lost as water is carried through pipes and will help stop them freezing in winter. Insulating pipes and servicing boilers regularly can also help reduce wasted energy.
Fix any leaking taps – A dripping tap may not seem like a big issue, but it can waste a lot of water if left unfixed.
Switch to spray taps – While it can be difficult to reduce the amount of water used in your restaurant, it can be possible to reduce the amount of water that comes through the tap by installing water flow regulators or fitting spray tap nozzles, which use less water.
Cut the temperature of your heated water – Dropping the temperature of your hot water can reduce energy costs. Bear in mind that hot water should be stored at least at 60°C and distributed so that it reaches a temperature of 50°C within one minute at the outlets.
Refrigeration
Keep fridge door closed – Cool air can quickly escape through open fridge doors meaning the appliance needs to work harder to keep food cool. So, make sure that doors are closed fully when not in use.
Defrost and clean regularly – Making sure your fridge and freezers are kept clean and defrosted will make sure they're working as efficiently as possible and help them last longer. When cleaning your fridge, don't forget to clean the coils at the back – if they get clogged with dust this will affect the performance and life span of your appliance.
Check seals are intact – Replace any broken seals straight away. If the seals are broken, then cool air will escape, and your appliance will need to work harder to keep food cool.
Turn off fridges after hours (if possible) - If you have any fridges that don't hold perishable goods (a drinks fridge, for instance) then turn them off when your restaurant is closed. Don't forget to turn them back on when you reopen.
Cooking
Use the right equipment for the job – Make sure you use the right-sized pan lids to keep steam and heat in when cooking and use an appropriately-sized pan for the heating ring you are using.
Never leave equipment switched on – Only turn on ovens, grills, and other equipment when needed and switch them off again immediately after use.
Keep equipment clean and maintained – Make sure all cooking equipment is cleaned and maintained so it works efficiently and lasts longer.
Switch to more energy-efficient equipment – When replacing old equipment try to buy the most energy-efficient model you can afford. Making the switch to induction cooking can help reduce costs as there is less wasted heat than a traditional cooker – and it means you'll use less power.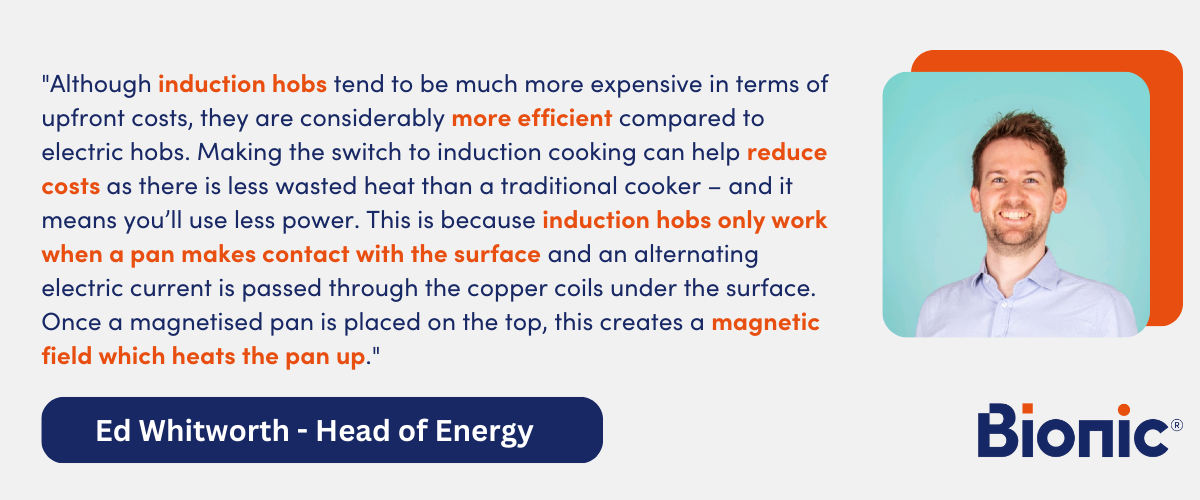 Can I save money by switching energy suppliers?
Yes. Even though energy prices are currently as high as they've ever been and the market is unstable, business energy customers can still save by switching. At Bionic, we work with our trusted panel of suppliers to find great rates for your business. Give our tech-enabled experts a call on 0800 077 4673 to see how much you could save.
How do I switch my business energy supplier?
The simplest way to switch business energy suppliers is to give our tech-enabled experts a call on 0800 077 4673 or give us your postcode and we'll call you back.
To save time, we use smart data to find the details we need to start your quote. We then need a few more details about your business to compare quotes and exclusive deals from our panel of trusted UK suppliers.
One of our experts will then explain the quotes on screen and answer any questions. You choose the best deal, and we'll handle the rest.