business energy for shops
What Is Business Energy For Shops? How To Save Money On Your Bills
From lighting to heating, shops need a lot of power just to keep running every day. It's no surprise then that they can quickly rack up big energy bills to help keep their business running smoothly.
But, these bills can quickly burn a hole through your profits if you're not keeping on top of what exactly you're being charged for and at what cost. That's why knowing exactly what business energy is, and how you can find a provider that best suits your shop's needs, is crucial.
From working out how much energy your shop uses to finding out what other factors can affect your prices, our handy guide can help you to understand your business's energy needs and how to find the best business energy supplier.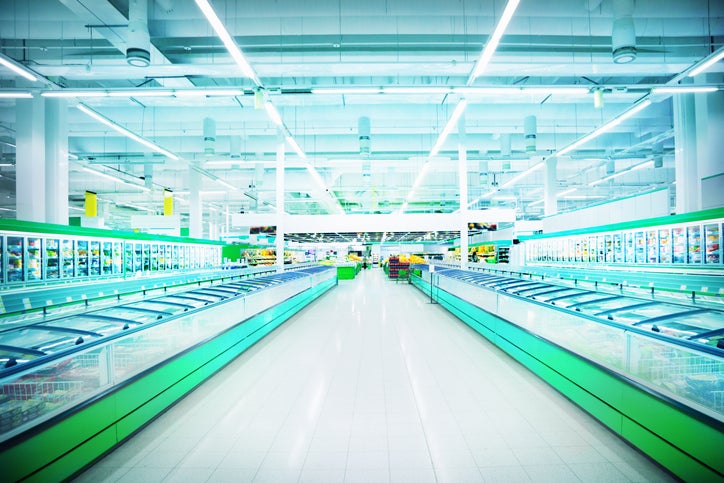 What is business energy?
Every business needs energy to operate. Just like our homes require energy for electricity and heating, businesses must also use energy for lighting, security, operating machinery, and more.
The energy that's used to power houses and businesses is essentially the same and comes from the same place, but all suppliers will distribute it slightly differently. This is because businesses will tend to consume a lot more than the standard household — resulting in energy distributors charging different rates using commercial energy contracts.
What's the difference between commercial and domestic energy?
Put simply: commercial energy is for businesses, while domestic energy is used to power homes.
As businesses require a lot more to maintain their day-to-day operations, providers will manage their tariffs differently to household energy. At an initial glance, commercial bills might appear more expensive than domestic ones, but the rates themselves are often cheaper as providers buy energy in bulk.
The extra cost comes from the higher VAT rate; businesses will generally pay 20% VAT on their energy, whereas the household rate is 5%. There might be additional costs too, like the Climate Change Levy — an additional tax charged on non-domestic energy. Your business might be eligible for a reduced VAT rate. To find out more, check out our guide to VAT on business gas and electricity bills.
Some other key differences between commercial and domestic energy are:
Contracts are longer — Commercial contracts can run for up to five years, whereas domestic contracts tend to be yearly. This is due to suppliers buying the energy in larger quantities, which results in lower prices.
No cooling-off period — Commercial contracts won't offer a cooling-off period as the providers will have already forecasted and bought a significant amount of energy which is then supplied to your business. It makes it almost impossible for a company to exit a contract once they've signed, which is why it's so important to make sure that you choose the right deal for your business. If you need help finding the right contract for you, get in touch with the team at Bionic today.
Single-fuel only — Nowadays, households can purchase two different types of energy from the same supplier, but, sadly, that's not the case for businesses. Commercial customers must obtain separate gas and electricity contracts based on their expected running and operational energy usage. While it can be more hassle to secure two separate contracts, it means that you can use two separate suppliers — so you can more easily search for the best deal for each type of energy.
Tailored quotes — Domestic energy customers can purchase off-the-shelf tariffs where providers formulate a plan with estimated consumption that's ready to buy. As no two businesses are the same, this isn't a viable option for providers. Instead, they must assess each business and create a personalised energy quote that factors in all of a business's needs, usage, and circumstances.
Negotiation — As commercial energy contracts are all tailored, businesses can negotiate on price. This isn't usually the case for domestic customers.
Read our full guide on the differences between household and business energy.
How do shops use energy?
From small, independent shops to multi-floor department stores, the amount of energy a shop uses will vary based on its size and location. There are a few common ways that shops use energy, which include:
Lighting — Lighting is one of the main contributors to energy bills. Good lighting can help to make the space safer, encourage customers to stay for longer, and even contribute to purchases. Energy-efficient lighting could help lower costs whilst keeping the same aesthetic.
Heating — No customer will want to stay and shop in a cold store, which is why heating can play a big part in creating a comfortable environment that helps to retain shoppers. But, be careful, you don't want it to be too warm!
Fridges and freezers — If you rely on a fridge or freezer to keep your food and drinks fresh, refrigeration electrical costs can quickly add up. Keeping your produce at a safe temperature is essential for your business and is something that can't be freely tampered with.
Electrical appliances — From tills to computers, there are lots of different appliances that can contribute to your energy bill. Keep these maintained regularly for optimal electrical usage and encourage your staff to unplug all appliances at the end of the day.
What is the average energy consumption of a shop?
It's very difficult to give an average as to how much energy a shop should consume because all shops have different running costs. It'll also depend on their size, location, opening hours, and the type of business you run.
The best way to gauge the average energy consumption of a shop is by understanding the size of your business.
How much energy should your shop use?
By breaking it down into three varying business sizes, it's easier to give a more accurate figure of how much energy a shop would typically use.
| | | | | |
| --- | --- | --- | --- | --- |
| Business size | Number of employees | Turnover | Average yearly electricity usage | Average yearly gas usage |
| Microbusiness | Less than 10 | Less than £2 million | 5,000-15,000 kWh | 5,000-15,000 kWh |
| Small business | 10-49 | Less than £10 million | 15,000-25,000 kWh | 15,000-30,000 kWh |
| Medium business | 50-249 | Less than £50 million | 25,000-50,000 kWh | 30,000-65,000 kWh |
If you're looking to find out more about how much energy businesses use, our handy guide to the average business energy consumption can help.
What can affect your shop's energy prices?
As with any form of energy, prices fluctuate constantly. This is because many different factors can drive the cost up or down. These include:
The weather — The weather, or wind, in particular, can have a big impact on how much you pay for your energy. This is due to wind turbines accounting for 17% of the UK's power, a figure which is likely to increase each year as more turbines are being constructed across the country. Wind is not a constant resource, which means that on days when there's little wind, power stations must use fossil fuels to create energy instead. These fossil fuels, like natural gas, are much more expensive and increase business energy prices.
An increase in demand — Supply and demand is the biggest factor that influences the prices of any product or service. In terms of energy, if there is a greater energy demand, it will be seen as a more valuable resource. This can drive prices up. If demand is lower and there are fewer potential customers, the price may dip as it's not considered to be as valuable.
What kind of business energy tariffs are there?
Once you start researching providers and contracts, you'll soon realise that there are several different business energy tariffs to choose from. It can be hard to know which one will be best suited to your shop, so here's an overview of the main types of tariffs:
Fixed-rate
Fixed-rate tariffs charge an agreed-upon cost for gas and electricity. They usually last for a set period of time, often between 12 to 18 months. The benefit of fixed-rate tariffs is that you're guaranteed to pay the same price throughout your contract which can be a win in terms of planning and budgeting.
It's important to note, however, that it's only the cost of each unit of power that is fixed to a specific amount. It protects you against the cost of the energy itself increasing, but if you use more power than usual, your bills will also increase to cover the extra energy that you consumed.
Variable-rate
Prices on a variable-rate tariff can change depending on market activity. This often makes them appear as an affordable option upfront, but they may increase further down the line and you could end up paying a lot more if the energy market sees a sharp spike.
Deemed-rate
If you're on an existing tariff and it ends without you switching to a new supplier, you may get put onto a deemed-rate tariff. These last for 28 days and charge inflated rates, which could cost you a lot of money if you don't find another supplier.
To avoid this, make sure that you compare business energy deals well in advance of your contract end date to find the best option for your shop.
Blend and extend tariffs
These deals are a bit more complex than fixed-rate deals, as they allow you to extend the length of your current contract with the same supplier, who will then reward your loyalty with lower rates.
This type of deal can help you cut the amount you pay for gas and electricity. It could be a good fit if you're happy with your current supplier, but you'll probably be able to get even cheaper rates by switching to another supplier.
Learn more about Blend and Extend contracts.
Rollover
Rollover contracts also tie you into an expensive tariff with high rates. But, instead of lasting 28 days, rollover contracts last a year. Rollover contracts aren't as common as deemed-rate tariffs, and you are more likely to be placed onto a deemed-rate contract. However, to avoid either of these, it's best to switch before your current contract expires.
Business energy suppliers also offer blend and extend, flex approach, and pass through tariffs. For more information, check out our guide to business energy tariffs.
How can I reduce energy consumption in my shop?
Despite all the ways that shops can use energy and cause your bills to shoot up in price, there are plenty of easy changes that you can make to become more energy efficient.
Adjust your lighting — Consider installing light sensors so that you're only using energy when you need it. This way the light sensors detect movement and will automatically switch off if there hasn't been any movement for a while.
Swap your light bulbs — Installing more efficient lighting — like LEDs or compact fluorescent bulbs — will also help to reduce your electrical consumption.
Turn down the heating — To make the most of your energy without compromising a comfortable temperature, try to keep doors closed to prevent warmth from escaping. Turning your thermostat down by even just 1°C can make a huge difference on your bill, as can timing your heating to turn off an hour or so before closing.
Keep your fridges and freezers at the correct temperature — Before you start trying to cut your costs, you must make sure that your equipment is running at the recommended minimum temperature for food safety. Stick to these guidelines as any warmer and you might compromise your goods, but any cooler and you may be wasting energy. Simple measures like checking that the doors are always closed and that seals are properly maintained can also help to regulate temperatures and reduce energy consumption.
Review the energy-efficient label — Electrical items will have an energy-efficiency label that gives them a rating of how much it costs to run them. Items with a rating of A+++, A++, or A+ are the most efficient and will have the lowest running costs, so try to look for equipment with these ratings.
Opt for insulation — You can make all of the above changes, but your bill may still be costly if your building is poorly insulated and loses lots of heat easily. Keep your store in good condition and catch any potential repairs, like damaged windows or leaking roofs, early on to prevent draughts and damp conditions. They may let all of the precious warmth escape, and in turn, cause you to crank up your heating and your bill.
Can I save money by switching energy suppliers?
Changing energy suppliers when your contract ends is one of the best ways to save money on your business energy. Looking early and comparing different tariffs and deals means that you can find the best price for your shop.
Unfortunately, business energy contracts can be long and the cost of waiting for them to end can have a huge impact on your livelihood. If your current contract isn't right for you, you may be able to pay to end your contract. This is known as an exit fee and it's set by your provider. Contact your provider to enquire whether this is a service they offer, and if they do, work out whether it's the most cost-effective option in the long run.
How do I switch my business energy supplier?
Exploring different tariffs and providers can be a time-consuming process, especially if you're unsure as to what to look for when shopping for the right deal. Here at Bionic, we compare business energy from dozens of trusted UK business energy suppliers to gather the best options for your company. We'll then walk you through the quotes on your screen to help you find the most cost-effective choice. Get in touch with our team to start comparing providers before your current tariff ends.
For more information on when to start searching, read our guide to when the best time is to switch energy suppliers.
Start saving money on your business energy bills with Bionic
From turning down your thermostat to getting a smart meter installed, there are plenty of ways that you can cut down your gas and electricity usage to reduce your energy bills.
To learn more about business energy, visit our business guides page. And if you're looking to switch energy suppliers, get in touch with the Bionic team today to compare business electricity and business gas deals to ensure your shop is making its energy go further.