can i cancel my business broadband contract early
Can I cancel my business broadband contract early?
There are several reasons you might want to cancel your business broadband contract before it expires - your connection is unreliable, your supplier's customer service isn't up to scratch, or you just feel like you want a better deal.
But if you want to cancel a broadband deal early, how do you go about it? Bionic has put together a helpful guide so you know exactly how to cancel and what issues you might face.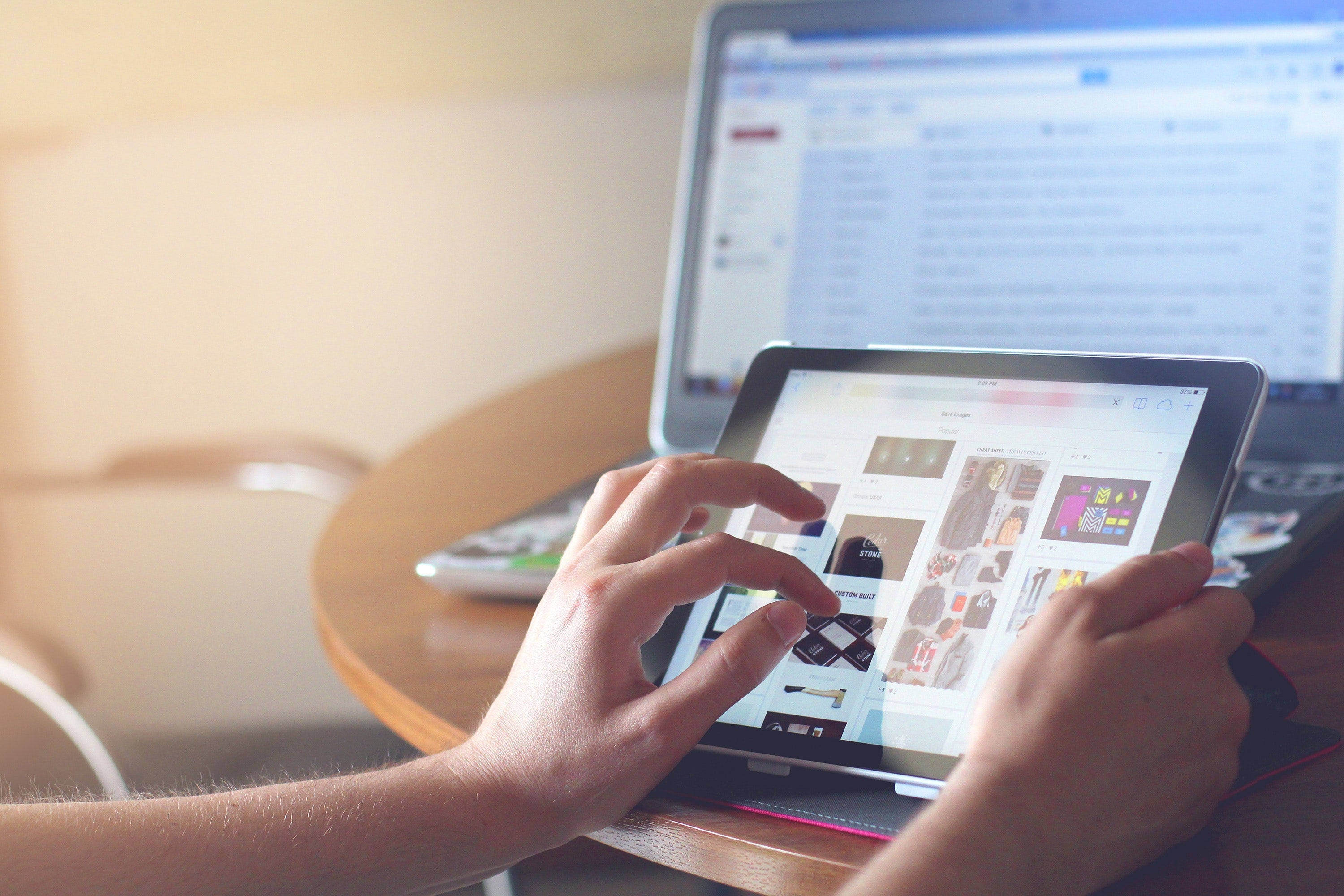 Is it possible to leave a business broadband contract early?
It is usually possible to leave your business broadband contract early. But you may need to pay an exit fee if you cancel your broadband before your contract is up. This amount will depend on your provider but it usually means paying off the remaining months of your contract.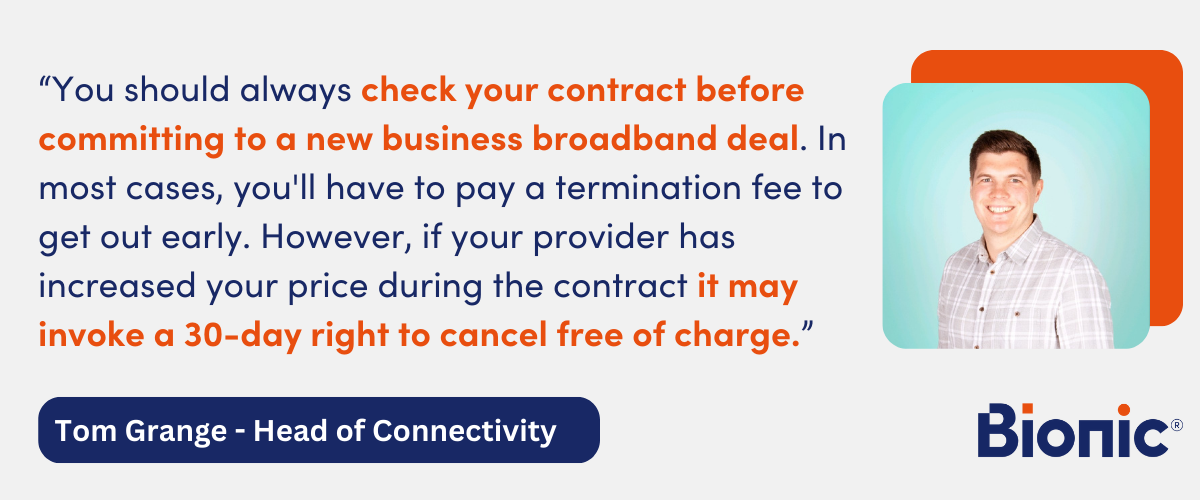 Why do businesses want to leave their contract early?
Business owners choose to leave contracts early for a variety of reasons. This could be because they might not be happy with the service or find internet speeds too slow and they're not receiving the speeds promised. Another reason may be that the provider has hiked the prices up, and it may no longer be affordable for a small business.
It's important to know about the Ofcom (the main regulator in the UK) rules. Ofcom says that any speeds advertised by providers must accurately reflect average broadband speeds during the busiest times of the day. For example, providers wouldn't be able to quote a really fast internet speed if it was only accurate during off-peak times when no one else was using the connection.
Ofcom also states that providers must list a minimum broadband speed and inform customers of their right to leave their contract if their internet speeds are below this level.
How do I cancel my broadband early?
If you want to cancel your broadband contract early, you'll need to contact your provider and discuss your options with them. It might be wise to ask them to check your broadband speeds and attempt to rectify any issues.
If you find an issue with their service, they have a chance to resolve it within 30 days. If the issues aren't resolved, then customers are entitled to cancel their contract early without incurring a penalty charge. If there are no issues and you just want to leave, you will likely still be able to but you might have to pay the exit fee.
Will I be charged for leaving my business broadband contract early?
It depends on the reason you are leaving. If internet speeds have fallen below advertised levels, there is an issue that cannot be ironed out within 30 days or if the provider has put the prices up, then you may have grounds to leave without paying a fee. But if you're leaving and the above reasons don't apply, then you will have to hand over money to exit before your contract is up.
What are early termination fees?
Early termination fees refer to the fee customers have to pay to waive their contract terms and leave early. All major broadband providers charge customers a fee if they want to leave before their contract is up. Sometimes they are called 'exit fees' or 'early cancellation fees'.
The amount you'll be charged will depend on things like:
How long is left on your minimum term
The days you've already been billed for in advance
Any other products or services you may have subscribed to, the price you pay for them and when that subscription ends. However, it's important to remember that each provider is different so what one may charge for, another may not.
How can I leave my business broadband contract with my supplier?
It's important to check your supplier specifications if you're thinking of leaving. Below are the main providers in the UK and their current early cancellation rules.
BT
BT's early exit fee charges for every month left on your contract at the time of cancellation. However, BT says they will subtract 1% if you submit your final payment early, plus, if you cancel halfway through a month, they will work out the charge on a pro-rata basis. When you've decided to cancel, you'll need to give them 30 days' notice.
O2
O2 says you can cancel your contract at any time by calling 202. This number is free from your O2 phone, but you must give 30 days' notice. You'll need to pay any outstanding charges on your account and your contract will end 30 days after O2 receives your leave request.
Sky
Sky's early exit fee depends on a few different aspects. The amount you'll have to pay is determined by how many days are left on your minimum term contract, the days you've already been billed for, and any subscriptions you have (like Sky TV). You'll also need to take responsibility for returning any equipment provided, such as Sky boxes or routers. Sky's cooling-off period is longer than other providers, which you may be able to use to your advantage. You have 31 days from the start of your contract to leave without paying an exit fee.
If you go past this timeframe, you need to give Sky 14 days' notice to cancel your broadband and you'll need to pay an exit fee.
Daisy Communications
If you want to move to another provider and are currently with Daisy, you'll need to speak to their Customer Loyalty team to see if you need to pay any Early Termination Fees and if so, how much as it depends on which services you have. If you have services which are not incorporated into your contract, you may have to give a separate notice period on these.
Plusnet
If you're a Plusnet customer, what you pay to leave your contract early depends on how much time is left on your prearranged contract and the services you have. The Plusnet website says they will usually:
Take your monthly charge, including any discounts
Deduct the current rate of VAT
They then reduce the charge to take account of any costs saved because of you leaving early, such as wholesale costs
They will then deduct 1% for early payment
They multiply this figure by the remaining months of your minimum term to get the final charge you owe. Any partial month will be charged daily on a pro-rata basis.
They then add the current rate of VAT to the final amount.
Any remaining credit on your account will be taken off your total.
Focus Group
If you'd like to leave your contract with Focus early, they advise you should write or email them informing them of what service you wish to cancel and when you want the cancellation to be effective. There may be a charge for early termination of your contract and you may have to pay an Early Termination charge. Focus say you can find this information in your Terms and Conditions documentation.
EE
EE's cancellation policy depends on the individual package you have, your services and the number of months left on your contract. The early exit fee is calculated by adding any outstanding monthly charges and subtracting 4% for sending your final payment early. Find out more about and compare trusted UK suppliers with Bionic.
When can you cancel your business broadband for free?
As we mentioned earlier, there are certain situations where you can leave your broadband contract without paying any exit fees, such as during the 'cooling-off' period.
Once the minimum term has expired
Most standard broadband contracts last for either 12, 18 or 24 months. If you can wait until your contract's minimum term is up, then you can leave without paying any fee.
Not to mention, it always pays to change providers once your contract finishes. Most contracts go up in price after the minimum term ends, while you'll get the cheapest deals and tempting rewards as a new customer somewhere else.
Your provider has raised your bill
If your provider increases the cost of your monthly bill, they must let you know officially in writing. If the price rise is higher than the annual inflation rate, Ofcom says you're allowed to cancel your existing contract within 30 days of being notified of the price rise without paying an exit fee.
But keep in mind that providers are allowed to increase prices mid-contract as long as they are in line with inflation rates.
Within a 14-day cooling-off period
When you sign up for a new broadband contract, you'll likely get a 14-day cooling-off period after you sign up. This is in place to protect you if you change your mind, meaning you won't need to pay an exit fee if you cancel within this timeframe.
Your broadband is too slow
If you're experiencing internet speeds that are slower than your provider's minimum advertised broadband speed, Ofcom says you have the right to cancel your contract early.