digital switchover analogue phone switch off
What is the digital switchover? Everything you need to know about the 2025 analogue phone switch off
Updated – November 13, 2023
All traditional landlines in the UK will be switched off by 2025.
The analogue, copper wire phone network (also known as public switch telephone network - or PSTN) is being retired, meaning you'll no longer be able to use your landline phone.
If you have other systems connected to your phone line, like alarms, telecare systems, CCTV, or even some half-hourly electricity meters, then they'll stop working too.
Unless you make the switch to digital.
But what does that mean? And why is the old system getting switched off anyway? If you're one of the 62% of business owners still using a landline in 2023, here's everything you need to know.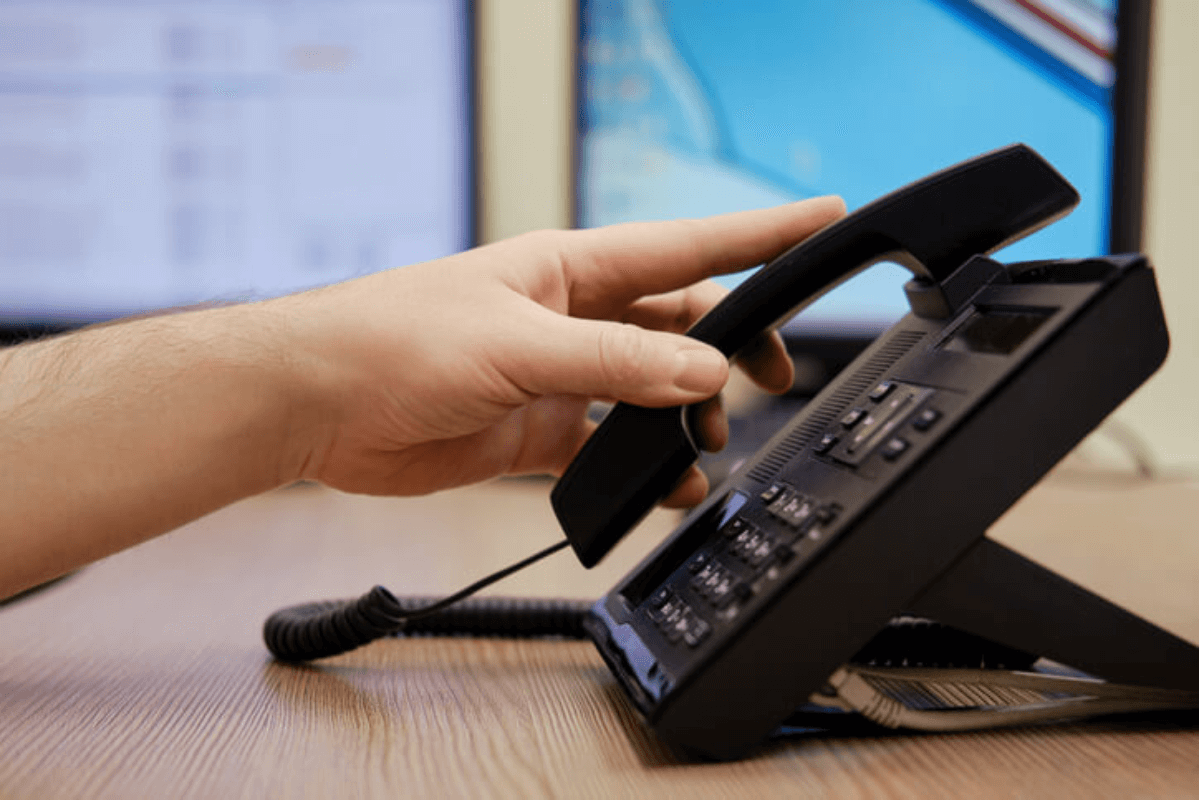 What is the digital switchover 2025? 
To keep your landline and other PSTN systems running, you'll need to switch to a digital, internet-based alternative such as Voice over Internet Protocol (VoIP).
In 2016, it was announced that all analogue phone lines in the UK would be updated to digital internet-based services by 2025. If you currently use a landline in your home or business, you'll be affected by the switch.
Openreach, the BT Group company that looks after all UK phone and broadband lines, is on schedule to complete the switch on time. But it might be a good idea to start thinking about switching to digital as soon as possible.
Bionic can help you make the switch to superfast business broadband and a VoIP telephone line to help future-proof your business and maybe even get ahead of the competition.
VoIP phone services come with loads more features than current landline tech, so switching now could make a difference to how you do business. We'll take a closer look at the pros and cons of switching a bit later, but first – why are we going to the trouble of switching everything off?
Why is the analogue copper landline network being switched off?  
The digital switchover is happening because the current PSTN system needs updating. The ageing analogue system is becoming increasingly expensive to run, and although a lot of work is needed to switch to digital, using the internet to make calls should be more cost-effective and even offer clearer calls with faster connection speeds.
The first copper phone line network was set up in 1877 and was designed to transmit voice calls. That's why internet speeds aren't as fast when data is sent along copper wires.
The first fibre lines were introduced in 1977. This meant larger amounts of data – not just voice calls – could be sent more quickly and paved the way for the current broadband network.
The copper wires will no longer be used when PSTN is switched off, meaning all voice calls and other systems that were connected to the network will need an internet connection to work.
Digital voice services are already being offered by some phone companies, but the main phone providers (BT, Sky, TalkTalk) have different timescales for their mandatory switchovers. However, they are on target and expect all home phone and business customers to be digital by 2025.
The switch won't just affect landline phones, it will affect anything that connects to PSTN, including alarms, CCTV, and door-entry systems. To avoid disruption when the switchover happens, you should check with your provider to see if these systems will be digitally compatible or if they'll need upgrading.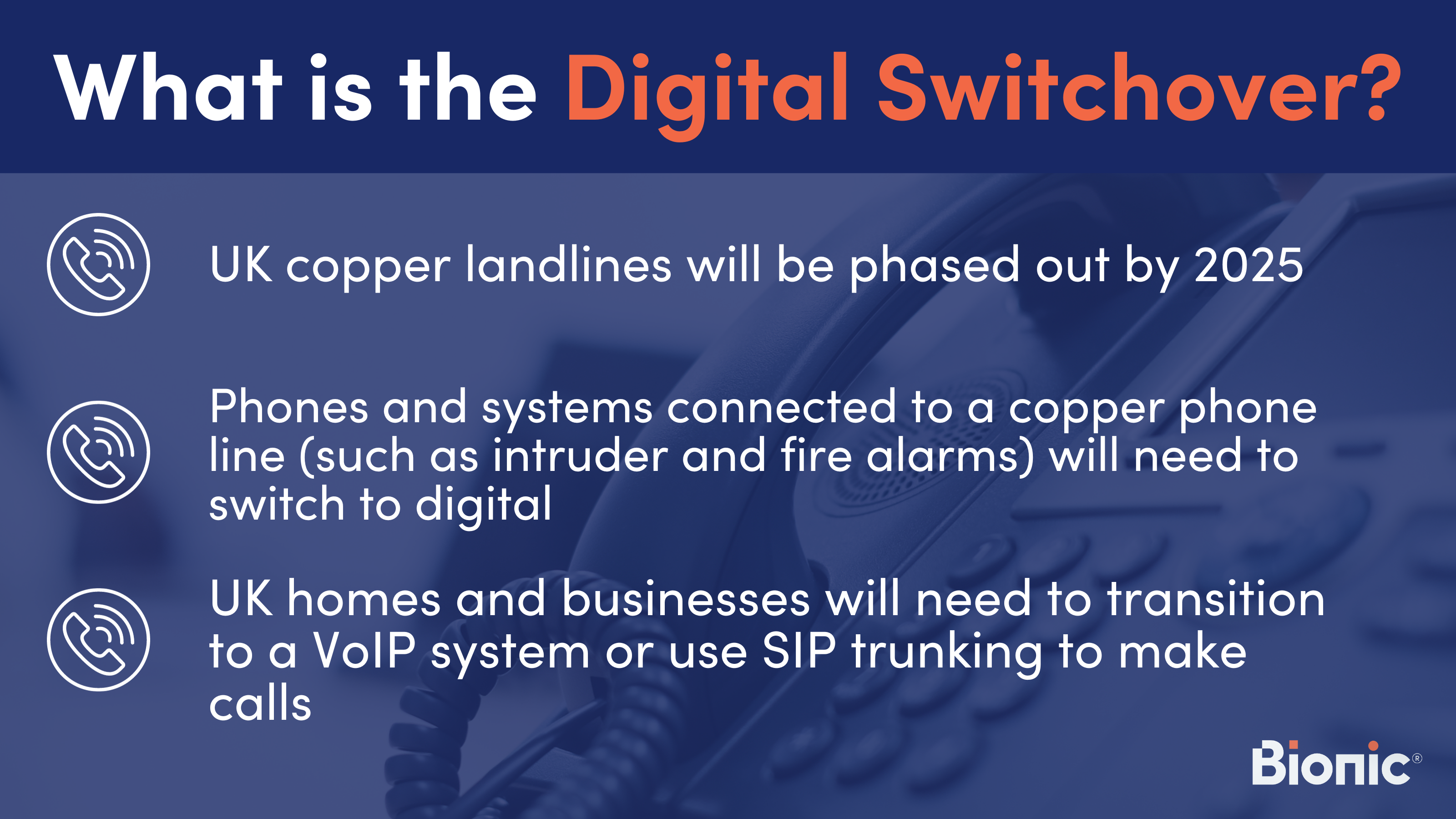 What will replace landlines in 2025? 
Although the official date of the digital switchover is the end of 2025, the test rollout has already begun and many businesses have switched to VoIP. A study from Snom, pioneers in IP phone technology, found that the UK is switching to VoIP at a faster rate than other European countries.
But it looks like there's still a lot of work to be done. Figures from a National Business Communications survey show that while more than two-thirds (62.1%) of businesses still use a landline, more than a third (37.9%) have no idea what the big analogue switch-off is
That's why it's important to get on top of things now. Sam Hollands, Connectivity Operations Manager at Bionic, has said: "The digital switchover is running to schedule, but if businesses don't make the switch sooner rather than later, there could issues as the final switch-off date approaches.
"A high volume of last-minute applications could mean some providers aren't able to keep up with demand. This could leave some businesses without a phone service until they're connected to VoIP or another compatible service. That's why it makes sense to future-proof your business by making the switch now."
What is VoIP? 
Although the acronym may sound confusing, VoIP or 'Voice Over Internet Protocol' just means voice calls can be made via the internet rather than using a wire like the current system.
A lot of phone users already use VoIP systems without even realising it. For example, the most popular examples of VoIP are Skype and WhatsApp. Often VoIP options are good for businesses as calls and messaging costs less than regular calling or texting.
If you want a little bit more tech talk, when using VoIP your voice is converted into a series of digital packets which are transmitted across the internet to your recipients.
So that's VoIP sorted, but what are the other alternatives on offer to replace analogue? When your devices get switched over, they will be using an IP system like VoIP or SoGEA, which will be connected by either FTTC or FTTP.
As you'd imagine, there's lots of jargon and loads of confusing acronyms, so let us break it all down into simple terms.
| | | |
| --- | --- | --- |
| Name | Acronym | What's it for? |
| Internet Protocol | IP | It's a unique code that identifies a device on the internet or local network. |
| ALL IP | ALL IP | The digital network that will replace PSTN. It means that all services can work over an IP (basically all services can work on the internet). |
| Voice Over Internet Protocol | VoIP | VoIP services convert your voice into a digital signal that travels via the Internet. Examples of VoIP are Skype and WhatsApp. |
| Exchange | Exchange | The 'exchange' is a physical location where Internet Service Providers (ISPs) and CDNs (Content Delivery Networks) connect with each other. |
| Fibre to the Premises | FTTP | FTTP means 'fibre to the premises' and is a connection that runs directly from the exchange to your property. |
| Fibre to the Cabinet | FTTC | FTTC means 'fibre to the cabinet'. It uses fibre optic cables to the main exchange and copper wires to connect to your premises. |
| Single Order Generic Ethernet Access | SoGEA | SoGEA only provides a broadband service rather than a package including a phone line. SoGEA is cheaper because it only provides data. |
| Session Initiation Protocol trunks | SIP trunks | SIP trunks just allow you to use VoIP by connecting your phone system a public phone network via the internet. SIP can connect to most existing systems so is often a popular choice as it's so versatile. Find out more at our guide to SIP trunking. |
What is the difference between voice and data traffic?
Data is anything you send or receive via the internet. With data (like photos, videos and web pages) information doesn't have to be sent in sequence and can be re-sent at any time.
But with voice traffic (things like phone and video calls) the whole message has to travel in sequence in one continuous chunk. Think about it like this, a phone call would be all jumbled if your words were not sent in the correct order, with data it doesn't matter as much.
Although all these choices may sound overwhelming, the tech-enabled team at Bionic will be able to help you work out which option is best for you.
What systems will be affected by the analogue switch-off? 
Although the digital switchover should run smoothly, you should check your systems for compatibility issues of ahead of time. It's always a good idea to research the main systems you use in your business, so you're not left in the lurch at the last moment.
During the digital switchover, there will be changes to the way some older equipment works with new digital technology. If you use devices that are directly linked to your phone line (like telemetry devices) you should speak to the provider of those services to check if they will be compatible with the digital system. Below are some examples of other devices that may be affected:
Textphones
A textphone is a phone with a keyboard and a display screen, they are useful for deaf users as it allows them to communicate via typed messages rather than listening and speaking into the mouthpiece.
A few different models of textphone have been analysed at the BT Digital Services lab during their switchover tests. The results concluded making textphone-to-textphone and text relay calls on IP networks was possible. However, the call quality can sometimes be affected by other data loading on the line.
Keep in mind the free text relay service is available on the Relay UK app and is unaffected by the move to IP. The app can be used on any connected device like a phone, tablet, laptop or PC.
Amplified Phones
Amplified phones are specifically designed for users with hearing loss as they have louder volume and better pitch control.
Amplified phones have been tested at BT's Digital Services lab too. All the devices tested performed well, even when packet loss and loading were added.
Intruder and telecare alarms
Telecare alarms are automatic systems that alert help (for example a family member, care centre or medical aid) when the user presses a button. An intruder alarm protects your home or premises against break-ins and burglaries.
If you have intruder or telecare alarms that rely on your current analogue system, it's been reported that most modern devices should be compatible with IP. But it's always best to check with your provider in case you need to update your devices to a newer model, especially if you run a business like a care home where residents' lives may be at risk if their personal alarms stop working.
What happens to a digital phone line if there's a power cut or broadband is down? 
The current analogue system is linked to your local telephone exchange which has its own power supply. At the moment your landline will work even if your electricity supply isn't working, you'll still be able to make calls if your electricity is down.
But the new system will rely on your own electricity supply.
This means if there is a power cut or outage in your home or business premises, you won't be able to make or take landline calls using the digital network. Any other devices and systems connected to the digital network will also stop working during an outage.
An alternative is to have a battery backup for your broadband router, then you will be able to access the internet even if there's been a power cut. A mobile phone is also good to have as a backup.
You can contact your provider directly to discuss your options or speak to the team at Bionic. Many of our preferred suppliers offer 4G backup as standard or as an add-on to make sure you're never without a connection.
When will the digital rollout and analogue phone switch-off happen? 
Tests are already happening in some parts of the UK and have been for the last few years. All analogue systems will be turned off by December 2025, but Openreach will be switching off UK services at different stages.
The first stage of the digital switchover is called the 'stop sell' phase and is already underway. Stop sell means that no new analogue services will be sold to customers after once an exchange area is 75% full-fibre enabled.
When this happens, no more traditional phone line services and FTTC broadband will be sold to new and existing customers in that area. Openreach has stopped selling traditional phone lines in all exchange areas as of September 2023.
This means that no new customers will be able to sign up for analogue services and those who want new services will have to go digital. Customers with current analogue services won't be able to change anything about their analogue tariff either.
To reflect this change, at Bionic, we no longer offer traditional landline packages to help with the transition to fully digital services. You can read the full Openreach timeline here.
You're encouraged to check your systems and work out how this will affect your business in the future. If you don't have VoIP technology now, it might make sense to be proactive and switch sooner rather than later to avoid any disruption to your business.
It's a great start to conduct an inventory check for your business to see if you have any devices that solely rely on analogue lines and how to upgrade them.
How can Bionic help your business with the digital switchover? 
At Bionic, we know that changes like the digital switchover can be overwhelming, but our helpful team are on hand to ensure your business doesn't suffer and the process can run as smoothly as possible.
We can compare VoIP options and provide advice on different digital avenues that might be best suited to your business. The switchover is fast approaching, so why not get it sorted sooner rather than later? Contact us today by clicking 'Start a Quote' on the righthand sidebar or call our tech-experts on 0800 860 6830.
Looking to save on other business essentials? At Bionic, we use smart technology combined with human expertise to compare quotes for business energy, including business electricity and business gas - from a range of trusted suppliers.