The diary of an inspiring restaurant owner, defiant in the face of challenge.
Louise, owner of HART, a quirky family-run restaurant in the beautiful countryside town of Leamington, tells us how she and her staff fight against closure by turning her restaurant into a busy takeaway service.
Monday, March 16th
Hearing the news, 'Everyone must avoid all pubs, clubs and restaurants'
It's around 6.30pm on Monday, March 16th and my only night off from HART this week. So, I head to the pub for well-deserved prosecco or two…
My phone begins to ring off the hook from friends, family and colleagues. All I can see is the reoccurring message 'HAVE YOU HEARD THE NEWS?' repeatedly pop up on my phone. I frantically refresh the mailonline to see Boris has made his famous initial statement 'everyone must avoid all pubs, clubs and restaurants'. My heart sunk and naturally, I panicked.
A rush of reservations cancelled
In the space of 10 minutes over 120 people had cancelled reservations at HART. With Mothering Sunday being that weekend, it's big deal in the hospitality calendar! Two huge networking events postponed and the staff are in meltdown.
Then came the trolls and the keyboard warriors giving us their opinions.
Emergency family meeting called
"I had 15 'family members' relying on me to keep food on their table and a roof over their heads"
So, I rang the family and called an emergency family meeting. My main concern was the staff. They have given their all to me over the last year and a half and it was my turn to show them that same loyalty.
All I could think was that I had 15 'family members' relying on me to keep food on their table and a roof over their heads, not just for them, but for their families.
That meeting concluded that something had to change if we were to survive this storm. The obvious move was to show our customers that HART was still a safe environment to come in and enjoy.
But we had to do more and we had to act fast. So, we decided to radically change our business model and launch a takeaway service. Something we had never done before!


Tuesday, March 17th
Our first takeaway order came in
We got into work at 6am on the Tuesday morning. We dashed to the cash and carry to grab takeaway packaging which as you can imagine had all been sold to bulk buyers with the same idea.
At 9am that morning our first takeout order had come in. Classic Louise. Comes up with the idea, advertises it, without actually thinking it through properly.
Suddenly my mind was filled with frantic questions. Which foods on the menu are suitable for takeout and which aren't?
"How do you run a delivery business and what had I gotten myself in to?"
What will customers think of our brand-less packaging?
I had promised delivery across Warwickshire county, but how are we going to achieve this?
Do I need insurance for this?
How do you run a delivery business and what had I gotten myself in to?
Wednesday, March 18th
Staff were worried, bills were coming out thick and fast. I knew I had to do even more.
As Wednesday came, I knew I have to do more. The staff were worried, the bills were coming out of our accounts thick and fast. And well the customers, they were nowhere in sight.
"I had to put my face to the brand, to call upon the community for support."
I decided I needed to put my face to the brand to call upon the community for support. We advertised ourselves as family and I'm always posting pics of the family on our social medias, on our menus and on the HART walls.
Occasionally, I may pop up hidden among these pictures but no one knew I owned the business.
Calling upon the local community for support
So, it was time I did my first Instagram story. I spoke to our loyal followers and explained everything; I told them that HART would move forward in these trying times keeping the safety of the staff and customers at the forefront of my business.
I applied a few Instagram filters and about 10 takes later, the first story with me in it went live. The response was mind-blowing! It was genuinely the best thing I have ever done for my business. Everyone was keen to support. And not only us, but the rest of the independents in our community too!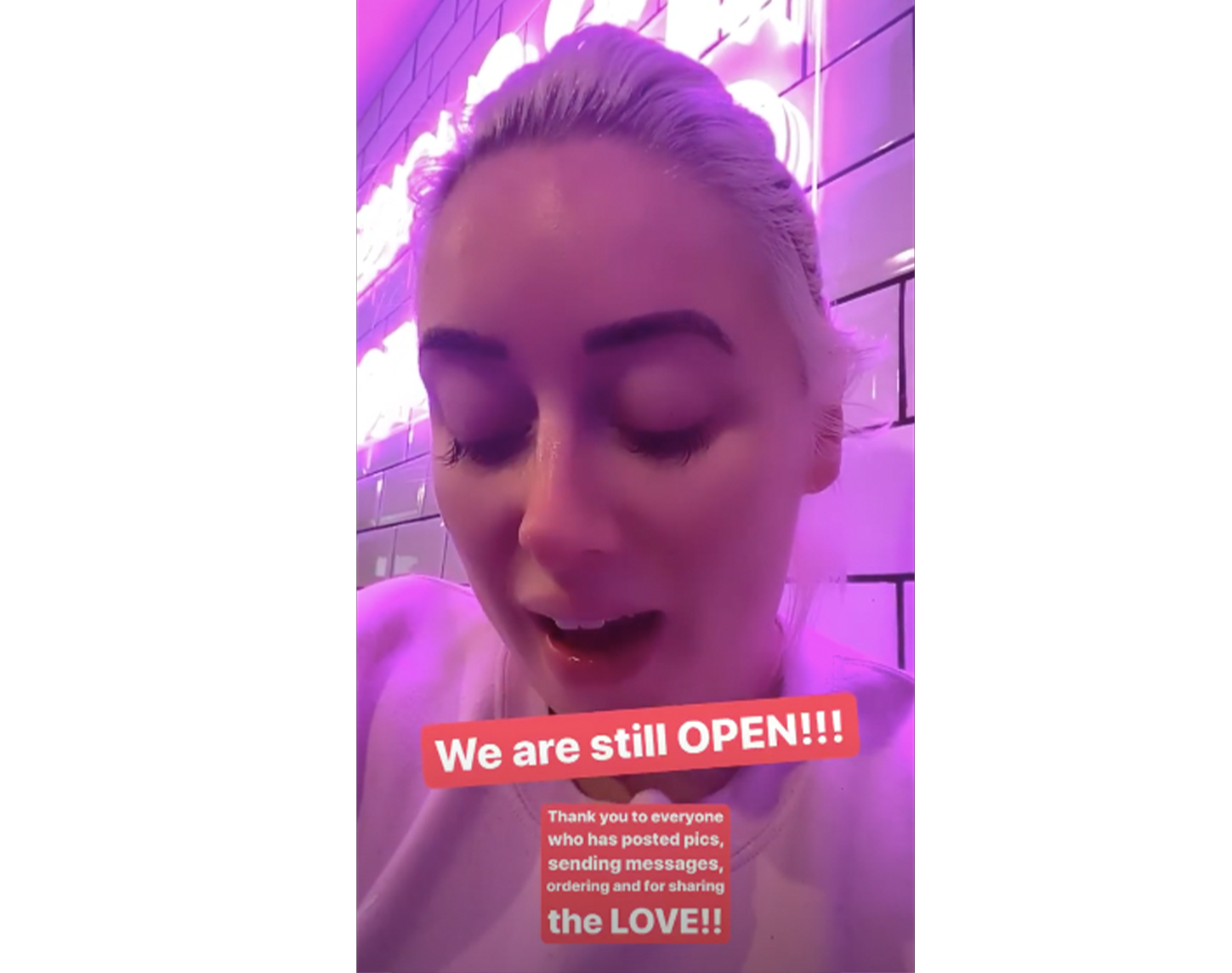 Friday, March 20th
Government adds tighter restrictions
As that initial week progressed, Covid-19 was developing fast and the government were pressed to do something. So, Friday night, at 5.30pm just as we were going to open our doors, Boris closed them for the foreseeable future. There was no way we could provide jobs solely through takeaways for 15 staff members and keep it safe surely?
Our staff move in with us, to help fight to save the business
Desperate times call for desperate measures…. I was straight up with the staff. I couldn't have them in the building mingling with us all when after work they would come into contact with other people. This is how covid-19 spreads.
So, I gave them the choice. Until we know more about the pay the government have promised the staff could continue to work IF they come to live with the HART family, in our home all under one roof and we all isolate together. The only reason to leave the house was to go to work and then come straight back again. This option is intense and not for everyone. Thankfully, enough staff said yes to keep the business going.
Fast forward 2 weeks…
We have kept true to who we are and we're still going!
So fast forward 2 weeks and I am quickly writing this on my first break I've had this week! We stuck with who HART is. A family-run bar and kitchen with a quirky personality and something which Leamington has never seen before. Something I like to think of as a 'breath of fresh air'.
We have radically adapted, but have kept true to who we are:
The restaurant is completely closed to diners or collections
Contactless delivery only and in exceptional circumstances contactless drive-thru.
Our amazing staff are now living and isolating together - only coming out of isolation to work.
Daily updates via Instagram story to maintain and encourage support
Weekly virtual pub quiz via Instagram, headed up by a member of staff who is unable to isolate with us but still wants to work.
Keeping true to ourselves? Mummy Hart is our delivery driver. She can be found at 8am in the morning until 8pm at night driving across the county delivering her home-made recipes AND her famous Sunday roast!
The fight continues and so will our support for #StayAtHome.
How has the fight to save our business gone?
Well, during the week we are busier than ever. At the weekends there is a waiting list of people wanting to order food. We just can't work fast enough at the moment to keep up with the demand!
On the flip side. I have questioned myself so many times. My family and friends have questioned me. Is staying open the right decision? Morally is this the best thing to do? If you had asked me last week it would probably would have been a no.
But today, after two weeks of this new plan, it is the right thing. We are bringing so much joy to people. We are providing a service to people which those in isolation look forward to. As long as it's safe we will continue.
My opinion on the government?
On the whole I can't fault them. What they are doing for the nation is commendable. But, what they are doing for the industry is questionable and worrying.
They have publicly promised staff that they will get paid whilst being on lockdown. The staff are screaming at me for the money but in essence the government haven't actually worked out the logistics of their promise putting business owners in a compromising position.
And after Rishi Sunak's comment that future taxes will have to rise in order to pay for the current handouts. We are feeling the impact already.
Only today did we receive a letter from the valuation office informing us that after this year we will no long qualify for business rate relief.
"The community has pulled together to support us local businesses. And we are so grateful."
The community has pulled together to support us locals! And we are so grateful.
We are one of two independents (to my knowledge) still running in Leamington and well, it's never once crossed my mind to close our doors for good. There's always a way. You just may have to adapt, change and adapt again to keep up with this fast-paced pandemic.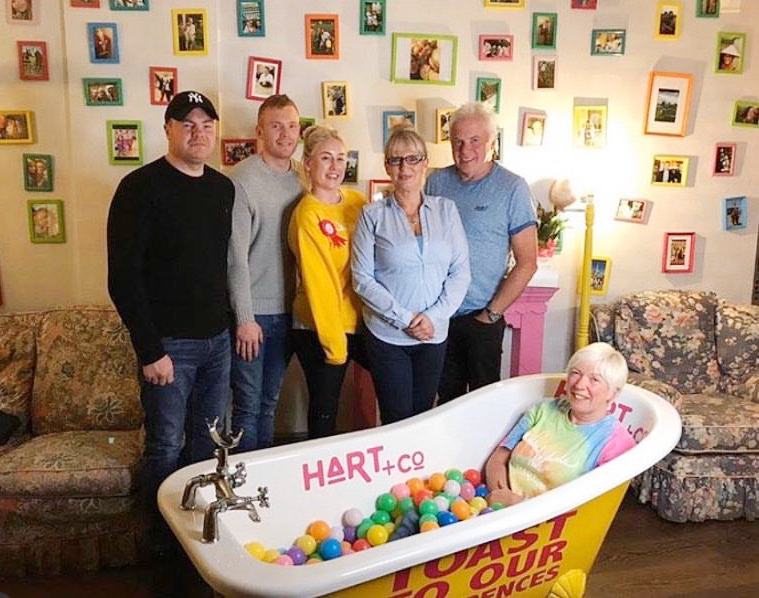 Written by Louise Hart, owner of HART + Co in Leamington, Warwickshire.
To get tips on how to adapt your business and chat with other business owners like you, join the conversation here.