How to cheer on local SMEs this Small Business Saturday
With an estimated 5.51 million small businesses trading in the UK as of 2023, it's safe to say small and microbusinesses are a huge part of our local communities, and it's easy to see why.
Local businesses often offer a more unique, personal service as they can get to know their regulars and build up lasting bonds with them.
Plus, as customers, you get that warm, fuzzy glow when you shop small, knowing your money is helping an independent company thrive and develop. The last few years have been tough, and as we all navigate the ongoing cost-of-living crisis, community spirit has become more important than ever. So it's time to hype up your favourite small businesses this Small Business Saturday!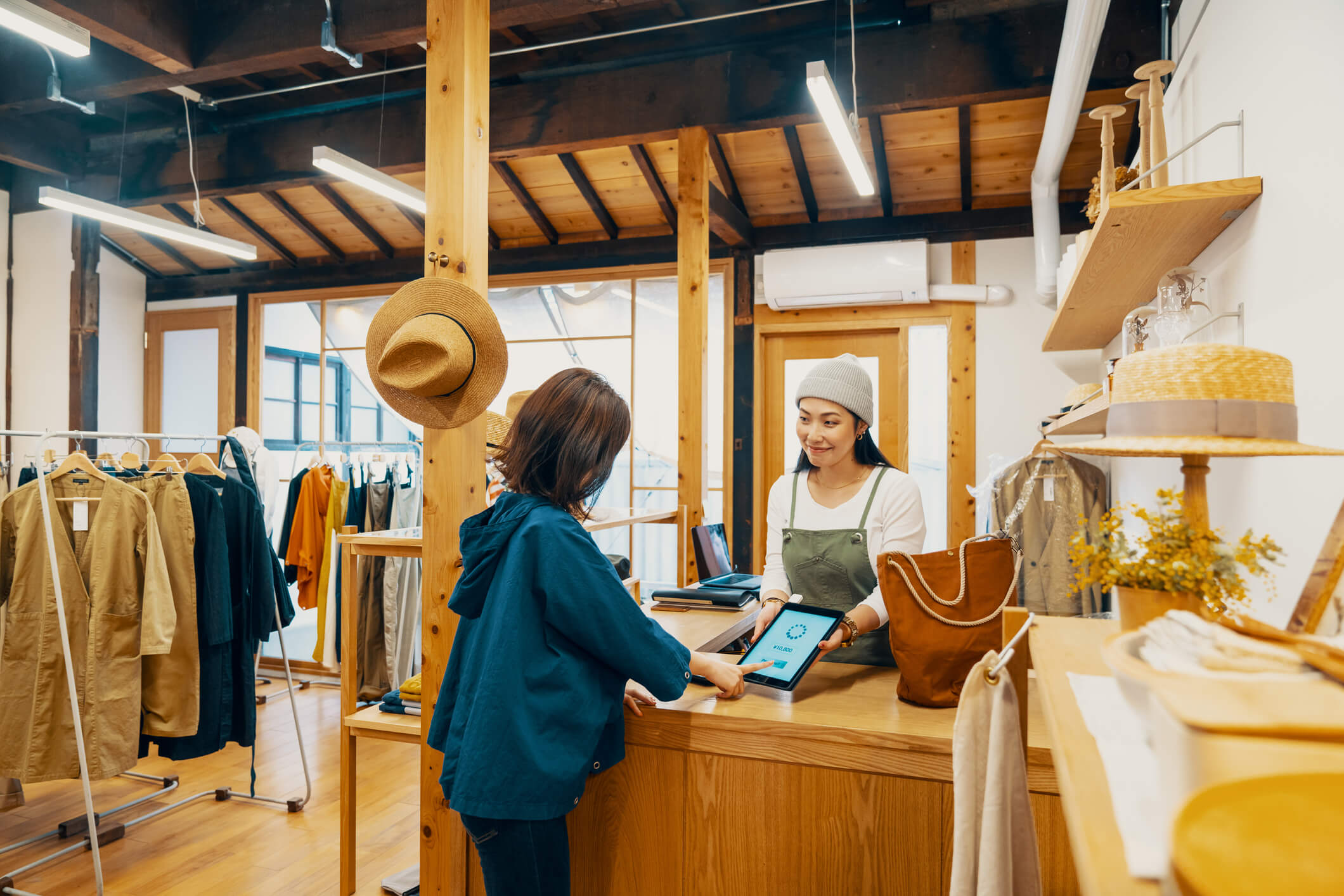 When we spoke to various business owners this year, a common theme was celebrating community. Richard Hills-Ingyon from The Recycled Candle Company said "When you buy something from a small business, you're supporting your high street, but also the locality of it. Any money you spend there is more likely to go back into the community."
Sounds like a positive concept to be part of, right? But what is Small Business Saturday and how can you get involved this year on December 2?
We've explained the initiative and put together five simple ways for business owners and customers to show support.
What is Small Business Saturday?
Small Business Saturday is an initiative launched in the USA back in 2010 by American Express. It has fast become a celebrated scheme in the UK too. It was set up to spread the word about small businesses and drive footfall during the festive season.
As December can be the most profitable time for independent businesses providing they get the right exposure, Small Business Saturday was created to give them a boost and showcase their talent. The initiative is still going strong and 2023's will be held on Saturday, December 2.
The Small Business Saturday tour, supported by BT Skills for Life, has also been busy in the background, visiting various parts of the UK since October 30, and will end in London on December 2. The roadshow offers free support and advice to small business owners and aims to open the conversation up about their struggles but also shine a light on their hard work.
So, celebrate all the blood, sweat and tears your local business owners have put into their products and services over the last year and show that you truly value them in the run up to Christmas. See ways to get involved below.
5 ways to support small businesses
1. Shout on social
One of the most valuable things you can do for small businesses is to big them up online or spread the word about their products and services. So, get chatting about your favourite businesses on social media. Creating a sense of community and solidarity is a must.
Martin Coles-Evans of Bionic business Hargraves of Buxton, a Derbyshire tea room and homeware store, says:
"Whether community to you means going to the pub, having street parties, helping the vulnerable or visiting your favourite local shop or café. Hargreaves of Buxton has a community feel to it, Buxton is a small town, so the community aspect is really important to us."
He added, "Our social media followers skyrocketed during the lockdown and social media has really been a lifeline for our business."
You can read more about Martin in our customer story How Hargreaves of Buxton tackled lockdown with tech.
Platforms like Twitter, Facebook, and Instagram are vital tools for business owners as they offer a free way to promote products and services, and potentially access a wider customer base to show off stock, attract new followers, and generate more business.
If you own a business and have so far resisted the temptation to open any social media accounts, just give it a try. Sign up and see how much you could boost your business following this winter. Make sure you big up your own favourite businesses too. It's positive to be supportive of similar businesses who may be having a tough time amidst the cost of living crisis.
Look out for our festive customer stories and the hashtag #BionicChristmasCountdown on Twitter, Facebook, and Instagram.
A quick and easy way to create interest around your business is to launch competitions on your social platforms.
You could ask your customers to tag your page in their social photos with your products. For example, if you are a village food shop, why not ask your followers to tag you in their meals prepared with ingredients from your shop? You could choose a 'winner' and have an extra special prize lined up for them.
Creating fun and engaging content will keep people interested. Plus getting them to do something (like sharing, posting, or tagging) is an effective way to get them talking about your business online.
Positive posting can work both ways, if you're a customer and have a favourite local business, the same applies, get talking about them on social media. Say you've visited a little-known gift shop and are really impressed with your purchase, snap a picture, and tag the store on Instagram.
Posting a picture takes less than a minute. It's minimal effort on your part but it might really make a difference to other people discovering this gem of a small business.
2. Ask for advice
Small Business Saturday is just one of the many campaigns you can take part in to promote small shops this winter.
If you do a quick search online, there are several small business champion sites to sign up with, each with useful tools for SME owners. A lot of them have detailed information on how to support if you're a customer too.
Alison Savage of another Bionic business New Moon Holistic Therapies cites learning as the key to success. She said:
"It's really important for me to keep learning, keep training and keep evolving my business. Being a member of AOR and IFA helps me stay in the loop with business-related matters."
To learn more about Alison's story, read our interview with her: A hopeful new phase for New Moon Holistic Therapies.
Learning is an important part of running any company and 'Small Business Britain' is another great site with a lot of advice for business owners and quirky ideas to get people talking. It has loads of ideas you can tap into via podcasts, blogs, guides, and case studies. There are also useful tips to help safeguard your business against the unknown.
When checking out campaigns, it's worth doing a bit of research to look into which one will best suit your business. If you think you need specialist help learning how to use social media, then look for campaigns and sites to help with this. If you want unique ideas to get your business ready for Christmas, then focus your search around that topic instead.
For example, Small Business Saturday is partnered with BT Skills for Tomorrow (which offers mentoring advice and live interviews) as well as HubSpot (which has created an 'Essential Resources to Digitalize Your Business' pack for SMEs). These both offer a great way to boost your online skills.
If you run a small business, it might be worth signing up to as many helpful sites as you can to cover all bases and pick up tips on everything you need.
3. Get involved
There are a lot of websites that offer support for SMEs and most have a dedicated page where you can download marketing packs to help boost business.
Small Business Saturday's website has a variety of packs you can download for free which you can access here. These include posters and social media logos so you can let your customers know you are part of the scheme.
It's worth including logos on your website and in window displays to let customers know your part of the scheme, and amplify the message on social media by using any relevant hashtags. If you're involved in Small Business Saturday, for instance, make sure you're using #SmallBizSatUK hashtag. Or use #BionicSantaDash to get involved in our very own Christmas campaign.
The more people that see small businesses taking part in campaigns and creating awareness of shopping locally, the more likely others are to show to support too.
If you're a larger shop owner, you could put up posters to encourage your own client base to shop locally. And why not take the opportunity to not promote yourself by encouraging customers and your own staff to use the marketing packs to share the SME love this winter.
The Small Business Saturday website also has an option to subscribe to their newsletter to keep up to date with ways you can support SMEs. Plus, you can use their handy 'Small Business Finder' tool where you input a postcode and a list of local businesses pop up for you to browse.
At Bionic, we have our own newsletter and aim to create a community of like-minded small business owners who can share tips and discuss common interests. Subscribe to The Backbone here.
4. Substitute for a small business
For convenience, you might be used to getting your dinner essentials from your local supermarket. It might be easier to pop into one of the big superstores and grab all your ingredients in one place. But try to be mindful of how much your custom is valued by local shops.
Why not try to shop local and substitute even just one product each shopping trip? Yes, it might add another few minutes to your food shop, but you will be doing your bit and helping our local businesses and in turn, our recovering economy.
For example, say you're on cooking duty and are planning a delicious roast for the family, why not opt to get your meat from the local butchers or vegetables from a smaller produce shop?
It doesn't just need to be food though. As it's Christmas, the small business scene is usually thriving, and you'll usually find quirky stalls and unique finds in various festive markets. So why not broaden your search for Christmas presents this year? Your family and friends will likely value a gift with a little more thought behind it anyway.
5. Write rave reviews
Positive reviews can do so much for small businesses. The more they get raved about online, the more customers should come flooding through the door.
Much like sharing your positive experiences on social media, a complimentary review can really encourage others to try out a new business. How many times have you checked Trustpilot or Google reviews before booking, trying, or buying something?
Let's face it, you're more likely to try out a new independent restaurant if there are slews of great reviews singing its praises rather than one without any comments at all. Be sure to check out a number of reviews though, as some of the more unscrupulous business owners may try to game the system.
But back to those genuine reviews. Why not take a few minutes to sit down and write about why you had a pleasant experience with a particular business and what you love about it? Social media posts are quick and easy, but sometimes the details matter and can really go a long way to boost the reputation of a business.
Mark Hepworth of Bionic business Flat Cap Coffee said: "People have become so much more critical, it's a result of the virus and a coping mechanism, but that's what we need to take into account now, it's about making sure the product we're selling is something we are proud of, something that shines through."
To read Mark's full story, check it out at this customer story: Waking up to smell the coffee!.
There you have it, five top ways to support your local businesses this Small Business Saturday and beyond. Your help really does make all the difference to SMEs, the backbone of our communities, so make 2023 the year you support them to the best of your ability.