High hopes for Hargreaves of Buxton
Nestled in the beautiful town of Buxton, Derbyshire, Hargreaves is a homeware delight and a standalone staple of the town. The shop has well and truly earned its immense popularity, it has been carefully nurtured for over 150 years and each generation of the family have proudly served many a delighted customer.
Hargreaves of Buxton prides itself on its diverse range of products, selling everything from useful cooking utensils to fabulous vintage furniture, the newest gadgets to quirky gifts. And, when you're worn out from all that shopping, there's a traditional tearoom right upstairs so you can settle down with a cuppa and pore over your fabulous finds.
Before lockdown became an almost 'normal' way of life, Hargreaves was thriving as both a family-run tea room and homeware store, having proudly been branded 'Britian's Best Family Business' and 'Britian's Best Independent Cook Shop' by winning awards in 2015, 2019 and 2020.
This tremendous success made it even more difficult to close the shop when restrictions were enforced last year.
But after a truly tough year of rolling with the punches and taking restrictions in his stride, Hargreaves' owner Martin Coles-Evans, is looking to burst out of lockdown stronger than ever before.
Hargreaves has always managed to strike that delicate balance between keeping its traditional values at heart while embracing everything that modern tech has to offer.
But the team has recently had its fair share of setbacks, not least a global pandemic to ponder a way out of. After speaking to Martin last year, Bionic was eager to find out how he had been coping with the worst the last 12 months had to offer.
When lockdown gives you lemons...
Hargreaves of Buxton has been proudly serving customers for 154 years. So, imagine the sense of dread when it was suddenly forced to close, threatening the very existence of the business and throwing livelihoods into jeopardy.
"Coronavirus has severely affected business as we have a shop and a café" explains Martin.
Hargreaves has taken the lockdown struggles in its stride though, and Martin has been adapting like a pro, working remotely, and thinking creatively about how to stay engaged with customers.
Talking about making the move to remote, Martin emphasized "It was a complete change from normal working, and it took a lot of getting used to with all the easy distractions. All my office work and telephone is cloud-based though and has been for many years, so I can access it anywhere, I can just plug my phone into the router at home and any calls that go to the shop I can answer."
Martin also found that furloughing staff and adhering to strict government guidelines was overwhelming at times but that he had coped well.
"Our café staff are unfortunately still furloughed, as the tearooms are completely closed."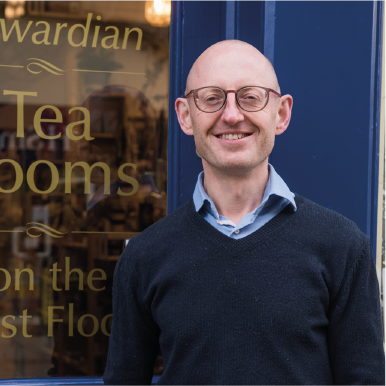 Hargreaves gives em' hell
When speaking about adapting to the new lockdown rules and regulations, Martin said: "I think that what all the lockdowns have emphasized one way or another, is that community is everything."
He added: "Whether community to you means going to the pub, having street parties, helping the vulnerable or visiting your favourite local shop or café. Hargreaves of Buxton has a community feel to it, Buxton is a small town, so the community aspect is really important to us."
Martin explained that he had to be on the ball and think of new, abstract ideas to keep that very same community linked in the face of adversity.
"Our social media followers skyrocketed during lockdown and social media has really been a lifeline for our business, we've also been praised for our innovation.
"On January 2, we set up a one-to-one video calling service, where customers can arrange a video appointment with us. It's like the customer is actually there in the shop with you, two traders' magazines praised us for this."
Customers can opt to video chat using FaceTime, Zoom or Microsoft Meets, Martin can then show them around the shop and have a discussion with them about products, a virtual face to face. This fantastic new addition is just one of the creative options that Hargreaves have launched to link their shop back to the community they value so much.
They also offer a click-and-collect option and free local delivery. Martin said: "I do the local deliveries myself and it just creates that interaction with the customer we've been missing. Even if it's just a socially distanced chat on the doorstep."
So, what does the business look like going forward? "I've always been quite tech-savvy" says Martin "and as for the shop, we've already had an active website, our core values haven't changed but the way we operate has, so it's all about evolving and adapting and looking for the positives."
A blossoming Bionic relationship
With positives in mind, Martin went on to speak fondly about a Bionic visit he remembered and how ideas conjured up at that gathering helped him move forward in these tough times.
Around a year ago, a few members of the Bionic team made the trip to Buxton to meet with Martin and other local business owners to get to know them and show support for SMEs.
Martin said the network group that was set up that day has been immensely useful throughout lockdown "It's been great to talk within that community and fire off questions to other local business owners, with things like the furlough scheme, it's very daunting for small business so it was great to have that platform and to keep in contact."
He went on to say: "Bionic has been amazing, they've always been there for Hargreaves as a business and have been so helpful and supportive."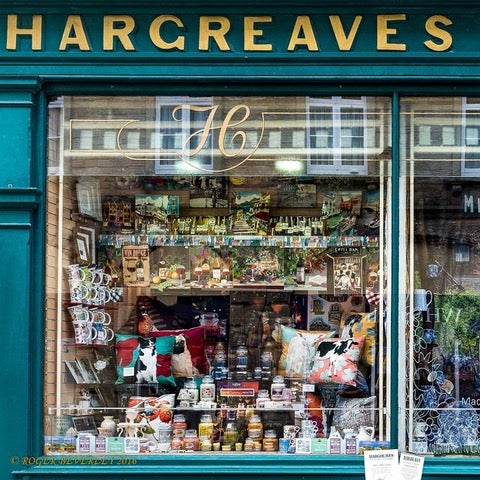 Positively pushing forward
So, have there been any unexpected positives to come from the pandemic? Martin ponders: "There have been a few silver linings, store closure has given me time to re-evaluate and see things from a very different perspective, there's been time to finish projects that were left on our back burner."
Each lockdown has brought fresh struggles, but Hargreaves has beaten them every time. Martin said: "The first lockdown gave me the chance to completely redecorate our café, if we hadn't been forced to close then I don't think this would have been done."
He added: "This current lockdown is giving me time to decorate the shop and completely change the layout, so our customers have something new and fresh to come back to. I do think each lockdown has been completely different though, the first one was in the summer and a lot of people got projects done, this one has been more difficult, it's winter and you can't go anywhere."
So, what is Martin looking forward to as we approach the end of the third lockdown? "I'm looking forward to seeing our customers again. Although we have adapted and evolved, our exchanges on social media aren't the same as face to face."
Overall, Martin stressed the importance of continuing to support your local businesses, he explained: "All small independent businesses are an essential part of our community, and shopping small and local will mean we will continue to be here for a very long time."
How to become a Bionic Business
Being a Bionic business is about more than simply getting a great deal on business energy, business connectivity or business insurance. It's about working more intelligently using technology to empower your people - saving you time, money and increasing productivity.
Thousands of businesses like yours are already working smarter, and we've made it our mission to help others be Bionic. So long as you're a Bionic business, we'll stay in touch to ensure you get the best deals on business essentials, share the latest tech innovations to keep your business ahead of the rest., along with expert advice and stories from customers.
To find out more, enter your postcode and business name at Bionic.co.uk.