Business energy support: help with your business energy bills
With recent economic uncertainty, the cost of living crisis and the Bank of England announcing yet more interest rate rises - it's understandable that UK business owners are worried about increasing business costs and are actively looking for help and support in all areas.

And while we can't help with those interest rate hikes, we can work with suppliers to come up with solutions to help our customers save on energy bills where possible.

We've put together all options available in one place, so you can take the necessary steps to make savings on your energy bills sooner rather than later.

Keep reading to find out what support is currently available.
30-second Summary
Business owners in the UK are facing increasing economic uncertainty and rising costs, so it's understandable many are worried about paying their business energy bills.
This article aims to outline all the support available including government support including the Energy Bills Discount Scheme (EBDS), but also options provided by suppliers like blend and extend contracts.
Other support available includes government 'green incentives' for businesses upgrading to more energy-efficient practices, like the SEG scheme. And if that's not an option, small business loans are worth considering to help keep businesses afloat in the short term.
What help is there for business energy bills?
We know people are looking for help with their business energy bills. There is still government support available for businesses in the form of The Energy Bills Discount Scheme (EBDS), although it is limited.
Suppliers have also been working in the background to develop other solutions with brokers to help their customers, like blend and extend contracts.
Blend and Extend Contracts
A blend and extend contract is a type of business energy contract that works by extending the length of your current contract and blending the rates you're paying in your contract with current market rates, making them lower. This means your monthly payments drop immediately as your rates will be somewhere between your higher contracted rates and today's lower market rates.
This could be a good option for customers who want to benefit from the recent drop in energy rate prices, despite being signed up to a fixed-term contract on higher rates.
How does it work?
The rates you are currently paying in your existing contract are blended with the current market rates to give you a new unit price for the energy you use. This rate will be somewhere between the two prices (not as high as your current rates, but not as low as the current market rates)
You'll start paying this new rate straight away, and it'll be fixed for the length of your extended contract, which is agreed for a certain length of time.
This cuts your energy bills right away and gives price stability for a longer period - giving you peace of mind.
How do I know if a blend and extend contract is right for my business?
Blend and extend contracts are great for some businesses - but aren't suitable in all circumstances. Before you make a choice, carefully consider the advantages and disadvantages of choosing this type of contract:
Pros:
You'll get cheaper rates immediately, meaning you could save on your monthly energy bills straight away.
Your new rates will be locked in for longer, protecting you from any price increases during this period.
Cons:
The rates you're offered are unlikely to be as low as the current market rates. In this case, a blend and extend contract might not be the best option. For example, if your current contract has six months left or less, you might be better offer staying with your existing contract and holding out until it ends. After it does, you can switch suppliers and lock in the market rates at that time.
Your contract will be extended, so you might be with your current supplier longer than you would like.
Still not sure? Read our detailed guide on everything to do with blend and extend contracts, and make an informed decision on whether it's right for you.
How can I get a blend and extend contract?
If you are eligible for a blend and extend contract - your supplier or broker will contact you directly. Check your spam folders for any communications relating to this so you don't miss out.
If you're not sure or can't find any communications, contact your supplier or broker for support.
If you're a Bionic customer, you will receive email communications around this directly from us. If you can't find any correspondence, contact us on 0800 158 5263 between 9am and 5.30pm from Monday to Thursday, or between 9am and 5pm on Friday to discuss your options with us.
Energy Bill Discount Scheme
The Energy Bills Discount Scheme is a government-run scheme that replaced the Energy Bill Relief Scheme on April 1, 2023. It offers a discount on unit rates for those who signed up for fixed-price contracts on or after December 1, 2021, and it will run until March 31, 2024.
How does it work?
Eligible non-domestic will get a discount on business gas and electricity unit rates. The unit rate is measured in kilowatt-hours (kWh) and is the amount your business pays for each unit of energy it uses.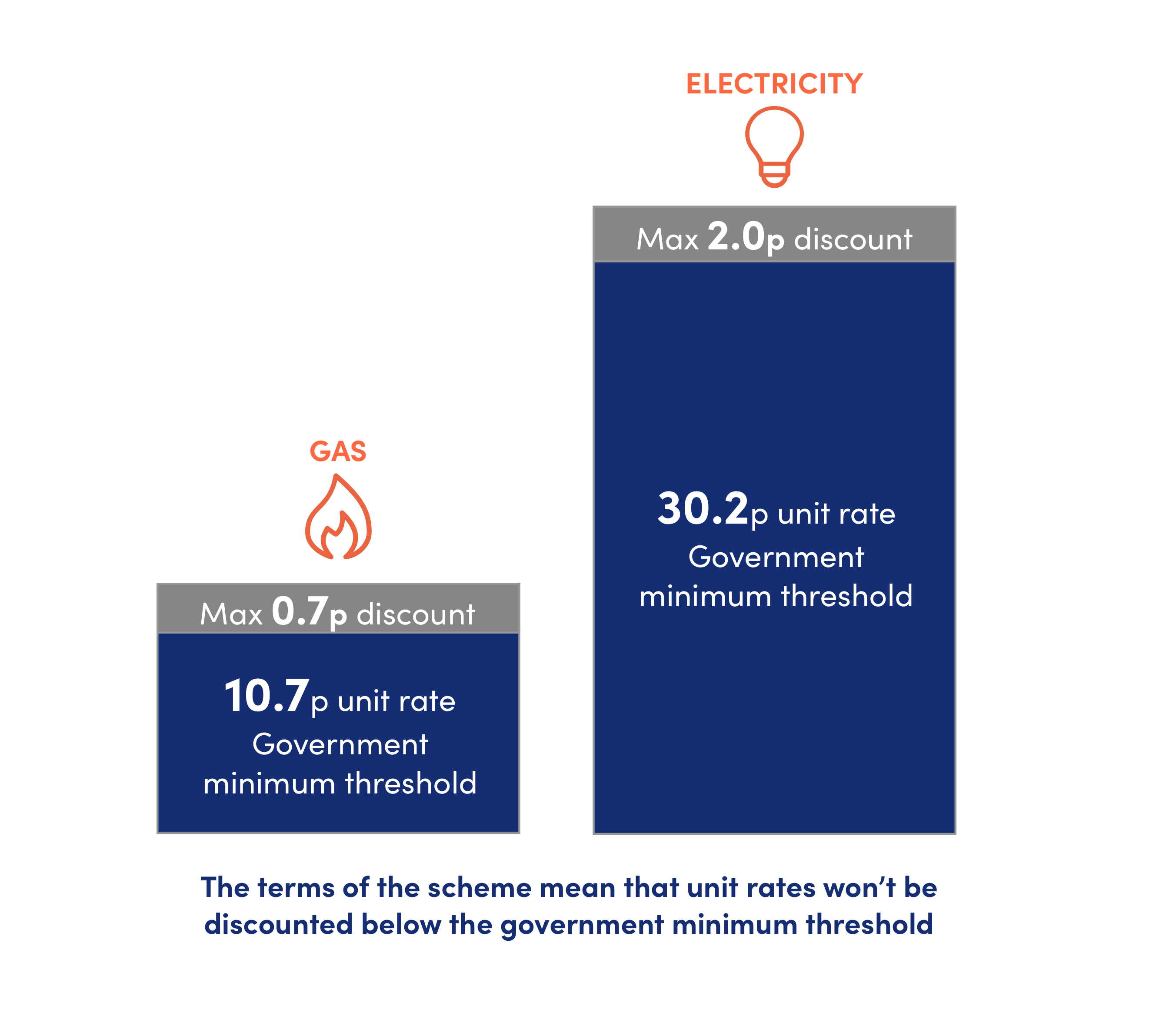 Here is a breakdown of the discounted rates:
Business Gas – A max of £0.00697 (about 0.7p per kWh) off the difference between the wholesale part of the unit rate you pay to your supplier and the price threshold of 10.70p per kWh.
Business Electricity - £0.01961 (about 2.0p per kWh) off the difference between the wholesale part of the unit rate you pay to your supplier and the price threshold of 30.20p per kWh.
The lowest rate you could pay is 10.70p per kWh of gas and 30.20p per kWh of electricity. So, if you are already paying these rates or lower - you won't be eligible for any discount.
Who is eligible for EBDS?
Anyone on a non-domestic energy contract including businesses of all sizes, charities and public sector organisations like schools and care homes.
You must also meet one of these criteria:
Be on an existing fixed-price contract that was agreed on or after December 1, 2021
You're signing a new fixed-price contract
You're on a deemed contract, out of contract or standard variable tariff
Do I need to apply for the Energy Bill Discount Scheme?
Most businesses don't need to apply for this scheme, if you are eligible your supplier will automatically apply the discounted rates and this will last until the scheme ends in March 2024.
But if your business is listed as one of the Energy Trade Intensive Industries, then you will need to apply for the discount. This includes large business energy, see the full list of trades for more details.
Need more information? We've got everything covered in our full guide to the Energy Bills Discount scheme.
Is there specific help for small businesses?
Both the EBDS scheme and blend and extend contracts are for eligible businesses of all sizes, including small businesses and micro businesses. Remember, there is no price cap on business energy and there is no further government help to support small businesses with business energy bills.
But if you think your rates are too high, make sure you check that you're not on a deemed contract or paying out-of-contract rates. If you're unsure what that means, here's a reminder:
Deemed rates – These are the default rates you're put on when your business moves into new premises. If you don't arrange a contract, you'll continue to pay these higher rates.
Out-of-contract rates - This is when your initial contract ends and your supplier hikes rates because they are not bound by the rates in the contract anymore.
In either case, you should be able to save money by switching your business energy supplier.
If you're not sure if you're out of contract, get in touch with us and our energy experts will be able to tell you if you are and find you a new deal.
Is there any other energy support for businesses?
If the government scheme isn't providing enough support and a blend and extend contract is not suitable for you, then you may be able to reduce your energy bills in other ways and get rewarded.
What does that mean in practice?
You may not be able to save directly on your business energy bills, but you may be able to cut down the amount of energy you are using by upgrading to more energy-efficient technologies and equipment. By doing so, you could get incentivised to help towards this.
Grants, funding and schemes are often different per county and allocated by local governments. You can check what funding is available in your area on the government site.
Although it might be the last thing on your mind, investing in green infrastructure now could reduce your energy bills in the future. Did you know if you produce your own green energy and don't use it all - you can also sell it back to the grid with the Smart Export Guarantee?
And if green business practices aren't an option for you, you may be able to get other grants or funding for other business initiatives - like hiring apprentices. See our full guide to grants for small businesses and startups to see exactly what's available if your business can get any other monetary support.
It's also worth making sure your business is as energy efficient as possible. This could involve something as simple as switching off appliances at the wall or installing a smart meter. For an extensive list of tips, check out our quick energy-saving tips guide.
And if you've tried all the money-saving tips and done all you can to cut business costs, why not look at ways to bring in more money? Our guide has loads of useful tips to help you increase revenue at your business.