The Bionic guide to unsecured business loans
Unsecured business loans are just one of the many types of business finance options available in the UK and offer business owners a way to get their hands on the capital they might need to grow their venture, without having to put any of their property or belongings up as security.
This guide will help you understand what an unsecured business loan is and whether it is the right option for you and your business.
What is an unsecured business loan?
An unsecured business loan is a type of loan specifically designed for the needs of business owners, rather than individuals, and what makes them 'unsecured' is that they do not require you to put up company assets (for example property, stock or equipment) as security against the loan.
Instead, lenders may ask for a personal guarantee, meaning you would be liable in a personal capacity if the business you own can't keep up with the repayments. If this happens, this could have a serious impact on your ability to get credit and could lead to financial difficulty.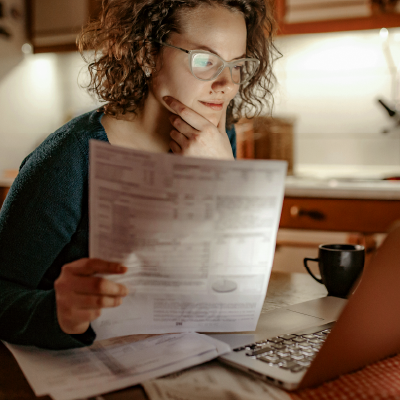 Is a small business loan secured or unsecured?
Small business loans in the UK can be either secured or unsecured. A secured business loan is one that requires a company to put up an asset, such as property, to guarantee the loan. In a worst-case scenario, that means that, if repayments can't be made, you could lose that asset.
An unsecured loan, on the other hand, is one that does not need the borrower to use any physical assets to secure it. In this case, a lender may accept a personal guarantee and a good credit rating as evidence that repayments can be made.
Both types of loans are available to most businesses and they both come with certain advantages and disadvantages. An unsecured loan might be easier to arrange, for example, but you may not be able to borrow as much and the lending criteria might be stricter, or the interest rate higher, to reflect the added risk to the lender.
What can an unsecured business loan be used for?
An unsecured business loan can be used for pretty much anything you need it for. Most businesses use this type of borrowing for relatively major investments, such as buying or expanding premises or developing new products. That said, you can often borrow more with a secured loan.
In some circumstances, you might also find your lender needs you to state exactly what the loan is for before agreeing to lend to you.
UK businesses that are just starting out may also want to consider taking out an unsecured startup business loan, which can be used to cover some of the costs associated with getting a business up and running.
Is your business eligible for an unsecured business loan in the UK?
Whether you qualify for an unsecured business loan depends on how long your business has been operating and how much money it makes. These two factors will also affect the business loan rates that lenders will offer you.
For example, to qualify for an unsecured startup business loan in the UK, your business must have been trading for at least four months and have an annual turnover of at least £10,000.
Other lenders may have different requirements, for example, that you have been trading for at least a year or have a larger turnover.
Can you get an unsecured business loan with poor credit?
The short answer is that, yes, you can get an unsecured business loan with poor credit. But a poor credit history is often a stumbling block when applying for any type of business finance. It can even affect the type of business energy deal you're eligible for. Find out more at our guide - Does your business credit score affect your energy deal?
Some UK lenders will require a certain minimum credit score before offering an unsecured small business loan. Others may offer a loan, but the rate of interest could be much higher and you may only be able to borrow a smaller amount.
As a result, some businesses - especially those with very limited or poor credit history - trying to work out how to get a low-interest business loan end up concluding they are better off improving their credit score or using assets to take out a secured loan than getting an unsecured loan and paying much higher business loan rates.
How do unsecured business loans work?
Unsecured business loans in the UK work much like any other type of small business loan. A lender - typically a bank - will send the amount you have agreed to borrow to your business in a single payment. Repayments are then made monthly, over an agreed time period and with an agreed interest rate.
Time periods for unsecured business loans tend to range from just a few months up to five years, depending on the lender.
What makes unsecured business loans different from other types of UK small business loans is that lenders are likely to ask for a personal guarantee. This is an assurance that one or more directors will pay back the loan if the company can't make repayments.
What is a personal guarantee on an unsecured business loan?
A personal guarantee on an unsecured business loan is a written assurance that you will repay the loan your business can't keep up with the repayments.
Although no security is put up against an unsecured loan, many lenders need a written guarantee that the business owner or director will take responsibility for repayments of a lease, loan or other debt if the business is unable to do so.
As the business owner or director named in the personal guarantee, you will be held liable for the debt if the business defaults. If you then default on the debt, recovery measures will be taken out by the lender. This could include legal action and even bankruptcy if you're unable to pay.
Are unsecured business loans available with no personal guarantee?
Not all lenders will need you to provide a personal guarantee, but this will depend upon things like your current circumstances as well as the amount you want to borrow and for how long. As the lender is taking on more risk by agreeing to lend without a personal guarantee, you might find that interest rates are higher and loan amounts smaller if you don't offer this assurance.
What information is needed to apply for an unsecured business loan?
It's important to make sure you have all the relevant documents to hand before applying for any type of business finance. This is because lenders need proof that you are who you say you are and evidence that your business will be able to make the necessary repayments.
Have the following documents ready to submit as part of any business loan application:
The amount you want to borrow
Name and registered office of your business
Type of business entity - Sole trader, Partnership, Limited liability partnership, or Limited liability company
Number of years trading
Records of accounts
Names and addresses of directors for last three years, if applicable
You'll also need to have personal information to hand, including proof of address and identity. In some instances, you might also be asked what you need the loan for.
What are the pros and cons of getting an unsecured business loan?
The major advantage of getting an unsecured business loan for a UK SME is that you are not required to hold valuable assets to take one out, so it is the perfect type of lending for a business just starting out, as long as you qualify.
They are also relatively easy to arrange and the funds can be in your business's account within days. Furthermore, because valuing assets for a secured loan can be quite expensive, they have fewer upfront costs than other types of finance.
The main disadvantage of an unsecured business loan is the price. If you are looking for a low-interest loan, then these may not be for you, as banks and other lenders tend to charge a premium for offering unsecured loans.
The amount you can borrow on an unsecured basis may also be less than if you can offer assets as security. Therefore, unsecured business loans may not be the right choice if you are looking to make a major investment in your business.
What are the alternatives to unsecured business loans?
If you're struggling to get credit or finding that an unsecured business loan isn't the right option for you, there are a number of alternative financing options you could consider.
For startups and new businesses, in particular, unsecured business loans may be hard to access. Instead, new businesses might prefer to use crowdfunding to raise money or a business credit card to cover ongoing expenses. Another option is the UK government's start-up business loans scheme for new businesses, which offers financial assistance to new SMEs.
If you're a more established business, you could consider other funding streams, such as a bridging loan, asset finance or invoice financing.
How to find a business loan with Bionic
Whatever type of business you run, Bionic can help you find the right financing option.
If a small business loan is what you're after, our team of experts will use our smart technology to find one that fits the unique needs of your business. We will handle the paperwork too, leaving you to get on with running your business.
All we need from you to get started is your business name and postcode.