referral schemes
What are refer-a-friend schemes? How to easily win more customers
Marketing your business is one of the biggest — and best — ways you can get your brand out there. But, with so many different ways to reward customers for their loyalty or for simply buying your product or service, it's hard to know which can be the best one to choose — which is where referral schemes come in.
To help you properly set up a refer-a-friend scheme, our handy guide is here to tell you everything you need to know to ensure that your business marketing strategy succeeds with Bionic.
What is a refer-a-friend scheme?
A refer-a-friend scheme — sometimes known as a referral program — is a marketing tactic that helps encourage existing customers to share a brand with people they know. In exchange for this promotion, a business's referral program offers customers rewards mainly in the form of gift cards, points, or discounts.
Whether you're a small company just starting out or a large business with an already established name, refer-a-friend schemes help businesses pinpoint their brand fans as well as keep track of where new customers are coming from.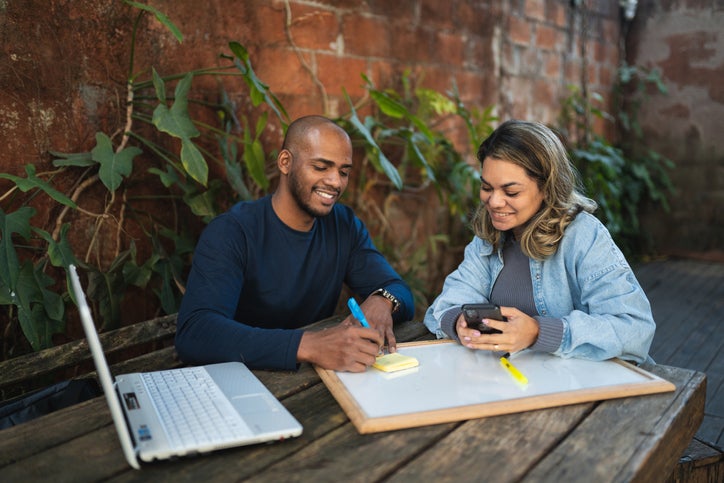 What are the benefits of a referral scheme?
No matter the size of your company, a referral scheme can be a big benefit that helps attract new customers. The four main reasons businesses introduce a referral scheme are as follows.
Attracts new customers at a low cost
Referral schemes encourage current, happy customers to help spread the word about your business with the incentive of a reward.
The cost of a referral reward is fixed per referral, with the motivation being paid for by performance. This results in a much lower customer acquisition cost (CAC) compared to other types of advertising and marketing that a business can utilise.
2. Brings in high-quality customers
With a refer-a-friend scheme, you don't have to throw more money into getting in front of new customers and, subsequently, provide a service or product that wins their trust. This is because their friend, family member, or colleague has already established that what you sell is suited to their needs.
It's been proven that referred customers are more likely to:
Make repeat purchases
Spend more
Refer someone else to the business
Increases brand awareness
Referral marketing helps customers understand the story behind your brand, which in turn helps to increase your business's reputation.
If you provide good customer service, speedy delivery, and a great product or service, it's more likely that customers will be willing to recommend and shout about your brand. Companies that have a positive influence and strong voice are considered to be more favourable amongst existing and potential customers.
3. Proven track record of success
Some of the most popular businesses — like Dropbox and PayPal — have seen success thanks to implementing a working referral scheme that engages with customers.
How does a refer-a-friend scheme work?
Proven to be one of the most valuable means of marketing, refer-a-friend schemes are essentially people purchasing your products based on someone else's opinion or influence.
Some programs work by inviting current customers to become 'brand ambassadors', which produces a unique code or link to share with their network — including friends, family, followers, and colleagues. The program software then tracks the activity of a customer's unique code or link and rewards them each time it's used.
How do I create a refer-a-friend program?
Finding a referral scheme that suits your business can sometimes be a challenge, but it can be even harder when you don't know where to start. To create your own refer-a-friend program, there are a few simple steps you can do to help get it off the ground.
1. Design
The look and feel of your campaign can say a lot about your business — after all this might be the first time someone comes across your company.
So, there are a few essential features that are great to implement into your design process.
2. Use a catchy headline
The most important thing is grabbing the customer's attention. Big, bold, and snappy headlines need to turn a customer's head and give them a reason to want to promote your business. Essentially, a good headline should provide the gist of the offer in a single sentence, for example:
"Refer a friend and receive £X"
"Give £X to get £X"
"Share with a friend and get X"
"Your friend's first purchase gets you X% off"
You should also make sure that it shares what the referral program is about and the benefits of joining.
3. Give your referral message meaning
Having the right referral message is also a very important step in the process. A referral message is a pre-filled, ready-to-send message template that makes it quick and simple for customers to send their referrals forward. However, it is a good idea to make these templates customisable so customers can edit the existing message or write a few lines of their own.
It's best to include:
Benefits — Explain what the referral benefits are at the very start of the message.
Call to action (CTA) — Give a clear call to action with the next steps on how the potential customer can receive the benefit.
Personalised features — Make the content engaging. Messages like "Hey, you. We thought you'd love X off your first purchase" helps to break that formal barrier and show you're an engaging brand.
4. Determine who will get the rewards
When it comes to dishing out your rewards scheme, you'll have to consider whether you're going to make it a one-sided or two-sided incentive.
5. One-sided incentive
A one-sided incentive rewards either the existing customer or the referred customer. Essentially, if you choose to reward the referrer it increases their motivation to share, but leaves nothing to benefit for the person it's being sent to. If you choose to reward the referee, there's a higher chance it will lead to a new sale, but you might not see as many referrals.
6. Two-sided incentive
A two-sided incentive is a win-win for both parties. This type of incentive usually sees the highest engagement rate as both the referrer and the referee are rewarded.
7. Types of rewards
As every business is different, it's obvious that each refer-a-friend scheme will be too. The best thing you can do for your customers is to work out which rewards will work best for them and which they'll value most.
There is a wide range of incentives to choose from, but most notably, companies usually opt for one of the following:
Discount codes — Typically the most common type of incentive, discount codes are usually in the form of either "receive X% off" or "receive £X off".
Store credit or loyalty points — This type of reward works as a "refer X amount of people and receive X amount of points".
Free products — Quite self-explanatory, but referring a friend means the customer will receive a free product(s).
Gift cards — Either internal or external gift cards.
Monetary rewards are naturally the most eye-catching incentive that a company can offer. Typically in the fine print of the reward, businesses will state that the customer has to spend X amount of money to be able to use their incentive.
How to launch a successful refer-a-friend scheme
Implementing your own referral scheme can seem like a daunting task, but the process isn't as difficult as it seems.
1. Put the right foundations in place
You have to remember that people will only share and shout about your business if they think the service is worth it. Before you do anything else, look at your brand and website from a customer perspective and ask yourself whether this looks like something worth sharing. If not, it might be worth making a few changes before you implement the refer-a-friend scheme properly.
After all, if the experience isn't up to scratch, how can you expect customers to participate?
2. Ensure customers know about the scheme
As with most offers, if the customer isn't aware it exists then how are they supposed to engage with it? Ensuring your customers are aware of the scheme is integral in its success, so make sure it's visible on all platforms. You can implement things like dashboard widgets or simply make sure the offer is sitting somewhere prominent on the website with a clear link and CTA if necessary.
3. Make it easy for customers to refer
Don't make your customer jump through hoops to be able to refer — make the process as simple as possible. As mentioned before, pre-populated messages make it easy for customers to refer a friend at the click of a button without having to do any of the heavy lifting.
4. Make the brand visually shareable
With the rise of social media — specifically sites like Instagram and TikTok — it's never been easier for people to shout about a brand, especially if they've received your product or service. That's why it's important to make sure that your brand is visually appealing and shareable where possible.
Opt for attractive packaging and make the unboxing experience for customers one to remember.
What are the best referral marketing tools?
Referral marketing tools can be one of your greatest assets to help streamline the process of referrals and make it easier to track where each link has come from.
Here are some of the best marketing tools you can use for your business.
1. Referral Factory
Aimed toward helping you get more referred customers, Referral Factory is an incredibly easy marketing solution that does all of the hard work for you.
Not only does it state that you can "build your own referral program in under 5 minutes", but it also gives you access to 1,000 pre-built program templates that you can use as your own. So, you can either use a referral program from one of their templates or build your own referral program from the ground up.
Their referral software also comes with a built-in 'page builder' so you can build your own page to capture referrals without the need for help from developers — which can be a big bonus for small businesses.
2. Friendbuy
Friendbuy aims to help launch your referral program quickly and easily by using lightweight code snippets to get the program live.
It automates fulfilment for most types of rewards including:
Coupon codes
Loyalty points
Gifts cards
Account credit
It also has the option to activate referrals anywhere on your site or in your mobile app.
3. InviteReferrals
A simple yet powerful tool, InviteReferrals is a program software that helps to grow your business. It's designed for customers to use the InviteReferrals app and then invite their friends through the referral program. Once the friend has downloaded the app, InviteReferrals then sends a coupon to the referrer.
4. Refersion
Although it mainly works as an affiliate marketing site, Refersion also has features for referral and influencer marketing. You can easily integrate it for eCommerce with special apps for Shopify, BigCommerce, Magento, and more, or by using the custom integration with Refersion's API.
Are there any other types of referral channels?
There are so many ways for a brand to push its name out there aside from refer-a-friend programs. Here are some of the most common referral channels:
News publications — News publications are a great way to get your brand out to a wider audience.
Customer reviews — Review sites like Trustpilot and Feefo are great for customers to voice their opinion on your brand. You can also implement a snippets feature on your website to pull through expert reviews from Trustpilot.
Influencers — With the rise of social media, there's never been a better time to send products to influencers. Whether this is gifted or paid, influencers are a great way to get your name out there to a potentially substantial base of people who might not have heard of your brand before. (Link to upcoming Influencer Marketing guide)
How to cut your business costs
Setting up your referral scheme isn't always easy, but it can be worth the effort. From refer-a-friend schemes to word-of-mouth marketing, your company is sure to reap the benefits once a proper outline has been put in place.
It's the same with business essentials. Sorting them can be a hassle, but making sure you're on the right deal for business energy, phone and broadband can be a quick way to save money. The good news is, the team at Bionic can save you the time and hassle of comparing business essentials and switching.
We can also help with business insurance and business finance. Find out more at bionic.co.uk.