how to market your business and find the right buyer
How to market your business and find the right buyer 
Selling a company, like any other business decision, takes a lot of careful planning and research. Whether you've built a small business from the ground up or have recently joined the company to help it flourish, you're sure to have invested time and energy into making sure it's successful.
To avoid letting all your hard work go to waste, choosing the best person to take over your business is crucial. But how can you be sure you're selling your livelihood to the right buyer?
To help avoid any disappointment, we've created a handy guide to attracting the right buyer and finding the best prospects to ensure the future success of your business.
What is a buyer for a business?
A buyer for a business is anyone interested in purchasing a company from its existing owner. As well as taking over the rights to own the company, a buyer would also be responsible for picking up the running of the business.
To be considered a buyer, it's not essential to have a specific set of achievements or qualifications. Having experience in finance, management, or even just a really solid business plan could mean that you're a suitable buyer for a company. Because of this, potential buyers can be:
Employees within the company
Competitors
Suppliers
Customers
Investor groups
Family or friends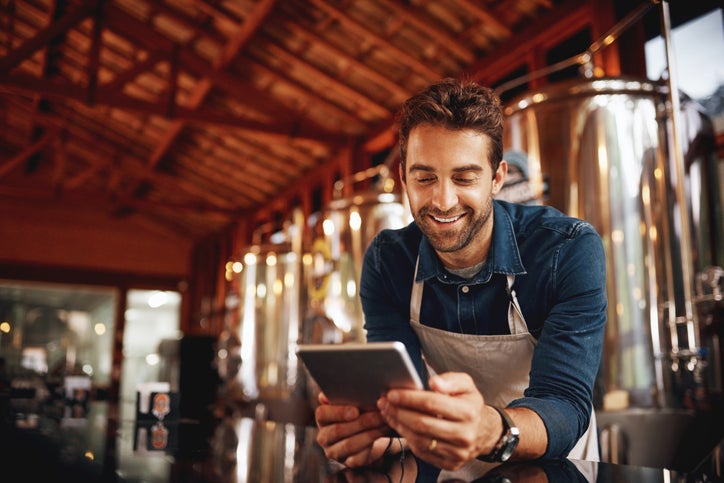 What type of buyer do you want for your business?
When choosing a buyer, you want to be sure that a potential candidate has the best intentions for the long-term success of your business.
Not everyone will have the same reasons to buy; some may see the exchange as a way to eliminate competition, while others could be looking for a way to bring in income. This is why it's important to understand the different groups of buyers and what their backgrounds are. In turn, this will help you to work out what their goals are once they've purchased your company.
There are three main types of buyers:
Strategic buyers — Those that fall into this group will generally be the most willing to pay more for a business, and may often own their own. They get their name from the fact that buying another company is a strategic move that can help to improve the business of their existing one.
Financial buyers — Financial buyers purchase businesses to improve and then sell for a higher price in order to make a profit.
Operator buyers — Operator buyers want to purchase a company so that they can secure a specific job role at the business, or are looking to use their newly-acquired business as their method of income. This type of buyer is often the least experienced in owning and running a business and tends to be made up of first-time buyers.
Who might buy your company?
Understanding the difference between strategic, financial, and operator buyers will give you an initial idea of what a prospective buyer's reasons for purchasing are. But what do these types of buyers look like day-to-day? Typically these are made up of:
Competitors — Competitors mainly make up the strategic buyer category. This is because they often want to own a business so that they can reduce their competition, gain access to new markets, or absorb extra resources.
Suppliers — Suppliers make up the other portion of strategic buyers. They will have built up a rapport with the business that they supply to and will have a good understanding of how the company operates. Suppliers may want to buy a business so that they can extend their offering and services.
Investor groups — Investor groups fall into the financial buyers category. They may include private equity firms — investment management companies that provide financial support to private companies — and family offices. Family offices are private companies that manage the wealth of families who have a substantial amount of money in investable assets.
Family and friends — Family and friends of the owner of an existing business tend to buy so that they can take over the running of the business. While they may have the least experience in running a company, sellers will already have a good level of trust in them to maintain the business's success.
What qualities should you look for in a good buyer?
When it comes to finding a good buyer for your business, there are certain criteria that you'll want to make sure they meet. Knowing these qualities and applying them to prospective buyers can help you to make the best decision for your company.
A few things you should consider are:
1.Do they have a successful buying history?
An applicant with a proven track record of buying businesses could be a great candidate, so requesting information or conducting your own research about their reputation in the industry is a good place to start.
But, not all potential buyers will have previously bought a business before. In this case, you should inquire about any relevant qualifications, licenses, or certifications they may hold. These could prove that they are capable of taking over your business.
2. Do they have enough capital for a down payment?
Finding out a potential buyer's financial situation is a crucial step that should be taken early on in the negotiation process. Learning that a prospect doesn't have enough money for the purchase at a later stage could mean that you've wasted your time with a candidate who, realistically, can't afford to buy your business.
You should research whether they have enough capital for a down payment, and if not, how they plan to finance the rest of the cost. On top of this, it's recommended to request a Personal Financial Statement — a document where they must declare their existing assets and liabilities so that you can verify if they have the required capital by selling their assets.
Along with the cost of the down payment, a serious buyer should also have extra funds to invest in the company in the future.
3. Do they understand the acquisition process?
Someone who is genuinely interested in purchasing your business will have an adequate understanding of the acquisition process. They should be familiar with the various factors, time, process, and stages that go into acquiring a business.
A serious buyer should make the process a smooth transaction, whereas a casual buyer's lack of awareness may mean the exchange feels more like you're coaching them through it. This is a red flag that a casual buyer isn't suitable to buy your business.
4. Are they asking the right questions?
Asking questions should generally be a positive sign that someone is genuinely interested in buying — but only if they're asking the right ones.
A prospective buyer who has a long list of generic questions, like what your business trades in and who its target demographic is, could be a sign that they haven't done any thorough research. On the other hand, serious buyers should already understand the basics. They should ask specific and detailed questions that relate directly to your business. Some questions that a qualified buyer may ask are:
The biggest challenges your business faces / has faced in the past
Enquiring into employee history
The reason you want to sell
What your supplier relationship is like
Your company's performance history
Who your business's key competitors are
While it's good to answer their questions, you should also be cautious about their intentions. It's possible that your competitors could be posing as potential buyers to find out sensitive information about your business for their own benefit.
It's why you should also ask a buyer to sign a non-disclosure agreement, or NDA, before delving into the details. The NDA is a legally binding contract that ensures that anyone who signs it cannot disclose any of the information revealed to them.
Where to find buyers for your business
Understanding your buyers is a huge part of selling your business, but before you can start to narrow down your prospects, you need to find them first.
Without knowing where to look, you might find it difficult to market your business. Thankfully, there are a few places where you can start to spread the word.
Networking
As a business owner, it's likely that you've built up a network of contacts throughout your years of trading. Specialists within your business circle might include your accountant, business consultant, lawyers and solicitors, financial advisor, or broker.
As well as them being able to help you refine your sale approach, they will also have useful contacts outside of your network. If you can get them to leverage their networks to aid you in selling your business, they could put you in contact with an even greater catchment of potential buyers.
Online listings
Hiring a business broker to help you find a buyer can be beneficial for first-time sellers who want to be sure that they're in expert hands — but brokers can be costly. Instead, using online listings can be a great way to market your business.
There are several online marketplaces for selling businesses that you can use to cut out the middleman. They usually operate in a similar way: you create your listing, you'll receive enquiries from interested buyers, and then you can be put in direct contact with them for further negotiation.
However, it's important to note that many listing sites may charge you a registration fee to use their service and post listings.
Industry organisations
Industry trade groups, or sector associations, are another natural starting point for advertising your business. These are groups formed up of companies within a common sector or industry, and they aim to represent their companies and provide their services as a whole.
Some industry organisations will have newsletters or online publications where you can post a listing or promote that you're looking for a buyer. The benefit to going down this route is that you can find an organisation that's relevant to your business.
How to attract the best buyer for your business
As a seller, it can be a daunting task to put your business up for sale as it's never certain how much interest you'll receive. But in reality, your business could be a big asset that many buyers are willing to compete to buy.
There are several key steps you should take to make sure that you find the best buyer for your business.
Highlight your company's strengths
To receive a fair deal and get the best price for your business, you'll need to put in the work to make sure that your company is in a strong position and looks as attractive as possible.
You should already be aware of your company's strengths, so your next step will be presenting these to the right people. This is where knowing your buyer will come in handy, as it could also help your case if you know what they're looking for. That way, you can emphasise the aspects of your business that you know a potential buyer is already interested in to try and persuade them to buy.
As a rule of thumb, you should generally try to tailor the pitch of your business's strengths to each buyer that you're negotiating with.
To find out more about preparing your business for sale, take a look at our guide to handing over a business to new owners.
Know what you're looking for in a buyer
As a seller, you will have a set of requirements when it comes to handing over your business. These could relate to the welfare of your employees, maintaining your existing branding, and more.
Your buyer depends on this list of criteria and they should be willing to meet these demands. If they don't, you probably don't want to waste your time moving forward with someone who isn't suited to your proposition.
Don't wait for a buyer to come to you
Selling a business is not the right time to take a passive approach. You can't expect potential buyers to come to you without putting in the work to make sure that they're what you're looking for.
Being proactive by marketing your business to the right places and putting it in front of the right people will help you find someone that matches the qualities that you're looking for in a buyer.
It's also worth noting that selling your business directly to a buyer, rather than through a competitive sale process, could mean you receive less for your business. Proprietary deals like this tend to result in a sale price well below market value.
Use detailed marketing to tell your business's story
Buyers' perceptions of your business can be easily influenced. This might be from first impressions, external factors, or research. And if they find something that gives them a negative judgement of your company, it can be costly to you.
Therefore, you must control the marketing materials you use to introduce them to your business. Be aware of the story that you're telling them, considering how it could be interpreted to a buyer.
Talk to multiple buyers at a time
Think back to the last time you took out business insurance. You probably didn't purchase the first quote that you saw, and it's the same with selling your business. It's unlikely that you'll sell to the first buyer you speak to as you'll naturally want to explore other options.
Isolating a seller is within a buyer's best interests as it can reduce competition, giving them a higher chance of being the sole prospect. But from a seller perspective, you want to engage with as many buyers as possible to increase the likelihood of finding the right one.
Do I need to have my business valued?
While it's not mandatory to have your business valued, it's a sensible way to identify the true value of your business and establish a reasonable selling price.
You can do this by hiring a business valuation consultant who will carefully assess your company's worth through a standardised valuation process. The assessment will lay the groundwork for how much you want to advertise your business for and you can use it as a benchmark for offers from buyers.
Before your valuation, you will be asked to produce your business's financial history for evaluation. To find out more about the process, take a look at our guide to valuing a business.
Do I need the help of a business broker?
Hiring a business broker or intermediary can make it a lot easier for you to sell your business, but that's not always the case.
The aim of a business broker is to offer advice and put you in touch with potential buyers, meaning that they pick up a lot of the work that you would otherwise have to do yourself. While it can save you a lot of time, and they'll have the experience to help you find the best deal, they can be costly. Broker fees can add up and they might even outweigh the benefits of having one.
Brokers are best suited for any owners who:
Are first-time sellers
Are selling a business into a cold market
Are struggling to market their business
Don't have a big network or a lot of connections
Have the funds to afford the broker fees
Selling your business
The thought of selling your business can feel overwhelming, but being prepared and understanding the process can help you to find the best buyer that matches your requirements. From understanding what makes a good buyer to knowing the steps to find them, these steps are essential for the future success of your business.
For more business finance help, visit our business guides page. Or, speak to our Bionic team today to learn more about business loans, mortgages, and asset finance. We can also help with other business essentials, including business energy, insurance, phone and broadband.