how to choose business phone system
How To Easily Choose A Business Phone System
Making sure that your business is connected is one of the most important aspects of keeping your company afloat. And, the right telephone system can be the difference between your business keeping in touch or losing its voice.
But, how do you choose the right phone system to suit all of your business's needs?
With this handy Bionic guide, get your small business off the ground with our easy guide to the best phone systems.
What is a business phone system and how does it work?
A business telephone system is a piece of software — if it's integrated into a computer or laptop — or hardware that controls a business's incoming and outgoing calls. Many telephone systems for business use extension numbers that are then assigned to each member of staff with their own dial code. From this, they'll be able to use its features like call handling, transfers, voicemail, conference calling and more.
Despite the growth that social media and email have had, many customers and clients still prefer to reach out directly over the phone to receive an instant answer.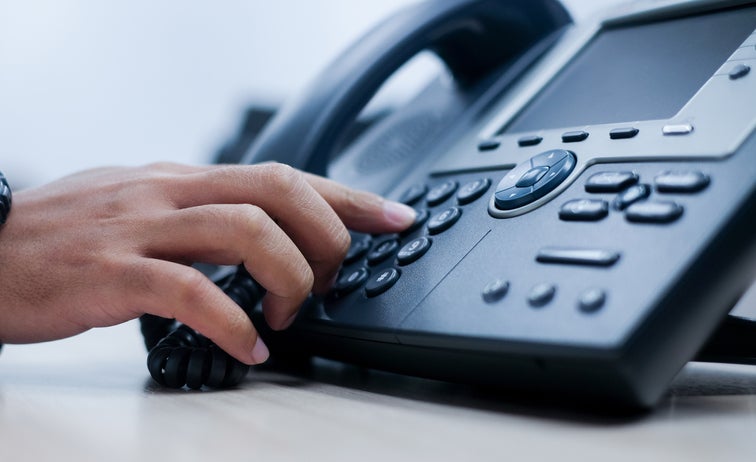 What are the different types of business telephone systems?
There are several different types of phone systems, each with its own advantages and disadvantages. But, the main three types of telephone systems that small businesses use are:
1. Cloud-based
Sometimes referred to as "fully hosted" or "cloud private branch exchange systems (PBXs)", cloud-based systems use apps or internet browsers to make and take incoming calls over the internet. These phone systems are often the most flexible models as they have low rollout and maintenance costs, as well as little-to-no on-site hardware required.
2. On-premise PBX telephone system
An on-premise telephone system is the most traditional phone solution. These systems use physical hardware that's usually located somewhere on your business premises, but typically in an office.
These systems then take incoming telephone lines and connect them with employees. Systems like these usually incur expensive up-front costs and come with regular maintenance charges — something that can be quite hefty for a small business.
3. Self-hosted telephone systems
A self-hosted system is a combination of fully cloud-based and on-premise solutions. These telephone systems are typically software-based and are hosted on a server or dedicated PC located in your office.
The rollout costs of these systems can be expensive, so they work better with larger-scale businesses.
What is VoIP?
VoIP — also known as Voice over Internet Protocol — is a cloud-based phone system that's hosted at an off-site data centre rather than in your office. VoIP systems allow businesses to make voice phone calls through an internet connection, as well as offering the flexibility to take calls from your desk phone, computer or mobile.
Business VoIP packages can help cut the costs of your bills and future-proof your connectivity, so check out the VoIP deals that Bionic can offer you today.
What is SIP trunking?
SIP — or Session Initiation Protocol — trunking works pretty much in the same way that VoIP does, allowing you to make calls over an internet connection instead of a traditional landline.
However, SIP trunking's main difference is that it lets you make phone calls using a data connection, meaning it can handle video calling and data messaging, not just voice calling.
Find out more about whether SIP trunking is right for your business.
How to select the right phone system for your business
If you're considering a new business phone system, or want to upgrade your existing one, there are a few steps that can help you to select the right one for you.
1. Identify what works and what doesn't
If you're an established business with an existing phone system, it's best to list what isn't working with your setup. Having a clear description of your current issues can make it a lot easier when it comes to finding the right solution.
No matter the size of your small business, cost can be a common issue that can be a make or break point. If you're moving offices or your business is growing rapidly, think about how this can affect your current setup — perhaps it isn't fit for purpose anymore?
Before you scrap your current system, make sure to take note of its size, how many active users it has and how each person uses the system.
2. Test out your internet connection
If you're opting for an on-premise PBX or a cloud-based system, these will require a secure and fast connection to function properly. If your connection is weak, you may find that your calls drop in and out, are glitchy and run intermittently.
The best way to check your connection is to use a speed checker that will show you your upload and download speeds. It's best to check these at different times of the day so you can be provided with a realistic speed average.
3. Speak to staff
Before you find a new supplier, make sure that you've had a discussion with your staff to understand any requirements they might have and any issues they're facing. It's best to keep them in the loop throughout the process, as you need to make sure that these systems are accessible to all employees.
Consider how your business uses its phone systems
The way your business uses its phone system can have a big impact on its next moves. Does your team have a high number of calls or does the phone rarely ever ring? Do you make regular international calls? These are the questions you'll have to ask yourself when you're considering how your staff actually use the phones.
What does my business need to set up a phone system?
Whether you're setting up a new system for your small business or simply upgrading your existing one, it can be a daunting task. And, while every small business is different, the basic equipment you'll need won't differ too much.
Deskphones — Whether you need new phones or have existing ones.
Cabling or WiFi capabilities — To be able to connect devices to your system.
Fibre broadband connection — Or a connection that would be strong enough to sustain SIP trunks.
It's also good to set out a list of requirements that will help you to better understand the system that you need.
How much does a telephone system cost?
As with most systems, it's hard to give an accurate estimate of cost as there are so many different factors that can impact how much you can spend on a telephone system. Factors like how many users you need and the rates that your provider is offering can all influence how you'll be spending.
You're more likely to save money if you choose a VoIP system as they rely on software that runs on a server instead of on an actual switchboard.
What are the benefits of a business phone system?
When you have the right telephone system in place, it can do wonders for your small business. Some of its main benefits include:
1. Increased revenue
With a proper and professional telephone system in place, you can really level up your team and in turn, your business. From inner-team meetings to collaboration and working from home, these small optimisations can help your team reach people quicker, push sales over the line and cut down on wasted time.
2. Offer flexible working
With flexible and remote working becoming more of the norm, you want to make sure that you keep your team ahead of the curve.
With newer and more efficient cloud-based and VoIP systems, your small business can easily provide staff with a reliable platform to work from both in the office and from home. With apps that are available for Macs, PCs and tablets, your team will be able to make and receive calls from anywhere.
3. Improved over-the-phone customer service
Giving customers the best service over the phone is vital and can really be the driving force behind your business staying afloat.
Even if you're simply having a check-in with your customers, you want to make sure that they're experiencing a reliable service — the last thing you want is a call dropping in and out.
You can level up your business further with seamless transfers, effortless queuing processes and cutting down on wait times.
Helping your business grow with Bionic
No matter what telephone system you need, it's so important that you can take your business to the next level. While it can sometimes feel overwhelming knowing which system to choose — with everything from VoIP systems to cloud-based services and more — it's key to keeping your customers and clients happy.
Get in touch with the Bionic team to discuss your needs or get more information on business phone lines and business VoIP today.