how to manage stock
Inventory management 101: How to manage stock as a small business
No matter whether you're selling raw materials, parts or finished goods, an excellent stock management strategy can be the difference between your business running smoothly or barely making it off the ground.
But, how can you effectively manage stock as a small business?
From the benefits of inventory management to the step-by-step process, learn all about managing stock for your small business with this guide from Bionic.
What is inventory management?
Put simply, inventory management is the process of planning, buying, storing and selling stock. With an inventory system, you'll be able to track stock from the point of purchase and make sure that the right type and amount of it are available without holding any excess.
When inventory management is done correctly, the process transforms from a challenging, manual procedure, to a core part of your business strategy. Plus, you'll be able to save time and money.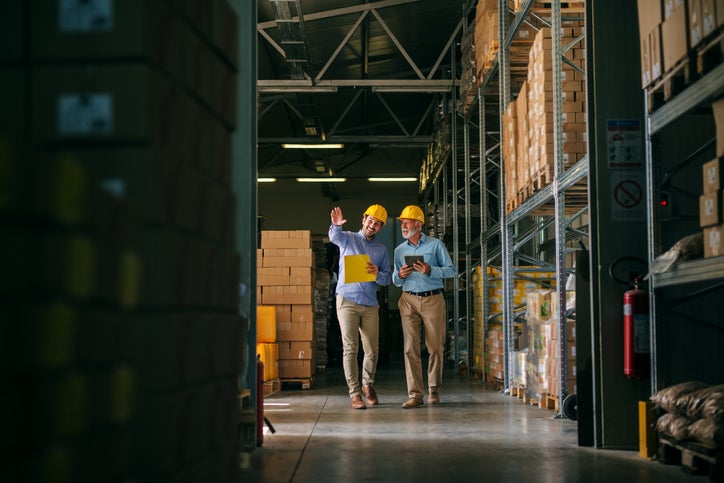 What are the different types of inventory?
Typically, inventory can be divided into four categories: raw materials, works-in-process, maintenance, repair, and operations (MRO) goods and finished goods.
Raw materials
These are any items or materials that are used to turn your inventory into a finished product. These items are usually bits and pieces of component parts that have either not yet been used in the work-in-process or the finished goods.
There are two types of raw materials:
Direct materials - used directly in the finished goods.
Indirect materials - Either a part of the overhead of factory costs.
Work-in-process (WIP)
Any inventory that is being worked on is a work-in-process, or WIP for short. From a cost perspective, WIP refers to unfinished items that are moving through production but aren't yet ready for sale.
For example, in a pottery business, this might mean that items are drying and then being fired in the kiln.
Maintenance, repair and operations (MRO) goods
MRO inventory is all about the small details. Here, these items are usually used to aid the production process but aren't a part of the final product.
For example, if you sell candles and use disposable moulds.
Depending on the specifics of the business and the products you sell, this inventory may be in storage or with a supplier.
Finished goods
Probably the most straightforward process of all, finished goods are products that have completed the production process and are ready to be sold.
Why is inventory management important for a small business?
Inventory management allows you to keep track of your stock levels across your warehouse and through all stages of the inventory cycle.
It can also help prevent over and under stocking by forecasting demand based on consumption data, as well as allowing you to process orders more efficiently and quickly.
How do you manage inventory effectively?
When it comes to managing your inventory, there are several steps you'll have to take to increase its profitability and cash flow management.
1. Prioritise
Opting to categorise your inventory can give you an insight into any priority groups for items you need to order more of and which groups are important but could be costing the business.
It's best to break these out into Group A, Group B, Group C, etc and see where you could make any changes.
2. Analyse your suppliers
If you have an unreliable supplier — say they're late on their deliveries or short with orders — this can cause havoc on your inventory and its systems.
As soon as an issue arises, discuss it with the supplier and come to a solution. In some cases, you may have to be prepared to switch suppliers or deal with uncertain stock levels.
3. Track all product information
Making sure that you keep track of all stock and its product information is crucial for any items in your inventory. This information should include:
SKUS
Barcode data
Country of origins
Supplier information
Lot numbers
You can also take into account things like seasonality or scarcity, which may change the way you track your stock.
4. Audit your inventory
Once a year, many businesses like to do a comprehensive count of all their stock to check where everything is up to. It may be beneficial for other businesses — like restaurants or cafes — to do this either daily, weekly or monthly as they're dealing with fresh and frozen produce with expiry dates.
Regardless of how often you audit, you need to make a point of physically counting your inventory regularly to ensure that it matches up with the data.
5. Track sales
It might seem like a no-brainer, but tracking sales is crucial in business — and it's hard to believe that some businesses don't do it!
You should be aware on a daily basis of what items and how many have been sold, and then analyse this data. From this, on a broader scale you can then look at:
Are there certain times of the day when products sell faster or not at all?
Is seasonality affecting any of this?
Is there a specific day of the week where sales are higher compared to others?
Is there a combination of items that almost always sell together?
Understanding your customers' buying journey, and possible factors that could affect this, is essential for keeping your inventory under control.
6. Invest in inventory management software
As your small business grows, you may find that you end up spending more time working on your inventory than you do on your actual business.
Inventory management tools can be great aids in helping you track your inventory without any hassle. Before you choose software, make sure that it can provide all of the data you need, that it's easy to use and provide analytics important to your business.
7. Use technology that seamlessly integrates into your business
Inventory software isn't the only software that you can use to help run your business. Mobile scanners and POS systems that can seamlessly communicate with your inventory management systems can make picking and packing so much more effective.
What are the benefits of inventory management?
There is a wide range of benefits that come with proper inventory management. These can include:
Reduced risk of OOS and overselling
When you're a growing small business, overselling can be a major challenge. If you don't have an accurate handle on your inventory, you can find yourself quickly running out of stock without even realising.
Not only will this mean that potential customers have a higher risk of not returning to your site, but you'll also be wasting any marketing budget, too.
That's why an inventory management system is so beneficial to your business as it helps to track inventory and orders across all sales channels simultaneously.
Better inventory forecasting and planning
Accurate reporting and forecasting work hand-in-hand to help make a successful business run smoothly.
Finding a software system that integrates your marketplace and sales channels with shipping and logistics will ensure that all the information you see is accurate. This will help to lead to a more accurate forecasting and planning process, reducing waste in costs and holding unsold stock.
Improved customer experience
An organised and accurate inventory system can improve a customer's experience on your website.
Companies can easily fill customers' orders quickly and accurately which will increase satisfaction and lead to more customers returning to the website. This is a level of customer service that earns trust and loyalty, solidifying the relationship between the business and the customer.
What are the FIFO and LIFO methods?
FIFO stands for "first in, first out" and is a method that is based on the oldest products being the first to be sold since they'll risk becoming unsellable and possibly obsolete.
LIFO, on the other hand, stands for "last in, first out" and is based on the assumption that the last stock you purchased is the first that you'll sell. In the UK and most of the world, LIFO is banned under the International Financial Reporting Standards. This is because the LIFO method can understate a company's earnings for the purposes of keeping taxable income low.
What is the 80/20 rule in inventory?
The 80/20 inventory rule states that 80% of your profits should come from 20% of your inventory.
Essentially, this rule suggests that companies should identify those top-performing products and emphasise them over slower sellers in order to increase sales. If you then favour higher-margin products within that 20%, you'll likely optimise your inventory for both volume and profitability.
How Bionic can help you keep on top of business admin
From managing stock effectively to the difference between FIFO and LIFO, it's so crucial that you implement a stock management strategy to help your business stay afloat. Without one, you might find that it's even harder to follow sales and track inventory, leading to possible OOS of overselling.
It's also worth considering stock insurance, to cover your business if something goes wrong and your stock is damaged or ruined. The tech-enabled team at Bionic can help you with this and a range of other business essentials, including business gas, business electricity, business insurance, business phone and broadband.
We can also compare business loans to help your business expand, or help future-proof your phone system with business VoIP.