payment providers
Choosing the best payment provider: How to find the right one for your business
If you're setting up a brand new business, finding a payment provider is a crucial part of daily operations; more and more customers are moving away from cash transactions, so it's essential that you offer an alternative payment method.
Finding a payment provider that's the perfect fit for your needs can be difficult — especially with such a range to choose from. To help you find the right option, we'll walk you through the steps for choosing the best payment provider, what qualities you should look out for, and some of the most popular choices.
What is a payment provider?
A payment provider, or payment service provider (PSP), is an external third-party service that acts as an intermediary between your business and any financial institutions during a transaction.
They accept the initial payment from a customer and ensure that the funds are securely delivered into a merchant's bank account. They manage a range of payment options, like:
Bank transfer via online banking
Direct debit transactions
Credit card transactions
Cheques
Contactless payments
Cryptocurrency payments
Put simply, it's a payment provider's job to safely fulfil a transaction and oversee the exchange of money. In turn, this creates a quick and seamless payment experience for your customers.
How does payment processing work?
To process a transaction, a PSP must follow a specific chain of instructions. These generally include:
The PSP confirms a customer's billing information and checks that there is a sufficient amount of money in their bank account, or on their card, to cover the transaction.
If there are enough funds, the PSP approves the payment request.
After approval, the PSP generates an order of confirmation.
The PSP will then approve the transaction and move the money from the customer's bank account to the merchant's temporary holding account.
After everything has been approved, the PSP will move the funds into the merchant's bank account.
Along with money, the payment process handles sensitive information such as payment details and the number of available funds in a customer's bank account. That's why, as a business owner, choosing a payment provider that you can trust to carry out payment processing safely and securely is vital.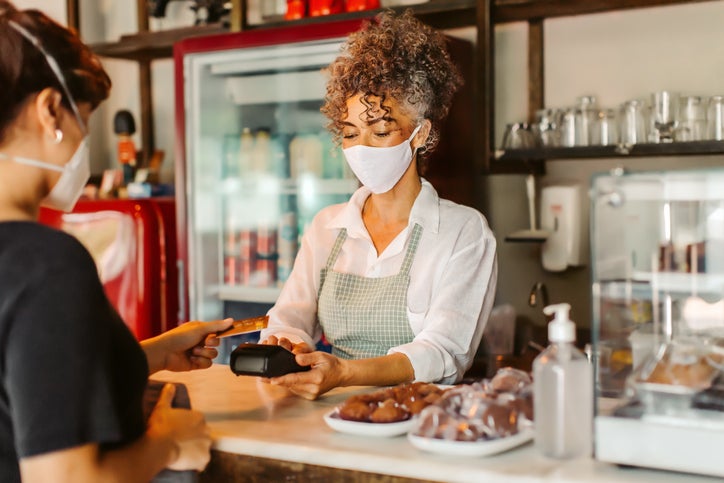 How do I choose a payment provider?
Firstly, you should consider how your business operates and how it takes transactions. When you have a clear understanding of both of these factors, there are a few other things to assess when reviewing PSP options:
What services do they offer?
This should be the first thing to look at when comparing providers, as not all PSPs will offer the same set of services. Some options to look out for when making your decision include:
Repeat customer functions — To make recurring payments easier for the merchant and convenient for customers.
Same-day settlement — To boost your customer experience, same-day or next-day settlement ensures swift and smooth payment.
International payments — If your business operates in multiple countries across the world, having a provider that offers international payments is vital. Not all payment methods are standardised across international countries, so be sure to find a provider who can help you go global.
Mobile-friendly payments — More and more customers are checking out using mobile devices, so having a streamlined mobile payment experience is essential for staying on top of demand. Without this option, you could be losing out on a significant portion of customers.
How much are their fees?
The cost of using a PSP's services result in fees, and not all providers will charge the same rates. The types of fees can also vary depending on who you choose. Some fees to watch out for are:
Card machine rental
Transaction fees
Faster payment fees
PCI compliance
Always do your research to work out which services will be useful to your business, otherwise, you may find yourself paying for an option that you don't need.
Are they compatible with existing?
Your company will already use specific software to take transactions, whether that be for stock management or your website. Make sure that the payment provider you're looking to secure is compatible with whatever software you're using. Seamless integration is important to ensure continuous operation, as is any maintenance that you might need later on.
Do they offer transaction recording and reporting?
PSPs should record a detailed and accurate report of all your business's transactions. This information will allow you to review all sales and give you data on customer behaviour. In turn, this can be used to optimise your sales strategy and boost your company's success.
Payment development security
PSPs operate independently of traditional banks, which means that they require a BaFin certificate in order to trade. A BaFin is issued by major European financial supervisory authorities and it allows them to set up escrow accounts to take and protect payments across Europe.
Providers must also follow data security standards to be able to offer certain payments, like using a credit card. One of these standards is the Payment Card Industry Data Security Standard (PCI DSS). This protects against cards being vulnerable to theft or fraud. Any legitimate and reputable PSP will be able to meet both of these criteria.
What is the difference between a payment service provider and a payment gateway?
Payment gateway
A payment gateway is a component within the payment ecosystem; it's essentially an interface that works with a PSP to allow customers to submit an online or in-store payment. It's similar to a Point of Sale (PoS) machine, or card reader, in that it's a piece of software that sends credit or debit card information from a transaction source to a payment network.
Any business that trades via the web will need a payment gateway to accept online transactions. It can be a fixed part of your website or an integrated addition, creating a payment functionality on your online store that customers can interact with. The gateway collects the transaction details and sends them to your PSP to fulfil a transaction.
Payment service provider (PSP)
The key difference between a payment service provider and a payment gateway is that a PSP manages the entire transaction process, while a payment gateway accepts and routes the transaction from a website or PoS to the PSP.
A PSP will communicate with a customer's bank, card network, and payment processors and deposit the money into a merchant bank account, while a gateway interacts with customers directly to collect their transaction payment information.
Generally, most PSPs will include a payment gateway as part of their service offering. This can be a convenient option for small to medium businesses, as PSP gateways tend to be simplified for ease of use. Integrating with a third-party gateway provider is better suited for larger businesses as these can be customised, optimising the gateway's user experience and performance to suit your company's requirements.
Which online payment system is the best?
PSPs will provide the basic service of completing a transaction and delivering funds from a customer bank account to your merchant account, but every provider is different and offers a range of other benefits. From tech support to customisation, it's important to do your research into what each provider can bring to the table to improve your business's transaction experience.
Opayo
Opayo, previously called Sage Pay, is considered one of the leading providers in the industry. It's certified with a PCI compliance rating of level 1, which is the highest rating a provider can receive.
Some other benefits of Opayo are:
99.9% uptime, meaning it's rarely offline so you won't miss out on a sale.
Round-the-clock support if you ever need assistance.
Fully customisable so you can create a personalised transaction experience that suits your website.
Integrates with the major eCommerce and PoS platforms that most businesses operate on.
Opayo has three different pricing plans so you can choose one that's best tailored to your business. It also has small business packages targeted at anyone starting from the ground up.
The downside is that Opayo contracts usually last three years, so you will be tied in for a significant amount of time if you choose this provider.
PayPal
PayPal is probably the most well-known provider among customers and merchants alike. As well as accepting and receiving international payments, PayPal supports a vast range of payment types like credit and debit cards, mobile wallets, contactless, and QR codes. It also offers:
Extremely competitive pricing compared to other PSPs.
A seamless checkout experience that's familiar to many customers.
Easy cart integration to your website.
Customisation options.
Online invoicing.
Unlike Opayo, PayPal doesn't operate through set pricing plans. Instead, it charges a 2.9% fee per transaction. However, there is a cross-border fee of up to 2% and a currency conversion fee of 2.5% which should be factored into your decision.
With no initial set-up or monthly fees, PayPal is a natural choice for start-up or small businesses that might not be generating high sales yet.
Shopify
Shopify is a growing eCommerce platform that also provides a payment gateway, Shopify Payments, for managing transactions. This gateway is ready to be used straight out of the box for websites already running on Shopify, making set-up super easy. Other benefits include:
A complete online payment gateway that's fully integrated with Shopify websites.
No set-up fees.
A clean, streamlined checkout experience.
If you choose to move away from Shopify Payments, the Shopify platform can easily integrate with external payment gateways too. Shopify requires a monthly payment plan — there are three to choose from — as well as a percentage fee rate. The basic plans offer a higher percentage fee per transaction than the advanced plans, so be sure to work out which one will cost you more in the long run.
Square
Square is a payment gateway that puts user experience first, so it's the perfect choice for businesses that want to nail their checkout process. Poorly-optimised pages are a thing of the past as its clean and streamlined designs are sure to exceed customer expectations.
Here's a quick breakdown of their advantages:
Fully PCI (payment card industry) compliant.
No set-up or hidden fees.
Supports most card types.
Has social media integrations for selling on Instagram, Facebook, and more.
Square charges by a fee per transaction, 2.5%, and there are no long-term contracts that you have to commit to. Despite an ultra-smooth interface, Square might be a letdown for those looking for a complete package of additional features. Add-ons are pricier than competitors and customer support is somewhat limited.
Stripe
For those looking for an advanced option, Stripe is a full-service provider that powers a range of big-name brands in the eCommerce industry. With such a huge wealth of technical features, it can be overwhelming for anyone using a PSP for the first time, so it's better for those who have a bit more experience.
Here's what you need to know:
Has pre-built API integrations designed to work with all major eCommerce platforms.
No extra fees for PCI compliance.
Supports more than 135 currencies.
24/7 support included.
Pays out in two days (one of the quickest transfer times of any PCP).
Stripe works on a fee per transaction basis, but this differs based on the customer's card so this should be factored into your decision. It costs 1.4% + 20p for European cards, or 2.9% + 20p for non-European cards. There's also a currency conversion fee.
What is the safest online payment method?
The exchange of sensitive information that occurs during a transaction puts security at the top of any customer, or merchant's, priority list.
The safest online payment method is by credit card, as they use special security features like encryption and fraud monitoring to safeguard against your private data being leaked. This is why having a credit card payment option can be hugely beneficial for your business, as customers can shop with peace of mind. Learn more about how to set up card payments here.
As for the most secure payment service provider: it's difficult to give a definitive answer as all PSPs operate differently. But, big-name players like Opayo and PayPal are amongst the most popular choices for a reason; their compliance credentials speak for their exceptional levels of security.
How to keep your online payment system secure
While your PSP should give you some comfort to know that your money, and customer data, is safe, there are steps you can take, as a merchant, to further protect them.
Attain an SSL certificate
An SSL, secure socket layer, guarantees that all information is encrypted when it is transmitted from your website to a server. You can tell whether a page has an SSL certificate if it has a little padlock icon in the web browser and if the URL shows as "https" instead of "http".
Some PSPs will offer an SSL certificate as part of their product offering, which can be a factor in which provider you choose.
Use a trusted payment gateway
Choosing any payment gateway without doing your research can prove detrimental if you opt for a payment gateway or provider that doesn't meet security requirements. As a business owner, it's your responsibility to do your research to find a trusted provider with a clear privacy policy and that meets a high level of security standards.
PCI compliance
If you have a website that you take payments through, you must be operating with a provider that is payment card industry compliant. This is considered serious enough that it's a legal requirement. Any trusted payment service provider should be PCI compliant.
How to choose a payment provider and cut business admin
Setting up a bricks-and-mortar or online store can be a huge step for your business, but it's essential that you find the right payment provider to help you manage your sales. Getting the right provider in place can help save you time and hassle when taking payments. It could also save you some money.
The tech-enabled team at Bionic can also help you save time, hassle, and unnecessary admin when it comes to sorting your business essentials. We compare business gas and business electricity, as well as business phone and broadband to help make sure you're on the best deals.
We can also help with business insurance and business finance. Get in touch to find out more.