how to complain business broadband provider
How to make a complaint to your business broadband provider
If you've landed here – you're probably having issues with your business broadband. Whether that's slow speeds, weak signal or unwanted price hikes, it's understandable if you're not happy with your service and want your provider to do something about it.
We've broken down everything you need to know about making a complaint to your business broadband provider and how you should go about it to get the best possible outcome.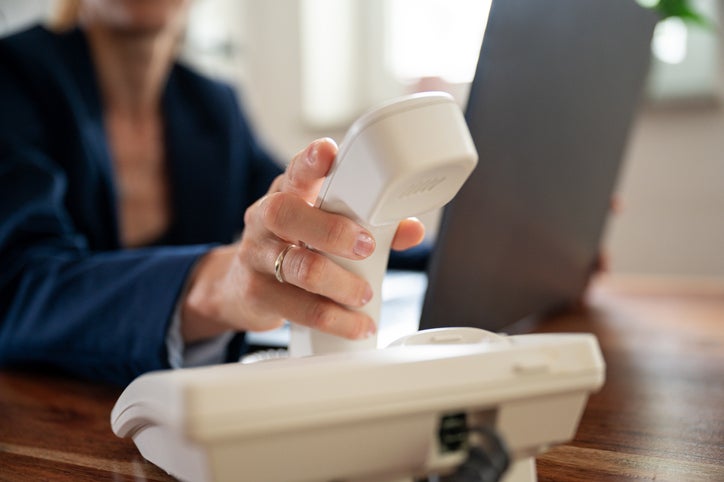 30-Second Summary:
A broadband complaint is a formal way to let your provider you really aren't happy with their service so they can fix it.
Common business broadband complaints include signal issues, slow speeds, router problems, price hikes and even bad customer service.
Before you make a broadband complaint it's best to check you can't fix the issue yourself. Troubleshoot, and see if your provider can help you fix it. If they can't help and you want to complain, check your contract first to make sure you have grounds to make a complaint.
To make a formal complaint, speak to your provider and keep a record of everything that was discussed. If you still aren't happy you can escalate it, use an ADR scheme to resolve it or even take it to court.
Ofcom can't deal with your complaint, you will need to go through the proper process to get it sorted.
What is a broadband complaint?
A broadband complaint is a way to inform your provider that you are unhappy with the service provided, and this then gives them the chance to respond to you, address your concerns and put it right.
For example, you may rely heavily on your business broadband connection for the day-to-day running of your business. External devices like payment terminals and POS systems may be connected to your WiFi. But, if this drops all the time and you can't serve your customers, it directly affects the quality of your business, and you are within your rights to complain to see if your provider can help.
What are some common broadband complaints?
Business broadband complaints vary, but the most common complaints you'll come across are as follows:
Frequent drops in signal
Drops in broadband signal can interrupt your business operations and cause delays. These drops can happen if your WiFi router is stored far away from your devices and your signal becomes too weak to be able to properly connect. To boost your WiFi signal strength, you can sometimes request a WiFi extender or second router from your provider. Find out more about how routers work with our handy guide.

Do you have full fibre business broadband? This is the most reliable connection on the market as it uses fibre wires rather than copper lines - which carry a much better signal. It's worth upgrading if you haven't already; it may just solve your connection issues. Read up on our guide to fibre optic business broadband for more details on upgrades.
Very slow broadband speeds
Ofcom states that speeds advertised by your provider must match the average broadband speeds during the busiest times of the day. They also mention that the busiest time of day for business broadband is between 12-2pm.
Providers must let you know about their minimum broadband speed. You are within your right to leave your contract if your average internet speeds fall below this level for 30 days.
Issues with uploads and download speed
Slow upload and download speeds are a pain – they can cause slow payments and make your customers wait longer. But these issues aren't always the fault of your provider and can be caused by all sorts of problems; from overcrowded networks to nasty malware. Read our guide on what to do if you believe your Wi-Fi might have been hacked.
Ongoing router problems
No one wants faulty equipment. If your router keeps turning off, has broken wires or ports and has seen better days, then it might need updating. It's worth knowing that if your equipment is new, then your provider should make sure it's in working order. If it's not, it's their job to fix it, as it's their legal property – not yours.
Other common business broadband complaints include:
Overcharging
It's no secret that some providers have a history of overcharging customers. Most of the time, this is down to an innocent error, but if you believe you are being charged extra for no valid reason, then double-check the small print in your contract before you file a complaint.
Misselling of a contract
If you believe you have been sold the wrong product combination and it doesn't specifically meet your business needs, you'll want to check your contract and confront your provider. Although unlikely, this could happen if you were promised a care support package for your agreed price, but your provider is telling you it's extra on top.
A care support package is a service by your provider that helps deal with any faults or issues with your business broadband lines. Normally, providers have different types of "care" packages with tiered levels of care. If you want quicker response times, then you usually pay more.
Think you've been misold a deal and want to get out of your contract? See if you can get out of your contract early.
Out-of-contract price hikes
If you have a one-year contract with a fixed price, then it's possible at the end of your contract, your fee will go up. This is normal and should be specifically stated in your contract. Price rises are common, especially with the recent inflation – but it shouldn't be a massive hike. Check your contract details If your quoted price doesn't look right.
Mid-contract rises can happen
Providers are allowed to increase prices by the rate of inflation plus an extra bit on top (around 4%). Ofcom has strict rules that say providers who mention price rises in contracts must make this clear before customers sign up. Check your contract to make sure you have been told about this before you think about complaining – this will save you any hassle in the long run.
Customer service issues
When speaking to your provider, you don't want to be waiting on the phone for over an hour. These days you can normally get in touch with your provider through instant messaging on social media platforms like Twitter and Facebook for a quicker response. Customer service teams are there to help their customers, but if you feel your concerns have not been dealt with properly, it's understandable you would want to complain.
How to resolve a broadband complaint
We've put together all the steps you need to go through take to make a complaint to your business broadband provider. Try not to skip any of these points; the better you prepare, the better the outcome!
Gather information
Before you put pen to paper and file a complaint – you need to try and fix the issue. Most of the time, broadband issues can be easily fixed.
E.g., if your internet cuts out, it's probably not the fault of your provider. Before anything else, try these hassle-free steps yourself to try and fix it.
Turn your router off and on again – make sure that you turn off your router at the plug and leave it off for at least 30 seconds. This allows time for the whole device to shut down completely and reboot back up again
Move your router – It's possible your router isn't in the best place. Try moving it closer to your connected device if possible, e.g. laptops, phones, printers or payment systems.
Check your own devices - If the connection isn't working on your phone, double-check any computers, laptops or other connected devices to see if they can or are connected. If they can, then it's likely your own device is playing up – not your broadband.
If you're having speed issues, read up on how to fix slow broadband or perform a speed test. If your connection is not working at all, check if your provider has a power outage.
If you've tried and tested these steps above and you are still having issues or you want to complain about something else like prices or the customer service you've received, then you'll want to prepare properly so you can get the best possible outcome.
Check your contract
Before you pick up the phone or fire off an email to complain, check your contract properly. Make sure you know what you signed up for and what speeds and prices you agreed to.
Some business broadband contracts include an SLA (Service Level Agreement). This an agreement that's included in or alongside your contract. It clearly states the standard of service you should be getting (speeds) and what your network should do if it can't meet the agreed level of service. Some networks don't have SLA's because they have their own types of agreements.
E.g. Sky Business offer a Stay Connected Guarantee which mentions - if a backup 4G network doesn't activate after a reported broadband outage you receive credit on your account. This is mentioned in their terms and conditions.
Many SMEs are not aware of these so it's best to check your documents or ask your provider about this if you're not sure what you signed up for.
Depending on the nature of your complaint – you'll need to know the following contract information before you contact your provider:
The minimum speed guarantees – These are outlined in your SLA or contract. They are minimum broadband speeds you have agreed to.
Mentions of mid-contract price rises - This is when your provider rises prices in the middle of your contract. This can happen in line with inflation and will be stated in your terms and conditions. It's worth noting that some providers will give you 30 days to cancel your contract if prices go up, others clearly say price rises are part of their contracts. Check your own to be sure of your rights.
Mentions of annual price rises – When you sign up for a yearly contract, you pay a set amount for 12 months. When it comes to renewing, it's likely your monthly price will go up. Most providers are allowed to put up prices in line with inflation and the Consumer Price Index, with a small fee on top – normally around 4%; this is standard practice.
Out-of-contract price hikes – If your business broadband contract has ended, then you may see an increase in your monthly price. A report by Computer Weekly suggests broadband providers are hiking contracts by an average of 14% from April 2023. But, a rule set by Ofcom says that your provider should get in contact and let you know when your contract is coming to an end. You can then decide if you want to renew or cancel. If this is the case, you can easily cancel and find a better business broadband deal.
It's good to know that the Consumers Rights Act 2015 applies to small businesses – but if you've accepted a contract that agrees to mid-contract price hikes, then it will be hard to complain about it.
Speak to the provider
If you haven't already – it's time to reach out and start a conversation with your provider. Make sure you have your contract handy so you can refer to it if needed. It's best to have detailed notes of the issue you want to talk about before you pick up the phone. Leave plenty of time to speak to a customer service member, as waiting times can be lengthy, especially at peak times like mid-afternoon to evenings. Business customers normally get priority over domestic customers though, so you should have a shorter wait.
Here is a list of the providers we work with at Bionic and how you can get in touch with them:
Keep track of correspondence
Whoever you are contacting, make sure you keep track of all the letters, emails and messages you send and receive.
You should also note down the exact issues you are having and when you started experiencing these. This will make your complaint process a lot easier.
Most providers have social media accounts you can use to contact for customer support. Twitter is a good way to get a quick response from your provider if you can't get ahold of them via online chat or on the phone.
Be reasonable
Customer service teams deal with a lot of complaints, which is not always an easy job. Try to remember it's not the customer service advisor's fault that you're experiencing problems – it's just their job to try and fix them. So, even though you are having issues – try to be decent to the team member you are speaking to. Customer service advisors have a duty to do their best to look after customers, so the best thing you can do is give them the same level of respect.
Keep in mind, if a customer service advisor has said someone will get back to you within a certain time frame, wait it out before contacting them again. Repeated contact only creates more messages for employees to filter through and can sometimes push your complaint down to the bottom of the queue – if you're patient, they should eventually get back to you.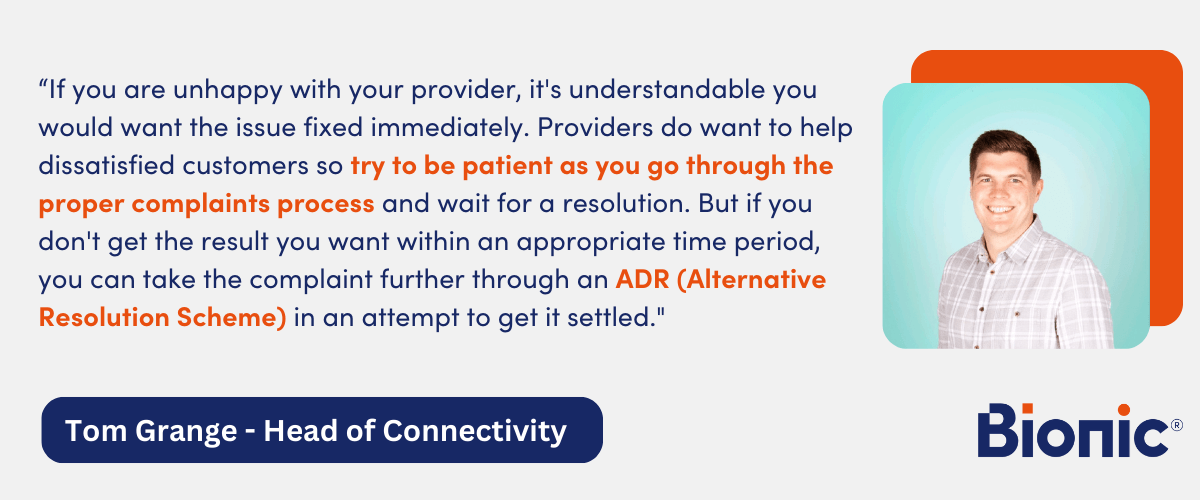 How to complain to your broadband provider
If you're still having no luck with your provider and they can't fix your concerns, then you can take it further. Make sure you've done everything you can to fix it first before going down this route. If you still believe your provider is in the wrong, then it's time to file a complaint.
File a formal complaint
To make a formal complaint, make sure you use the right channel. Some providers have a complaints page or number so you can directly get in touch with the right department. Some providers also have a formal complaint form to fill in that you can find on their website. In any case, refer to your specific provider for the best way to go about this.
Keep a record of your complaint
If you speak to your provider via online chat, on the phone or via email, include your account details and keep a written copy of your complaint. It's best to make notes when speaking to someone on the phone so you can easily refer back to them. You may want to create a folder on your computer with all the emails and messages between you and your provider so it's all in one place.
Most providers say they aim to respond to your complaint within 10 working days – but some can take up to 8 weeks to get back to you. So be patient and wait it out before you take it any further, giving them time to respond and fix the issue for you.
Escalate the complaint
If your provider has responded to your complaint and you're still not happy with the outcome or feel it's not been dealt with correctly, you can escalate it.
How you do this depends on your provider, it's best to refer to the specific Complaints Code Of Conduct for your provider. You can find this information in the complaints section of their website.
E.g. BT has outlined a process to follow with all the numbers and contact details of who you need to speak to if you want to make a complaint and then escalate it. Normally, this means asking for a more senior member of staff to deal with your issue.
Look for an Alternative Dispute Resolution (ADR)
If you've escalated your complaint, taken all the proper steps, and it's still not been resolved in eight weeks – you can take the complaint further through an ADR (Alternative Resolution Scheme).
An ADR scheme is a middleman that deals with your complaint for you – acting as an independent person between you and your provider to get the complaint settled. ADR schemes are free to use.
All broadband providers must be registered with an ADR scheme by law. Ofcom currently approves two ADR schemes:
Communications & Internet Services Adjudication Scheme (CISAS)
Ombudsman Services (Communications)
Below are the ADR schemes for the business broadband providers we work with at Bionic:
When should I contact the Ombudsman?
You should contact the Ombudsman when you've followed the complaint process with your provider and waited eight weeks for a response. You can contact them if you aren't happy with the response or if you haven't had a response at all after eight weeks.
You can call the Ombudsman on: 0330 440 1624 or by emailing enquiry@ombudsman-services.org.
You can also get in touch in writing to: Ombudsman Services, Energy, PO Box 966, Warrington, WA4 9DF
If your provider deals with a CISAS scheme like mentioned above, you can contact them through an online form. You can also call them on 020 7520 3814 or email 3814cisas@cedr.com.
These services are free to use; just make sure you read up on the schemes so you know what you're getting yourself into before you send it off.
What will the Ombudsman do?
Once you've put forward your case with an ADR scheme, they will contact the provider for you, assess the situation and come back to you with a result.
Make sure you read the terms of the ADR scheme carefully. In some cases, the compensation may end up less than what your provider originally offered you.
E.g. if your broadband price was hiked and this was not stated in your contract and your provider offered you a solution that you weren't happy with; it doesn't mean the ADR result will always come back in your favour. They have the power to request more or less compensation because they are an independent organisation.
Once the case has been dealt with, you can either accept the result or even take it to court if you still aren't happy with it.
What is a deadlock letter?
A deadlock letter is a letter sent to you by your provider when they can't do anything to settle your issue. This happens when you and your provider can't agree on how to resolve your complaint. The formal letter tells you to contact the Ombudsman Services.
When can you request a deadlock letter?
You can ask for a deadlock letter at any time if you think you won't get the result you want when dealing with your supplier. Try to wait it out and let the middleman do their best to get something settled for you before you request a letter to take it further.
Can I take the complaint to court?
Taking a complaint to court is serious and shouldn't be taken lightly. It will likely cost you a lot of money and will be a stressful process. Make sure you've tried your best to fix the issue with your supplier first and give an independent person enough time to resolve it for you.
Take some time to consider if taking it to court is really what you want to do. Getting professional legal advice is advised if you want to take your case to court.
Can I complain to Bionic?
At Bionic, we take complaints seriously and we always want to ensure our customers get the best service from our partners. We have the same Complaints Policy across all our products and channels and meet the highest regulatory standards.
You can complain if you are unhappy with the service we have provided at Bionic or the broadband provider we have supplied you with. Read our full complaints policy to find out more.
Can I complain to Ofcom?
You can tell Ofcom about your business broadband issue by filling out a monitoring form. But Ofcom does not deal with complaints directly. You need to go through the proper process and check the complaints policy with your own provider.
Ofcom only uses the information you provide to monitor patterns in complaints in case any of their partners need investigating. This is because they want to make sure their partners provide a good service.
How to switch broadband providers
If you can (or can't) settle your complaint – it's understandable that you might want to switch business broadband providers to avoid the same situation happening again. Switching isn't difficult – you find out how to switch Broadband providers with our handy guide. Or feel free to pick up the phone or start a chat with one of our experts. We can provide tailored advice on your business and get you the best deal going.