How to boost business this Halloween 
The spookiest time of the year is officially upon us, so we've come up with some grim and gruesome tips and tricks to help boost your business. Even if you're not too sold on the season of the witch, we've got a few ideas that could help to fill your coffers without the need for coffins and cobwebs.
Check out these top ideas to get your SME ready for October 31.
1. Scary shop fronts
The simplest way to get your scare on is to hone your Halloween decorating skills throughout October.
Small businesses often hit it out of the park with unique ideas and homemade decorations so why not really get into the groove of Halloween? If your business premises is positioned on a little high street nestled between other SMEs, you could host a mini competition amongst yourselves and see who ends up with the best-dressed shop front.
Think hanging skeletons, floating ghosts, perfectly-carved pumpkins or fake cobwebs, just get really into the spirit (no pun intended!) and have fun with it.
If you're a baker, why not bake up some delicious cookies or cupcakes in the shape of ghosts and ghouls? If you sell clothes, you could dress up your mannequins like your favourite scary characters for the ultimate 'scream factor'. No matter what you sell in-store, you could carve your own pumpkins to guard the premises.
Last year, a few of the big supermarkets came up with their delicious delights to help tempt customers in. M&S had their famed 'Mummy Meatloaf' - a meatloaf wrapped in pastry with glowering cranberry eyes - and each year they resurrect a range of spooky foodstuffs, everything from vampire fangs, sour spiders, bleeding brains and a creepier version of 'Colin the Caterpillar'. So, get thinking about how you can put the frighteners on your own best-selling products.
Sainsbury's, Tesco and BBC Food also frequently upload scary recipes on their sites to inspire the baker and cocktail maker in you. So, you could even try your hand at sharing some recipes with your own customers too.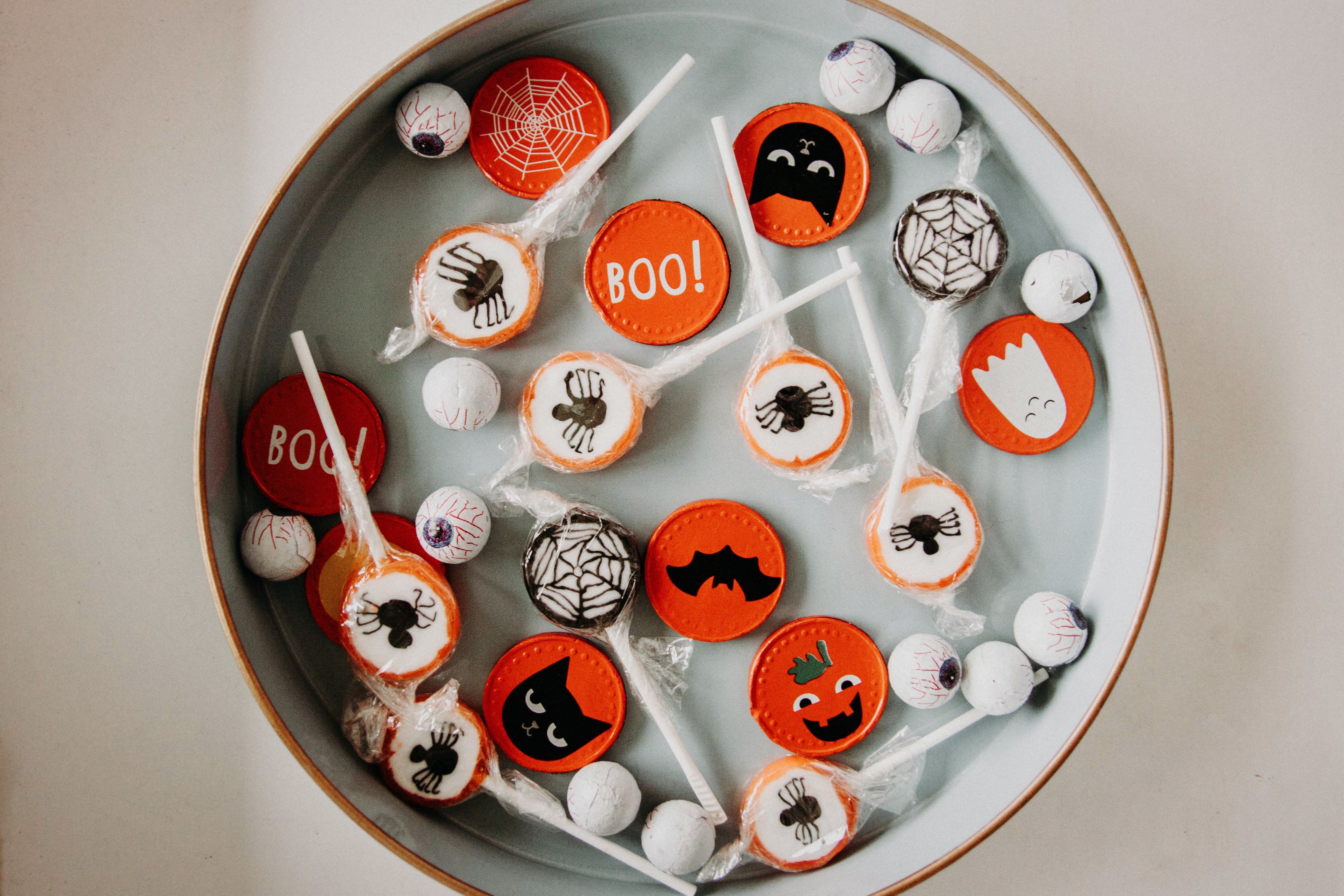 2. Freakishly fantastic deals
A lot of businesses take advantage of global holidays like Halloween and Christmas to reel in new customers and offer deals or savings to promote themselves.
With this in mind, you could have a go at something that gives the customer a reason to shop with you, whether that's a unique saving or a product they can't get elsewhere.
You could offer a seasonal loyalty card scheme that rewards customers with a free Halloween treat if they buy a certain number of products in-store during October. You could have a Halloween sale and slash the cost of items on October 31, introduce a buy-one-get-one-free offer in-store, or offer incentives to customers who recommend you to their friends. Every little idea can help boost your business and help get your business noticed.
3. Monster memes, ghoulish GIFS and horrifying hashtags
One trick that's not to be missed (*insert creepy laugh here*) is adapting your marketing strategy to boost your business during October.
It's easy to get caught up in algorithms, posting schedules and assume that social media (link to how to use social blog) is just another thing to worry about when running your SME. But when they're used correctly, platforms like TikTok, Facebook, Twitter and Instagram can increase your custom.
Have a team meeting with your staff and ask everyone to come up with a few brands, shops or businesses that come to mind when thinking about good holiday-orientated content. You can use these as inspiration and then sculpt your own.
From there you can start working on Halloween memes, GIFs, and posts so your customer base knows you're keeping relevant, you will probably have a lot of fun with it too. Make sure you're including any trending Halloween hashtags too to ensure you're giving your business the best exposure.
If you have TikTok or YouTube then you could get creative and post videos detailing how you decorated your shop with a behind the scenes glimpse into your Halloween preparations, or interview staff members dressed up in spooky attire.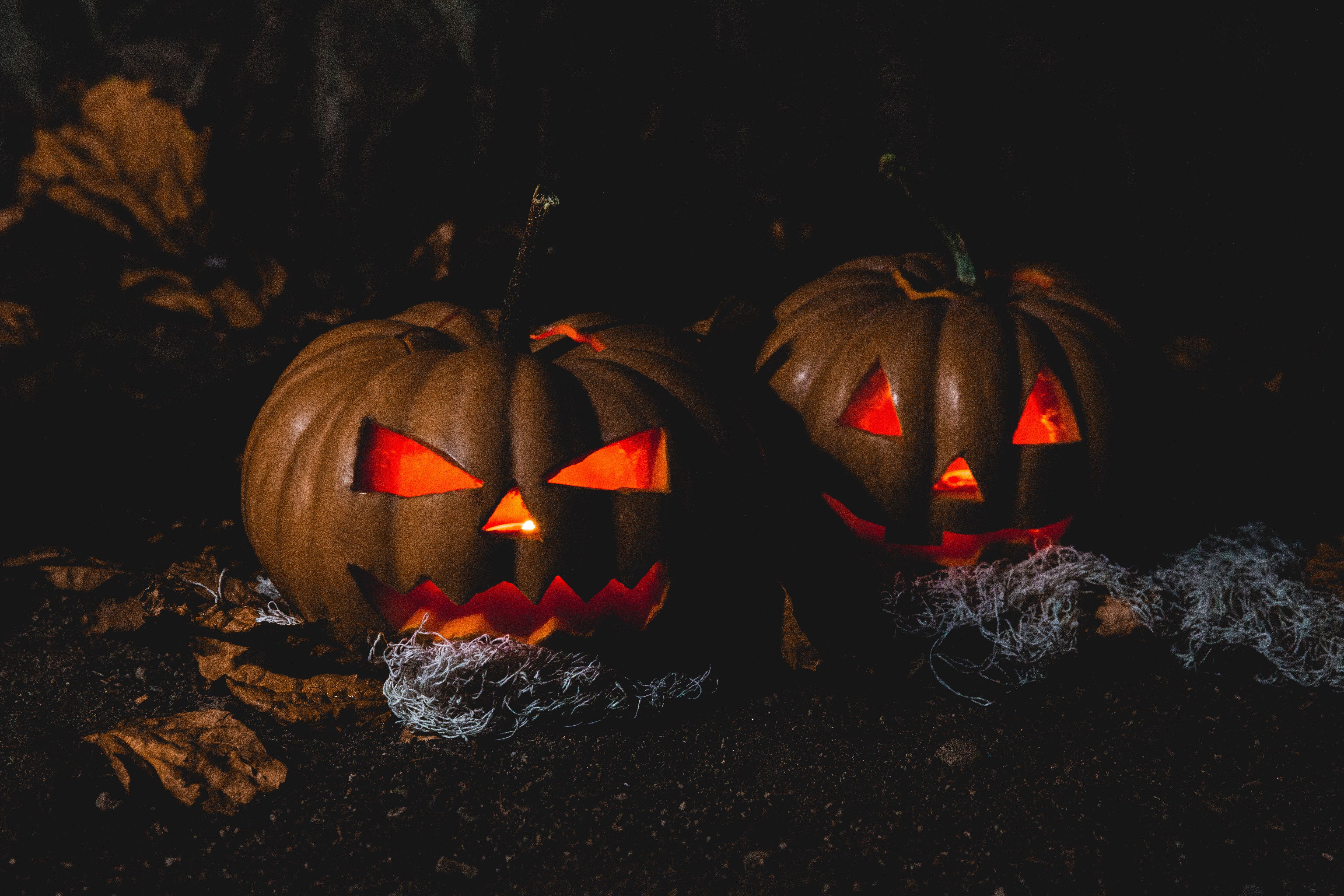 4. Creepy competitions
Competitions are another way to get the attention of customers during the spooky season. If you run a food shop or a florist that sells pumpkins, why not encourage customers to carve their own at home and tag you in their creations? You can then pick a shortlist of the best ones and offers prizes for their efforts. Getting creative and encouraging customers to do things with your stock can really increase your popularity online and in the real world.
Another idea is to set up some ghoulish games like 'guess the name of the ghost' 'guess how many spooky sweets in a jar' or apple bobbing at the counter to win a prize. It can be as extravagant or as low key as you choose.
An inexpensive idea like the ones above can really ramp up interest in your business and get people talking.
5. Embrace spookiness
On October 31 itself, why not encourage your staff to dress up in spooky attire to really get into the swing of things? Never underestimate the power of getting stuck into a fun idea.
It will get passers-by talking and you might even get some extra custom as a result. You could have bowls of sweets left out for avid trick or treaters and really have some fun, play a spooky Spotify playlist while you work or serve customers. Just make sure you don't scare any away!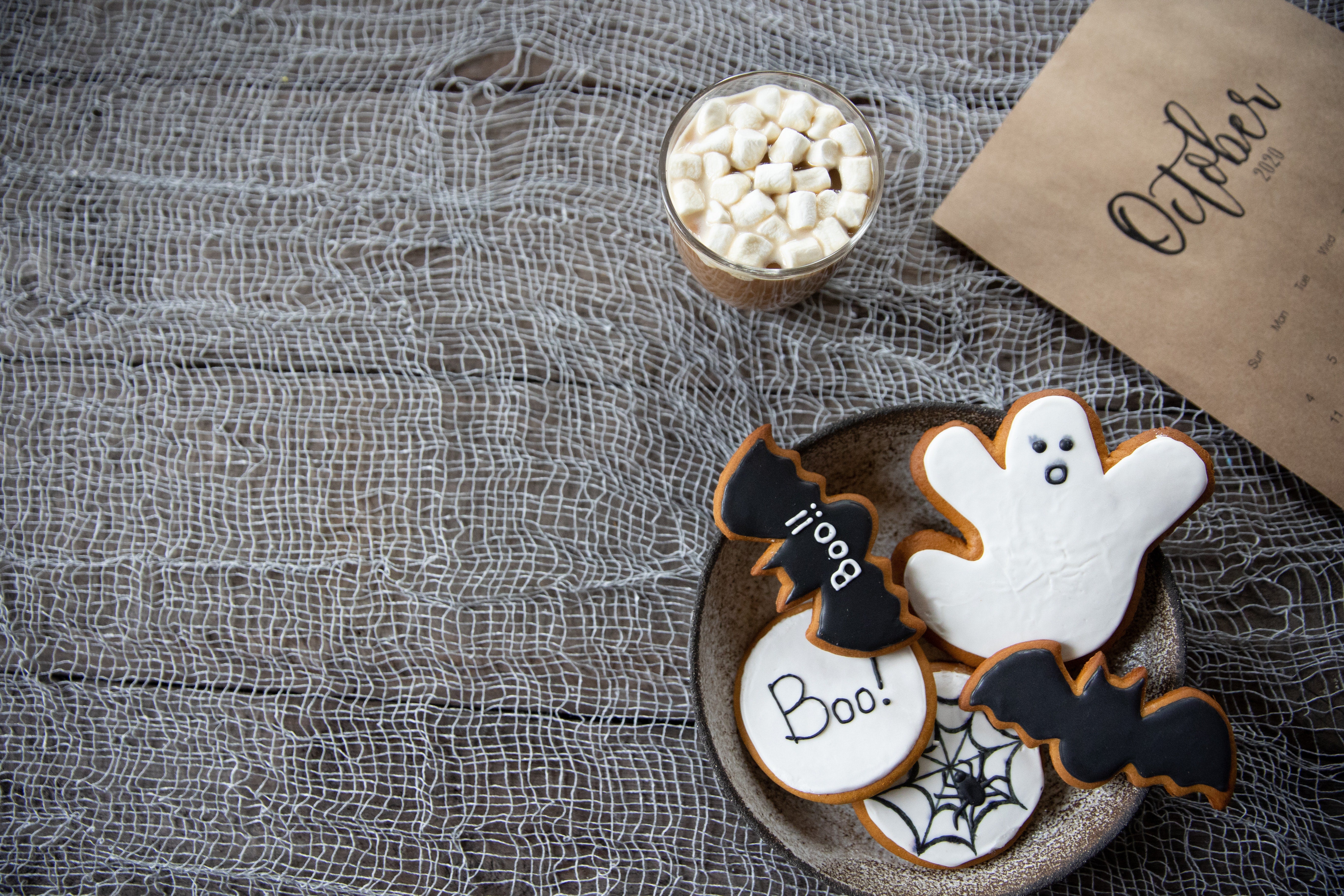 6. Pumpkin up your stock
As soon as summer ends, the likes of Starbucks start ramping up their countdown to Pumpkin Spiced Latte season. This has become so popular that other coffee shops and cafes have created their own versions of the autumnal drink. Think about what makes Halloween fun for your business and create your own products focused on that.
You could add some pumpkin flavouring to the tea or coffee you sell, bake pumpkin pies or biscuits, or start stocking Halloween costumes different to what you can purchase in the local party shop. Thinking about your own customers and what they are more likely to buy is important and if you know them well then it will show in the themed ideas you come up with.
Experimenting with different ideas is key and customers could then vote for their favourite themed beverages, food items or spooky stock to become a staple throughout autumn and winter.
7. Wicked up your website
Another creepily good idea is to wicked up your website, it takes little effort but can have a massive impact on your customer count. Why not add some attention-grabbing spooky banners, pop-ups or buttons to your website during October? Then when customers visit your site, they are met with a little Halloween creep factor and some simple but fun content.
You could get really creative and add a spooky filter to your logo on social media or send out a Halloween email to your customers letting them know about any promotions, offers or ways they can get involved in your Halloween campaign.
Slash your utility bills
Halloween is the season of the slasher film, so why not take the opportunity to slash your utility bills with Bionic.
We compare, business energy and business insurance, as well as business phone and broadband, and could help knock hundreds of pounds off your annual business utility bills. Just give us your postcode at Bionic.co.uk and we'll get right back to you.