search engine marketing
What is search engine marketing? A guide to SEM and how to make it work 
Running a business can be a real challenge. But, it can be even harder when you're not receiving traffic or clicks to your website. No matter what product or service you're trying to showcase, search engine marketing (SEM) can help you take your business to the next level.
To help you implement a clear marketing strategy — and streamline the process — our handy guide can help introduce you to the world of search engine marketing and the benefits it can have on your business.
What is search engine marketing (SEM)?
Search engine marketing — sometimes referred to as SEM — is one of the most effective marketing strategies to help grow your business. In practice, SEM is used to increase the visibility of your website in search engine result pages (SERPs) by using paid advertisements.
In a seemingly increasingly competitive marketplace, it's never been more important to implement SEM to help push your product or service and grow your small business.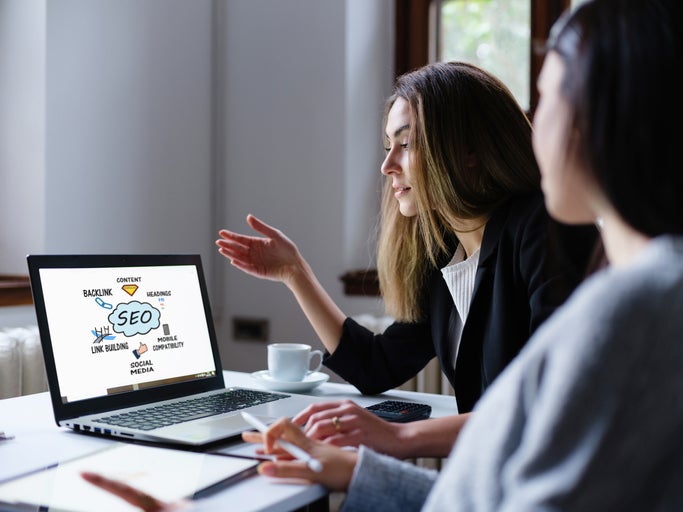 Why is SEM important?
As the number of consumers researching and shopping online for products increases, SEM has become a crucial component for businesses trying to improve their reach. So much so, that a large majority of new visitors to a website find it by inputting a query onto a search engine.
Since advertisers only pay for impressions that result in visitors, SEM is an efficient way for a company to use its marketing budget. And, since people are visiting the website, this incrementally improves the website's rankings in organic search results.
How does search engine marketing work?
With SEM, brands pay to appear as a search result on SERPs. These sponsored ads — often known as per-per-click (PPC) ads — can come in a variety of formats but often sit at the top, bottom, and at the side of the search engine results page aiming to gain more visibility. Because of this, search engines use complicated algorithms to ensure that the highest-ranking and more relevant results are returned for each search.
Brands will bid on specific target keywords so that when a user searches for those terms, they'll be shown an ad from a brand bidding on that search term.
What are the different types of search engine marketing?
All aimed at helping your business earn greater visibility in search results, there are three main types of search engine marketing.
Pay-per-click (PPC) — An advertising model that is used to drive clicks and traffic to a website. The advertiser will pay the publisher each time the ad is clicked.
Local SEO — A type of search engine optimisation (SEO) that focuses on getting your business listing to show up in Google Map results. If a person clicks on your link, there is no charge for the number of clicks.
Organic SEO — An SEO process that results in your website gaining increased visibility in unpaid, non-local results. These results are usually algorithm-driven.
What are the different SEM platforms?
An SEM platform is essentially a search engine where a brand can place search ads. Primarily, you'll find these ads on two different platforms:
Google Ads — This tends to be the most popular and widely used platform. Billions of Google searches are made in a day so this can help you reach the largest audience.
Microsoft/ Bing Ads — Microsoft claims that it can reach 689 million unique searchers on the Microsoft Search Network. By serving ads on partner sites like MSN and Yahoo, it helps you to connect with users who don't exclusively just use Google.
What is the difference between SEM and SEO?
SEM and SEO should be fundamental parts of your online marketing strategy and campaign.
As SEM is aimed more toward the paid side of advertisements, SEO — also known as search engine optimisation — is different because it doesn't pay Google for traffic and clicks. Rather, SEO helps to improve the appearance and position of web pages by rewarding the most relevant content and keywords.
Essentially, you should be intertwining the two to ensure that you're making the most out of your reach.
What is the difference between SEM and PPC?
Though these terms are generally used interchangeably, there actually is a difference between SEM and PPC. Essentially, SEM is an umbrella term that encompasses PPC but isn't limited to only this form of advertising. PPC works with search engines to run text ads, image ads — which can also be shown on a range of partner websites — and video ads — that are commonly found on YouTube and TikTok.
Why is good keyword research important?
With such a prominent position yielding results from the top of the page, once you've paid for clicks and driven visitors to your website, you need engaging content to keep them on the page. This is where SEM and SEO come into play. For a successful paid ads strategy, it's crucial that you implement a clear, concise, and overall good keyword research plan.
If you know which keywords are relevant to your business, you can directly identify those you wish to target with the paid ads you're creating. Tools like Semrush and its Keyword Magic Tool can easily help businesses build out their keyword research and find relevant keywords and suggested search terms. This way, you can quickly form the basis of various marketing campaigns.
What are the different types of SEM keywords?
When you set up your SEM campaign, you'll choose the types of keywords you want to target or avoid. But, to do this, you'll need to know the different types of keywords you can use.
1. Exact match keywords
Exact match keywords target keywords that are closely related to the target term. This includes everything from:
Singular and plural forms
Misspelling
Abbreviations
Paraphrases
Closely related words with the same search intent
Reordered words[Text Wrapping Break]
Broad match keywords
Targeting variations of a term, broad match keywords include everything from similar phrases, singular and plural forms, misspellings, and synonyms of the target word.
2. Phrase match keywords
These types of keywords target the extra phrase that you're searching for. It'll also include results for any phrases that have words that come before or after the target keywords.
3. Negative keywords
These keywords exclude terms that you don't want to target. Essentially, negative keywords are a combination of various broad, phrase, and exact match keywords that aren't relevant to your brand.
These types of terms might be semantically related to your keywords but could be unrelated to the topic at hand on the search intent. By excluding them from your ad campaign, you won't waste your budget by bidding on terms that you don't want to appear in the SERPs for.
How to build an effective SEM strategy
Essentially, an effective SEM strategy comes down to optimising your ads with a specific goal in mind. But, there are various factors that go into building the right strategy for your business.
Keyword intent
A proper SEM strategy starts with implementing the right keywords. This means doing your research on the type of keywords and queries that you want your ad to show up on. To start, you can brainstorm:
Brand terms
The terms that can describe your product or service
Competitor terms
General queries
If your budget is low and you want to make sure that you generate clicks from your ad, it's best to stick with keywords that you know will bring buying intent. If your budget is larger, you can even bid on keywords that users would research earlier on in their buying journey.
Keyword cost
The placement of your ad comes down to one thing: keyword cost. A higher bid and quality of ad will earn you a higher placement in the ad standings. So, with this in mind, it becomes a lot more expensive to showcase your ad at the very top of the pickings.
Keyword volume and competition
Simply, if no one is searching for the keywords you're backing, then you won't see any results from your ads.
When you're researching which terms to target, you need to make sure you're looking at high-volume and low-competition keywords — but these aren't always easy to come by. You'll have to strike the right balance between demand volume and budget.
Account and campaign structure
In theory, you could lump all of your keywords together and display them in one ad. But, your budget would be eaten up by a range of high-volume keywords and, most likely, your quality score would decrease.
That's why you need to make sure that you're structuring your ads properly. Each ad should include:
Keywords — The queries that you're bidding on.
Copy — Ad copy is made up of a title, display URL, and description.
Ad group — Set of keywords grouped by theme.
What does Google look for in ads?
All ad campaigns are competing for a specific group of target keywords and — according to the Google Ads guidelines — there are three main factors they consider during an ad auction:
Maximum bid — This refers to Google's automated bidding strategy, but this is essentially the maximum amount you're willing to pay for someone clicking on your ad.
Ad extensions — Any additional information that you might provide in your ad like any links to specific pages.
Quality score — The specific formula that Google Ads uses to determine how relevant your ad is or how useful it will be for the user.
What value does SEM generate for your business?
Aside from choosing how much you want to spend and only paying when visitors come to your site, there are other benefits of SEM for your business.
Increase brand awareness
Search ads allow advertisers to expose their business and brand name in either the:
Description
Headline
Display URL
Extension link
Of the ad. Therefore, these paid ads contribute to a high level of exposure and awareness to many people who may not know your business exists.
Target the right audience
An effective way for businesses to reach a specific customer based on their search intentions, you can tailor your ads to appear to those who are searching for the keywords or topics associated with it.
You already know what they're trying to search for, so it's crucial that you capitalise on this to push your brand name out there.
Implement and manage ads easily
You can quickly and easily track your paid search ads through a wide range of tools. Google Ads allows you to set up a schedule for each campaign and see how much traffic it's generated. You can also run and stop your ads at any time, as well as set a budget and specify the performance speed on all your campaigns.
Become more competitive
If a business doesn't have domain authority, that means it's going to be relatively difficult for them to reach their target audience or appear at the top of the search results.
However, when you use paid advertising, it allows you to excel in what's classed as a competitive market. Essentially, these ads are a shortcut to reaching the top pool of competitors and you're able to attract users that might not be aware of your business.
How to make search engine marketing work for your business
While the process of implementing SEM into your marketing strategy can seem like a daunting and challenging task, being prepared is key. From understanding how to build an effective SEM strategy to knowing why good keyword research is important, these steps are essential in making sure your business succeeds.
For more help, get in touch with the Bionic team to discuss your needs, or get more information on business finance today.