influencer marketing
What is influencer marketing? How to develop a successful strategy 
You might know where your brand wants to head in the future, but do you know how to utilise your marketing strategy to get there? If you've never heard of influencer marketing, then you could be missing a marketing gem that can help push your business to the right audience. This blog will tell you about the different types of influencers and how your brand can benefit.
What is influencer marketing?
Influencer marketing is a type of marketing that uses people with a certain number of social media followers to push a product or service.
Influencers will usually have a dedicated following on social media, which means they can reach more potential customers for you. They might also be able to tap into an audience you haven't been able to access before.
Influencer marketing works well for brands of any size whether they're a global superbrand or a small business. Because influencers have usually spent a lot of time and effort gaining their follower's trust, this makes their followers more likely to take your products seriously.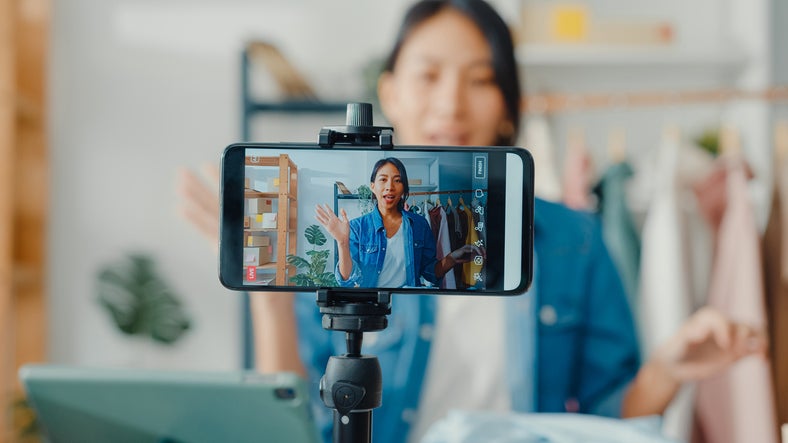 What does influencer marketing do?
Influencer marketing can consist of a few different things, but each activity is carried out to influence followers to buy a product or try a service. Influencers can:
Share your products on their social accounts
Attend launches and post about them on social media
Share unique coupon codes for your products with followers
Take part in unboxing videos
Use product placements in their content without directly talking about your product
Write reviews for your products on social media
Partner with you to create a co-branded product. You see this a lot with clothing sites and makeup brands
Host giveaways on their social media platforms
Create regular content like videos, blog posts, and ads speaking about your brand
What are the different types of social media influencers?
There are several types of social media influencers but which category they fall into will all depend on the number of followers that they have. You might think you will get more benefit from using an influencer with more followers because they can reach more potential customers.
This can sometimes be true, but influencers with fewer followers can have their own unique plus points too, such as a more trusted and dedicated following. The main types of influencers are:
1.Nano-influencers
Nano influencers usually have between 1,000 and 10,000 followers on at least one social media platform. They are often considered a great option for smaller businesses and start-ups and are a lot more cost-effective than influencers with a larger following. But nano-influencers have their own benefits too, such as being more readily available and easier to collaborate with. Nano-influencers are usually more open to alternative types of collaboration like gifting for a post.
2. Micro-influencers
Next up are micro-influencers who have between 10,000 and 100,000 followers. Micro-influencers usually work with brands in specific niches, so they are good at generating focused leads for you. Micro-influencers are ideal for SMEs, but it's important to do your research and make sure your company values match theirs. If your niche matches theirs, it's more likely their followers will be interested in your products.
3. Macro-influencers
Macro influencers are the next tier in the influencer world. They usually have between 100,000 to 1 million followers. Macro influencers can include social media celebrities. These kinds of influencers are good for businesses looking to improve brand awareness and spread the word about their products.
A downside to macro-influencers is that their schedules are often busy because they're usually celebrities on some level. Plus, their rates can be a lot higher than nano and micro-influencers. When deciding whether a macro-influencer is good for your business, you'll need to weigh up your goals and decide what you want out of influencer marketing. Then you can decide which type to approach is best for you and whether you have the budget to support it.
4. Mega-influencers
Mega influencers are the highest level of influencers and usually have more than a million followers. They are often well-known celebrities or influencers who have steadily built up their reputations over the years and are well-respected by their followers. Larger brands use mega influencers to increase trust with their company. Fans of a celebrity are more likely to consider a product with their face on it or that's backed by them and believe that it's good quality.
The downside of using a mega influencer is that a lot of big businesses have access to this type of marketing, so there's likely to be heavy competition for the best influencers. Plus, mega influencers are the most expensive influencers to work with due to their follower count and status.
What is an example of influencer marketing?
There are lots of different ways influencers can help a brand expand and attract more customers. The most obvious example is for the influencer to show off your product on their social media channels. But, there are more subtle ways influencer marketing can be carried out too.
Creating content on social channels
The main way an influencer can help your brand is to create social content talking about your products. They will then publish the content on their channels for their followers to view.
'Content' could consist of them taking a photo and raving about how much they love your product, sharing videos promoting a product, wearing clothes, makeup or accessories from your line or giving reviews on a specific item. You can enter into an agreement where your influencer takes a certain amount of photos with your product or writes a review and tags your account a certain number of times each week or month. This will ensure your brand is being seen and endorsed to their followers regularly.
However, influencers can also help your brand by taking over your social accounts as a guest for a period of time. When an influencer takes over your social media channels it's referred to as a 'social media takeover'. This can really boost engagement for your brand as a lot of their followers will visit your social accounts as a result. The takeover can last anytime from a day to a week.
Unboxing videos
This type of campaign involves you giving influencers free products or services to try out. Usually, the influencer will create a video where they open the gifts and try them out on screen. You see this a lot with makeup or clothing on Instagram, TikTok and YouTube.
Unboxing is sometimes referred to as 'product seeding' as the influencer is subtly implying that the products are of great quality, and they personally enjoy using them. After listening to the influencers' opinions on screen, their followers can decide if your product is something they want to buy.
Product reviews on social media
Reviews are a great way to boost your positive branding in general. But, if an influencer gives you a good write up, it often is seen as more reliable because of the level of trust they've built with their followers.
Lots of us look at reviews before we buy anything, so it can be invaluable for a brand to secure good influencer reviews. When carrying out this type of marketing, influencers simply write or film a review of your services or product on social media and tag your account in the post.
Making the post as detailed as possible and including a clickable link or tag to your site is something that you ideally want. Then customers can easily click through to your site when they've read the review.
Sharing discount codes unique to them
Offering freebies is a great way to start a relationship with influencers. By sharing discount codes, you essentially make the influencers your customers too — especially if you offer a unique discount code for their followers for a percentage off.
It's a great way to get some initial feedback. If the influencer likes your product and is passionate about helping to sell it, it will often be reflected in their posts. This can increase your chance of gaining more interest from their own followers. Sharing discount codes and sending freebies often works extremely well with nano and micro-influencers in particular. They might have a smaller following but will be more open and eager to receive free gifts from brands for a post.
Giveaways
Giveaways are seen a lot on Instagram and are one of the most common influencer marketing campaigns. You simply supply influencers with a product or service they can give away to their followers.
Giveaways can generate a lot of social interest due to tagging, comments and reposts, so this not only boosts you as the brand, but it also increases engagement for the influencer. Followers are more likely to pay attention to content when there's a chance to win something for free. Giveaways often have scope for brand growth because the giveaway would need to be run over a period of time. Also, there would need to be a follow up to announce the winner.
Potential customers will see this as a chance to win products, plus you might get sales from followers who didn't win in the contest but are now interested in your brand and what you sell.
Launch events
Another way influencers can help your brand is by attending launches or events your company will be at or is running. If you're having a product launch event, a great way to spread the word about your new items is to invite influencers to the event.
They can post and live stream the launch and it's a great way to attract more interest from their followers who will probably be interested in where they are streaming from and why. You can incorporate giving out goodie bags too with the understanding that the influencers post with your products or make a video giving a review.
How to create an influencer marketing strategy
If you've decided that using an influencer will aid your business and you want to go ahead, there are a few things to think about before you dive in. It's important to think about what you need from your influencer and how you want them to boost your brand. Once you've considered your end goals, you can get to work on a strategy, and here's how to create one.
Find influencers through social platforms
Before you do anything, you need to do your research about what kind of influencer will be best for your brand. Are you looking for a micro or a nano influencer? Would a mega influencer aid your business, or do you want to locate a macro instead?
But, finding the right influencer for your brand can be tricky sometimes. Research is your best friend here. You don't want to end up with the wrong kind of influencer who might actually hinder your brand progress and might not bring any customers to you. First, you should choose the social platform you want to focus on. You can always expand into other channels later on but picking one as a starter is the best option. If you're promoting a fashion or makeup brand, Instagram is most likely going to be your best platform.
To pick a platform, have a think about what social channel you use most as a business and which you have more followers on. You can also use influencer marketing platforms like Upfluence to locate influencers. This will narrow your search and find the best options for your business, but we'll go through these platforms later.
Set a budget per post/reel/ story
When you've done your research and found a potential influencer, you need to prepare a budget before you contact them.
The most important thing to keep in mind about your budget is to stick to it, you don't want to be overspending in case the content doesn't generate engagement or increase purchases. Make sure to tell your influencer exactly how much you'll be paying them for each post. Let them know if the fee differs for photo or video content and tell them how often you need content to be posted.
It's also important to be upfront about whether you will be paying them monthly or after each piece of content is uploaded. Do some research about how much to pay different kinds of influencers and factor in time to meet them virtually or face to face as you'll need to make sure they're the best fit for you. Ask other businesses about their experiences with influencers and how much the going rate is for each type.
Running an influencer partnership needs monitoring so you'll need to keep track of their progress and engagement as well as follow up with them regularly. In order for the deal to work well, you must make sure you're prepared and knowledgeable before you enter into an agreement. So do your research beforehand.
Implement a management strategy
When you employ an influencer, you are enlisting their services to help boost your brand. They are there to help you achieve your business goals, so you need to be clear on the image you want to convey in the content they are producing.
You need to build a professional relationship with your influencer like you would with any other staff member or client. This means being upfront about what you require from them. Influencers usually work with a few different brands at the same time, so you need to be clear on how many posts, stories or videos you need them to produce and upload regularly. It's a good idea to set up a schedule to check in on a regular basis.
Another good tip is to communicate about any concerns right away. If a post didn't quite hit the spot or wasn't phrased how you wanted, speak to the influencer to clear up confusion. Discussing what works and what doesn't will benefit both parties moving forward.
Decide on the goals of the collaboration
It's important to decide what you want out of a partnership with an influencer before you enter into an agreement. The most common reasons businesses use influencers are to boost brand awareness and attract more customers, but these are quite broad terms. It will help to narrow down your goals.
It's a good idea to think about your brand identity and what your business needs to move forward. Maybe you need more customers, but is there an age group you haven't been able to access yet? Could a particular influencer help you tap into a younger or older audience? Influencers have the ability to reach their own specific audiences, so use this to your advantage and tell them exactly what you want the outcome of the partnership to be.
Reach out to the influencer with a clear strategy
When you've got a potential influencer in mind, you've created your management strategy and set out your goals, it's time to reach out and see if they're interested in working with you. Double-check you've thought about:
If the influencer already posts about similar products — For example, if you're a clothing brand, you should be searching for influencers who post about fashion and outfits of the day.
If they are actually influencers - You should scroll through their social media accounts and see if engagement is good or not. Check out their follower count and see if there are any spam comments or bought likes. This can be a sign of a fraudulent account and it's best not to approach these users as their engagement isn't genuine.
How you reach out to an influencer depends on what category they fit into. If you're approaching a micro-influencer, you can usually just send them a direct message. For influencers with more followers, have a look at their social pages as they'll usually have a link for business enquires or company partnerships.
What are the best influencer marketing platforms?
Influencer marketing platforms are platforms that make it easier for the brand and the influencer. These platforms consist of software designed to help companies keep track of their influencer campaigns. Some of the more well-known ones include Upfluence and brandbassador.
You can find a lot of useful tools on these platforms. For example, some offer searchable databases to make looking for your next influencer much easier.
What do influencers sell?
Influencers can help boost your brand engagement or hype up different products or services. Although they don't actually sell anything, they are endorsing your brand and basically getting more customers for you. They can be a great way to create more interest in your brand.
Why do companies use influencers?
A lot of brands use influencers to gain exposure to a wider customer base. Influencers have often worked hard to create a highly engaged audience who enjoy following their posts. This means if they love and post about your brand, there's a good chance their followers will be intrigued by your site. By talking about your SME on social media, influencers can build trust between your brand and their own followers.
There are a few more reasons companies might use an influencer:
1. To push product/service — One of the main reasons brands use influencers is simply to sell more products. Influencers have their own set of followers, so employing them will allow you access to these same users
2. To amplify your reach — Influencer marketing helps brands overcome a common marketing obstacle; the hatred of constant adverts. Influencers are essentially producing ads for your business, but it's done in a subtle way
3. Drive revenue — More customers lead to more sales. More sales equate to more money for your business.
4. Influencers are connected with your target audience — Social media has become a massive part of modern life. Customers often look to their favourite celebrities or influencers for suggestions on what products they should use. These followers might be a new target audience you haven't been able to attract before
5. They can be cost-effective — Depending on what kind of influencer you go for, influencers can be a cost-effective way of marketing. Compared with expensive paid ads, influencers can be a great way to boost sales without shelling out lots of cash.
How can Bionic help your business?
Locating an influencer can take up a lot of time but it can be extremely beneficial for your business. But it doesn't have to be a hassle, although Bionic can't locate your perfect influencer for you, our tech-enabled team can help you cut down on other annoying bits of business admin.
One call to us is all it takes to sort your business energy, insurance, phone, and broadband. And if you're looking for a business loan, we can help with that too.