how to write a business plan
Starting a business: How to easily write a winning business plan
When you're setting up a new business, there seem to be a million and one tasks that need to be covered — and writing a business plan is one of them. Without one, your business might not successfully take off the ground.
But, with so much to wrap your head around, what exactly do you need to include when you're trying to write your business plan?
If you're not entirely sure how to write a winning plan — or just need some further advice — then our guide will help you through the process.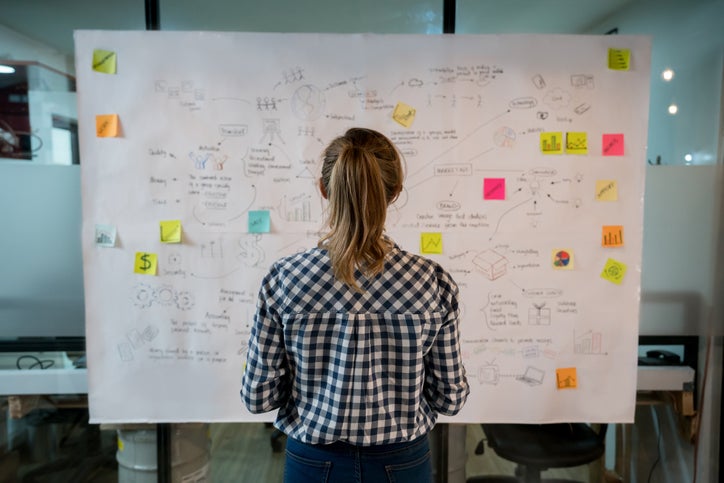 What is a business plan?
Essentially, a business plan is a detailed document that describes your core business objectives and how you plan to achieve them over a set period of time.
Typically, it will go into detail about things like:
Your product or services
How your business earns (or will earn) money
Your operation model
Leadership, management and staff
Strategy and execution
Cash flow projection
Marketing plans
But a business plan isn't something you'll write and never look at again. You should think of your business plan as a roadmap that showcases the next steps and objectives you need to meet in order to progress.
Why is a business plan important?
To make your business thrive and succeed, a business plan can be invaluable. Not only is it a strategic tool, but a well-written business plan can help you achieve short-term and long-term goals.
If you're looking to find the right investor for your business, a formulated business plan can be an attractive prospect to potential investors. If an investor can clearly see that your business is on the right track and making progress, they're more likely to consider you as a worthy investment.
Do I need a business plan?
Though it may sound time-consuming, business plans are critical to success. Even if you don't need funding, there are many reasons why learning to create a business plan can help your business in the long run.
1. Helps to make critical decisions
While it's true that business plans have many purposes, it's main goal is to aid you in making decisions that will affect the business. A clear and concise business plan is a great way to plan in advance and tackle a decision from all angles — giving you the ability to consider its success rate and possible ramifications.
2. Proves the viability of your business
While many businesses are created out of passion — which can be a good thing — sometimes this doesn't translate well in practice. Planning out exactly how you'll turn your vision into a reality is one of the most important steps you can take. Business plans can help you confirm that your grand plan makes logical business sense.
3. Easily communicate objectives, goals and progress
Whether you're managing a small team or you're rapidly expanding, as your business grows, you'll realise that you won't always be able to make every decision.
It's important to let your staff know that they can always consult the business plan if things go array or if they're just generally unsure about something. Sharing your plan with your team means that you can be better aligned on objectives and goals and can easily communicate where you want the business to go.
4. Secure financing
If you're looking to secure funding for your business — whether this is borrowing from the bank, getting an investor or anything in between — you're likely going to need a business plan. Anyone who wants to invest in your business will want to see that company is viable in the long run and therefore worth the investment.
How to structure your business plan
A business plan can include any information that you feel is relevant to best convey how you're planning to start or run your company. However, some certain terms and conditions will be present in almost every business plan. These usually include:
1. Company description
Essentially, your business plan should open with details about who you are as a business and what/where you plan to take the company in the future. Even if you're the only person that's going to see it, it's still an important opportunity to go into detail about factors like:
Your business model — Which is essentially your company's plan on profit-making. You'll also have to define what products or services you sell as well as your target market and any other costs.
Your industry — What industry does your business operate in?
Background information — Information about the background of your company and its history.
Business objectives — What are the short-term and long-term goals for your business?
Your team — Including their position and salaries.
Once you've got the ball rolling, points like what you hope to accomplish, what you stand for as a business and your businesses vision will require a little more thought in comparison.
2. SWOT analysis
A SWOT analysis looks at the strengths, weaknesses, opportunities and threats within your business. Typically a SWOT analysis will be laid out like a grid, with bullet points under each heading.
Here's an example:
| | | | |
| --- | --- | --- | --- |
| Strengths | Weaknesses | Opportunities | Threats |
| Quick to respond to market changes | Missing expertise in some areas | Expand advertisements | Larger competitors with bigger brand names |
With its visual presentation and straight to the point details, readers of your plan can quickly and easily identify the factors that impact your business.
3. Competitive analysis
No matter what business you're in, you're always going to have competition. Keeping an eye on your competitors helps you anticipate shifts in the market, spot successful tactics and new trends that are on the rise.
If you're conducting a high-level competitor analysis, you'll want to make sure that you look out for:
Who they're targeting — If they're a direct competitor, are you both targeting the same age range, gender and location?
Their approach to shipping — Do they offer free shipping over a certain amount? Or offer flash sales during peak times at a reduced rate to entice potential and existing customers?
Price points — If you're selling the same type or model of product, how much do they charge?
Unique value — What value do they deliver to customers post-purchase? Do they offer 28-day returns or even an extended returns policy during Christmas?
Sales or marketing tactics — Do they offer time-sensitive sale codes? Hidden discounts on social media channels? How often do they offer discount codes?
Generally, a competitive analysis can give you a rough idea of what you want to evaluate about your competitors — although you can go into more detail if necessary.
4. Customer segmentation
Also known as your target market, your ideal customer is the foundation on which you should build your business plan. Knowing who your ideal customer is, where they come from and more can help you make strategic decisions.
Usually, customer segmentation includes things like:
Where your customer lives
Their age range
Their gender
Their beliefs, values and/or political views
The technology they use
Their level of education
Where they work and their salary
Common behavioural patterns
Depending on the product or service that you're selling, your customer segmentation will vary. The job role, spending habits, political views and level of education of a 22-year old will, more than likely, differ from that of a 56-year old.
5. Marketing plan
Your marketing plan and your customer segmentation go hand-in-hand. In your marketing plan, it should outline the next steps and your current marketing ideas as they fit in with your ideal customer.
A large majority of marketing plans will include information on:
Place — Where you'll sell your product. Will it be online or in a store or market?
Product/ service — What are you selling? Is it a product or a service? How does it differ from what is already on the market?
Price — How much does it cost to produce your product or service? Why have you made the decision to sell it for the price you have?
Promotion — How are you planning on getting your product in front of its intended ideal customer? Will you promote it on social media?
Depending on your business and its intended audience will change the amount of detail that you'll need to go into for each point.
6. Financial plan
No matter how good your idea may be, if you're not in the right financial situation — or can't secure the help of an investor or bank — then it's going to be a challenge to make your business idea a reality.
Typically, you'll have to split your financial plan into three different sections.
Income statement
An income statement is designed to give people a more in-depth look into your revenue sources and any expenses over a set period of time. With these pieces of information, anyone who needs to will be able to see the important profit or loss that your business has experienced.
Balance sheet
A properly done balance sheet will show an insight into your businesses equity. In your balance sheet, you'll have to make a list of all of the business assets — what you own — and all of the liabilities — what you owe.
Cash flow statement
Your cash flow will take into account when revenues are collected and when expenses are paid.
If the cash you have coming in is greater than the cash you have going out, then your cash flow is positive. If the cash you have coming out is lower than the cash you have coming in, then your cash flow is negative.
Ideally, a good cash flow statement will help you see when cash is low and where you might have to add some more money.
Why could a business plan fail?
Sometimes, your business plan can fail. There can be any number of reasons why this might happen, but to give your plan the best chance of success, always try to avoid these common business plan mistakes:
1. Bad idea
Usually, businesses are built on passion projects. However, this sometimes doesn't translate well into a successful commercial operation.
You have to remember that not every idea is going to be a winning one. Sometimes your idea may be too risky or niche and won't receive the funding it needs to get off the ground. Other times your idea can be too expensive to actually fund.
2. Inexperienced team
For smaller companies especially, many business owners think that roles are interchangeable. But this isn't always the case. Just because a Social Media Assistant has experience writing captions for Instagram doesn't mean that they're going to be able to write a blog or landing page copy — and the same goes for any job role.
When you're hiring your team, it's important that you make sure that you hire an individual to do the job that they're hired to do.
3. No exit strategy
When you're writing your business plan it's important that you include an exit strategy should you wish to eventually sell your ownership in the company to an investor or another company.
The same goes for investors. If you're pitching your business plan to an investor, they're only going to want to know one thing; will this business make money? To give your investors peace of mind, then you'll need to include a clear strategy for them to leave the company with the profits they've made.
Top tips for writing a business plan
When it comes to writing your business plan, it's important to remember that this is going to be something that you'll rely on in the future. To make the most of your plan, make sure you:
Know your audience — Remember who it is that you're writing for. Is the plan primarily for your own use? Or will you be showing it to potential investors in the future?
Link everything to your core objectives — The purpose of your business plan is to show your goals and how you plan to achieve them. In every section, you should link back to this.
Be concise — Keep your plan short and simple. While it's important that you don't miss out any crucial details, you'll also want to make sure that what you've written isn't too long. Be concise and to the point.
Proofread, review and format — In your business plan, you should make sure that you use clear headings, a concise structure and the same font throughout. You'll also want to double-check all of your work to look out for any spelling or grammatical errors. It may also be a good idea to get someone else to proofread your plan, just as an extra pair of eyes to pick up on anything you might have missed.
Writing your business plan
While sometimes it can feel overwhelming when it comes to writing your business plan, our handy guide is here to help you. Whether it's understanding the structure that you should use or just knowing why a business plan is important, a well-written business plan can give your company the boost it needs.
There are always risks when you decide to launch a business, but you can mitigate many of them with a robust business insurance policy. Get in touch with the Bionic team to discuss your needs or get more information on business insurance today.