flexible working
Flexible working: How to easily manage working from home requests
Working from home has transformed the way companies work, rather than sitting on congested motorways or packed trains, employees now have the freedom to pick their working hours and commute from their bed straight to their desks. But, how do you manage an employee's work from home request?
To help make that process that little bit easier, our handy guide is here to help walk you through everything you need to know about working from home requests.
What is working from home?
Put simply, working from home (WFH) — or telecommuting as it's also known — is when an employee is working from their house, flat or place of residence instead of working in the office.
Since the Covid-19 pandemic, many companies have put in place a WFH or a remote working policy that allows employees to work from home either full-time or on a set schedule. Working from home gives your employees the freedom to plan work around their life, not their life around work.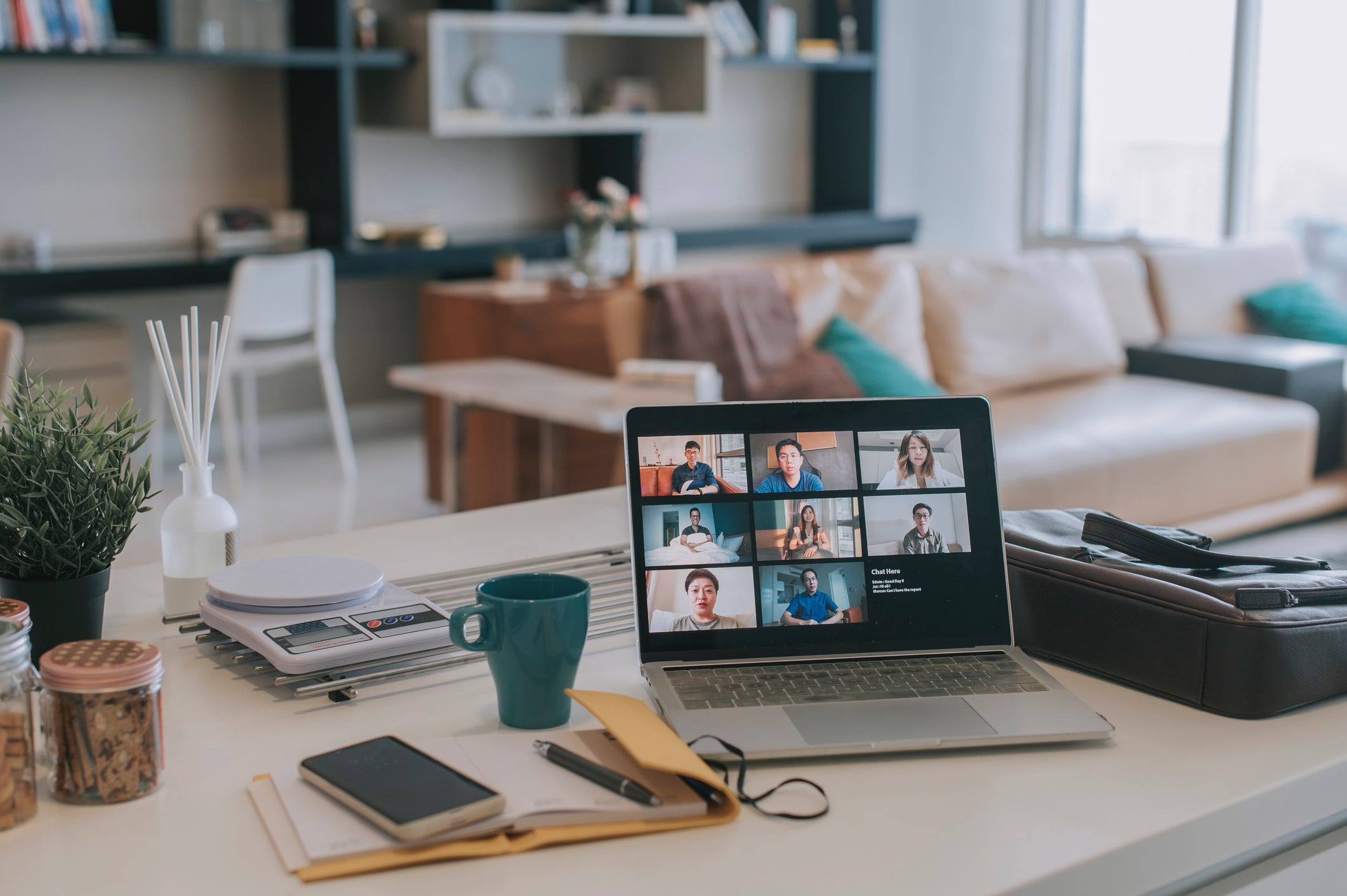 Do employees have the right to work from home?
Unfortunately, employees do not have an absolute right to work from home — it simply comes down to the decision made by the employer.
Employment contracts should always specify the employee's place of work so it's clearly outlined whether they're working from home, in the office or a blend of both known as hybrid working.
What kinds of flexible working exist in the UK?
In the UK there are comprehensive laws regarding flexible working. Essentially, all employees are entitled to flexible working after 26 weeks of regular employment by the same company — but this doesn't mean that employees are necessarily allowed to work from home.
The level of flexibility they're entitled to will vary, but there are several different forms of flexible working:
Job sharing — Two people do one job and split the hours equally between them.
Working from home — It's possible to do the majority of work from home or anywhere else other than the office or designated place of work.
Part-time — Working less than full-time hours, usually by working fewer days.
Compressed hours — This is where employees work full-time hours but over fewer days.
Flexitime — The employee chooses when to start and end their working day. These are usually within agreed limits but they must work certain 'core hours' such as between the hours of 10 am and 4 pm.
Annualised hours — The employee has to work a certain number of hours over the year, but they have flexibility around when they work. Some employers may put in place 'core hours' that the employee has to regularly work each week, but the rest of the hours will be worked flexibly or when there's extra demand at work such as during peak periods.
Staggered hours — The employee will have a different start, finish and break time compared to other workers.
If a request to work from home is denied, the employee might be able to come to an agreement with the employer for a different kind of flexible work.
Can employees insist on requesting flexible working?
Before June 2014, employees could only insist on flexible working if their purpose to do so was to care for a child or an adult. The request can now be made for any reason so, yes, technically an employee can insist on flexible working. But, employees can only make one formal request in any 12-month period and it has to be in writing — although further informal requests that aren't in writing can be made.
The request must:
State that it is an application made under the statutory procedure.
Specify the change and when the employee wishes for this change to take effect.
Explain the effect.
Any change the effect would have on the employer and how it could be dealt with.
The employer must then deal with the request in a 'reasonable manner' which is usually within three months.
What are the options available for the employer?
An employer then has three options to choose from once an employee has submitted a formal request.
Accept the request — The employee's new working pattern will be a new, contractual variation to their employment and will be permanent. The employer is then obliged to either update the employee's contract or create a new one entirely. They'll also have to send the employee a letter recording the change.
Accept the request but on the basis of a trial period — Some employers may choose to offer a trial period to see how the flexible working works. They can also offer reviews to check how the process is going with the employee.
Refuse the request — To refuse the request, an employer must do so for one or more of the following reasons set out in the legal legislation:

The burden of additional costs
Unable to meet customer demand causing a detrimental effect to the company
The inability to recognise work among existing staff
The inability to recruit additional staff
Impact on the quality of work
Impact on the performance of work
Insufficient work during the periods the employee proposes to work
Planned structural changes within the company
What must be considered before accepting or rejecting the request?
When employers are accepting or rejecting a request, they should be mindful that the employee's request could be protected under the Equality Act which is a law that was brought in to protect against discrimination or unfair treatment in the workplace. Turning down a flexible working request — whether legitimately or otherwise — from such an employee could be deemed as:
Direct sex discrimination — This is when, because of an employee's sex, they're treated worse than someone of the opposite sex who may be in a similar situation. For example - if a male employee's request was made to accommodate childcare, but the same request was denied for a female employee.
Indirect sex discrimination — This is when a rule, policy or practice is put in place and is deemed to be more of a disadvantage to someone of particular sex than someone of the opposite sex. For example - an employer requires all employees to work full-time when statistically, women have more caring responsibilities for young children and dependent adults.
Unlawful discrimination — When a person is treated badly, or less favourably than others, on the basis of certain personal characteristics or attributes. For example - paying lower wages to an employee as they've come from a different country.
Indirect religion or belief discrimination — Where the employee is asking not to work during certain days or times in accordance with their religious beliefs, but the employer doesn't take this into consideration. For example - during Eid.
How do I effectively manage employees working from home?
Supporting and managing employees can help make working from home more effective and efficient. While managing a remote team can sometimes be hard, it's important to ensure the success of the team. So, there's no need to stress with these top managing tips:
1. Set clear expectations and standards
As productivity standards will vary from job to job, it's important to make sure that you set clear expectations for employees who are working from home.
Employees should know what is expected of them as an individual and what is expected as a team, for example, everyone must attend meetings between the hours of 9 am and 4 pm.
2. Set up a weekly or monthly reporting system
Sometimes, it can be difficult for managers of remote workers to be completely aware of where employees are up to with a task and elevate their productivity. It can also be hard to know if an employee is struggling with their work and may require additional support.
Reporting systems are great at helping to give an oversight of how a task on a project is progressing and whether any help is required to box the task off.
3. Ensure all information is accessible
Information that's easy to access in the office can be much harder to access at home. Working on a shared Google Drive is great for helping to store information all in one place and having it accessible for all colleagues.
4. Set clear communication guidelines
If your employees are located across the world in different time zones or simply work different shifts, it's important to have clear and concise communication.
Make sure that all meetings are scheduled when all members of the team will be available and, if you require daily or weekly meetings, ensure that this is understood. If you know that either yourself or one of your employees will be away from their desk during certain hours of the day, make sure this is noted. Make sure no employees feel isolated
If some employees are working different hours, they may feel isolated from the rest of the team. Try to schedule meetings or events at times when you know everyone can make it, and make sure to include them in any team-building activities.
5. Set clear and achievable timelines and deadlines
No matter whether it's daily, weekly or monthly, set time frames per task so everyone involved knows how long a job should take. If it's going to take a little bit longer, then make sure this is communicated effectively.
What are the advantages and disadvantages of working from home?
Working from home has a wide range of advantages and disadvantages for both employees and employers. Some of these include:
Advantages
1. Better work-life balance
Working from home gives employees more freedom to control and plan their day. With more businesses opting to switch to flexible working hours, employees can start and end their day as they choose — as long as the work is done.
Remote working also allows employees to choose where they work from, whether it's at home admiring the view or sat in a coffee shop as the world goes by. This control over their work schedule can be invaluable when it comes to attending to needs in their personal life.
2. Less commuting stress
In the UK in 2019, the average commuting time in the UK was 62 minutes a day — and this time really adds up.
Ditching the commute helps to support employees' mental and physical health and allows them to use the saved time to prioritise life outside of work. Whether this is getting extra sleep in the morning, fitting in a quick workout or spending more time with family.
3. Increased productivity
Working from home usually leads to fewer interruptions during the day, fewer office politics and a quieter noise level, all resulting in an increase in productivity.
When done right, remote working allows employees and businesses to focus on what really matters — performance and driving success.
Disadvantages
Although working from home has its benefits, it also has its disadvantages, too.
1.Increased isolation
When working from home, it's easy to feel quite isolated if an employee has little interaction with their colleagues or anyone else in their household. The key to avoiding loneliness and isolation among remote teams is to make sure that regular meetings and social events are scheduled with colleagues outside of work.
2. Risk of overworking
Telecommuting also comes with the risk of working more hours than you're contractually obliged to. Because of this, there are sometimes higher risks of work-related stress and burnout.
To avoid this, make sure that your team is super clear on their schedule and what is expected of them, and encourage them to allocate specific times for specific jobs and tasks. For some people, it's important to have a designated workspace that they can leave once the workday is over, which can help them to 'log off' for the day.
3. Home office costs
Some remote positions require employees to have specific equipment like headsets, webcams or certain software so they're able to perform essential tasks. If they want to set up a desk, office chair or other furniture, they'll usually have to cover these costs themselves to get their home office organised.
Dealing with employees work from home requests with Bionic
Remote working can be one of the best things you can allow your employees to do. Whether you opt for full-remote, flexible working or anything in between, make sure you set clear guidelines with your employees so they know exactly what's expected of them.
Speak to the Bionic team today to find out more about Business Insurance or check out our handy guides to help you with all of your business needs.