card payments
How to start accepting card payments as a small business
Swiping a card has become almost second nature as credit and debit payments have overtaken cash as the most common way to pay for goods or services.
A lot of this is down to convenience. You no longer have to carry wallets of change or even enter your pin number in some cases — even the contactless limit has increased to £100.
But accepting card payments doesn't just make life easier for customers, it can make life simpler for SME owners too. The ability to take card payments can make your business more accessible, attract new customers and ensure you're keeping up with new technology. Read this helpful Bionic guide to find out how to set up card payments for your business.
What is a card payment?
A card payment means using a credit, debit or contactless payment method as an alternative to cash. Being able to offer card payment transactions has become increasingly important in modern life, especially over the last few years.
The ability to swipe a card without having to exchange notes or coins became even more attractive to people during the pandemic when fear of germs was high. Shoppers felt safer having minimal contact with others and contactless payments were a great option to have.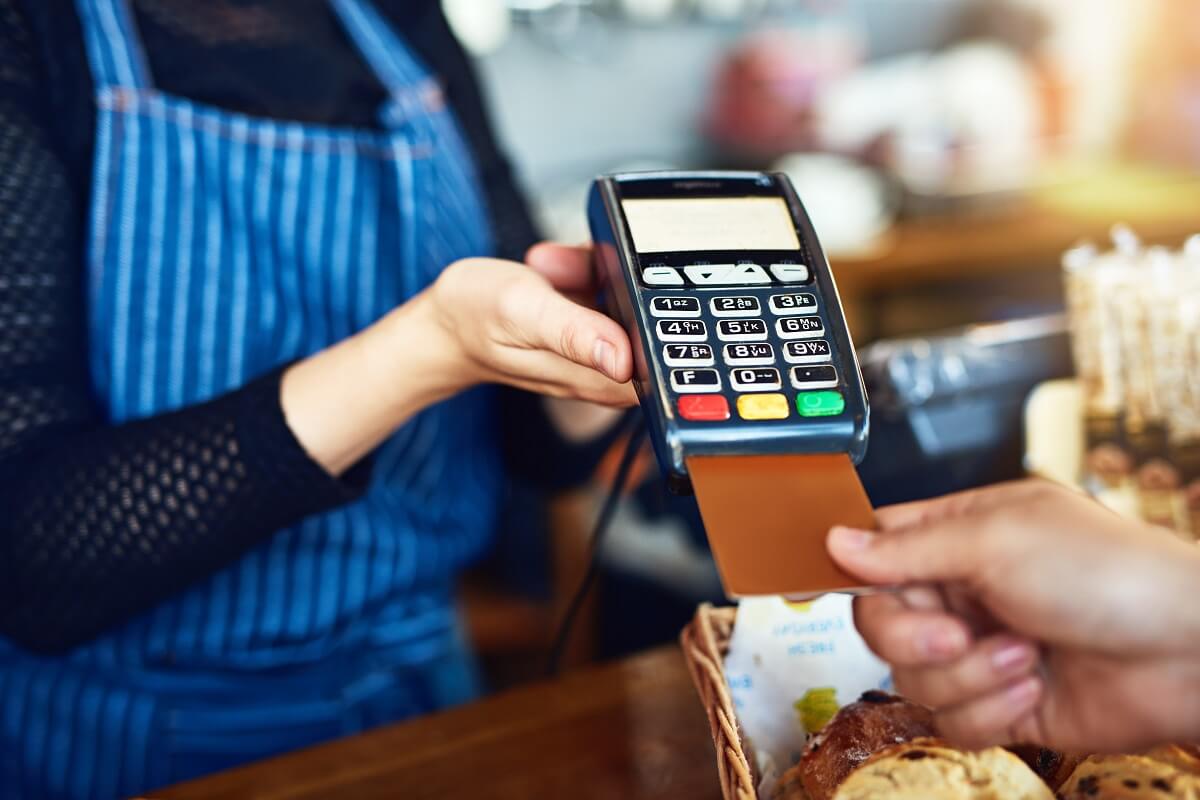 How do I accept card payments?
If you've decided you want to set up card payments for your business, there are a few steps you need to take first. There are several ways you can take card payments from customers including face-to-face, with a card reader, via a payment gateway, over the phone or online.
You need to research these different types of card payments and think about which will fit your business best. It's important to consider which options your customers are likely to benefit from too. Some of the main ways you can offer card payments include:
Card machine (card present)
Card machines are mainly used for face-to-face transactions. They are typically situated at your cash register and are easily accessible to paying customers. The customer will tap their contactless card or input their pin to pay for a product or service. Although many businesses use card machines in a face-to-face setting, this isn't the only way you can use one.
For example, a customer can call your business and pay for a product over the phone by giving you their 16 digit card number, expiry date and security number. You as the business owner, then key these details into your card machine manually like they would if they were face-to-face with you.
Payment gateway (card not present)
Payment gateways are a type of software that's built into your website. These gateways authorise credit or debit card transactions from customers when a payment is made.
The gateway receives a request from the customer when they click to buy something from your online shop. The software then sends the funds from the customer bank to the merchant account) to hold. The money is then transferred to your business account within a couple of working days.
Before you choose this method, you'll need to check which payment gateways your site will be compatible with. This will make sure the process runs as smoothly as possible and there are no unexpected hiccups along the way.
Virtual terminal (card not present)
Virtual terminal platforms are a type of software used when a credit or debit card is not physically present. The process is similar to if a customer phones up to pay and you manually enter their details into the card machine.
You'll need the customer's 16 digit card number, expiry date, and security code, but you'll also need the customer's billing postcode, too.
The main steps to choosing your card payment
If you're happy to go ahead with setting up card payments, the next step is to carry out thorough research. This ensures you can make an informed decision on which card payment option is best for your customers and your small business.
Depending on which payment solution you choose, you'll then need to follow these steps:
Decide how to take your card payments
There are three main ways to take card payments and each works best for different types of businesses.
Payment gateways – This software is often used by online or eCommerce businesses with lots of web customers. If you opt for a payment gateway, you won't need to buy a card reader if your business is solely based online. This can help if you're trying to limit the everyday costs of running your business.
Card readers – These are great for SMEs with actual shops, stores or premises like a clothing business or a café. You can search the web for card readers and compare prices to see which one would be best for you.
Virtual Terminals – These are good for businesses with no face-to-face customer contact. Opting for this type of card payment system can also help cut everyday business costs.
Make sure you do your research and choose which payment method will benefit your business and customers the most.
Research merchant account providers
Once you've decided which payment option you're going for, the next step is to look into merchant account providers. Any business that wants to accept card payments either face-to-face or virtually must have a merchant account set up. A merchant account is where the funds from the customer are held until they go into your business account.
Lots of card machine providers can help you set up a merchant account or advise you on which one to choose, but it's always best to do your own research too so you're clear on how the process works.
Link with your POS system
The next step is to link with your POS system. A point-of-sale system — or POS system — refers to the location where the card sale will be taking place which is usually a cash register at your business premises. However, in recent years, POS systems have become more digitalised, so are now more portable.
For example, at a restaurant, the POS system would usually be the cash register, but now waiters can have portable card readers they carry around with them to different tables. So, this portable card reader could now act as the POS. A POS system can be really useful as it lets you track sales by product and time of sale.
Set up the card reader/virtual payment
Next, you're ready to set up your card reader or virtual payment system. If you've chosen to go down the card machine route, there's a much larger choice of machines on the market.
A few years ago, the only card machines on offer were bulky and rigidly set at your till. Now there are sleeker alternatives and different mobile devices businesses opt for. Your set-up will depend on which card reader you have, but it's pretty easy to get the hang of once you choose which one is best for your business needs.
What is a merchant account?
A merchant account is an account where funds from a customer's debit or credit card are transferred after they have been processed.
The money is then held until it is ready to be transferred into your business bank account. You'll need a merchant account if you want to start taking card payments. Although you'll own the merchant account and get to set it up, you won't have direct access to it. Usually, the funds in your merchant account are transferred to your business account within 1-2 working days.
Merchant service charge
Merchant Service Charge — also known as MSC — a is a service charge fee attributed to every credit and debit card transaction your business carries out.
For example, if a customer was to buy your goods for £10, the merchant fee would be a small percentage of this. The merchant charge often depends on a few factors like the type of card used, the location of the sale and the merchant capacity.
How do card payments work?
After you've chosen your card payment option, signed up for a merchant account, and set up your card machine or virtual payment system, you can start taking payments by credit or debit cards.
The payment journey is usually as follows:
Customer purchase
First, the customer pays for the items via credit or debit card. Remember this could be face-to-face using a card reader, by phone or via a payment gateway online.
Then the customer submits their card details, enters their pin, or taps their contactless card. Alternatively, you can submit the details for them if they are paying online or by phone. The merchant account is then contacted. The merchant account then checks and authorises the customer card and sends the details to the payment gateway.
The payment gateway will then transfer the customer card details to whichever payment processor is used by the merchant account. These details are then thoroughly checked.
The payment processor will then securely transfer the funds to the card association.
From here, the card association securely transfers the card details and information to the customer's bank. The customer bank will then check that there are enough funds to complete the transaction in the customer's account.
The customer's bank will also run a security check to make sure there is no fraudulent activity on the customer's account.
The customer's bank then submits a response to the card association. It will either approve or reject the sale depending on what their checks find.
The card association sends a message to the merchant's payment processor to tell them if the sale has been accepted or not.
The payment processor then sends this response to the payment gateway and the payment gateway informs the customer and the merchant account of the outcome.
At the end of each day, the merchant account sends a list of all authorised transactions to the payment processor for their records. The merchant account will then send the relevant funds to your business account within 1-2 days.
Do I need a business account to take card payments?
You will need a business account to take card payments as well as a merchant account. Using a merchant account makes things a lot easier and it will allow you to accept payments into a standard business account with minimal hassle.
How much does it cost to take card payments?
The cost of taking card payments depends on several things, including the number of transactions you take in a day, the type of transactions they are, and the fees your merchant account charges.
The merchant service fees incorporate the following:
Your agreed contract length with them and if you own or rent the card machine
Any transaction fees
Any set-up fees for taking card payments
How much do card machines cost?
Standard card machines cost between £15 and £25 per month to rent. But, you can choose to buy a machine outright. The cost depends on which kind of card machine you need. Countertop devices usually cost around £700 to £1,200. But you can pick up a mobile card reader for about £200.
Every time you take a debit or credit card payment from a customer, there will be a small charge you'll need to pay too. This fee is usually around 3% of whatever the customer is being charged for the product or service.
How much does a contactless transaction cost?
If you want to take contactless payments from customers, then you will usually be charged about 0.75% for each transaction.
However, you won't be charged an authorisation fee. For example, if a customer was paying £10, you'll need to pay 7.5p in contactless fees.
Although it can be annoying to have to shell out more money every time you take a contactless payment, it's the most popular way of paying for items or services now. You'll likely get more business if you offer alternative ways to pay.
How can Bionic help with your business admin?
Researching different card payment options can be a hassle, especially when you're a busy business owner with an ever-growing to-do list.
Although Bionic can't choose your payment system for you, we have lots of helpful guides written with small business owners like you in mind to help better your SME. Whether you need help with your business insurance, business energy or any other business essentials, speak to the tech-enabled team at Bionic today.