business inspection
How to prepare your business for an inspection
Sometimes running a business can feel like you're juggling lots of different roles at the same time. An important item on your to-do list that you need to make sure not to forget, is carrying out and preparing for regular workplace inspections.
Inspections can make all the difference in avoiding common problems either now or in the future. Have a read of this helpful Bionic guide to find out what a workplace inspection is and why you need one.
What is a workplace inspection?
A workplace inspection takes a detailed look into your business to see if you are running it safely or not. The main points of an inspection are to prevent injury, accidents, and incidents within your business.
Internal and external inspections make sure any problems in your business are ironed out or identified before they become an issue.
Health and safety inspections are an important part of running a successful SME. When your staff feel safe and protected at work, it creates a better environment for them and you.
A workplace inspection can take a few different forms, and they can be extrinsic or systemic. This sounds complicated, but the differences are pretty straightforward:
Extrinsic inspections usually look at a single problem that needs to be addressed, like if a customer slid over on a wet floor.
Systemic inspections take a more holistic approach to safety issues and usually involve reviewing system operations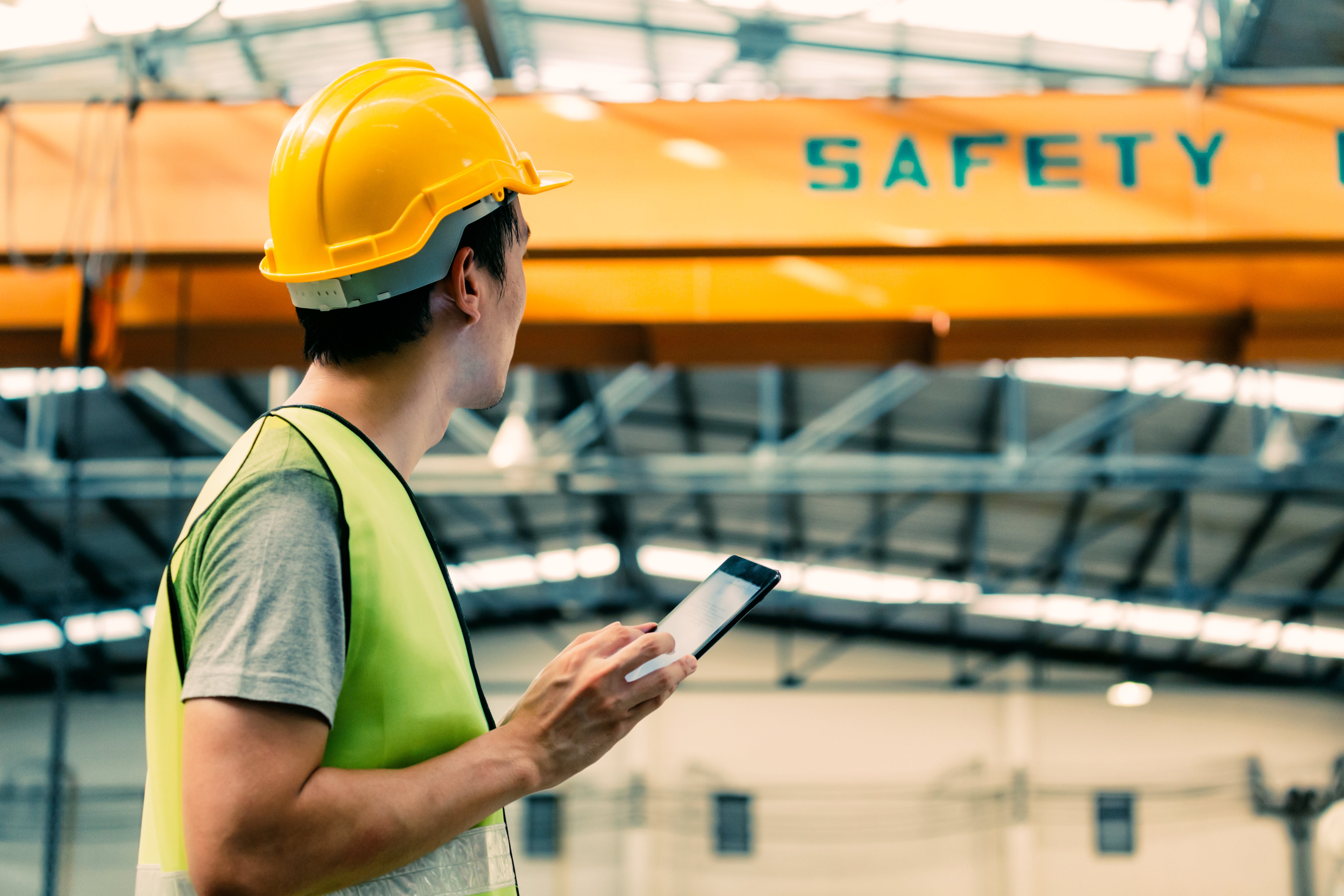 Why are workplace inspections important?
Inspections are a crucial part of running any business and will help you avoid accidents, incidents, or issues both now and in the future. Not only this, but inspections create a safer environment for your business to thrive.
The whole point of inspections is to identify, reduce or eliminate risks to employees, customers, yourself, and the public. These risks could be anything from poor hygiene — like leaving food out on counters and attracting rodents as a result — to dangerous work practices — like not having a proper fire evacuation process in place.
What is the purpose of a workplace inspection?
The main purpose of a workplace inspection is to make sure your small business is operating as smoothly as possible and not endangering staff, customers, or yourself. Some examples include: :
To recommend corrective action
Inspections help recognise problems in your SME and identify current or future risks.
Inspections are a positive thing; you should take any advice an external inspector gives you as constructive criticism. You can then plan to improve the safety of your SME and protect against problems.
By acting against these risks, you are making sure your business is even better in the future as inspections can help guide you and give you a plan of action.
To identify existing and potential hazards
Inspections help to identify existing and potential hazards and determine underlying causes, reducing the chance of them becoming a problem again in the future. As an SME owner, you might be busy all day every day. Although you're likely to notice major hazards like a wet floor a customer could slip on or a lack of proper equipment, you might not notice the finer details. An inspection can help point out risks you might be missing.
To monitor steps taken to eliminate hazards or control the risk
Inspections often give SMEs a way to adapt and streamline their processes making them more effective. For example, if an inspection found your administrative processes or PPE equipment weren't up to scratch, changing these aspects would give you an opportunity to make your workplace safer.
By considering what your inspector is saying — revamping your admin strategies or ordering new PPE — you are actively taking steps to control risks and get rid of hazards. An inspection can make sure you are taking these relevant steps.
To further understanding of jobs and tasks
Inspections give you a chance to learn about your staff and their individual job titles. By discovering how each of their roles is different, you can understand your team and help them with any problems they might be facing.
To listen to the concerns of staff
Inspections often give staff members a chance to speak up about any concerns they may have. When you're caught up in the daily grind, they might not think to come to you with issues.
Inspections can give your team a platform to speak about things they think could be improved. This is also an excellent opportunity to listen to what your staff are saying and take proactive steps to make everyone happier at work.
What types of hazards are looked for in the workplace?
There are many types of hazards to keep an eye out for in the workplace, you might notice some of these or they might be picked up in an inspection.
Some examples are:
Safety hazards — These are usually problems with machinery or anything that creates unsafe working conditions or bad work practices for you and your staff.
Biological hazards — These are often caused by germs, viruses, bacteria, fungi and parasites. For example, if you worked in a medical lab, biological hazards would be a big type of risk to consider. However, you can still have biological hazards in a shop, café or takeaway with bacteria or infestations.
Chemical hazards — These types of risks are caused by; solid, liquid, vapour, gas, dust or fumes. For example, if you run a car mechanic business you're more likely to come into contact with these daily.
Ergonomic hazards —These hazards are usually caused by psychological risks. For example, if your staff carry out repetitive movements or use tools that aren't designed for the job at hand, these count as ergonomic hazards. Bad postures from sitting on improper chairs are also an example of this type of risk.
Physical hazards —These hazards are caused by; noise, vibrations, the weather, electricity, radiation, and pressure. Essentially, they include anything physical that affects your business and its staff.
Psycho-social hazards — These types of risks affect a worker's mental health. Examples of this type of hazard are unreasonable demands, no breaks, overwork, stress, or workplace bullying.
How to prepare for a safety inspection
When preparing for an inspection, it's a good idea to form your own staff inspection team before the day. Ask for volunteers from your team and see if anyone would like to help prepare and plan for the inspection.
Having a dedicated team working on inspection preparations will ensure everything is in working order and you've noted as many issues as possible before the actual inspection.
Another good idea is to work on a checklist with your team. Try to list all potential hazards within your business and check that everything is in good stead for the inspection date. You could put different staff members in charge of the different areas of risk management stated below. Split it out and have someone looking at physical risk, someone else reviewing ergonomic hazards and so on.
Some more proactive examples of how to prepare for a safety inspection are below:
Carry out a fire inspection
Every business should have a solid fire procedure, as you never know when you will need to have an emergency evacuation. Make sure you assign the job of fire safety officer to a member of your team; you have a dedicated fire escape route by law and an outside meeting point that everyone is aware of. Ensure that you practice fire drills regularly and keep a log so that when an external inspector visits, you can show that you have taken safe measures.
Carry out a gas inspection
Gas safety is another aspect you need to keep a regular eye on. Carrying out gas checks is an important way for you to prepare for an external inspection.
Check your carbon monoxide alarms are in working order, that all pipes are not damaged and that appliances are safe to use. This will put you in good stead for an external inspection as you will have identified any huge risks yourself and hopefully rectified them in time.
Carry out a health and safety inspection
General health and safety inspections should be carried out regularly by yourself or members of your team.
This will ensure everything is as in place as possible before an external inspection is carried out. Things to remember when looking at health and safety in your business are; making sure you have up to date policies, everyone has completed necessary requirements like first aid training, and there are no health risks, for example, food left on kitchen counters.
Who performs an inspection?
There are a few different people who conduct inspections, but, it all depends on the type of inspection and why it's being carried out. You can carry out basic inspections yourself and should on a regular basis, but more complex inspections will require an official
Walkthroughs can be carried out by anyone on your leadership team, as these types of inspections are usually quite frequent and give you a chance to sort out any problems before an official inspection.
An external, or official inspection is a little different. These will be carried out by an official body called the Health and Safety Executive (HSE). This public body has crown status and is in charge of making sure every business in the UK isn't breaking any health and safety laws.
The two types of inspections are:
Incident inspections — May take place after a significant workplace incident for the purpose of investigating root causes. These are more serious as they have identified a major problem that needs to be addressed as soon as possible.
Safety surveys — Involving health and safety specialists within a business may review more technical occupational health requirements, or general surveys, where particular inspections may be required of dangerous areas and activities within an operation.
How long should an inspection take?
The simple answer is the length of an inspection varies from business to business. The time an inspection takes completely depends on if there are any issues and if they can be easily rectified. Plus, the size of your premises and the number of different processes you follow will affect the length of the inspection too.
It also depends on how many questions are asked by the inspector, and how complex your working environment is. If the inspection is just a general look around the building at your safety procedures and they find no issues, then the inspection could take an hour or less.
However, if it becomes more complex then it could go on for longer. Plus, you'll need to arrange a follow-up inspection to make sure you've rectified any problems that were identified.
How can Bionic help you prepare for a workplace inspection?
Preparing your SME for an inspection can seem like a big job, but this guide should have given you an idea of what needs to be done. And switching your business essentials with the tech-enabled team at Bionic can help free up some time to put into a workplace inspection or any other part of your business.
We can help you switch business energy, compare business loans, get a better business phone and broadband deal, or make sure you're prepared for the worst with quality business insurance.
And while we can't organise your inspection for you, we have lots of helpful guides written with business owners like you in mind to help better your business and help you grow.