voip vs landline
VoIP vs Landline - what's best for your business?
If you've never heard of VoIP before, it's simply a way of making voice calls over an internet connection. But is this new tech any better than your tried and trusted business landline?
Let's pit VoIP vs landline to help you work out what's best for your business.
30-second summary
Business VoIP works differently from a business landline as calls are made over the internet not via traditional copper phone lines. Landlines are being phased out, and by 2025, everyone will have to use an internet-based called system like VoIP or use SIP trunking.
Compared to a business landline, VoIP has the following benefits, to name a few - it's cheaper, simpler to set up and use, is low maintenance, it can scale as you grow your business and it's loaded with features like virtual receptionists, call logging etc.
VoIP systems are great for a variety of small businesses, they allow for better staff management and better collaboration between employees and better communication with customers. The only drawbacks of VoIP are - increased risks of cyberattacks, network issues and software problems due to the fact it runs using the internet. Some businesses in very remote areas may also have issues with call quality.
Bionic's connectivity experts can help you switch to a business VoIP system today.
What's the difference between business VoIP and business landline?
The main difference between landline calls and VoIP calls is the way call data is transmitted:
Landlines send calls through copper wires installed by the local phone company. These wires connect calls via the phone service provider. This is known as the analogue phone network, and it's how we've been making calls for over a century.
VoIP transmits calls as data packets over an internet connection. These packets are decoded and decompressed so that the user hears them as a voice. Unlike traditional phone calls, the decoding and decompression are instant, to make sure calls are faster and clearer.
So far, so good. But what's the point of making calls over an internet connection when the analogue system has been working fine for more than 100 years?
The fact that the analogue network is due to be switched off in the next few years is as good a starting point as any.
Are landlines being phased out in the UK?
The UK's analogue landline telephone network is gradually being phased out and will be switched off completely by 2025. This means the traditional public switched telephone network (PTSN) is coming to an end, but it doesn't quite signal the end of the landline.
Will your business need to switch to VoIP?
Unless you plan on switching exclusively to business mobile, you'll need to switch your landline to a digital platform in the next couple of years. This could mean switching to VoIP for business or SIP trunking if you want to include video and multimedia messaging as part of your package.
It makes sense to switch sooner rather than later, to make sure your business is well up to speed with the new tech before the plug is pulled on analogue.
It also makes to arm yourself with all the information you need before you switch, so here are the pros and cons of business VoIP.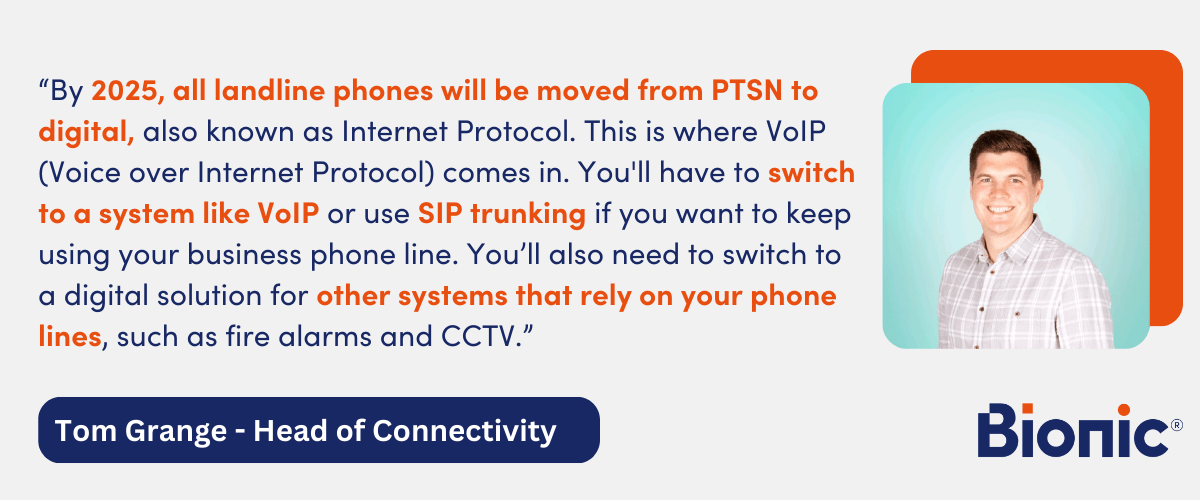 What are the benefits of business VoIP?
As we mentioned, VoIP is a way to make voice calls over an internet connection instead of a traditional phone line. But there's much more to it than that. Here are some of the main benefits of using VoIP for your business calls.
Cheaper connectivity – VoIP offers cheaper set-up costs and call charges than most traditional phone systems, especially if you work from multiple sites or need to make international calls.
Simple set-up - All you need to start using VoIP for business is a reliable internet connection and a way to make and receive VoIP calls. This could be a VoIP handset, a PC softphone, or an app on your mobile.
Scale to meet the needs of your business – Unlike traditional phone systems, if you need to add or remove users, this can be done instantly and remotely with no need for any disruptive work on the line or at your premises.
Loads more features – VoIP offers a range of adaptable features as standard, which you can fully customise to meet your unique needs This includes conference calls, customer insights, call logging, virtual receptionist, hold music, call diverting, and more.
Unified communications - VoIP offers more than just voice calls. You can integrate email, browsers, instant messaging and call recording. This makes VoIP an appealing option for businesses and remote workers.
Simple multi-site network – If you run your business across several sites, they can all be served by the same VoIP connection, saving money on multiple phone lines. If you do work across a number of sites, it's worth seeing if you could cut the cost of your utility bills with a multi-site energy deal.
Lower maintenance – If you have an issue with your VoIP connection, most problems can be fixed remotely. This means no need to call an engineer and no unnecessary downtime.
Never miss a call – VoIP uses cloud technology to help you stay in complete control of your business calls. If you're away from the office, calls can easily be routed to another handset, mobile phone or even a laptop, meaning you and your employees can answer from anywhere. Perfect for remote working.
Monitor call statistics and increase productivity – VoIP gives you a complete view of all calls across your entire business, which can help you make insight-led improvements to increase the productivity of your employees. You'll also get an oversight of key call statistics in real-time for all devices, including mobiles, and see when you get peak calls, so you know to manage staff resourcing and make better operational decisions.
Amplify your local or national presence – If you want to grow your business by amplifying its presence nationally, you can have a national phone number attached to your VoIP service. If, on the other hand, you want to promote how your business operates on a local level, you can have multiple local numbers depending on the regions you want to target.
Save call logs and recordings securely – VoIP offers safe, cloud-based storage of all call recordings to manage customer interactions and follow compliance recommendations.
In short, switching to VoIP can give your business greater flexibility, help it work more efficiently and save money. Sounds ideal. But what are the drawbacks of VoIP?
What are the drawbacks of business VoIP?
As with any type of tech, VoIP isn't perfect and there are certain drawbacks to internet calling. But there are surprisingly few, and most problems are likely to be down an unreliable internet connection. So, here goes:
Security risks – Everything you do online comes with a security risk, and VoIP is no different. This means that VoIP lines are easier to hack than landlines. But this largely comes down to the security of the internet connection and whether the network security is as good as it should be. You should only ever run a VoIP telephone from a completely secure connection.
Network issues – More users need more bandwidth. If your internet connection can't take the strain, then you might get some network issues. VoIP calling relies on the quality and stability of your internet connection, so you need to make sure your business broadband is up to speed when you switch.
Hardware and software problems – Although VoIP can be set up using nothing more than a laptop and a smartphone, you need to make sure your hardware and software is up to the job. This includes having all operating systems up to date.
Problems in remote areas – If you work in a remote area with no access to a high-speed internet connection, you could find that call quality will suffer.
Is VoIP better than a landline?
It depends, there are pros and cons to each. Landlines are often reliable for sound and not dropping calls whereas your call quality via VoIP is dependent on your internet connection. If you have high-speed internet, you'll likely have improved call quality. VoIP also gives you a little bit more control over your calls and allows you to be more accessible to your customers.
Is VoIP reliable?
Because VoIP is carried over the internet, the call connection is likely to be much clearer because of a stable internet connection, making it much more reliable than a standard business telephone line. Having a VoIP system also futureproofs your business in preparation for the 2025 switchover.
Is security better with a landline or VoIP?
It depends, neither one is more secure than the other. Security depends on how each system is implemented, configured, and maintained. Here are some considerations when deciding:
If you need a dedicated line with limited internet exposure, a traditional business landline would do the job, until the digital switchover takes place.
If your business needs features like mobility, call forwarding and integration with digital services, VoIP can offer these benefits but may need extra security measures.
Whichever you choose, it's best to clue up on network security, regularly update your software and firmware, and using strong authentication methods to maintain a secure system.
Why would a business want to use VoIP?
There are a number of reasons why VoIP is a strong choice for businesses. VoIP allows multiple calls as well as conference and group calls. This makes it easier for staff, management and customers to collaborate and communicate with each other. VoIP also makes it easier to improve customer service.
Does VoIP work during a power outage?
Now technology has evolved, most modern VoIP systems integrate well with your mobile. This can help you if your business was to suffer a power outage. You are able to configure your system and route calls to smartphones so you never miss a call.
Does VoIP need electricity to work?
No, VoIP systems do not require any other power source to function. VoIP systems use power from your outlet, similar to regular landline phones.
What voltage is a VoIP phone?
It depends on the age of the VoIP system as to what voltage it is. An older VoIP phone could use up to 10 watts of power per day, but it really depends on your individual VoIP phone and its features.
Is VoIP good for small businesses?
A VoIP system is often chosen by small businesses as it can grow with you and expand if needed. You can add features and additional lines or even reduce lines if your business downsizes. Above all, VoIP can be a cost-saving way to link to your staff and customers and never miss out on a call. Compare VoIP prices today and find your best deal.
Should you switch to business VoIP?
As you can see, the positives of switching to VoIP far outweigh the negatives. And you'll need to switch to some form of digital calling over the next couple of years, so why not now?
But before you switch, it's important to make sure the part of the country you work from has access to the speeds you need. Although VoIP will work fine with speeds of just 1-2Mbps, this won't be enough to run a larger network.
To find out more about VoIP and tailor a package to suit the needs of your business, check out these business VOIP FAQs or give our tech-enabled team a call on 0800 086 1416.