The small business industries at greatest risk this winter
It's no surprise that the past three years have been some of the hardest in living memory for businesses across the UK.
Following two years of uncertainty during the pandemic, the rising cost of living, inflation soaring and energy prices hitting an all-time high, it's safe to say times are tough for small businesses across the country. That's why at Bionic, we set out to uncover and understand the areas of the small business community that really need a bit of extra support from the British public this winter.
We analysed industry revenues over the past ten years, looking at a variety of sectors, to determine the areas of the UK economy that have seen the biggest declines in their income. Although times are tough for everyone this festive season, these are the sectors the British public should be focusing on this winter.
Things are looking up for small businesses as a whole
Firstly, a bit of good news! Despite the ongoing cost of living crisis and the ongoing impact of Covid-19, things as a whole are looking up for small businesses!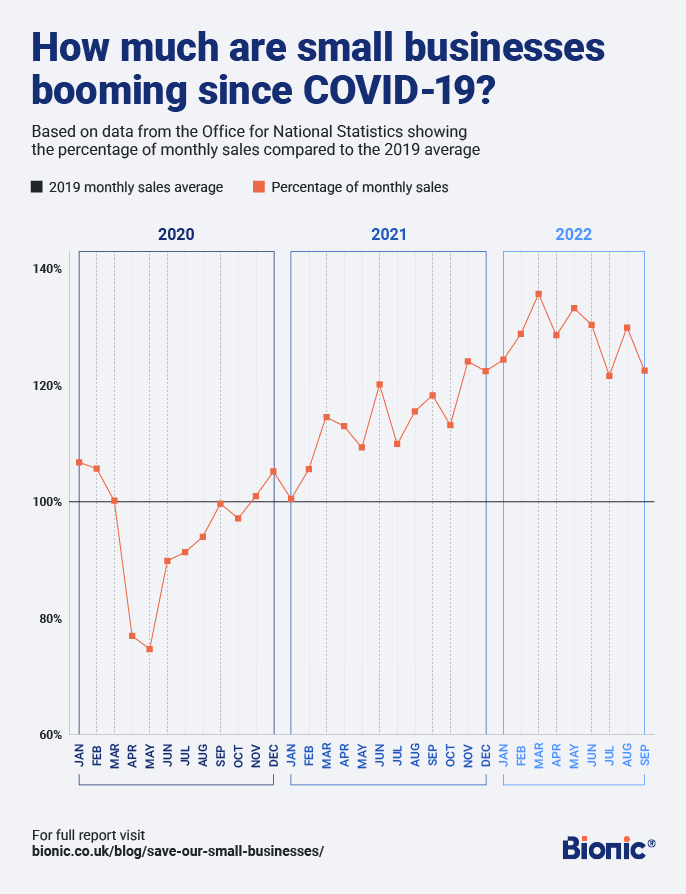 Our data shows that compared to the small business's average revenue across 2019, monthly revenue has actually increased. Of course, there was a period between April and October 2020 where the revenue of small businesses decreased compared to pre-pandemic, due to lockdowns and restrictions. However, since meeting 2019 levels in the Autumn of 2020, the revenue made by small businesses has increased by an average of 28.7% across 2022, peaking in May at a 33.7% increase.
Looking forward, although below we're going to highlight areas of the UK economy most in need of our help this winter, we do expect this trend of growth to increase into 2023. With international corporations struggling with the looming recession, we expect small businesses to play a huge role in the economy. Smaller supply chains and connections to local communities give SMEs a unique advantage to weathering economic uncertainty.
Cafés to be hit hard by a costly winter
It doesn't go unnoticed that independent cafés are one of the sectors likely to be hit the hardest by the economical issues currently facing the UK.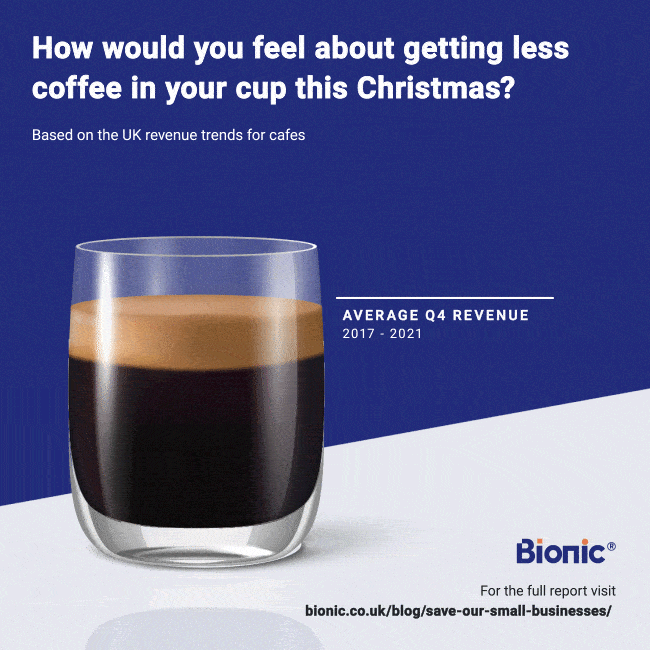 Internal data shows that for the past few years over the Christmas period, cafés saw a drop in revenue at an average rate of 8.64%. Before the pandemic, the cafe sector saw a modest 3% drop in revenue each year. However, over the difficult covid-Christmases of 2020 and 2021, local coffee shops saw a dramatic drop in revenue of 18.08% and 16.31% respectively compared to each year's Q3. We can broadly predict, based on the last five years of Q4 data, that the cafe and pubs sector will see a drop in revenue of £3.2 billion!
We are all aware of how the cost of living is impacting this industry, but for small businesses, these increased outgoings alongside the energy crisis and yearly drop in revenue are likely to be detrimental to many small businesses across the UK.
Of course, many of us are impacted by the ongoing cost of living crisis, and may not have the disposable income to spend on going out. That being said, a great way of supporting small businesses this Winter could be heading out for a well-deserved hot chocolate and choosing your local, independent coffee shop as opposed to a chain establishment.
Alcohol revenue has fallen by 15% in the first half of 2022
According to Lumina Intelligence Operator Index, the UK pub and bar industry was due to see the bulk of its market recovery in 2022, meeting 99% of 2019's market value.
And although it's beverage-based businesses that are helping boost this recovery, this is largely boosted by an increase in footfall across the UK. It was predicted that experienced-based businesses and those capitalising off events would cause the greatest boost. However, the cost of living crisis has spiralled much further than we could have predicted since this report was published.
The cost of operating has increased massively for pub and bar owners, and as expenses continue to rise over the colder months, the high outgoings are unlikely to be offset by Christmas drinks as, in fact, revenue from alcohol sales is falling.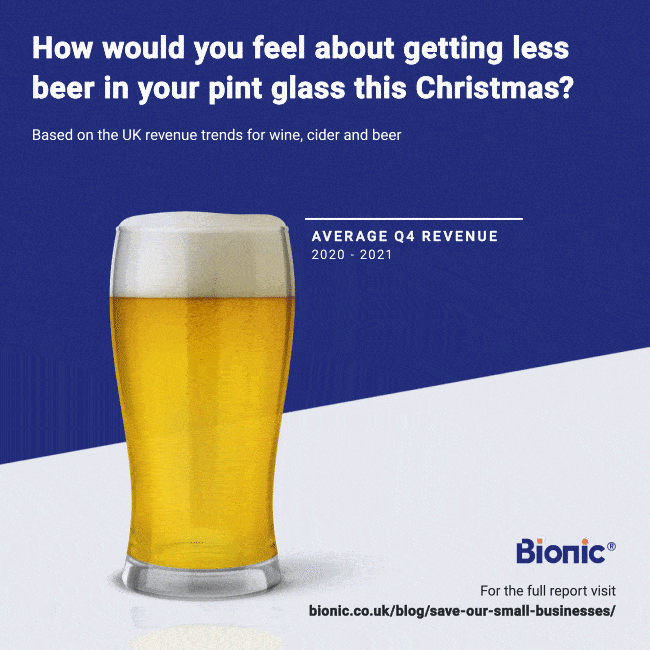 Between the fourth quarters of 2020 and 2021, sales of Wine, Cider and Beer fell by 12.88%. However, this didn't recover as we entered 2022, as revenue continued to fall by another 15% in the first half of the year.
Which areas of the country are most affected by pub closures over a five-year period?
UK Total Closures: 21,855 closures
England: 18,615 closures
Scotland: 1,735 closures
Wales: 1,260 closures
Northern Ireland: 245 closures
Regions of England
North West: 3,210 closures
South East: 2,705 closures
Yorkshire and the Humber: 2,400 closures
South West: 2,145 closures
West Midlands: 2,105 closures
East Midlands: 1,980 closures
East: 1,690 closures
London: 1,390 closures
North East: 990 closures
The Beauty Salon Christmas rush has been falling since 2019
It is no denying that the Covid-19 crisis followed by the national economic issues has had catastrophic effects on the beauty and grooming service industry. Beauty services, like salons and barbers, were severely impacted by restrictions, limited services and closures. Fast forward to 2022, the cost of living crisis means the general public has lower disposable incomes and putting money aside for "luxury" treatments can be tough. Over the last five years, there has been an average 7% fall in revenue over the winter months, so it's likely we will see this trend continue in 2022.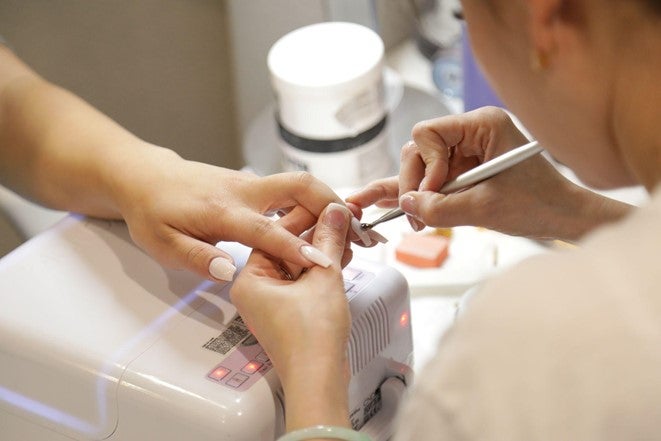 Search data alongside social media analytics show how the increase in salon-style treatments at home is looking. Search demand for an "at-home lash lift", which usually costs between £35-£60 in the UK, has increased by a massive 250% since October 2022. At-home gel manicures, which often cost between £30-£40, have massively boomed, with #athomenails having 139.1 million views on TikTok whilst #gelnailsathome has 140.5 million. Brow laminations are a relatively new treatment that can bring in between £45 and £100 per treatment in a salon. However, even these can be done at home, with #browlaminationtutorials reaching 145.8 million views on TikTok.
This trend isn't just a factor of the Covid-19 pandemic, we can see a drop in revenue across hairdressers, beauty salons and barbers every winter since 2019.
Between 2013-2018 there was an average increase in revenue of 1% between Q3 and Q4, which totals an increase of £25 million.
This Christmas boom peaked in 2015 when there was a £46 million revenue increase between Q3 and Q4.
Since 2015 Christmas revenue increase began to decrease to a much smaller, yet still significant boost of 10 million in 2017.
Yet in 2019, there was an 8% drop in revenue between Q3 and Q4, equating to a revenue decrease of £182 million across the industry.
Across the two Covid Christmases, we saw significant drops in revenue across the fourth quarter, hitting its lowest level in 2020 with a 22% decline, equating to £337 million.
In the winter of 2021, the decline did reduce slightly to a 7% fall of £131 million between the two quarters.
Rising business energy costs and less disposable income is going to make things very difficult for beauty service establishments over the coming winter. Not everyone can afford these experiences when money has to be prioritised over other places.
This festive season, instead of your traditional bottle of wine or pair of socks, why not gift these experiences to your nearest and dearest? This means that you can treat someone to a beauty service that they may not be able to buy themselves, whilst also supporting your local beauty businesses throughout a difficult winter.
Hotel and restaurant revenue is falling
The hotel and restaurant industry is another sector that annually sees a dip in revenue over the festive period, despite many Brits enjoying a festive getaway or travelling to visit family and friends, dining out and celebrating.
Over a ten-year period between 2012 and 2021, the hotel and restaurant industry saw an average drop in revenue of 9.24%, equating to £3.2 billion, in Q4. Of course, due to the pandemic between 2020 and 2021, this fall reached 19.9% and 16.3% respectively. Excluding these two years, there is still a drop in revenue across the Q4 period, averaging 7%.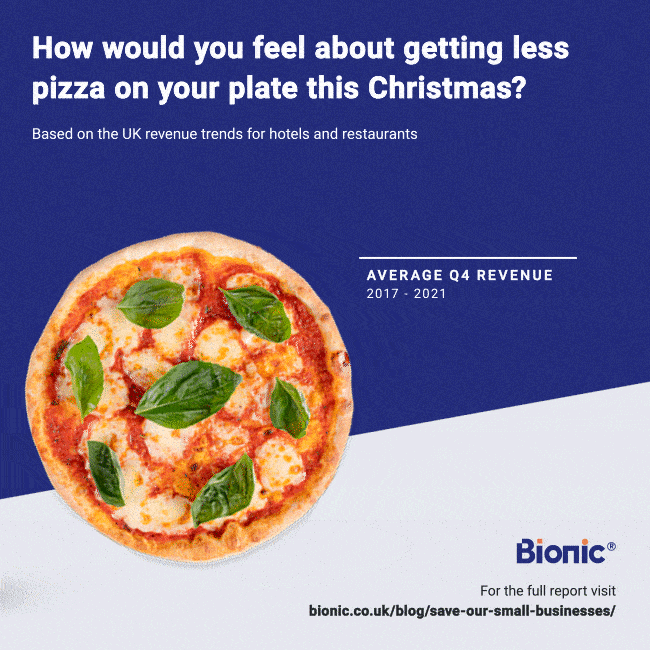 Turnover for both licensed and unlicensed restaurants fell between 2021 and 2022. This is likely attributed to the cost of living crisis and the decreased demand for this sector.
For licenced restaurants, turnover fell by an astonishing 29.75% between 2022 and 2021, which was significantly different from the 3% increase in revenue from 2020 to 2021. For unlicensed restaurants, the pattern was the same. Between 2020 and 2021 there was a turnover increase of 9.77%, whereas between 2021 and 2022, revenue fell by a massive 21%.
How to support your local businesses this Christmas
Small businesses across these industries really make up the backbone of the economy and society but are often the most at risk when we head into tricky times - which is exactly what we're expecting this winter. Income for this sector frequently drops in the last three months of each year. This year, owners are likely to see an unprecedented increase in running costs, which is not only going to impact their staff and other suppliers up the chain.
Here are some ways you can support small businesses throughout a tough winter:
Businesses, no matter their size, all know the power of social media. Sharing their posts on your personal account is an amazing way to support them absolutely completely free!
Why not treat your nearest and dearest to treatments at your local beauty salon for Christmas that they otherwise may not be able to get themselves? This will mean so much to both the recipient and the small business you are supporting.
Gift cards are also a great way to support your local businesses. Maybe you can contribute towards a nice meal out or a night away at a hotel, showing you care and supporting local businesses at the same time.
If you are heading to a pub, restaurant, hotel or café in the coming months, try to choose independent business over big chain companies. The impact of your support will be much greater for these smaller organisations and mean a lot more.
Word of mouth is one of the best ways to help a small business expand its customer base. If you can't afford to financially support the business yourself, telling your friends and family and getting the word out is a great way to help.
If you do have a positive experience with a small business, don't be afraid to share it online. This helps people know that the small business is loved and respected, and may convince them to give it a go themselves.
Are you a small business owner?
See how Bionic can help you save money on business essentials including electricity, gas, connectivity, and insurance.
Methodology
Data was collected by analysing Q4 revenue records for a wide range of industries and sectors of the UK economy between 2017 and 2022. Financial data provided by the Office For National Statistics.