cut small business costs
Your guide on how to cut costs in a small business
Working out how to limit spending as a small business owner can be hard, especially when the economy is facing such a rocky future. But even if bigger changes seem out of reach right now, there are small things you can do to reduce your costs and allow your business to thrive. Read this handy guide from Bionic to find out more.
What is a business cost?
A business cost is any expense your business incurs when selling a product or service. These costs can include everything from rent and buying products to paying your employee's wages.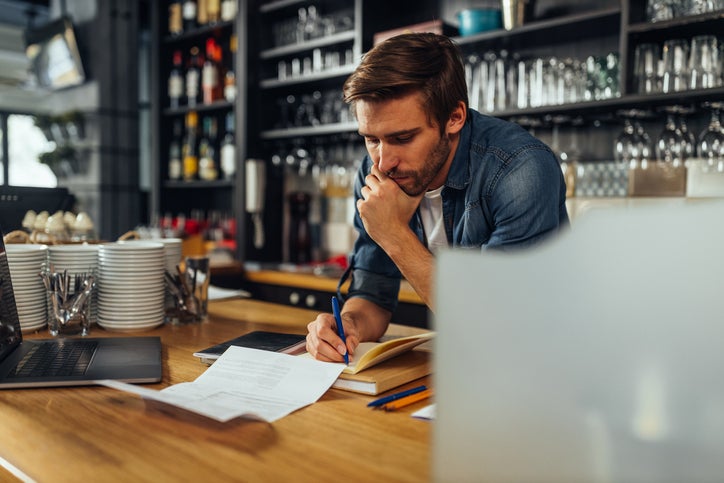 How do I know if my business needs to implement cost-saving techniques?
It's always a good idea to think about cost-cutting when running a business. If you think about it, the more money you save, the more you can put back into running your company.
Because the economy is so turbulent at the moment, every penny truly counts. So, even saving a tiny amount can make a difference to your business. Usually, simple steps can go a long way in reducing business costs.
But if you find yourself struggling to keep up repayments or pay suppliers and employees on time, or if you discover you have no revenue to buy new products, this could be a sure sign you need to implement cost-saving techniques as soon as possible.
What are some of the biggest expenses a business has?
There are lots of expenses you can rack up as a small business and you might not even realise what counts as business costs. Some of the most common types of costs are:
Employee costs
At the end of the day, your top priority should be paying your staff. Without a team of employees to give your business moving, you won't thrive or succeed. But it helps to assess your team and decide if you need more staff or if you can manage with the ones you have.
Research is key here, have a look into what similar businesses are paying their employees and adapt accordingly. You can keep your costs lower by only taking on people you need.
Learn more about how to set up payroll and pay your employees as a small business with our guide.
Supplier costs
Supply costs are another business expense. This includes any purchases of goods or services from a supplier. Without products to sell, your business won't grow and attract more customers. So it's really important to set aside money in your budget to acquire new items to sell.
Rental property costs
Building rent is another example of a business cost. Aside from staff costs, rent will probably be your biggest expense.
If you've bought premises outright, this means you'll be paying a mortgage and property taxes. However, if you're renting, you'll likely pay a standard rate agreed upon with your landlord. No matter if you pay a mortgage or rent, you'll need to set aside money to cover this.
Find out more about finding the right business location for you with our guide.
HMRC Tax
Business tax can be hard to get your head around. Remembering to pay things like VAT, income tax, estimated taxes or self-employment tax can be tricky. That's why you should always do your research and set aside the right amount of money for tax each month, then you won't get a nasty surprise at the end of the tax year.
Read our guide to small business tax returns to find out more.
Why is reducing costs good for business?
Reducing costs increases the money you have available within your company. This can directly lead to increased profits and help grow your business. The more money you save, the more you have to spend on better products, marketing, partnerships and more.
Ways to reduce small business costs
There are a few ways to go about reducing business costs. The most common ones include:
Evaluate all existing costs
For starters, it's important to evaluate the costs you currently incur. Make sure you have a budget you strictly keep to.
By sticking to a certain amount of spending, you can build up an idea of your monthly costs and plan for the future as a result. If you have the right budget in place, you should also be able to figure out areas you can cut down on your spending. But it all starts with evaluating your current money situation.
Reduce supply expenses
Another great way of cost-cutting on business supplies is by shopping around to compare prices.
It never hurts to have a look at other suppliers and vendors. Make a list of products you buy on a regular basis or stock you order weekly, for example, office supplies. See if there's anywhere you can get these items cheaper.
Review staffing costs
After a difficult few years with Covid redundancies, many business owners won't want to consider reviewing staff costs. But if you employ too many people to do the same job or if you're forking out a lot of money for freelancers when you could do the job yourself, then you may be spending too much.
Have a think, on the flip side, some businesses find it is more cost-efficient to work solely with freelancers to save money. This could be an avenue for you to explore.
Opt for energy efficiency
Being smart with your energy can help with reducing business costs. Make sure you're getting the most out of your energy contract for starters. Although the UK is in the throes of an energy crisis, you can still save money by switching lights and machinery off when you don't need them. To go further, you can opt to only use energy in off-peak times.
Cut production costs
Cutting production costs is also another great way to save money. Try eliminating stages of production that are time-consuming and unneeded. Again, see if you can justify the number of staff you employ. See if your premises is appropriate for the size of your business. If you have too much space, then maybe you could downsize.
Consider going paperless
Going paperless not only saves you money, but it could also limit stress and make running your business easier.
For example, virtual meetings with suppliers can help minimize travel expenses and virtual offices can eliminate the need for physical shop space. Sites like Google Drive and Microsoft Sharepoint can give you somewhere safe to share company documents. By sharing virtual documents instead, you can save on things like ink, paper and printing costs.
Other ways to cut office expenses
Modernise your marketing
You need to make sure no marketing efforts are going unnoticed, so it's important to show off your business using online tactics too. Social media is often a cost-effective way to boost business.
Using the internet and social media is a low-cost way to try out marketing campaigns you can measure and monitor.
Install a VoIP phone system
Installing a VoIP system can help your business save money in a lot of ways. VoIP can:
Lower costs
Increase business accessibility
Help your business become more portable
Help you achieve higher scalability
Improve features for small and large teams
Improve voice quality
Support multitasking
Increase business flexibility with softphones
Compare insurance policies
Comparing insurance policies to get the cheapest and best deal will benefit your business in the long and short run. It always helps to do your research to make sure your policy is meeting all your business requirements. Having good insurance in place will help you save money if something was to happen to your business.
Outsource software development
Another good idea is to outsource software development. Try outsourcing work to a freelancer who can complete the project for less than it would cost to employ someone permanently. This way you'll get the job done professionally, but won't have to pay a full-time member of staff.
Look into moving your business
If business has been slow lately, and you're worried about your overheads, like rent - why not consider relocating your business? If your lease is almost up why not consider downsizing your space?
If you have an office-based small business, why not consider co-working spaces like WeWork or find a co-working space in your area? Sharing office space might also be good for networking! And if that isn't viable for your business, why not consider remote working for you and your team?
Does cutting costs really improve the profitability of a business?
Reducing costs can indeed increase business profits, but only if sales remain constant. Making a list of all the costs you incur as a business will usually help you assess where your business can be saving money. Any money you save can then be spent on improving your company.
If you think you've done all you can to save business costs - why not focus on trying to make more money? Read up on our 12 ways to make more revenue with our detailed guide.
See if you are eligible for grants or tax relief
If you need extra support, have a look to see if your business is eligible for small business grants. You may be able to get help towards training your staff or get funding from your local council. Small businesses may also be able to get some tax relief - read more in our guide to small business grants.