How to manage your pets while running your business from home
Whether you're a dog fanatic, a cat lover or share your home with a hamster, reptile, fish or rabbit, having a furry (or scaly) friend can add so much to your life. Owning a pet is proven to reduce stress, lower blood pressure and steadily improve mental health. It can also encourage you to be more active and help you interact with other pet owners.
Around 17 million of us own pets in the UK and the majority of us cite our animals as an important pillar in our family units. There is an ever-growing market for pets in the small business sector too, with doggy coats, cat accessories, pet cafes and meetups becoming more popular, animals are a huge part of our lives. But we know it can be challenging to balance their needs with your own while running a business.
As it's national pet month this April, Bionic has some top tips on how to keep your furry friends out of mischief when running your small business or working from home.
6 tips for looking after pets while working from home
From keeping a regular routine to making your pet part of the team, here are our top tips for looking after pets as a busy business owner or home worker.
1. Introduce a regular routine
Whether you live above your shop premises, welcome clients into your home, or regularly take video calls from your front room, things can quickly get chaotic if you have a pet. But keeping a regular routine is essential to keeping them under control.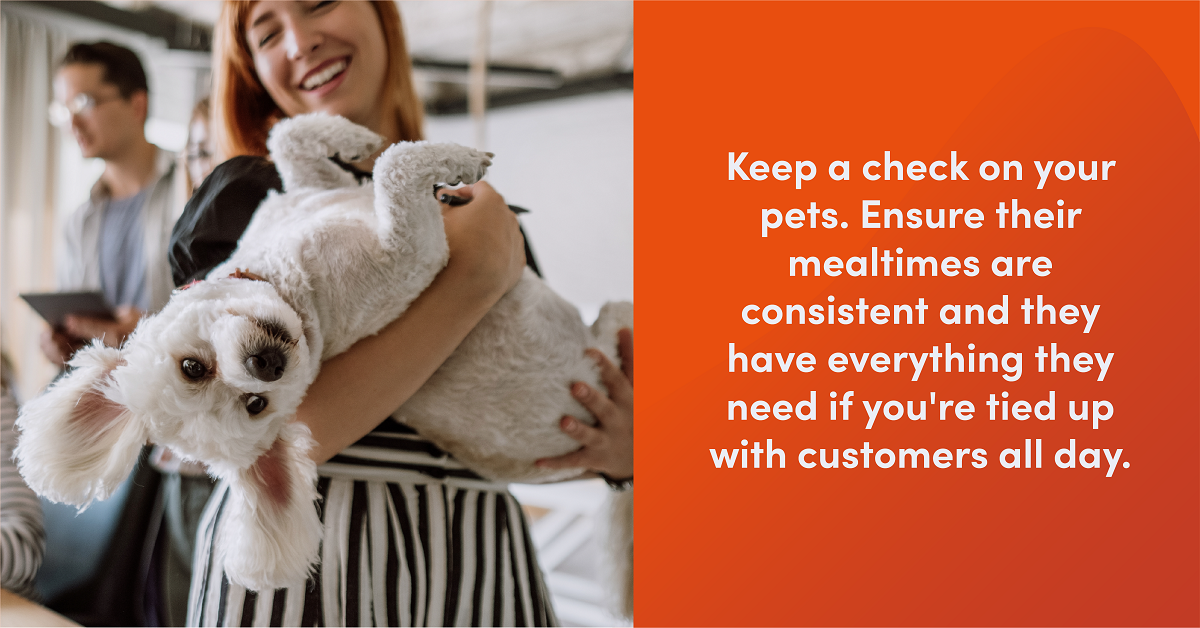 Just like many people adapted to working from home during the pandemic, figuring out and sticking to a new routine is important for both you and your pet.
Even if you're rushed off your feet with work, you must still make time for their walks and give them some attention to them throughout the day. If you've previously spent an hour commuting to an office, why not use this time to head out on a dog walk or play with your cat while you finish your morning coffee instead?
Throughout the working day, it's a good idea to treat your pet just like you'd treat a human. Keep a check on them and ensure their mealtimes are consistent. If you have back-to-back meetings or will be downstairs in your shop for most of the day, make sure they have everything they need to get through the hours. This includes sufficient water, snacks, and toys to keep them occupied and out of trouble for a while.
Having a pet can also help you stick to your working hours and learn to switch off after a busy day. If you're set on keeping their routine, you'll be more likely to log off when the day is done rather than working into the night. This can help you avoid burnout and ensure you're running your business to the best of your ability.
2. Head out for walkies
Pets, especially dogs, can encourage you to be more active no matter the weather. So, make sure you're heading out on regular walks to aid their health and yours.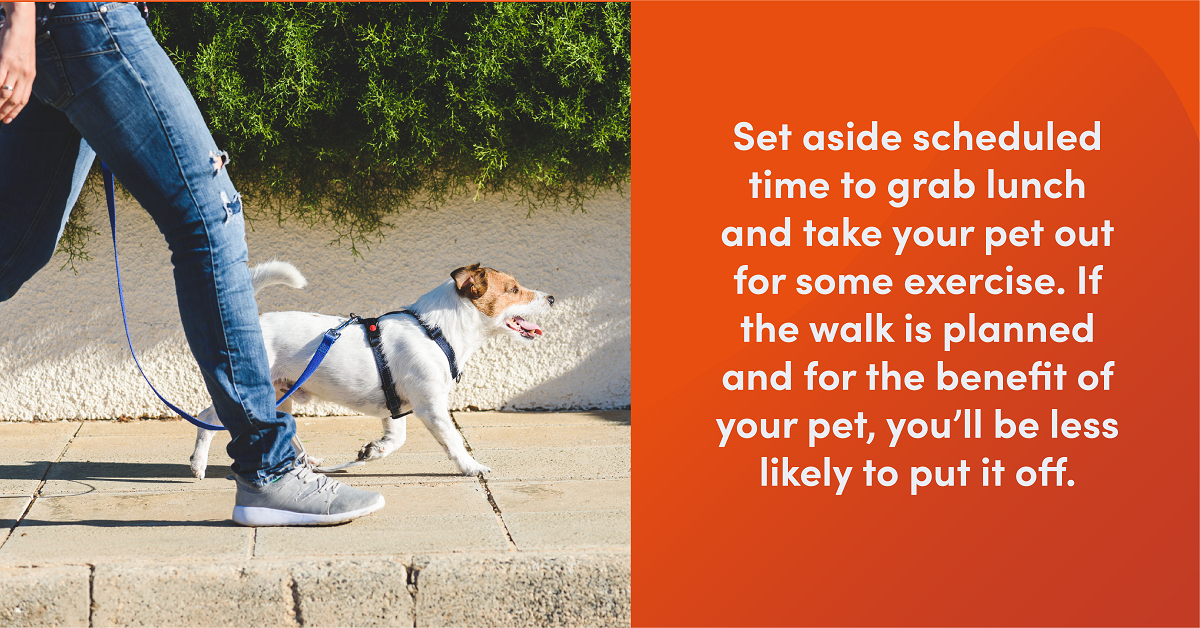 As we mentioned earlier, you could use your commuting time to go for a brisk morning walk or spend some extra time with your four-legged friend before you start work. But why not take advantage of your lunch break too?
Sometimes busy schedules can take over your life as a small business owner and you might not even notice you've skipped lunch or regular breaks.
You could set aside a set time to grab lunch and take your pet out for some exercise too. If it's planned and for the benefit of your pet, you'll be less likely to put it off.
And this tip isn't just for dog owners. If you keep rabbits or any other animals outdoors, pay them regular visits during your breaks. Even if you have a house cat, there's nothing stopping you (except maybe a little self-consciousness) from getting them in a harness and leash and taking them for a walk around the garden.
But be aware that not all cats are comfortable with this. If your cat shows any signs of distress it's best you don't use a leash and harness. The RSPCA website has some useful tips on how to keep a housecat happy.
3. Keep it professional
Everyone adores seeing a puppy pop up on a Zoom call or a kitten photobomb a Microsoft Teams chat every now and again, but your priority is to keep professional as a business owner.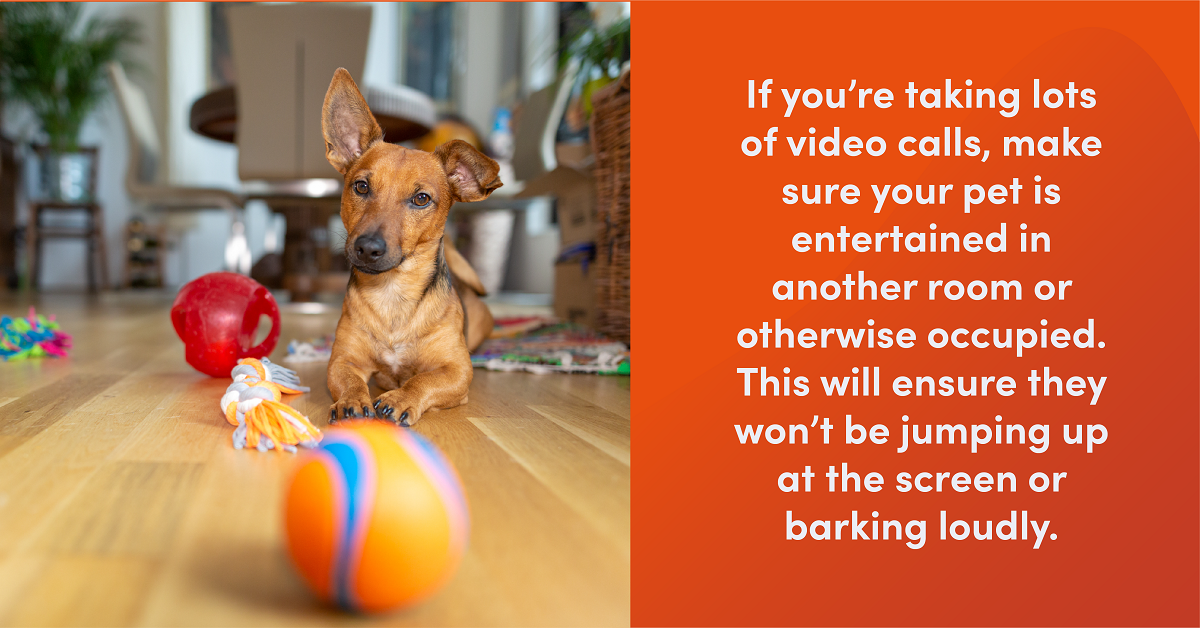 If you're taking lots of video calls, make sure your pet is entertained in another room or otherwise occupied. This will ensure they won't be jumping up at the screen or barking loudly.
It's all about judging the vibe of the meeting too. If it's a lighthearted chat with colleagues, then a close up of your cat is probably a welcome sight. However, if you're trying to attract a new supplier, speak to new clients or have a serious talk about your business, then make sure distractions from your pet are minimal.
4. Check your customers are pet lovers
If you live above your business premises or welcome customers into your home on a regular basis, it's a good idea to make sure anyone coming into your home is okay with pets roaming around.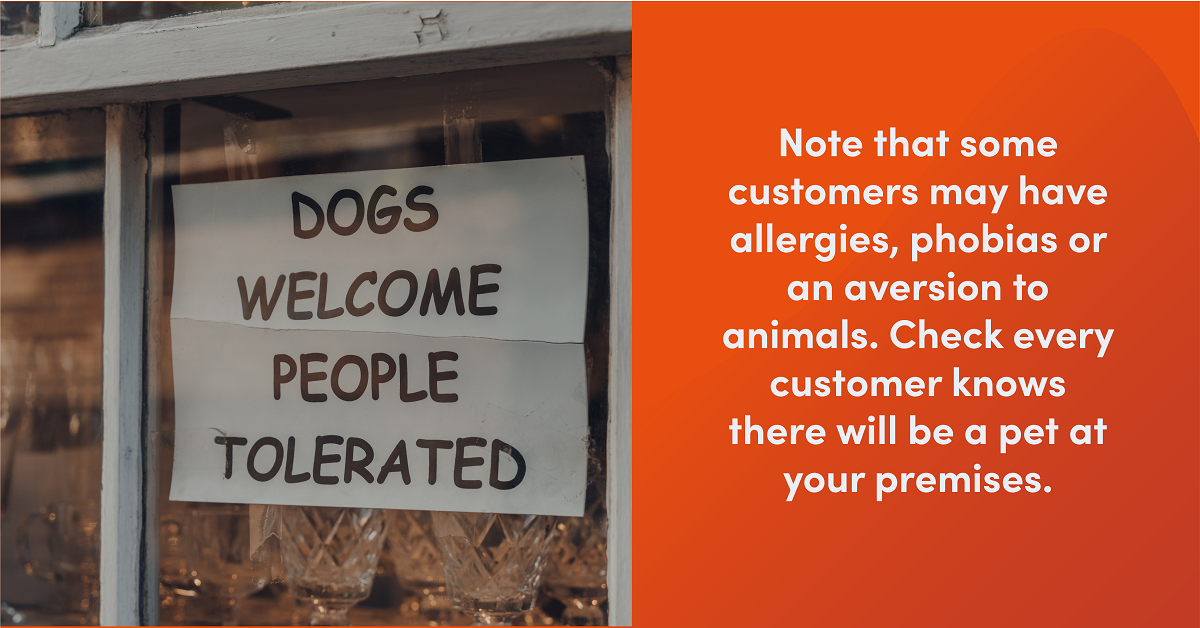 Lots of people love dogs but don't want them jumping up while they shop. Customers might like cats but not be happy about them disrupting a business talk with you.
And then there are allergies, phobias, or simple aversions to certain animals. That's why it's important to check that each customer who comes into your home knows there will be a pet there and is happy about that fact. If not, you may have to meet elsewhere or hold the meeting remotely (in which case, check back to tip number three).
But you also need to remember that if you work or run your business from home, your 'office' is your pet's home too. If you do need to shut them away for a while, make sure they are comfortable and have everything they might need to occupy themselves.
5. Make your pet part of the team
On the flip side, you could make your pet part of the workforce. Loads of offices now have dogs that spend their days in the workplace, and there are now cat and dog cafes all over the country. It might be worth considering how you can make your pet a member of the team.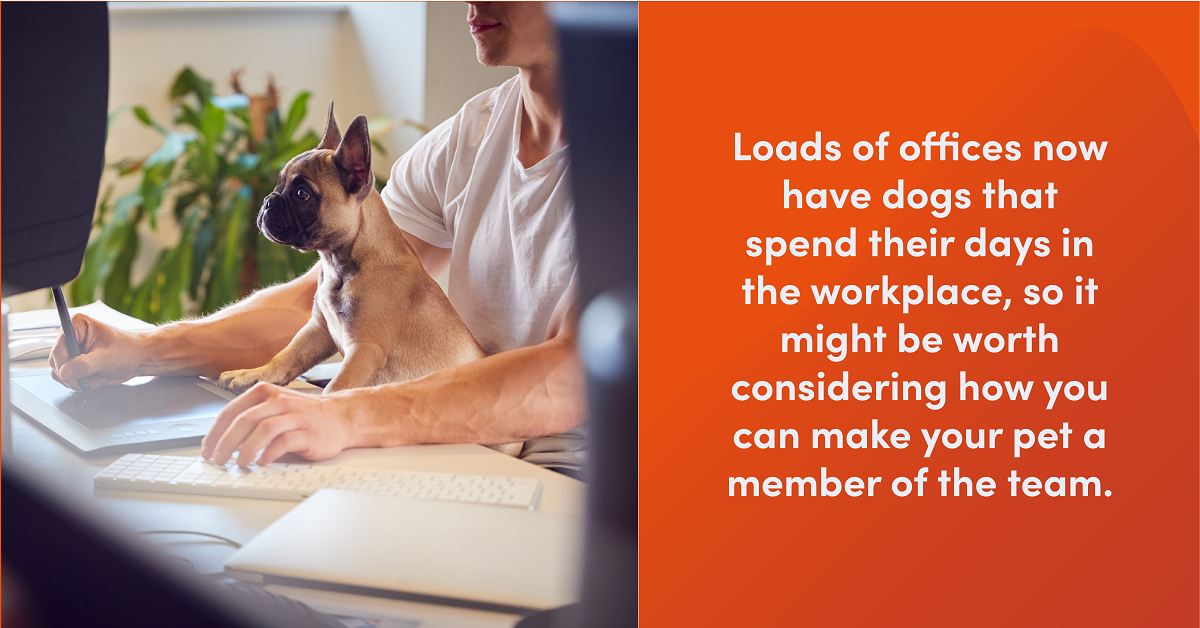 Obviously, you'll need to take into account customers and staff members before making it official, but you also need to consider how your pet will feel about it. Think about how your pet interacts with other people as well as how they behave when they get excited and tired.
And make sure having an office pet doesn't cause productivity to plummet. Keeping to a routine can help with this, so try to set a schedule for your pet's walks, feeds, and toilet breaks while they're in the workplace.
6. Make an extra fuss outside working hours
If you work or run your business from home, you need to remember that your pet won't know that you're working. Maybe they were so used to you heading out to the office 8 hours a day and not returning until dinner time. Now you seem to be around 24/7 and they want to make the most of it.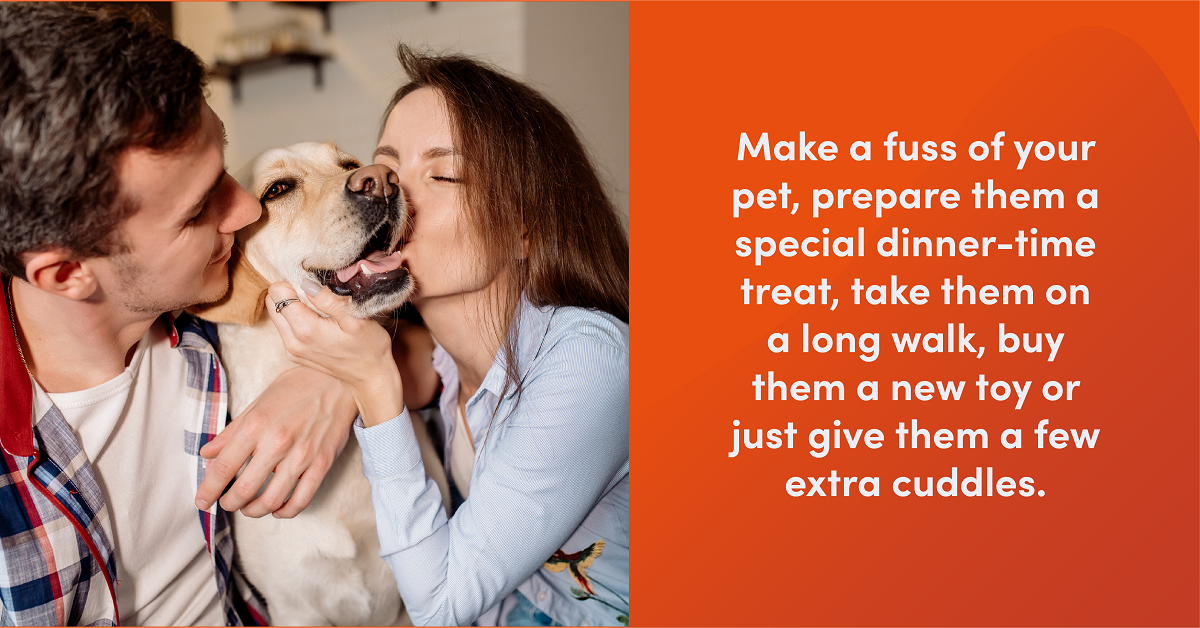 As far as your pet is concerned, you're there to play and give them your attention all day. They've no idea about the deadlines you needed to hit yesterday or your ever-growing to-do-list.
So, when you've set routines for both you and your pet, it's important to give them some extra love when you're not working. When you close the shop, turn your work phone to 'out of office' or shut that laptop, it's time for you and your pet to fully kick back and relax.
Make a fuss of them, prepare them a special dinnertime treat, take them on a long walk, buy them a new toy or just give them a few extra cuddles. They'll appreciate it and it will mark the end of your day, giving you some much-needed downtime too.
There you have it, six top tips to deal with common pet problems when working or running a business from home. All pets are different with their own personality and needs, and at the end of the day, you know your furry friend the best. But keeping in mind the points above will put you in good stead and help you establish a routine that works for both of you.
How Bionic can free up time for busy business owners
Sorting business essentials can be a hassle – unless you enlist the help of the tech-enabled team at Bionic. We can quickly and thoroughly compare business energy, insurance, phone and broadband to help your business save money on critical services and help you save time when comparing the available options.
Our digital renewal service means we can also take care of your energy deals year after year, so you never need to worry about missing a renewal, ever again. Give us a call on 0800 860 6833 to find out more.