How to banish work from home burnout 
Have your employees been hit by work from home burnout?
Working from home has become the norm for many of us over the last couple of years. Even if the nature of your business means it's impossible to work from home, there's a good chance you've had to adapt your way of working in some capacity.
But while working from home full time might suit you, it may not be ideal for all your employees. This could be because they don't have the right tools to be able to do their job properly or their living arrangements aren't suitable for full-time remote working.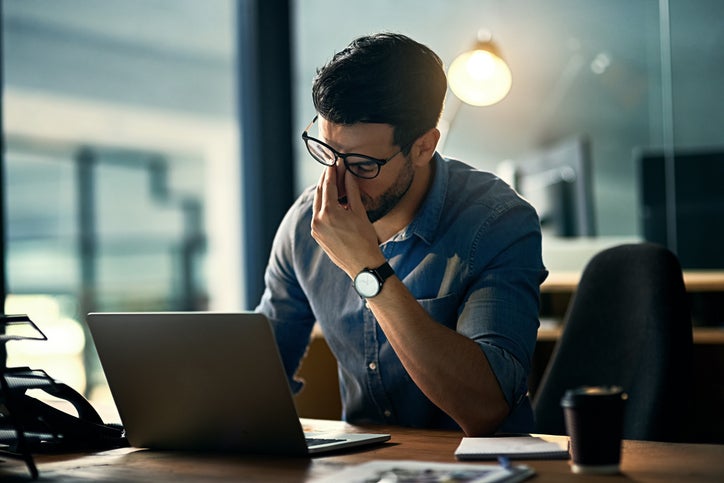 How to spot employee burnout
Homeworking has brought a whole host of benefits, including a better balance between work and home life, and less time and money spent on commuting – all of which can help improve mental health.
On the flip side, working from home can also lead to a blurring of the boundaries between work life and home life – if you're typing away into the evening or even just checking work emails, you'll quickly find that you can never quite fully log your brain out of your laptop.
If this is the case, then you could quickly see productivity dropping as you and your employees are hit by work from home burnout. This feeling that you've had enough of living and working within the same four walls can lead to a lack of motivation and feelings of dissatisfaction with your job and current set-up. It can also leave you feeling disconnected from colleagues, especially if some are back at the office.
Whether you work from home, an office, or any other type of business premises, you need to be able to spot the signs early as it could escalate into feelings of stress, anxiety, and depression.
Figures from the Health and Safety Executive (HSE), the government agency responsible for the encouragement, regulation and enforcement of workplace health, show that work-related stress, depression or anxiety accounted for 50% of all work-related ill-health in 2020/21.
The figures also show that the main drivers of work-related stress, depression or anxiety were workload pressures, including tight deadlines and too much responsibility and a lack of managerial support.
If employees are showing any of the following signs, they could be suffering from stress:
A change in their normal behaviour (irritable/withdrawn/unpredictable)
A change in their appearance (they may begin to look unkempt or not bother with staff uniform)
Late to work more often
Sudden lack of concentration or commitment
Taking a lot of time off work
If you see any of these signs, it's worth being proactive and taking steps to reduce the pressure on them while you try and work out the root causes. This could mean sharing the workload or temporarily offering work in another, less stressful, part of the business.
If working from home is the issue, then hybrid working – whereby employees work a couple of days at home and a couple in the office - could offer a compromise. You can still save money by only opening your workplace a couple of days a week and employees get the benefit of getting out of the house and having some face-to-face time to collaborate with colleagues.
A recent study from the Office for National Statistics (ONS) found that 85% of UK workers favour a future of hybrid working, so it's definitely worth considering.
If you or your staff have been showing signs of work from home fatigue, the winter weather will probably make things even worse. That's why we've put together these simple tips and tricks to help you beat burnout when working from home and successfully start the year in as happy and as healthy a way as possible.
How to beat work from home fatigue
There are a number of simple tweaks you can make to your routine to help fend off that feeling of dread for the start of the working day. See how many of our tips you and your employees can put into practice.
1. Establish boundaries
It's easy to let your job melt into your evening when you have no clear structure to your day, so make sure you're keeping to your working hours when at home. Or at least work a set amount of hours each day.
Working from home sometimes blurs the lines between home and work life, and it's not uncommon to feel that you should be available for work 24/7. Even if you feel like you're managing the workload, this way of working will ultimately lead to a drop in productivity.
But sticking to a strict schedule and establishing boundaries can combat demotivation and help you to adopt a better mindset.
If you work nine-to-five and usually spend an hour commuting, for instance, it can help to wake up and get dressed at the same time you would if you were leaving the house. If you have extra time, instead of starting work excessively early, why not take a quick walk, savour that first cup of coffee, read a chapter of a book, or plan the rest of the day?
It's also important to make sure you're not working well into the night to finish something that can wait until tomorrow. It might be tempting to quickly send an email while having dinner or watching TV if your laptop is lying next to you, but you wouldn't do this if you'd left your workday at the office, so don't do it in your own time.
Some people find it useful to create a new commute to work as this separates their working hours from their home life. This could be a quick walk around the block to start and end the day or an hour at the gym. Or, if possible, you could mix it up and work from somewhere else for a change, like a local coffee shop. Then you can support a small business while you get your morning shot.
Make sure you're taking proper lunch breaks too. If you were at the office, you'd likely be taking an hour's break, so make sure you log off and use this time to recuperate. If time management is an issue, try the Pomodoro Technique. This is when you work in bursts of 25 minutes before taking a five-minute break. Repeat this process four times before taking a longer break and starting all over again.
2. Learn to switch off
It's important to have 'you' time and pay attention to your mental health. It's easy to dismiss the signs of burnout when you're working from home, but studies have shown that we work more hours when we aren't at the office.
According to an article published in The Guardian, the average time a UK worker at home spends logged on has increased an extra two hours compared to pre-pandemic levels.
There are several reasons for this, not least the fact that some workers feel the need to prove they are working at all times so need to be readily available. Plus, numbers show staff members working from home take shorter lunch breaks and power through illnesses, logging on to complete their day when they would have called in sick before.
A study from car rental company, The Out, found that 70% of UK workers have experienced feelings of burnout and stress over the last year.
But simply learning to switch off when you need to and do something you genuinely enjoy can combat any build-up of stress you may be feeling. So, take charge and think about things you can do to boost your mental health, take up a new hobby, arrange to see friends and family regularly, schedule a Netflix evening or cook your favourite meal.
Associate these activities with 'switching off,' and make sure your laptop is firmly shut and out of sight when you are doing them. And make sure you get enough sleep. Switch off your screens and do some reading or something relaxing before you go to bed. If you're having trouble sleeping, here are some useful ways to cope with sleep problems, over on the website of Mind, the mental health charity.
3. Get moving
Exercise can do wonders for your mental and physical health, so why not kick start 2023 with a health kick? The NHS recommends two-and-a-half hours of moderate activity a week, or about 85 minutes of high-intensity workout per week - and there are plenty of activities to fit the bill.
Moderate exercise can be anything from brisk walking, dancing, and bike riding to aerobics, hiking and rollerblading. It's about finding something that suits you and keeps you interested, so really think about what sounds fun to you.
If you're not a fan of heading outside for a walk (understandable in this bleak January weather) you could start taking gym classes before or after work, or during your lunch break. Maybe try a mindfulness class or yoga to help clear your mind during the day or take up a joint activity like tennis or badminton so you can get out and see other people.
If all that sounds a bit full-on, there are lots of gentle options you can try to keep active and feel more motivated, both at work and in your personal life.
4. Book in some 'me time'
After the Christmas rush has passed and we settle into the chilly clasps of winter, it can be easy to let the days merge into one. It can become even easier to think you don't really need to take annual leave if you're always at home anyway.
But taking your allocated annual leave is as important as ever. Even if you don't plan on going anywhere or doing anything with your time off, taking your allotted leave is a must.
It gives you a chance to completely log off and not worry about work commitments for the whole period.
Think about it, if you were jetting away on holiday, you wouldn't dream of taking your laptop to work from on the beach, would you? So, treat your annual leave break the same way. Even just spending a few days doing nothing at home will give your brain time to switch off and recuperate.
5. Don't suffer in silence
Even if you try all the self-help activities like getting outside, taking annual leave and arranging to see friends and family, this isn't a guarantee that you'll feel in tip-top condition. If you're struggling then make sure you don't suffer in silence – you won't be alone.
Your GP will have more ideas to help you get back to feeling you, this might take the form of behavioural therapy or medication, or they might suggest helpful yoga or mindfulness classes to relax. If you are feeling constantly stressed and unable to cope, then give your surgery a call and they can discuss your best options.
It also might be a good move to speak to your manager if you are struggling and see how your workplace can help you. Speaking out, in general, could really make all the difference. You might find your fellow staff members feel the same and have found effective ways to combat burnout that you could share and speak about together.
For more ideas, check out our health and wellbeing tips for busy business owners.
While working from home has its perks, always remember you are still susceptible to stress and burnout. But acknowledging the problem and taking steps to combat it early on can help you stay motivated, keep your productivity levels up and make sure you're working at your best.